Welcome to Competitive Drone Racing
How do you start a new sport from scratch? A former Tough Mudder executive and other entrepreneurs around the world are about to find out.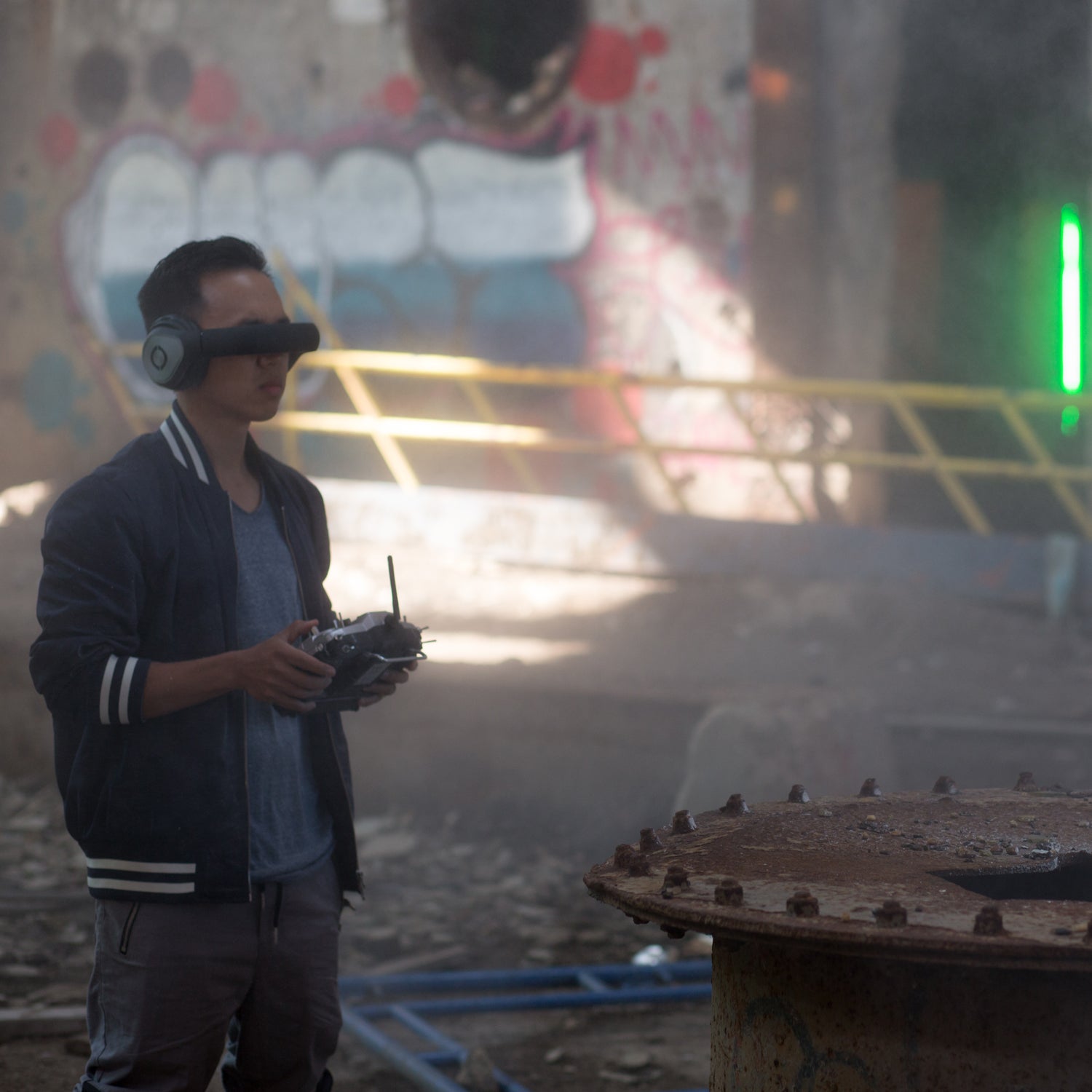 Heading out the door? Read this article on the new Outside+ app available now on iOS devices for members! Download the app.
The lights are on at Sun Life Stadium, but the bleachers are empty. Inside the arena, away from the gridiron that hosts the Miami Dolphins each fall, a sideline reporter in a crop top introduces a heat of competitors: men with the monikers Bapu, M0ke, FPV Provo, and Rafa enter in slow motion, goggles on their heads, robots in hand, ready to race.
"The best drone pilots in the world have come together here," the reporter intones, "to face off against one another and a racecourse built for speed!" The countdown begins: three, two, one! A bell rings and the machines rise off the launch pad then accelerate through neon-lit gates, into the concourse, then up a circular staircase. They hit speeds above 80 mph.
Welcome to the qualifying rounds of the Drone Racing League's inaugural season.
Yes, drone racing is a thing. In fact, the DRL is just the latest entry in an already crowded field of leagues and tournaments competing to become the dominant name in drone racing. For the DYIers who build their own rigs, there's the International Drone Racing Association; for those bent on world domination, there's the World Drone Prix in Dubai this month (prize purse: $1 million) and the World Drone Racing Championships in Hawaii in October ($200,000). The DLR, with its slick videos, may appear geared toward those racing for YouTube fame, but like all the groups out there, the league hopes to become the NFL of this nascent sport.
"Right now it's very much a hobby and a niche community," says DRL CEO Nicholas Horbaczewski, a former Tough Mudder executive whose league is backed by Miami Dolphins owner Stephen Ross. "We saw the potential to build that into something more than it was, to take that hobby and turn it in to a really media-driven sport that spectators could get into and enjoy."
Less than two years ago, drone racing was something people did in open fields with rigs they tinkered with using instructions found online, after putting in long days at their full-time jobs. Today, contests like the World Drone Prix on March 11 in Dubai offer million dollar purses and competitors are turning drone racing into full-time jobs.
"When I started, I was just doing it as a fun thing to do. It was something that I never thought was going get this big," says prominent racer Carlos "Charpu" Puertolas. Today, Puertolas is flown to races by his sponsor, drone company Lumenier, and even has his own racing drone for sale on the consumer market.
Pilots strap on virtual reality goggles and fly their crafts—usually a quad copter about the size of your forearm sporting a mounted action cam—through obstacle courses that vary in size, difficulty, and resemblance to Tron.
The appeal is simple enough: pilots strap on virtual reality goggles and fly their crafts—usually a quadcopter about the size of your forearm sporting a mounted action cam—through obstacle courses that vary in size, difficulty, and resemblance to Tron. Also, the whizzing, whirling, slightly menacing flying robots go fast. For Puertolas, who pegs the sport as a mix between traditional auto racing and e-sports (that's video game competitions, for those of you who get out too often), piloting a drone through three dimensions at breakneck pace is a release. "It's almost liberating," he says.
Still, as fun as flying a drone may be, does anyone want to watch a bunch of tiny robots do loop de loops half a football field away? Well, maybe, says Courtney Brunious, associate director of USC's Sports Business Institute. E-sports have conditioned fans to watching similar activities on demand on their computer and there are so many sports channels today, "there aren't enough live sports to fill the programming for all these channels," he says, noting that ESPN has aired poker, strong man contests, and even video game competitions.
"There's always a demographic out there that will tune into your event. If you position it the right way and you really understand your market, you can sell it to your potential sponsors," Brunious, who studies the relationship between sports and entertainment, says. "And let's be honest, seeing things fly and around and race each other can be kind of exciting."
RotorSports, which runs the World Drone Racing Championships and the Drone Nationals, is in serious talks with a major network to air their competitions. The league holds contests around the U.S. and 42 other countries, leading up to championship in Hawaii in October in which 300 pilots are expected to compete. For Scot Refsland, head of RotorSports, beating out the competing leagues is about the spectator experience. Early contests have been on large track fields and lasted for hours—not exactly sexy.
"Flags and gates are out, because you can't see them," Refsland says. "We're innovating the three dimensional space. Now there are more tracks up-space [above the ground]. And we're rethinking the spectator experience. The grandstand is over. Were moving spectators inside the race. The best way to explain is when you go to an aquarium and you go through one of those tunnels and you see a shark three feet above you. Were pushing the audience into the race."
Related: On the Course with Drone Pilots
"There have got to be things for folks to do at the races. Just watching the race is not enough," says Justin Haggerty, an enlisted Army officer who runs the International Drone Racing Association. Haggerty, who got into the drone game last April, has run state-wide contests in the U.S. and seen how audiences can get exhausted or bored watching a full ten-hour day of drone racing. His IDRA has worked closely with the government in the United Arab Emirates and an organization supported by Crown Prince Sheikh Hamdan bin Mohammed bin Rashid Al Maktou to co-sponsor the World Drone Prix this month. "We need sponsors investing more so people can try demo products, have concerts before and after. We need different ways to compel people to come see what this is all about."
Nicholas Horbaczewski of the Drone Racing League respectfully disagrees.
About halfway through the second round in the DRL's Miami competition, something went wrong for pilot Furadi. As he closed in on the race leader RekRek around a corner, Furadi's quad copter slammed into a glowing green gate and the feed went out. Crestfallen, Furadi pushed his goggles up onto his forhead and stared in disbelief.
"We love crashing!" Horbaczewski says. "There are crashes all the time. Crashes are part of the sport—and unlike auto racing you don't have the moral hazard around it."
When a drone crashes into part of the course in the DRL, organizers don't have to shut down the show for repairs—the whole show, with its fast edits and zippy music, is filmed without spectators. The DRL doesn't worry about the "spectator experience," because viewers watch the races on YouTube from the comfort of their computer chairs.
Horbaczewski is Tough Mudder's former chief of revenue and in his old gig race participants brought in the revenue through signup fees. For DRL, eyeballs on the Internet represent the dollar signs. Races are held in spectacular settings—abandoned power plants and the innards of pro football stadiums—and the cinematography used to capture the action is top notch. And, critically, the league provides the drones, so pilots are encouraged to go for broke.
"If people are pushing the boundaries of flight, people are going through a lot of drone," he says.
Despite unfettered optimism from the heads of each league, the drone scene is still up in the air. And, says USC's sports business professor Brunious, challenges remain.
"It's hard to build an audience beyond your niche group, but if you can find a way to really highlight the abilities of the competitors, and you can find a way to create dynamic, interesting storyline attached to what's going on and then package it in a way that consumers will be interested in—then there's a chance to be successful," Brunious said.
"I might tune in," he added. "It's intriguing!" 
Lead Photo: The ID Agency