The New Science of Embracing Performance Anxiety
Everyone experiences pre-event nerves. Here's how to turn them into an advantage.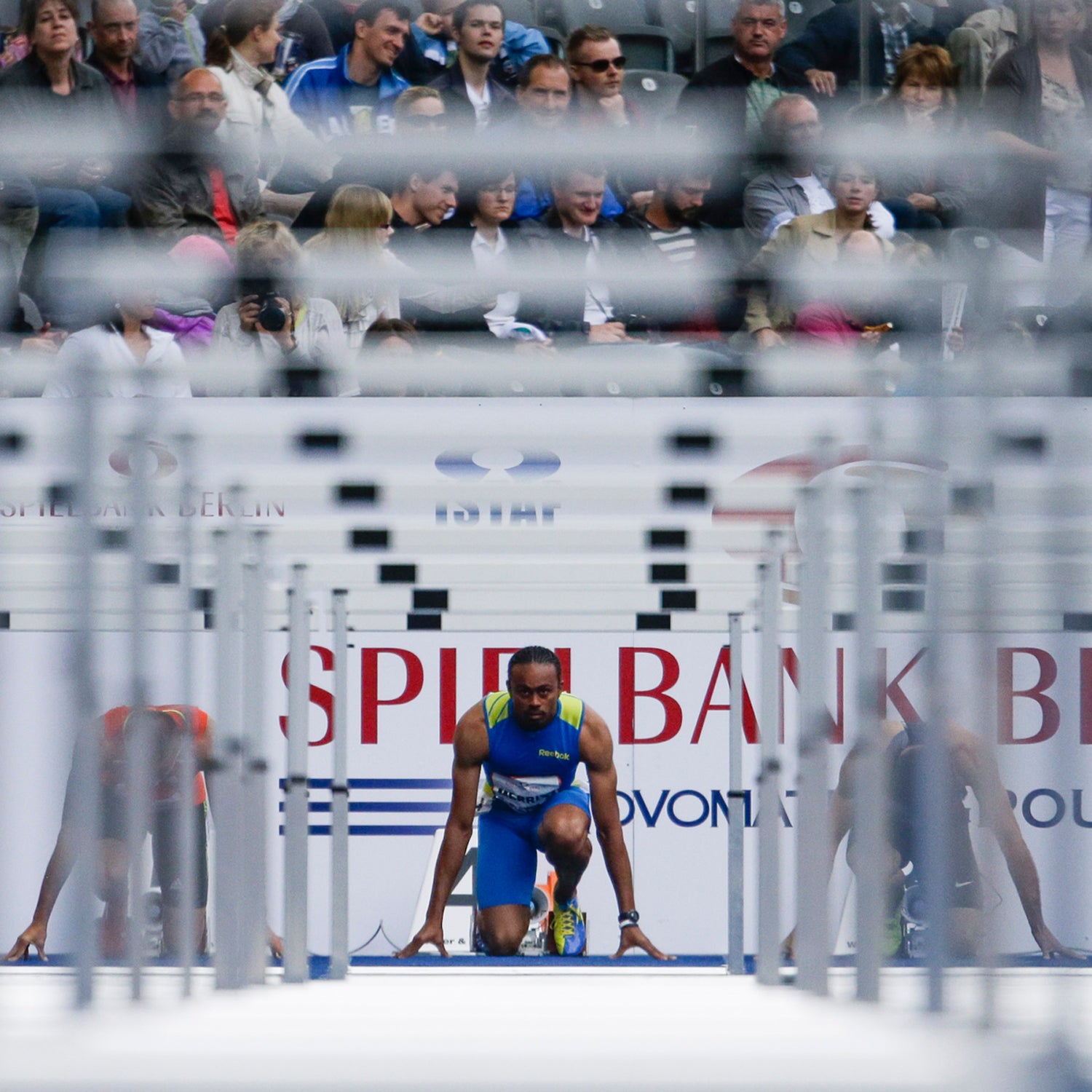 Markus Schreiber/Associated Pres(Photo)
Heading out the door? Read this article on the new Outside+ app available now on iOS devices for members! Download the app.
When runner Alexi Pappas toes the starting line of the 10,000-meter race at this year's Olympics, there's a good chance she won't be relaxed. But nerves, and even pre-race nightmares, she's written, "should not be feared." Rather, "they should be embraced as a friendly indication that we care very much about the challenge ahead. Nervous is a cousin to excited."
Pappas isn't alone. Nearly all the great performers I've had the privilege to speak with for Outside's Fitness Coach column—from triathletes to climbers to downhill skiers—have expressed similar sentiments. It's not that elite athletes don't feel pre-race nerves; it's that they know how to manage them. So the next time you feel anxious prior to a big event —be it a summit push, 5K race, or even a high-stakes presentation at work—use these tactics, practiced by the best and backed by new science.
Develop a Routine
Routines are effective because they create a sense of comfort and control, says Carrie Cheadle, a mental skills coach and author of On Top of Your Game: Mental Skills to Maximize Athletic Performance. She says that having a pre-planned series of actions "gives you something to focus on so your mind can't wander and become anxious." 
A recent study, published in the European Journal of Sport Science, found that consistently practicing pre-performance routines reduced anxiety and increased performance amongst semi-professional male soccer players. "The elements of the routine itself don't really matter," says Cheadle."What does matter is that you design a series of steps that makes you feel good, and that you practice it enough so that you become comfortable with it."
Reframe Anxiety as Excitement
International white-water kayaking prodigy Dane Jackson once told me that he deals with pre-race nerves by reminding himself that competing on big rapids "is all so exciting and fun," and by "getting stoked with the other athletes." Turns out Jackson is onto something. 
Research published in the Journal of Experimental Psychology shows that instead of trying to calm yourself down, "reappraising pre-performance anxiety as excitement" is the way to go. When try to suppress those pre-race nerves, you are inherently telling yourself that something is wrong. According to Cheadle, this only makes the situation worse. "It takes enormous emotional and physical energy to fight against feeling anxious," she says. "Giving certain sensations [like butterflies in your stomach] a negative label has a really bad trickledown effect that can stifle performance." 
Fortunately, according to the authors of the Experimental Psychology paper, simply saying "I am excited" shifts your demeanor from what they call a threat mindset (stressed out and apprehensive) to an opportunity mindset (revved up and ready to go). "Compared to those who attempt to calm down," the authors conclude, "individuals who reappraise their anxious arousal as excitement perform better." Put differently: The sensations you feel prior to a big event are neutral—if you view them in a positive light, they are more likely to have a positive impact on your performance. 
Change Your Body to Change Your Mind
Take a moment to slouch over with your hands folded in your lap (or if you are standing, wrap your hands around your stomach) and note how you feel. Next, sit or stand up straight, roll your shoulders back, and lift your chest. Notice a difference? If you're like most people, odds are that you feel far more confident and powerful in the second position. 
"Body language has a huge impact on how you feel about yourself," explains Cheadle, who encourages the athletes she works with to pay attention to their postures. Prior to big events, what Cheadle recommends is to "open yourself up and make yourself big." In other words, if you hold your body like you're confident and in charge, your mind is likely to follow. This is a notion originated by Harvard Psychologist Amy Cuddy, who, in 2012, gave a TED talk in which she explains "how power posing—standing in a posture of confidence, even when we don't feel confident—can affect testosterone and cortisol levels in the brain, and might even have an impact on our chances for success."
Perhaps the best part of these tactics is that they are not mutually exclusive. If anything, says Cheadle, they are most effective when used together, and they work across almost all pursuits—whether that's prepping for an Olympic race or getting ready for your first 5K.
Lead Photo: Markus Schreiber/Associated Pres
Trending on Outside Online