Gear Guy
We Ran Over This Coffee Maker with a Truck and It Didn't Break
The Oxx CoffeeBoxx is insanely durable, but we weren't wowed by its coffee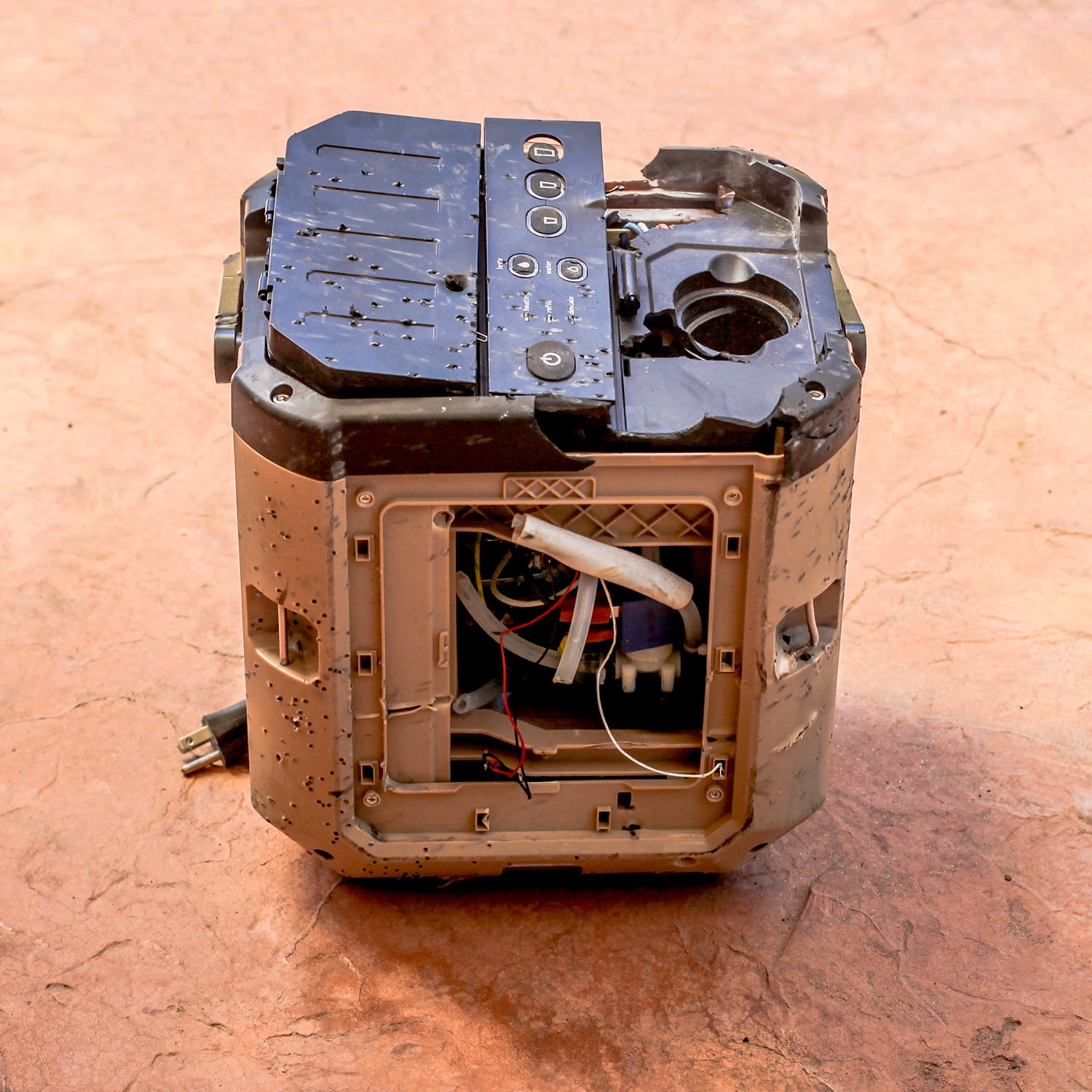 Joe Jackson(Photo)
Heading out the door? Read this article on the new Outside+ app available now on iOS devices for members! Download the app.
I love when companies claim their products are "tough." To me, that's a wide-open invitation to beat the piss out of them. That's exactly what I did with the Oxx CoffeeBoxx, which carries the tagline "world's toughest coffee maker." For more than a week, my friends and I drank coffee from, then abused, this contraption, which looks like a mix between a DeWalt construction site radio and a Keurig. Here's how we thrashed it and how it held up.
The Test
I divided the test into three parts: usability, coffee quality, and overall durability.
Usability
At the end of May, I worked several 24-hour shifts on a swiftwater rescue team. While there, I set the Oxx CoffeeBoxx next to the worksite's Mr. Coffee so my teammates could use both. We used the Oxx to make about 20 cups of coffee over seven days.
Quality
There are several world-class coffee roasters where I live in Ashland, Oregon. One is Case Coffee, which owners Tim and Kati Case have operated for 11 years. They've won several awards for their beans, so I brought in the Oxx for them to try. The CoffeeBoxx works like a Keurig, with prefilled brew pods, so for the first test, I had Tim and Kati try Oxx's Workhorse Coffee dark-roast pod. Oxx also provides reusable pods that you can fill with your own beans, so for the second test, we filled one of those with Case's Ethiopian Reko. Once each cup was brewed, Tim drank some and used a refractometer to measure how much of the coffee was extracted (that is, how strong the coffee was).
Durability
After the quality test, I brought the CoffeeBoxx to my buddy Jason Hutchings' shop, Basilica Industrial, where he builds industrial furniture. For a full day, we recreated stress tests that mimicked how this coffee box might get abused on a work site. Between each test, we made a cup of coffee to make sure it still worked. Here's the full list of tests.
Dropped it off a 34-inch workbench onto a concrete floor.
Dropped it off the workbench while the CoffeeBoxx was brewing.
Dropped it off of the tailgate of a 2003 Toyota Tundra onto pavement.
Dragged it behind the Tundra by its cord for a block.
Soaked it with a hose for 30 seconds.
Dropped a 1.5- and two-pound hammer onto the controls from chest height.
Stood a six-foot-long, two-by-six-inch steel beam on one end and let it fall on top of the box.
Threw it off a five-foot ladder.
Ran it over with the Tundra in four-wheel-low.
Flung it from the bed of the Tundra at 15 mph.
Threw it off a 16-foot balcony onto dirt.
Dropped a massive, 12-pound ring mandrel onto the controls from chest height, two times.
Finally, we took the CoffeeBoxx out to some remote BLM land and shot it with a handgun and a 12-gauge shotgun. (Note: We did not have a power source on the BLM land, so we just spot-checked the machine for damage between gunshots.)
The Results
Usability
After the first day, all my teammates begrudgingly kept testing the CoffeeBoxx but made it clear they preferred the Mr. Coffee. Though the CoffeeBoxx was easy to use, its coffee was weak, and the pods were wasteful compared to regular coffee makers. If the CoffeeBoxx ran on batteries so the workers could haul it to their trucks or the waterway, that might have kept them drinking. But since it requires an outlet, they stuck with their old-school coffee maker.
Quality
Everyone who drank from the CoffeeBoxx agreed the coffee was watery. It delivers 8-, 10-, and 12-ounce pours, and even the eight-ounce cup, which is the most concentrated, was half as strong as what you'd get at a decent coffee shop. We have the numbers to prove it: Tim Case says a good reading on a refractometer is about 1.2 to 1.3. We tested an eight-ounce cup using the Eco-Fill pod with Case's Ethiopian Reko roast, and the CoffeeBoxx came in at .65. The reading was so poor that we did the test twice to double check. "[The CoffeeBoxx] reminds me of my dad's coffee growing up," Case said. "Back when I hated coffee."
Durability
Even though the coffee was subpar, I was absolutely blown away by the machine's durability. My buddy Hutchins, who agreed that the coffee wasn't up to snuff, still wanted to buy one after seeing how much abuse it took. During each test, the unit got scuffed up, and we had to use needle-nose pliers to reattach the door to the water tank after it fell off the workbench. But the CoffeeBoxx continued to brew coffee—until we shot it with guns. And, yes, I know shooting a coffee maker with a gun is unreasonable, but that's what it took to finally break the thing.
Takeaways
If durability is your most important criteria when it comes to a coffee maker, the CoffeeBoxx is unmatched. I haven't been this impressed with a product's build since I dropped a 50-foot tree on my Yeti Cooler. I'll also admit that I put the coffee maker in front of several coffee snobs who might have unreasonably high standards. Other folks might be fine with the taste. It does deliver caffeine, if that's all you need.
I have to acknowledge that the CoffeeBoxx produces a lot of waste. The pods aren't recyclable and will outlive humankind in a landfill. The CoffeeBoxx comes with reusable Eco-Fill pods, but they take almost as much time to brew as a pour-over.
Finally, there's the cost. The unit retails for $240, which is expensive even for coffee snobs. The Workhorse dark-roast cups we brewed cost .55 cents each. I did the math and found out that Case's most expensive, award-winning coffee comes out to about $1.25 per serving. That's twice as much per cup, but you can make his coffee in a $20 French press, and it'll come out twice as strong and tasty.
Lead Photo: Joe Jackson
Trending on Outside Online