Climate Change Is Already Shaping the Way We Race
Your next event can tell us a lot about the warming planet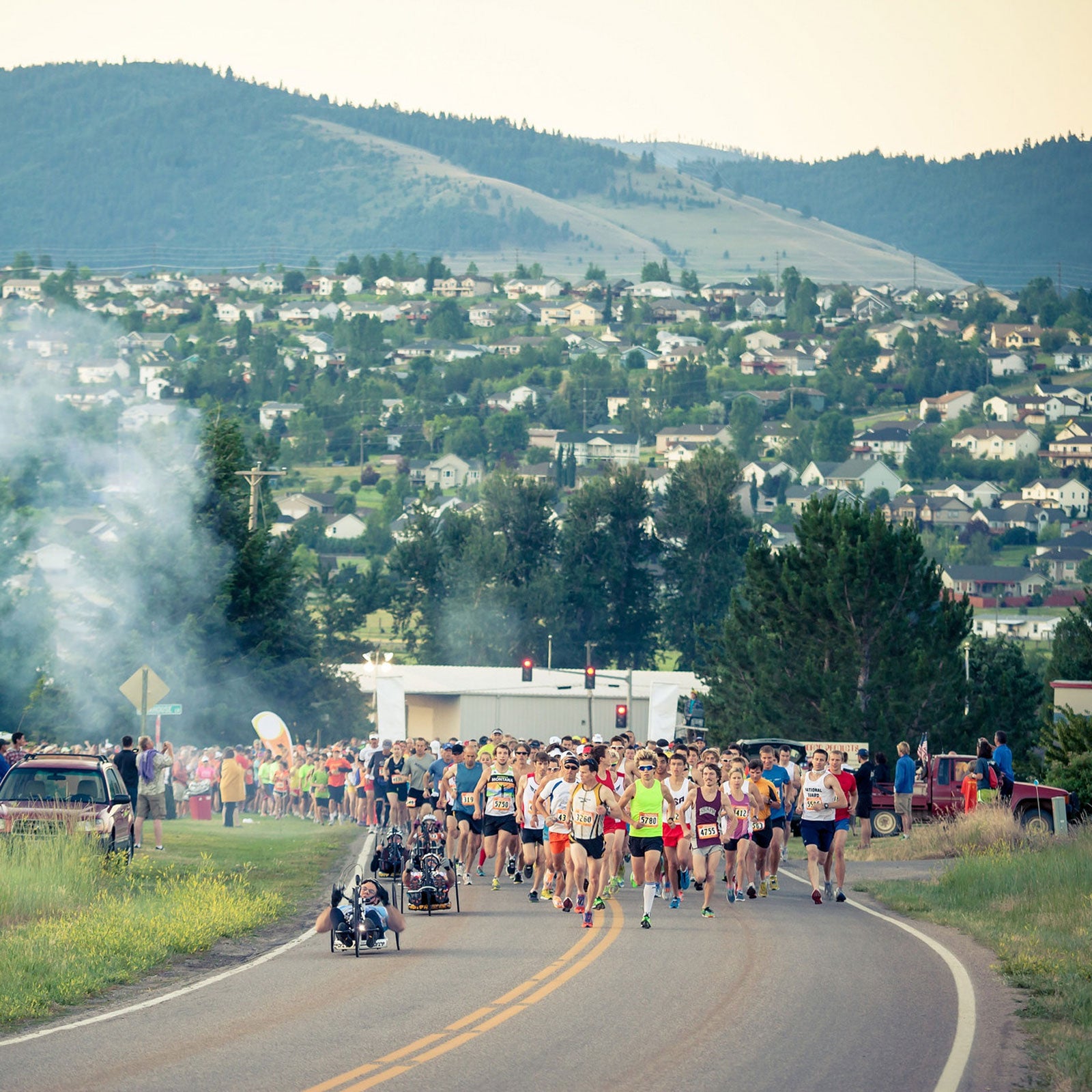 Heading out the door? Read this article on the new Outside+ app available now on iOS devices for members! Download the app.
Last winter, New Hampshire-based endurance athlete Sarah Canney qualified for the U.S. national snowshoe team. She's now hard at work training for her world debut at the 2019 World Snowshoe Championships in Italy—but there's just one problem. A lack of snow has hampered Canney's ability to properly prepare for race-day conditions: last winter, the Granite State Snowshoe Series canceled all but one of its eight races due to an absence of the white stuff. 
Snowshoeing might be an obvious example of how climate change is transforming racing, but these effects aren't limited to the winter months. This summer, Ironman Hamburg had to cancel the swim portion of the race due to high algal blooms in the Binnen and Aussenalster lakes. And the Missoula Marathon, in Montana, recently announced that it will move the race from mid-July to late June in an attempt to avoid poor air quality—a side effect of increasingly larger and more common summer wildfires.
And these consequences of climate change—from more wildfires to low precipitation—are only getting worse. "Probably the easiest place to see it is with warming temperatures," says Claudia Tebaldi, project scientist for the National Center for Atmospheric Research in Boulder, Colorado. "Studies show that record highs are getting more common, while record lows are almost disappearing." 
This is particularly true in the summer. Climate Central, an independent organization of scientists researching the climate and its impact on the public, recently released a report showing that 75 percent of 244 U.S. cities in 2017 experienced longer heat waves—defined by numerous consecutive days over 90 degrees—than 50 years ago. "Participating in an endurance event in the summer is now almost masochistic," Tebaldi jokes. 
Warming temperatures have altered the way 41-year-old Florida resident Josh Johnston chooses his running events. He used to race in November, requiring him to train through summer. "But that became too hot to consider," he says. "I switched to winter races, but for the past two years, even February has been too hot for good half or full marathons."
Johnston has started to focus on races up north, or shorter ones closer to home, to avoid warmer temperatures. Even that is a gamble, though. "I raced Boston in 2016 and 2017, assuming that would be ideal, but they were both warm too," he says. "I'm starting to wait until the last minute before I sign up for races."
Tebaldi says that when you look at temperatures across the country, very few places look like they did 20 years ago. Still, if you're willing to travel for your races, she recommends the Pacific Northwest because that region hasn't yet exhibited persistent rising temperatures on par with the rest of the country. "That's still a fairly safe bet," she says.
To find the worst climate-change impacts, look to the interior of the country—which experiences regular record-high temperatures—and the coasts, says Tebaldi. "On the coasts, we're seeing more precipitation extremes," she says. "We see floods and storm surges that require race cancellations."
Ironman distance triathlete Jason Bahamundi, 44, of Dallas, has experienced this firsthand. He was on his way to race his fifth Ironman in 2015, but when his flight landed in Maryland, he was inundated with texts. "I had all these messages asking me what I was going to do," he says. "Hurricane Joaquin was heading in, and the race director had to postpone."
Bahamundi could defer, participate in another Ironman race in the States, or wait in Maryland for the event's rescheduled date, a week later. He went with the second option. "I decided to go with Ironman Florida two months later, but even that was risky because Florida had to cancel its swim in 2014 due to high winds and rough waters," he says. "It also meant asking for more time off from work and getting back to training again." 
With all this variability, what's a race director to do? Most are gun-shy about pointing to climate change as the reason for so many weather-related cancellations, but some race directors still create contingency plans, just in case problems arise. Chris Dunn, organizer of the Granite State Snowshoe Series until 2015, says that he tried to arrange the race schedule to ensure adequate snow cover, with the northernmost events held earlier in the season and the southernmost later. "The winter can present significant challenges," he admits. 
Bjorn Steinmetz, operations director for Central European Ironman, says that the swim cancellation at Ironman Hamburg over the summer was a result of the warmest summer on record in the area. Lakes and ponds contain varying amounts of bacterial blue-green algae that only becomes harmful when it grows to excessive levels. Direct sunlight and warm temperatures lead to that growth. "It's what we must deal with now," Steinmetz says.
In the case of the Missoula Marathon, race director Tony Banovich says the weather-pattern changes have been noticeable. "What we're seeing in the West is that fire season is starting earlier and is more severe," he says. "We felt the risk was high enough to warrant making the date change." Tebaldi says this was likely the right move. "With warmer, drier summers in [the region], the conditions are ripe for fires to spread quickly," she says. "And air circulation means that poor air quality has a big reach, hundreds of miles." 
All of which leaves athletes faced with uncertainty, no matter the sport. For Canney, the snowshoer who worries about a lack of precipitation this winter, the options are limited. "Snowshoe racing requires different turnover and leg strength than running on the roads, so I really need that specific training before Italy," she says. "I'd like to be ready and give worlds my best shot, but I don't know what early winter will bring this year."