Get Schooled
How the Alaskan Wilderness Shaped the Salmon Sisters
The successful businesswomen learned all about entrepreneurship at home on the windswept Aleutian Islands. They had to.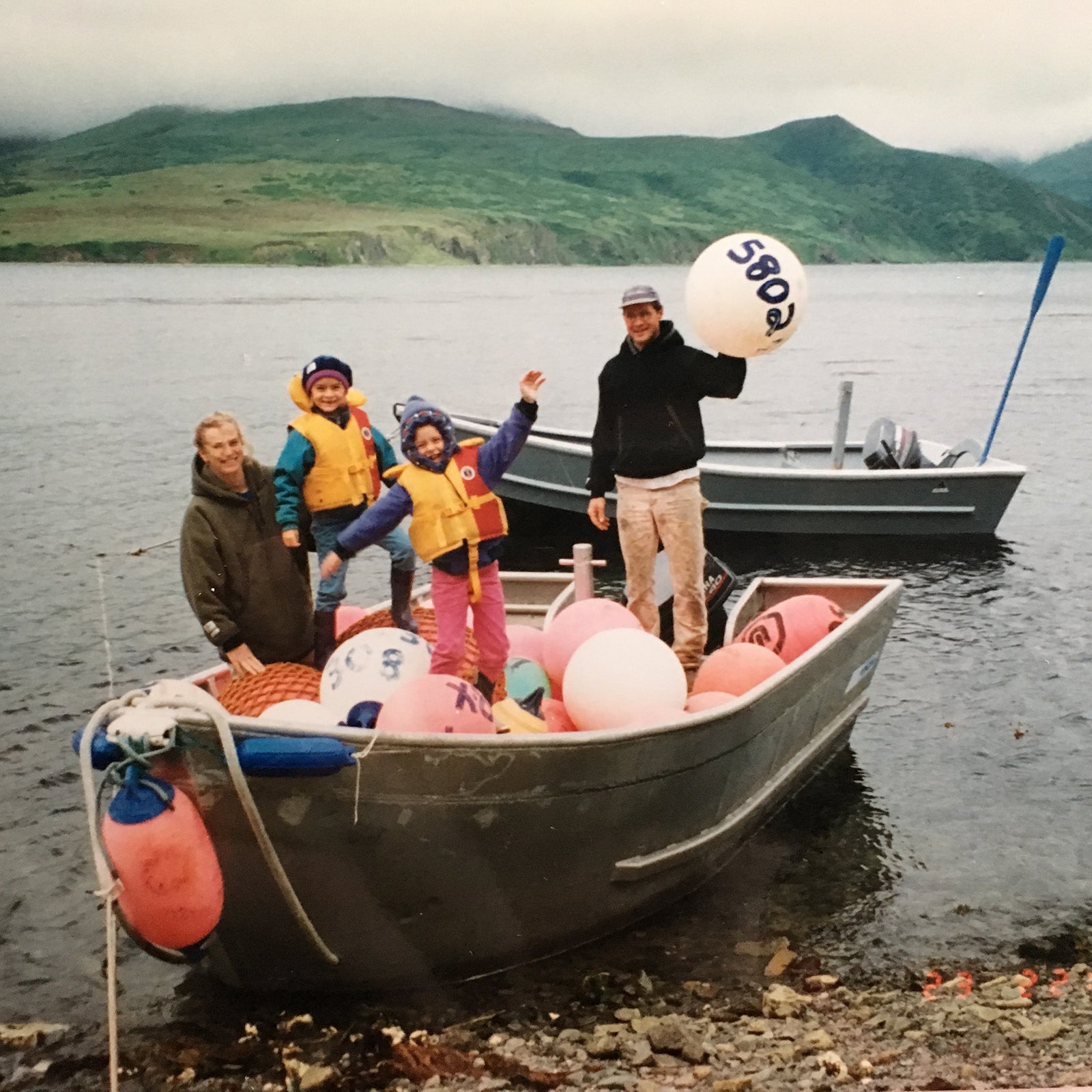 Emma Laukitis(Photo)
Heading out the door? Read this article on the new Outside+ app available now on iOS devices for members! Download the app.
When I asked Claire Neaton and Emma Privat how they learned to be both commercial fisherwomen and the creative entrepreneurs behind the Salmon Sisters outdoor-clothing brand, neither hesitated.
"Our parents," said Claire, 29.
"Totally our parents," echoed Emma, 28. "Growing up, we had our parents, and we had each other, and that was it."
This is not an exaggeration. When Claire was just a few weeks old and Emma was not yet born, Buck and Shelly Laukitis moved from the rainy forests of Southeast Alaska to a homestead in the wild, windswept Aleutian Islands. The closest village, with a population of just a few dozen people, was False Pass, a 20-minute boat ride away.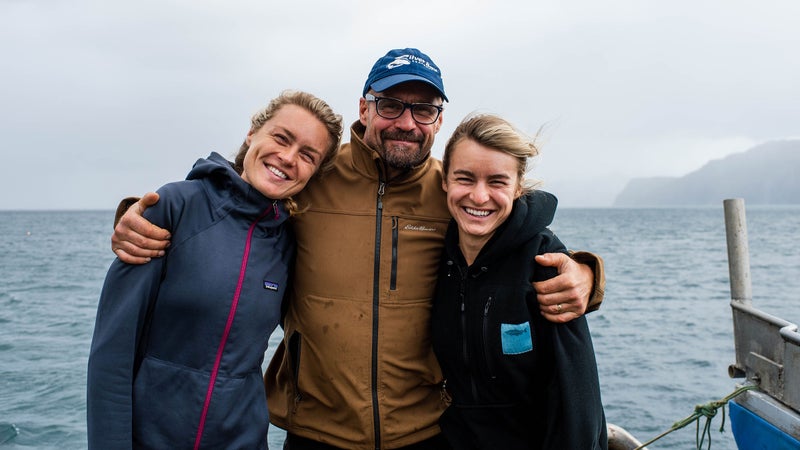 "Our parents were around our age when they found their way up to Alaska," said Claire. "My dad was trying to make money with a buddy to buy land in Wyoming. He fished in the Aleutians for one summer and fell in love with the place—the remoteness and the beauty and the tenacity of the people. They started from the very bottom. They were just young people without connections or money, looking for something radically different."
With hard work, luck, and the help of the False Pass community, the Laukitis's experiment worked out. The sisters spent their childhood deeply connected to their parents' adopted homeland, their lives guided by the seasonality of fishing and the endless chores that come with living remotely. They produced their own electricity with a waterwheel, grew produce in a greenhouse, raised chickens, and harvested shellfish and berries. And they fished. From the time they were young, Claire and Emma helped out on their parents' gill-net boat, hauling in the salmon that helped the family survive both physically and financially.
"Our parents taught us what work could be, and how it doesn't have to be different from our life," Emma said. "Work for us has always been really interconnected with the things we love to do."
In addition to enlisting the sisters' help with everything from smoking fish to repairing nets, Buck and Shelly taught their kids how to run a business. When they were six and seven years old, the girls sold eggs from their chickens at the store in False Pass. "I vividly remember having to do mental math in front of the storekeeper," Claire recalled. Later, Buck took them out to jig for cod for a day, and they got to keep the $160 or so that they made, minus what they paid him for gas money. That lesson—that they could make money through their own ideas and efforts—shaped the Salmon Sisters' story.
Even after Claire and Emma graduated from college, their parents didn't pressure them to find stable jobs with benefits. "We were so used to having our role models, our parents, live this life that was pretty risky and entrepreneurial," Claire said. "In commercial fishing, there are all these factors that are out of your control. Things can change quickly. So we were ready to jump off and try something fun and creative that we cared about, and that led to where we are now."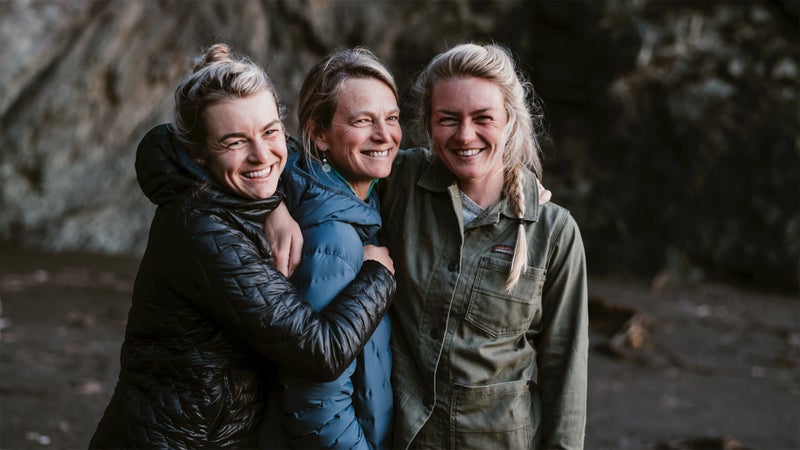 Where they are now is, in a word, enviable. In 2012, Claire and Emma launched Salmon Sisters, selling mostly tees, leggings, and hooded sweatshirts with their own marine-inspired designs. Today the brand has expanded to include outdoor performance gear and work gear, boots created in partnership with Xtratuf, wild-caught seafood, kitchenware, and more. In 2017, Vogue featured the Salmon Sisters in a photo essay celebrating Alaska's female workforce. In 2018, Forbes named them in their "30 Under 30" list of social entrepreneurs, in part because they give back to their community. The sisters set aside 1 percent of sales to donate Alaska-caught seafood to the Food Bank of Alaska, and they use their hefty social-media influence to teach the brand's fans about issues, like the proposed Pebble Mine in the headwaters of one of the state's biggest salmon fisheries.
When they're not running a business, combating food insecurity, or raising awareness about environmental issues, the sisters are often on the water, working one of their family's three commercial fishing boats. Fishing is "part of our blood and being," Claire says. And it keeps them grounded. In spite of their astronomical rise, Claire and Emma remain genuine, good-hearted people who understand that success doesn't happen in a vacuum. When you spend your childhood working alongside commercial fishermen in one of the world's most isolated and challenging environments, you learn that personal success is inextricably linked with that of your community, both human and wild.
That's another reason they're quick to credit their parents for both their business acumen and the joy they find spending time outdoors, working with their hands. "Everything stems from the work and the choices and challenges our parents went through," Emma says. "We're just the second generation that gets to reap the incredible way we were brought up."
Lead Photo: Emma Laukitis