Ski Week 2020
How to Fix That Core Shot in Your Skis or Snowboard
You can P-tex small gouges at home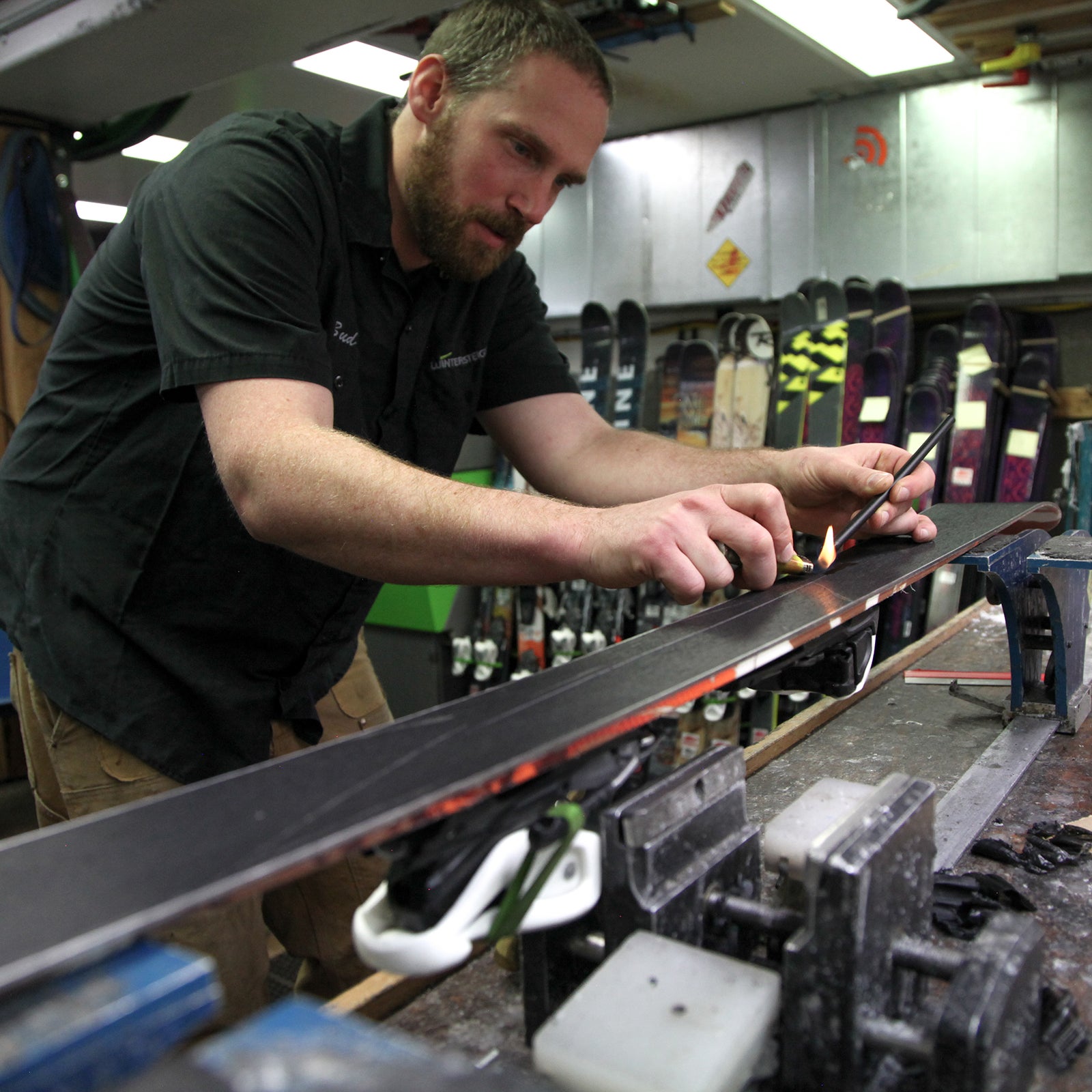 Megan Michelson(Photo)
Heading out the door? Read this article on the new Outside+ app available now on iOS devices for members! Download the app.
Early ski season brings one guarantee: rocks. Spotty snow coverage means chances are high for running over a sharp edge and ripping up the base of your skis or board. (This is why you may want to consider hanging onto old gear to use in the early season.)
Tiny nicks or scratches don't need to be repaired. They won't affect the ski's performance, so you can leave those be and wax over them. For full core shots—anything that rips into the fiberglass or the wood core—you may want to bring your gear to a professional at a ski shop. They have higher-grade equipment and tools, plus the skills to ensure the job gets done right—and done once. "You can fix your skis at home, but you may keep on repairing the same spot," says Chris Hounsell, manager at Tahoe Dave's ski shop in Tahoe City, California, and a ski builder for Praxis.
But for anything in between, like small- to medium-sized gouges in your base, all it takes is a DIY attitude and a few tips, according to Hounsell. 
Get the Tools
You'll need P-tex, which is short for polyethylene, the base material used in skis and snowboards. You can buy standard P-tex at your local ski shop. Dakine's P-tex Sticks ($8 for four) come in clear and black to match your base color. Make sure you have a good workspace—a workbench is a must; a set of vices, like Swix's Jaw Economy Ski Vise ($160), can help immensely.
You'll also need a standard lighter (like a Bic Classic; $10 for eight), a steel scraper like this one from Swix ($10), and some Scotch-Brite Heavy Duty Scour Pads ($8). Alternatively, RaceWax sells a P-Tex Base Repair Kit ($32) with ten sticks of P-tex, a metal scraper, and three buffing pads.
Prep the Base
"You've got to prep your bases before you P-tex," Hounsell says. "You don't want to have anything hanging off your skis." Hold the corner of your metal scraper like a pencil and shave off any bits of base that were dislodged to give yourself a clean surface to work with.
If you have a really deep core shot that goes into the fiberglass and has bits of broken glass or wood, you may need to glue them in place ahead of time, before P-texing, with a two-part epoxy adhesive. Again, that's something you may want to take to the experts at your favorite ski repair shop instead of tackling at home.
Before you start applying P-tex, make sure the room is well-ventilated. You're about to burn chemicals—try to limit how much of them you inhale. 
Light a Fire
Hold your lighter to one end of the P-tex stick until it's flaming. Then, hold the stick close to the base of the ski and spin it as you drip the melted substance into the hole while moving the stick steadily but slowly along the damaged area. The trick here is to keep the flame burning low and blue in color—not big and orange—to reduce the amount of carbon buildup, which can weaken the bond.
Keep your metal scraper handy to remove any unwanted drips on other parts of the base. Overfill the hole just slightly. "Sometimes it can take multiple tries, depending on how deep the gouge is," Hounsell says. If it's a deep one, let it cool a few minutes, then repeat this process.
Cool, Then Scrape
Wait a few minutes until the P-tex is no longer hot to the touch. Then grab your metal scraper and hold it at a 45-degree angle. Drag it along the base in either direction to remove extra material and create a flat surface. "One scrape will do the trick if you're good at it," Hounsell says. "Use pressure and work on getting the right angle of the scraper."
Hounsell likes using the scrubby green side of a clean kitchen sponge to help buff away any marks left by the scraper. Once the base is flush, you're good to go. Once you wax and scrape your skis or board, they'll feel good as new.
Lead Photo: Megan Michelson