In Stride
4 Runners on (Barely) Qualifying for the Olympic Trials
At last weekend's California International Marathon, several runners made it by the skin of their teeth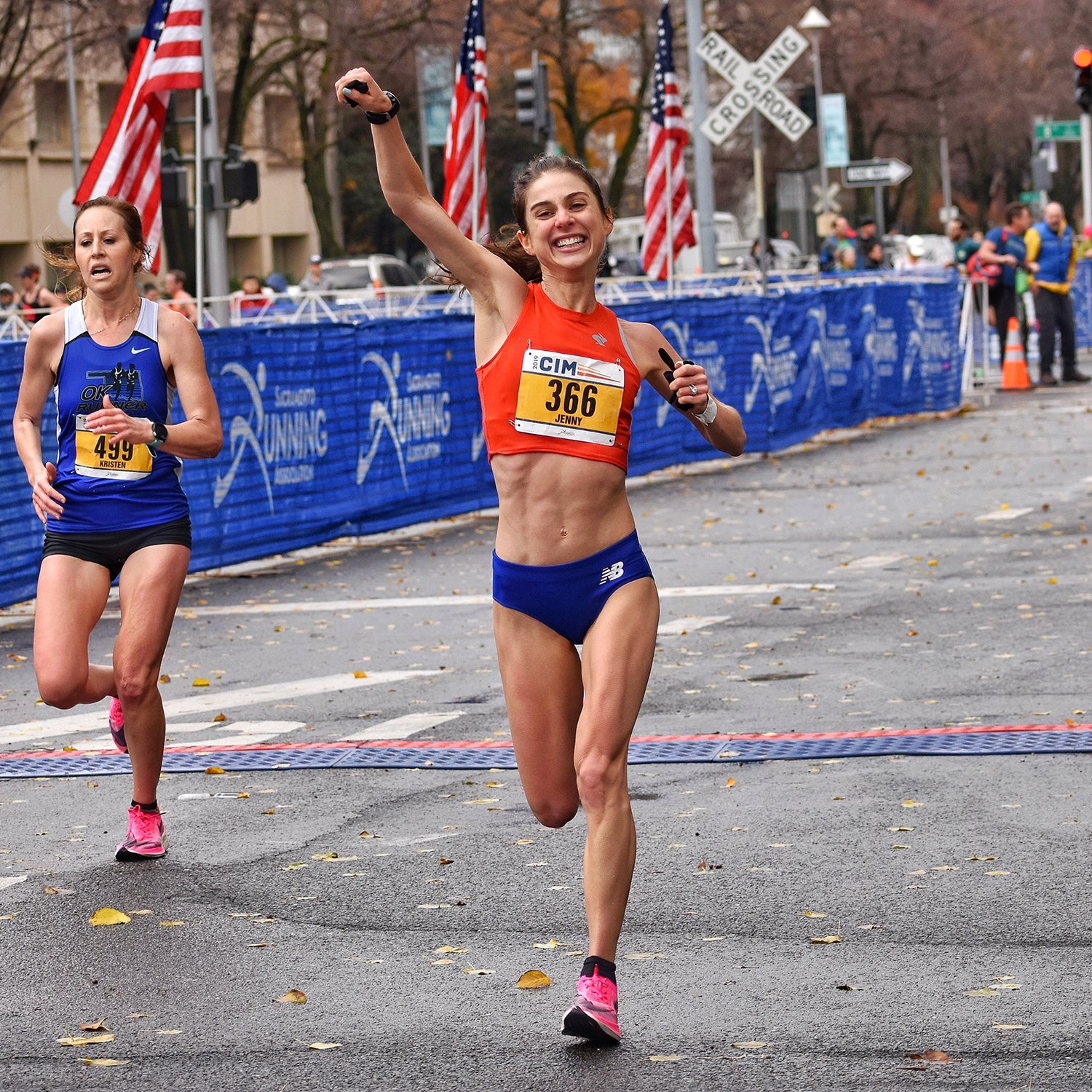 Peter Tollefson(Photo)
Heading out the door? Read this article on the new Outside+ app available now on iOS devices for members! Download the app.
For a number of runners towards the front of the race, last weekend's California International Marathon came with a sense of urgency. This year, the course that has established itself as the ideal place to set a personal best doubled as perhaps the last good chance for sub-elite runners to qualify for the Olympic Trials, which are taking place in Atlanta on February 29, 2020. 
Before last weekend, 424 women and 220 men had already achieved the OTQ standard, which stands at 2:45 for women and 2:19 for the men. (A small minority qualified by running the half marathon standard; which is 1:13 and 1:04, respectively.) 
According to the official Twitter account of the Sacramento Running Association, which puts on CIM, 72 women and 37 men ended up running under the Olympic Trials standard in Sunday's race. What does it feel like to OTQ at the eleventh hour? We spoke to some runners who were among the last to come in from the cold.
Jenny Donnelly, 2:44:36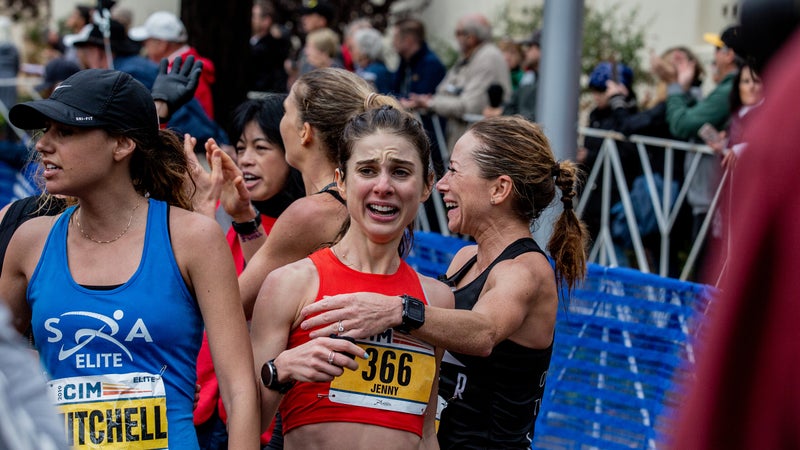 This was a 15-minute PR. To go into a marathon knowing that you need to cut 15 minutes off—that's 35 seconds per mile. I would say getting the OTQ was my dream, stretch goal for the day. I tried to believe it myself, as much as I could, but I am still in shock that it happened. What's crazy, too, is that it's not like I'm new to the sport. I'm 28 years old. I ran in college. It took me five years to break 3 hours. I debuted in 2013 with a 3:12 and I didn't break three until last fall. It was a long way to get there. I have a history of pretty bad anxiety and, around halfway, we went through at, like, 1:22:08, and that was slightly faster than I wanted to run. I think I spent miles 13 to 17 kind of freaking out. All those self-deprecating thoughts of I'm so stupid to think I could take 15 minutes off my PR. At around mile 16, I actually lost contact with the pace group by five to ten seconds. And then something just clicked in me: I saw that pacer in a bright black and pink singlet and thought: that is literally my goal slipping away. So I put in a surge and caught up to them. And as soon as I rejoined the pack, I don't know what it was, but I felt amazing. As soon as I re-joined them I kind of knew that I had it. The power of the pack: it's so mental. I still can't quite believe the difference in how I felt at mile 12, versus at the end. The whole last six miles, I kept repeating: Run with your heart. Run with your heart. Just said that on repeat. And the last mile I think I knew I had it and that mile was just incredible. The finish still gives me chills. The hugging. The crying. I ran straight into a stranger's arms.
Ann Mazur, 2:44:48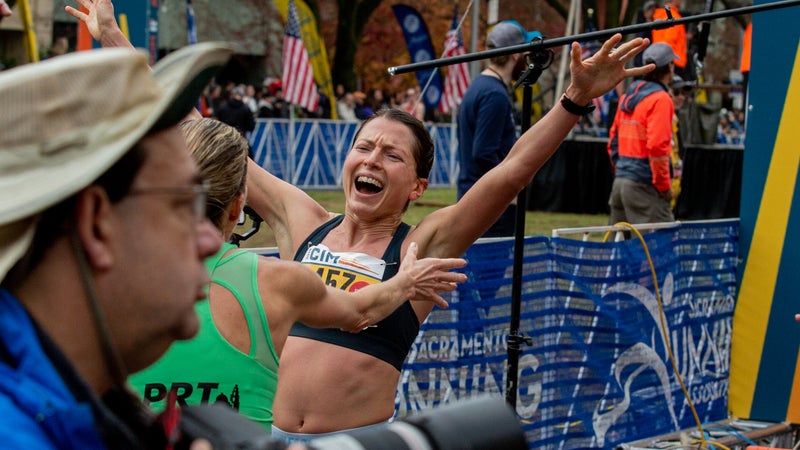 I was aware that there's a good chance that they are going to change the trials standard from 2:45 to something faster. So, that was very much on my mind before the race; that this could be the only time in my life that I get to make the Olympic Trials. My previous PR was from CIM last year, where I ran 2:48:31, so I knew it was in the realm of possible things that could happen, but I'm still slightly in shock that I actually did it. This is so goofy, but you never know what goofy thought will help you in the marathon: Chris, the lead pacer, had a swimming T-shirt on at the pre-race elite meeting. And I am also a swimmer. He told us at the meeting that he was going to run the red line of 6:17 per mile over and over again, before ultimately finishing just under 2:45. So I knew that if I was near Chris I would be OK. During the race, I thought in my mind that it was just like swimming and I just tried to block out all other thoughts from my brain. I'm not kidding for, like, 70 minutes of this race, I just kept thinking, Just like swimming. Just like swimming. Because I knew that if this were swim practice, I could just knock out those intervals and keep doing the same time over and over again. It was so helpful to me—getting that mantra in my head. At mile 23, Chris told us that we were exactly on pace and mile 23 ended up being my second-fastest mile; I ran a 6:09. After we came through downtown, they had signs out: 800 meters to go. And I looked at my watch and it said 2:41-something, so I knew that I could still make it. Then it's 400 to go. And then it's 200 to go. And then you go around a left-hand turn and you're on the finishing stretch and I can hardly even believe that I'm doing what I'm doing. And I see the clock and it's at 2:44 and something low enough that I know that I'm good if I can only just sprint and get my body across the line, somehow. And when I cross the line, I turn into this crazy, happy maniac. 
Zachary Vaslow, 2:18:51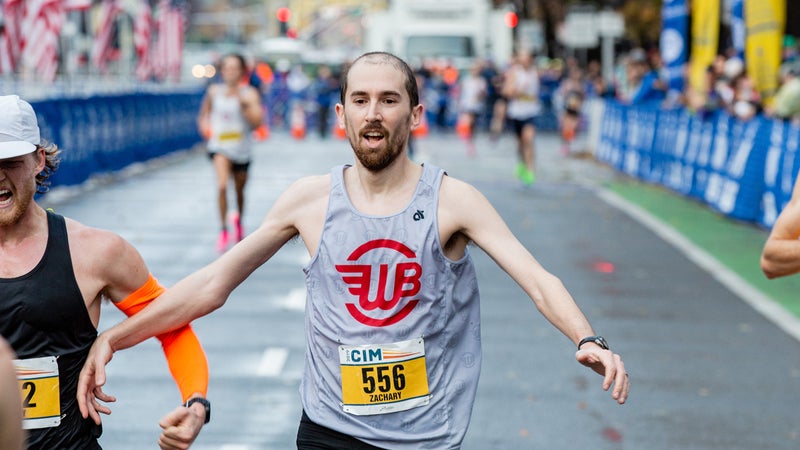 My story is kind of wild. I'm 34 years old. I had five years of no running and in that period I had five kids and did a medical residency. So I started over from scratch at age 32. Almost a year into running again, I was only running a 17:30 for 5K. So, it's been quite a journey. I ran 2:24 in March and that was a seven-minute PR, from a time I had run 11 years ago. With the kids and all that, it kind of forced a mid-life crisis. Instead of the leather jacket and motorcycle, I reached for my racing flats and did a bunch of mileage. Anyway, the plan was to complete this Olympic Trials arc at the Indianapolis Monumental Marathon four weeks ago , and I just missed it. I ran 2:19:30. I had it, but I cramped up really bad. It was a tragic situation. I could barely walk for a week afterwards. I definitely couldn't run at all. But my coach said, you've got to try again and came up with a plan for me to come out to Sacramento. And I did it. I can't believe I did it, but I did it. It's been very dramatic. There was basically over a hundred of us who are in this huge pack. Apparently there's a Twitter video out there of the pack we are running in and it just looks like a stampede. People were asking me what I thought of the course, and I couldn't tell you because I was so surrounded by such a dense pack of guys running fast. I couldn't see the road ahead of me. I couldn't get to fluid stations. It was so crowded. It was just amazing. Incredible. We were all supporting each other. We all had the same exact goal. If there was a laser line of what the Olympic Trials time was, I was right on it. And so every time I passed somebody in the last few miles, I knew that was it for them. And that was hard—to see other people. We all have the same dream and it's not going to happen for everybody; it didn't happen for me a month ago.
Everett Hackett, 2:18:57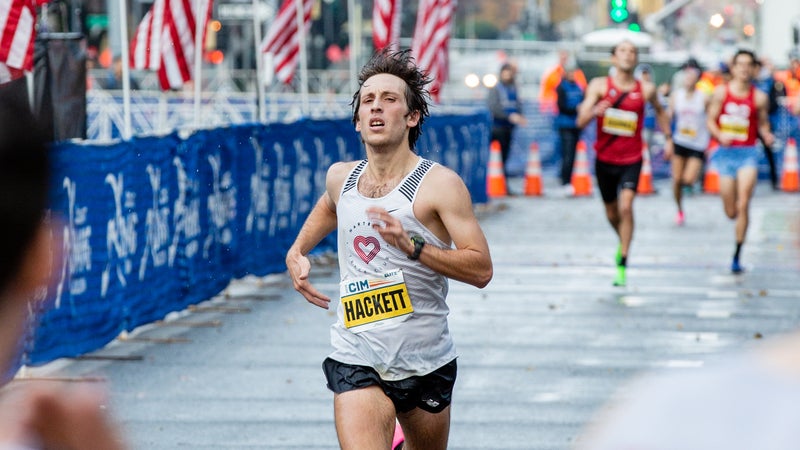 I had run a 2:20:23 at the Hartford Marathon in October, which was a four-minute PR at the time. One of my good friends and teammates encouraged me to sign up for CIM because he thought that I wouldn't get it at Hartford because the course isn't super fast. I was third in that race; it was just me and five other guys. It definitely wasn't like CIM, which was crazy. I think I was in 100th place at the half. As with most races, in the last 10K, it was just endless debate in my mind. I kept trying to tell myself to keep pushing and that I wanted it. I was really hurting, obviously, during the last part. I think it was mile 23 where I really pushed because I knew that it was close and that I needed to put some time in the bank. I pushed that mile really hard and it still was a 5:18. At that point, I was like this is not looking good. So, yeah, I didn't know I had it until the final strides. There were two turns at the end, and right before one of the turns, I don't remember which one, there was a guy on the sideline and he just yelled: 30 seconds left! And I just sprinted with everything I had. This is gonna seem a little funny, but when I crossed the line I was super pumped, but, also, at mile 24, I shat my pants. When I finished the race, my parents were standing along the fence. My dad asked me something. I thought he asked me how I felt or how it went and I put my thumbs down because I had poop in my pants. But he actually asked me: "Did you get it?" And then he checked his phone and said, "You did it." 
Lead Photo: Peter Tollefson
Trending on Outside Online