Gear Guy
Men's Athleisure Pants to Take You from Couch to Town
Comfort and performance that doesn't look sloppy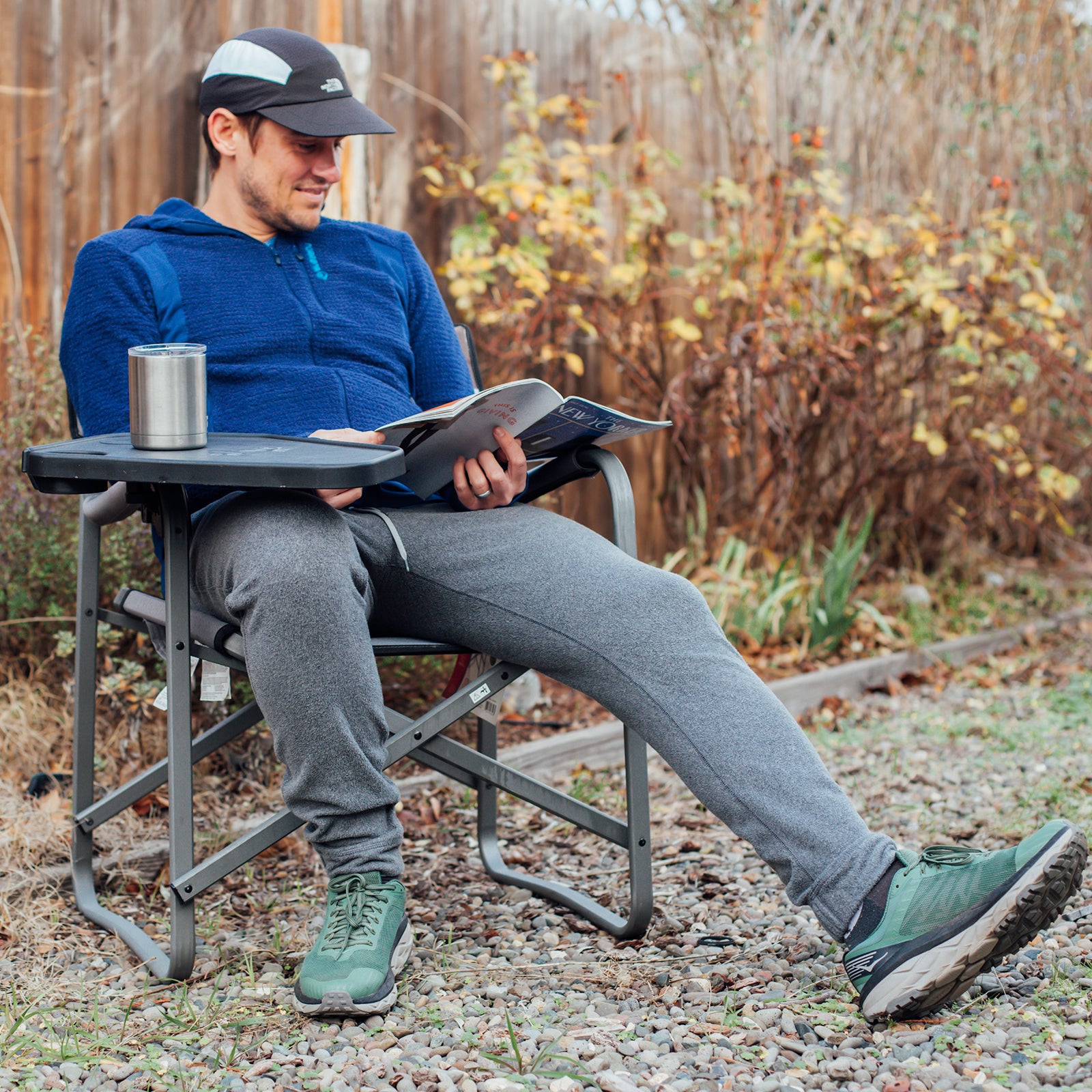 Sarah Jackson(Photo)
Heading out the door? Read this article on the new Outside+ app available now on iOS devices for members! Download the app.
There was a time in my life when I was a salty jerk about people wearing sweatpants in public. "Are jeans really that difficult to get on?" I would mutter while walking by people getting lunch in the pants they slept in. But when I became a father two years ago, I realized that jeans can, in fact, be exceptionally difficult to get on when you are in the depths of sleep deprivation. I actively developed a love of men's athleisure pants that could pull triple duty: on the couch, in the gym, and around town.
To help you maximize both your athletic and leisure pursuits this winter, I tested my favorites head to head.
The Test
Athletic Performance: While wearing each of these pants, I ran at least three miles and performed a circuit that involved lunges, squats, and box jumps.
Leisure: I slept in each of these pants and spent a rest day in them. I also worked in each pair for two full days from my home office.
Style: I FaceTimed with an expert, fashion journalist Alex Rakestraw, holding up each pair and soliciting his opinion. And I gave him a close-up of the pants' materials, pockets, buttons, and other smaller design details.
Best Style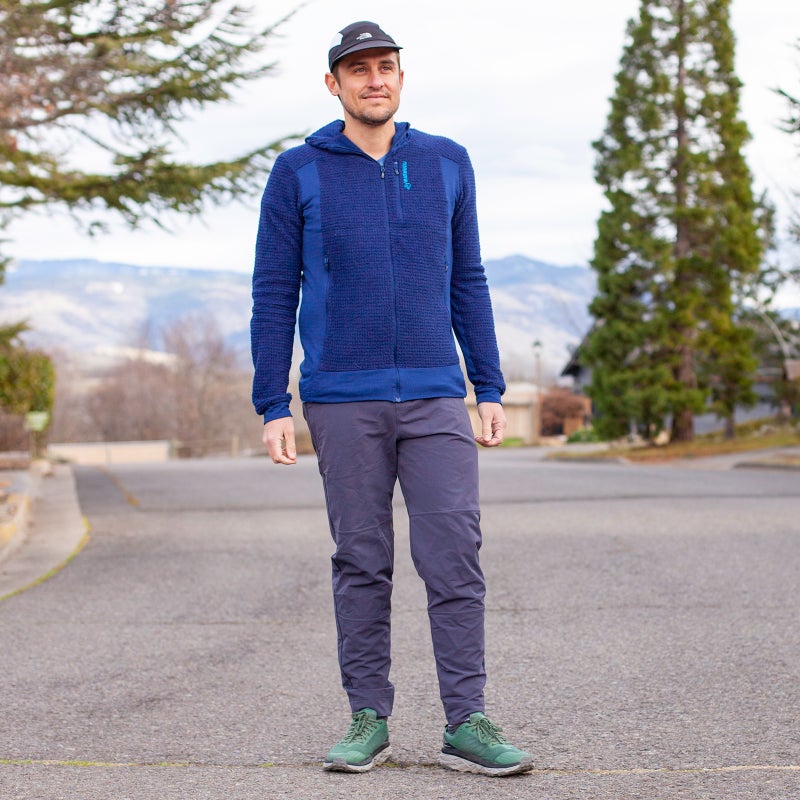 Cotopaxi Baja Pant ($100)
Athleticism: The ample two-inch woven waist belt, coupled with remarkably stretchy fabric, put the Baja neck and neck with the Patagonia joggers (reviewed below) for athletic movement during squats, lunges, and box jumps. A gusseted crotch and articulated knees give the pants an athletic-specific feel, even though they wear like a style piece.
Leisure: The fabric feels slightly more like a soft shell than the rest of the cotton or cotton-like options on this list, but there was never a time that it disturbed my sleep or made me desperately want to change out of them while watching a movie or playing with my daughter. And wearing this pant didn't give me a case of the cozies, like the Stios (also below). The more technical build enabled the Baja to accept a DWR treatment—which give it an edge in inclement weather—and allows it to pass as a nicer pant.
Style: "Oh, those are wild," Rakestraw said. Without the orange waistband showing, you could definitely dress these pants up, thanks to the cut and material. He was particularly interested in how visible seams along the knees added a layer of texture to the legs. "The thing going on with the knees makes them interesting and stand out—they don't look like a sweatpant, they don't look like a chino—they're different enough that these are less like everyday wear and can actually be street style," he said.
---
Most Athletic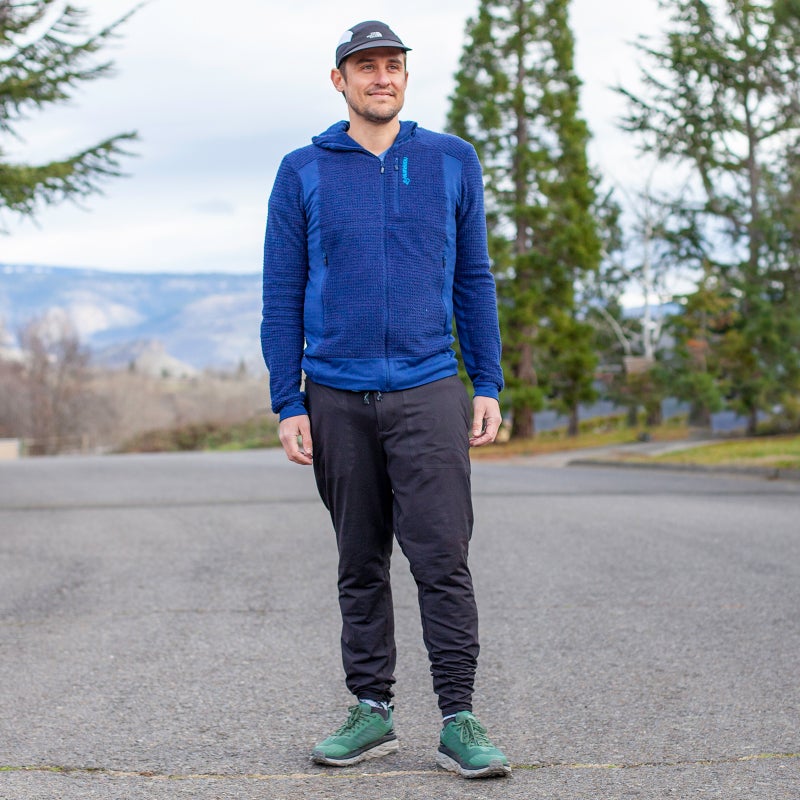 Patagonia Trail Pacer Joggers ($99)
Athleticism: These will be my go-to running pants through the winter. A tight-but-not-too-tight leg geometry, extremely stretchy material (thanks to a healthy dose of spandex), and smart movement design details—like the gusseted crotch—made these fantastic in the weight room as well. While the Cotopaxi pant also held its own in the gym and on trails, the Trail Pacer proved the best at wicking moisture and never felt bogged down during a tough hour of interval exercises.
Leisure: The next-to-skin feel was on par with the silkiest in this test. My only complaint while sleeping in the Trail Pacer was that the zipper pulls on the pockets weren't the most comfortable to roll over on while switching from side to side. But those pockets secured my wallet, keys, and phone as I ran errands—another important part of a solid athleisure pant—so it feels lame to complain about that feature.
Style: "I love these," Rakestraw said. "Looking at the actual fabric, these are the kinds of things that you can wear—I won't say anywhere—but they will solve a lot of the question marks in your life." Noting the slimmer cut, he added: "The actual taper the whole way through is cool. It's nice to see outdoor companies start to think of athletes who might be inside today instead of out on the trail."
---
Most Comfortable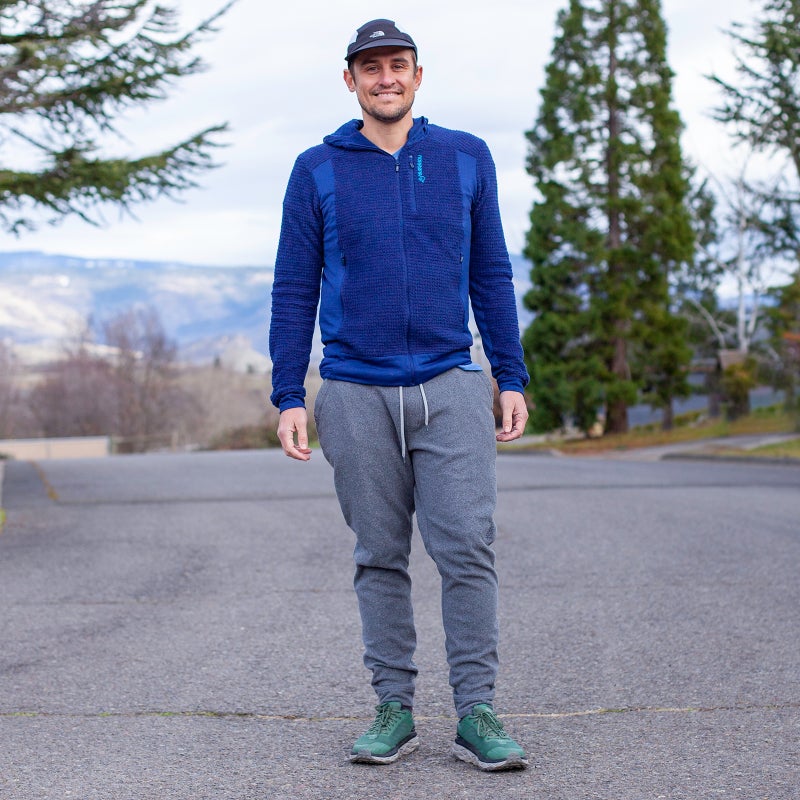 Stio Turpin Fleece Pant ($89)
Athleticism: These were great for cold runs outdoors but a nightmare in the gym. I overheated quickly in them, and the sweat hung around my inner thighs and at the crook of my knees. However, the thickness would make them nice under a pair of ski pants.
Leisure: I will live in these around my house this winter. I am embarrassed (yet kind of proud) at the number of synonyms for supple I used to describe these pants in my notes. To put it succinctly: these were so comfy that they were the only pants I craved when I felt like I needed comfort. The stretchy waist and relaxed (but not baggy) legs added to their luxury feel.
Style: "I love Stio. These are standard box sweatpants—that is not a critique. Something that I really admire about Stio is that their whole thing, from soup to nuts, is, This is how people live in Jackson Hole," Rakestraw said. "By the looks of it, these are pants for skiing and after. Every detail is for that. You are probably not wearing these out on the town, but if you are going to be warm and cozy, these are the pants."
---
Most Straightforward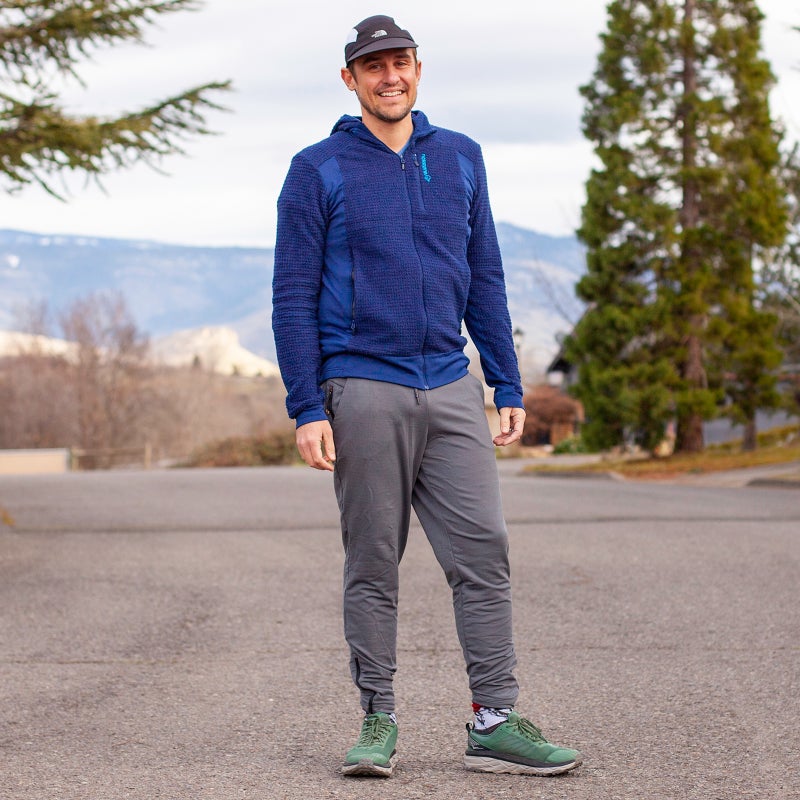 REI Co-op Active Pursuits Track Pants ($70)
Athleticism: Their 7 percent spandex weave allows them to move, and I didn't have any major complaints while performing squats or running in them; however, the lack of articulation or a gusseted crotch was notably constrictive during movements like lunges.
Leisure: The brushed interior of the Active Pursuits Track pants made them exceptionally comfortable for lounging, and their perfect medium-to-light weight meant I stayed cozy without overheating. The zippers at the ankles were uncomfortable when lying down—I rolled up the cuffs to get to sleep—but these were excellent around the house or for grabbing a cup of coffee.
Style: "Super, super traditional sweatpants. I mean, you could throw a Champion logo on there," Rakestraw said. "I love what REI does in making quality things accessible. If you are at après or looking for a campsite, this is it."
---
Best for Acro-Yoga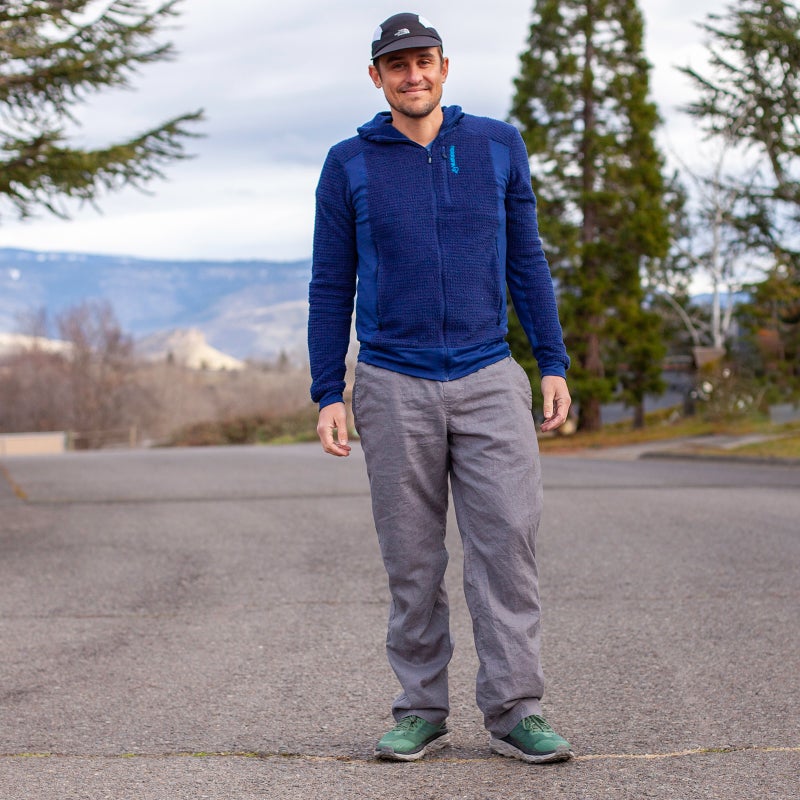 Prana Vaha Pant ($79) 
Athleticism: The flowing nature of these generously cut straight-leg pants makes them fantastically comfortable. They aren't the best as a stand-alone jogger, because of their lack of insulation and how they flap in the wind. And while I do not practice yoga, acrobatics, or acro-yoga, these did move very well during a parent-child gymnastics class with my daughter.
Leisure: These were another favorite around the house for two reasons: First, the three-inch stretch-knit waistband, the widest of the bunch, gives these an extremely pleasant fit that doesn't slip down. Second, the hemp fabric felt soft next to my skin. However, I felt the least comfortable wearing these out to get coffee or grab groceries because of how baggy the legs are.
Style: "These are definitely more of an alternative sports pant. These pants are not going to fool anyone, but if you're doing those things, it is great for them," Rakestraw said. "They are way more on the 'ath' side of athleisure. I have a pair of shorts with the same waistband, and they are super, super comfortable, but I would never try to wear those shorts out. That straight leg has me thinking capoeira guys in Bob's Burgers."
Lead Photo: Sarah Jackson