The Ultimate Road Trip
12 Rules for a Successful Family Road Trip
From going big on snacks to active pit stops, here's everything you need to know before taking a long road trip with the whole family
Kelly Quintia(Photo)
Heading out the door? Read this article on the new Outside+ app available now on iOS devices for members! Download the app.
Among the many difficult realities exposed by the 2020 pandemic is just how freaking far most of us are separated from our families. Mobility is one of America's most treasured rights, so it's become normal to live a thousand miles from mom and dad. Until this year, it also seemed normal to simply hop on a flight a few times annually to bridge the distance.
That all changed with COVID-19. There were the airport shutdowns. The shelter-in-place orders. The troubling second wave of infections and morphing rules around interstate travel. Anyone missing family has been faced with a tough choice: (a) skip seeing your parents or grandparents this year, (b) take a health risk and hop on a packed flight, or (c) pack your kids in the car for a multi-day drive. The clear choice for most families, including mine, has been that last option. But let's not call it an easy choice. Stuffing yourself, your spouse, and multiple kids in one car for 20 hours is to risk existential questions about the purpose of even having a family. If you're not careful, you'll be Googling "How do I make my children wards of the state?" before you reach your parents driveway. But with a little planning, you don't necessarily have to suffer. Here's what I learned on our recent 40-hour, 2,494-mile round-trip drive from Santa Fe to Whitefish, Montana, to visit my mother-in-law.
Train Like a Marathoner
Running 26.2 miles off the couch is possible, but you won't enjoy it. The same goes for marathon car rides. If you're planning something ambitious—anything exceeding, say, eight hours in a single day—the journey will be infinitely more tolerable if you take a few easier, progressively longer shakedown trips to develop some road-trip fitness. Which kid is fine going hours without stimulus? Which podcasts entertain the whole family? Who needs bathroom breaks every hour? How many hours can a family-size bag of potato chips last? You don't want to be asking these kinds of questions for the first time with 800 miles remaining. Before we left for Montana, our family of five took several summer road trips of four to eight hours.
Plan Your Route
If getting there in the shortest amount of time possible is your only goal, by all means, go with the recommended route on Google maps. But if you're willing to add a few hours, consider the alternate options, especially ones that take you off the mind-numbing interstate and maximize sightseeing on smaller highways. Twenty-two hours in the car on scenic roads is more enjoyable than 20 hours on a high-speed expressway battling armies of 18-wheelers.
Let 'Em Watch "Diary of a Wimpy Kid"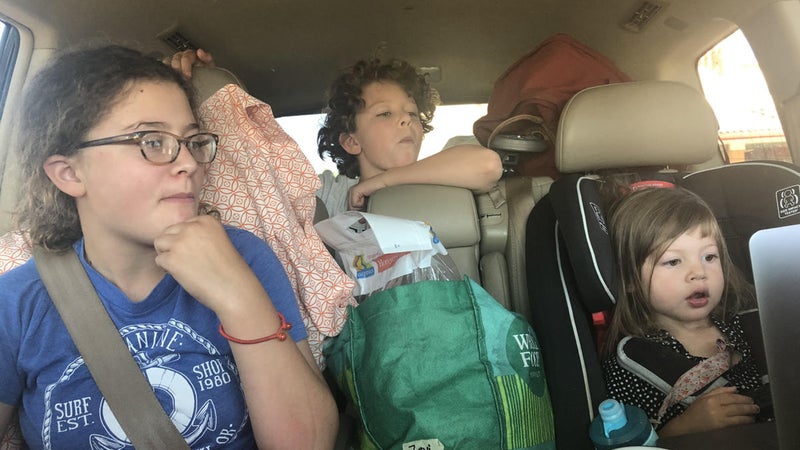 Becoming a parent means subjecting yourself to years of hand-wringing and unsolicited opinions about screen time. But here's the thing: streaming movies is an amazingly effective tool for keeping the peace on long travel days. So while we're strict about screens at home, we mostly throw out the rules—and the guilt—on travel days. We pack one laptop and a set of good headphones, download a couple of requested shows or movies for each child, and have them take turns. This method keeps everyone happy and avoids a much bigger sin of parental neglect, which is dragging your kids a thousand miles down the spine of the Rocky Mountains without them seeing any of it.
Don't Overlook Audio
Our three kids range from age 2 to 12, so it's nearly impossible to find a podcast or book on tape suitable for everyone. (Though here is one shameless plug: on winter car rides to the mountain, my oldest kids love the Outside podcast, especially episodes in the Science of Survival series.) Music can be complicated for the same reason, but we've settled on a revolving-DJ approach that often keeps our clan engaged for two-hour stretches. Using a phone with Spotify, we all get a turn to pick a song. The result is a pretty bizarre mix, but I'm willing to endure repeated plays of Rafi's "Wheels on the Bus," or Steve Miller's "Jungle Love" (my son's latest favorite), if it means exposing my kids to Neil Young deep cuts. Bonus: your kids' picks will occasionally surprise you. My nine-year-old once queued up "London Calling" by the Clash, and I nearly teared up with pride.
Go Big on Snacks
As with screen time, my wife and I toss out some of the at-home rules of healthy eating on big travel days. We pack lots of fresh fruit but also let the kids pick out some normally forbidden junk foods, like Doritos and candy, and dole them out liberally. The laid-back approach helps make road trips seem more like a fun novelty to your kids than something to dread.
If you're traveling in the age of COVID-19, it's also best to bring all your meals to avoid restaurants and other gathering spots. For that, I highly recommend shelling out for the Yeti Hopper ($200) as a travel cooler. There's plenty of room inside for perishable food and cold drinks, and the soft-sided construction makes it easy to pack in the back seat and access your goodies without stopping.
Don't Schedule Pit Stops
You'll be tempted to study the route and choose designated stopping spots in advance. Don't do this. You're not a train conductor charged with keeping to a rigid schedule, you're the lead guide on a Mount Everest expedition with an array of clients and unpredictable conditions to navigate. Your role is to take charge of the group's pace by keeping tabs on your team in regular intervals, assessing the collective mood, and recognizing the signs of flagging morale before it's too late. (Sibling bickering is usually a code-red indicator.) Only stop when necessary. Taking this approach, we've endured six-hour stretches without a break, something I never would've thought possible.
Find a Park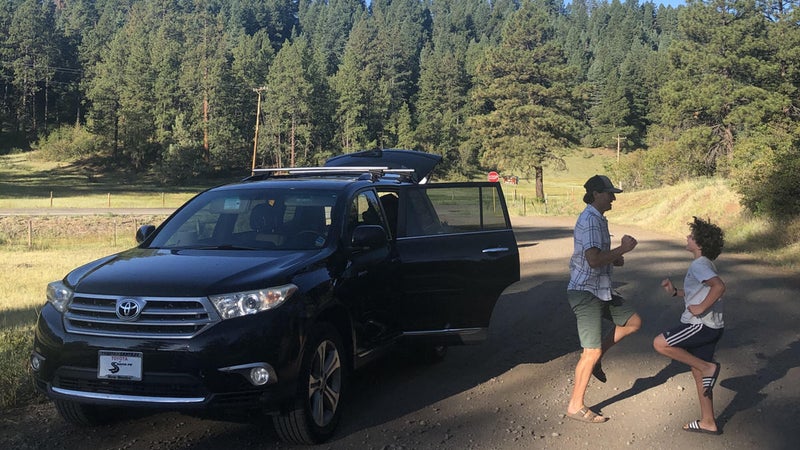 Gas-station stops are a necessity, but no one feels revived after wandering around a fuel-scented acre of concrete. Highway rest areas, with few exceptions, are equally limiting. Instead, seek out parks—almost every town has one. Whenever the mood in our car signals that we need a half-hour of freedom—stat!—my wife or I pull out the phone and search "parks near me." Most recently, this approach led us to a massive playground on the Animas River in Durango, Colorado, and a shady statue garden with a crystal-clear stream for wading a stone's throw from the capitol building in Salt Lake City. I also threw in spontaneous quick workout challenges during stops—from push-ups to jogging in place—challenging the whole family to get their blood pumping after hours sitting.
Leave Early
As in before sunrise. This approach has many advantages.
1.The first couple of hours go by faster at 5:30 A.M. than at 8:30 A.M. (Don't question this; it's just a fact.)
2. You'll catch the golden hour, where even dull interstate highways seem majestic.
3. You'll relieve the pressure on making it to your destination on time and build in room for spontaneous park visits.
4. Kids actually love a 5 A.M. wake-up call. It signals adventure.
Respect Personal Space
If your car has optional third-row seating, utilize it—even if you only have two kids. Everyone is happier being master of their own domain.
Embrace Games
We don't play a lot of these, but they're a good option, especially in the manic final two hours of an all-day drive. Our go-tos are 20 Questions and Would You Rather. You'll have to set some rules around the latter, or things will turn gross and go off the rails in a matter of seconds. My kids respond well when this game is firmly planted in the ethical realm. This recent question had them really thinking and debating: Would you rather be one of the popular kids, with lots of friends, but have to pick on other kids to remain in the clique, or be picked on every day but not have to be mean to anyone? It also prompted the following gold nugget of wisdom from my son: "What would my family be like? If my parents and siblings were nice, I could handle being picked on every day."
Go Long on Day One
If your destination is multiple days away, make your first day the longest, and aim to go more than halfway if possible. After that, day two feels like it's all downhill. For our 20-hour drive to Whitefish, we drove 12 hours the first day and eight on the second. That also meant there was still daylight left to run around when we finally arrived in town.
Always Choose to Drive
This really only applies if you and your partner have a child under age three. Otherwise, riding shotgun is the prime position. But with a toddler, you can forget about dozing off or reading a book while in the passenger seat. Instead you'll spend most of your time as an unpaid, immobile flight attendant, craning your neck to mop up spills, dole out snacks, and read books to your mostly bored and helpless two-year-old. My wife thinks I'm a hero for taking the bulk of the driving load, but I'm really just selfish and lazy.
Lead Photo: Kelly Quintia
Trending on Outside Online