How to Eat Healthy in Airports
It's almost summer. Here's how to avoid loading up on junk food as you fly off to mountain and beach adventures.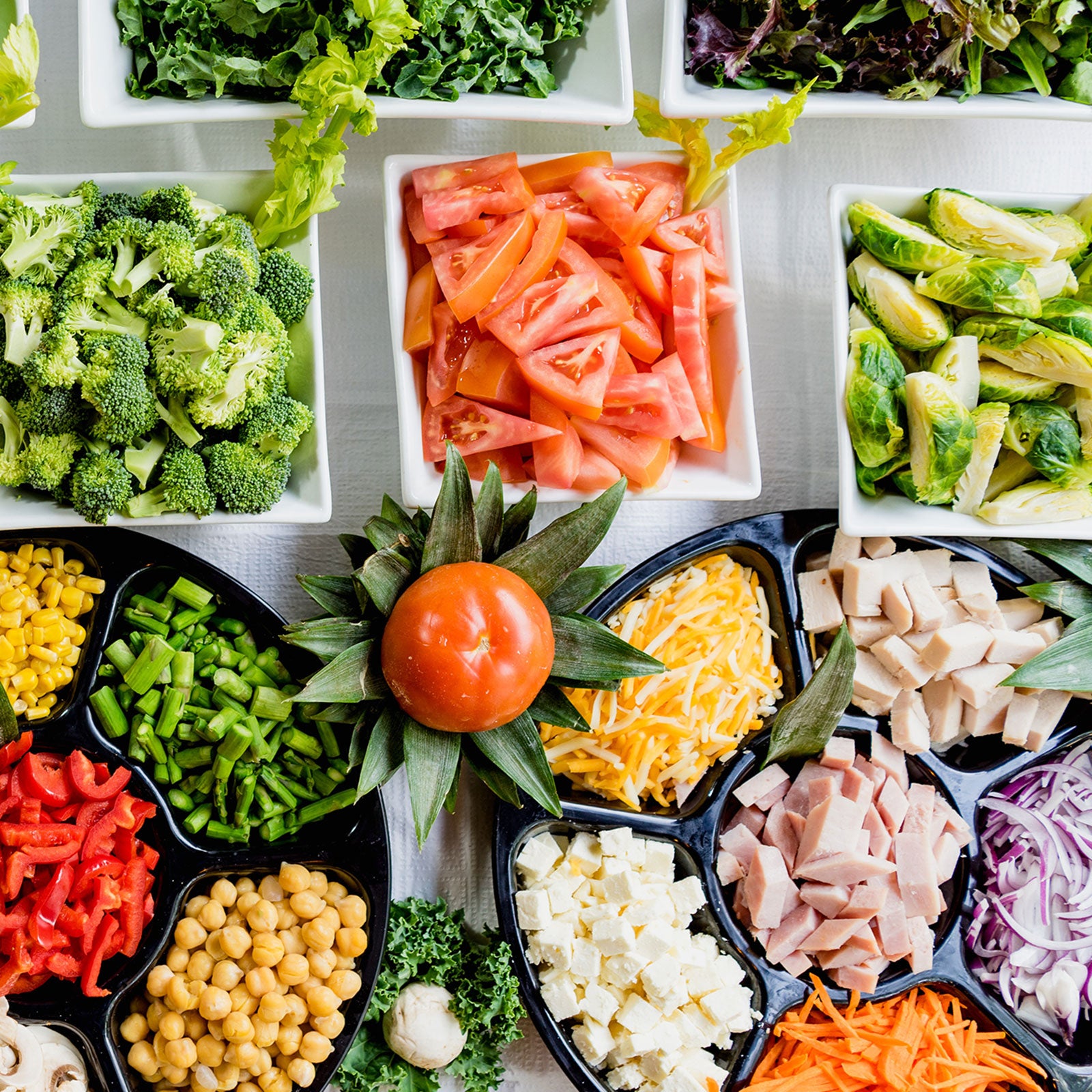 Dan Gold/Unsplash(Photo)
Heading out the door? Read this article on the new Outside+ app available now on iOS devices for members! Download the app.
Some people get the munchies while high. I get them while physically high—say, at 30,000 feet.
There's something about air travel's unique combination of boredom and stress that has me grabbing for in-flight pretzels like they're the last few calories on earth. I don't even like pretzels, but when that cart rolls by, damn if I'm not working on my best "please may I have some more" face in hopes the flight attendant will hand me two packets.
Travel is fun. The nutrition choices we have to navigate in the process are less fun. Between TSA tossing out the yogurt you dutifully packed (yogurt is a gel?), the 11-hour layover in a gate next to a Cinnabon (cruel and unusual), and an insufferable seatmate driving you to deplete the plane's stash of mini whiskey bottles before takeoff, it's easy to see a Sbarro and think, I earned this.
If you do hit up Sbarro, it's fine. I'm not here to judge. But I am here to help if you'd like to make healthier choices.
The good news is that airports are trying to offer more options. Last year, HMS Host, the supersize contractor that runs food-service operations in a lot of airports, announced an initiative called Eat Well, Travel Further. The program swaps sodas for kombucha and sparkling water and brought 500-calorie whole-food bento boxes into its retailers.
Angie Asche, a Nebraska-based registered dietitian, says that she's been pleasantly surprised to see better choices at airports, like in Detroit; there she points to Plum Market, an outpost of the upscale midwestern grocery chain, as a great spot to pick up fresh salads and organic snacks, like hummus and vegetables. Asche also loves the offerings at a restaurant called Farmers Market in Charlotte, North Carolina. It has a large salad bar plus whole fruit and other healthy snacks.
Of course, you can't always pick your layover destination with a great meal in mind. In those cases, do not despair, says Lauren Pincus, a New Jersey–based registered dietitian who travels frequently for conferences and media appearances. "You can usually find something healthy," even if you just have major chains to work with.
Here are Pincus and Asche's tips for making the best of life on the road.
Think Fiber, Protein, and Fat
These are the things that keep you feeling full, helping you avoid a pretzel binge midflight. Every meal should have a combo of the three, which means you need to add lettuce to a sandwich or nuts and beans to a salad. "I always try to add a little fat like avocados or cheese," says Asche. Not only do those ingredients vastly improve any airport meal, but the fat in them is satisfying, keeping you away from the family-size pack of M&M's in Hudson News.
Get Your Water and Z's
"Our bodies confuse hunger and thirst a lot of the time," Pincus says. Altitude dehydrates us, and many folks avoid drinking too much while flying in a bid to not visit the airport restroom, she explains. If a bag of chips is starting to sound tasty, drink some water and then see how you feel. Or you may be tired. There's a good bit of research showing that when you don't get enough sleep, you end up eating more calories. If you chose the 6 A.M. flight, catch a nap before downing those airport french fries.
Embrace Starbucks
Yeah, the coffee is mediocre (I said it!), but the food options are about as good as it gets for a major chain. "I love Starbucks," says Pincus. "Some of their breakfast sandwiches are especially good." She usually orders an egg-white sandwich on a whole-wheat English muffin or in a wrap. "There are even some vegetables in there, so you get protein, whole grains, and veggies in one meal." Asche orders the oatmeal, but she ditches the sugar-laden toppings and instead adds a packet of Justin's almond butter and whatever fresh fruit she can find. Keto folks will appreciate Starbucks's sous vide (meaning cooked slowly in a hot-water bath) egg offerings and the brand's protein packs, which combine a hard-boiled egg with a few slices of cheese.
Know Your Restaurant Options
For years, TripAdvisor's GateGuru was about the best way to see every restaurant near your gate. Unfortunately, the company shut down the app in January. Individual airport apps are likely the most accurate and up-to-date resources, but downloading a whole bunch of apps is kind of a pain. Google Maps to the rescue. The search behemoth's indoor maps show most restaurants if you zoom in close enough. And note: there are now some really great restaurants in airports, many of which have healthy offerings. Eater regularly updates its airport dining guides, which are an excellent resource. Outside's editors and staffers are partial to Root Down in Denver, which does farm-to-fork seasonal fare, and Napa Farms Market in San Francisco for its wide array of veggie-based options. We also love Deep Blue Sushi at New York's JFK and Farmer's Fridge, a vending machine with superfresh salads at Chicago's O'Hare. A few companies are also offering food-delivery service similar to Seamless. AtYourGate will deliver food to you in the Newark and San Diego airports. At Baltimore Washington International, Airport Sherpa will bring you a sandwich while you wait to board.
Ordering Versus Buying Prepackaged
Pincus almost always chooses a made-to-order establishment versus grabbing a premade salad. "If it's not prepackaged, you can choose a little bit more of what you do and don't want," she says, adding that "in this day and age of food allergies and diet restrictions, they're used to people asking to make changes." Pincus also usually asks for extra veggies and half the cheese. "And I ask them to go light on things like mayo," she says. Because it's infinitely customizable, Pincus's favorite airport restaurant is Subway: "You won't find any other quick sandwich place with that many veggie options."
Go Your Own Way
Asche ends up traveling with a group sometimes, and often the social thing to do is hit the airport bar for beers and burgers. When that happens, "I just do my own thing," she says. If you're traveling together, you're already spending a ton of time in close quarters. If someone makes you feel bad for ditching out for ten minutes to get a meal that won't send your triglycerides to the moon, well, that's a garbage friend.
Survive the Newsstand
You go in to buy a magazine and come out with 12,000 calories in trail mix. I've been there. There's nothing inherently wrong with trail mix, says Asche, except that the bags sold in airports are almost always enough for a crowd. Grab one only if you have friends to split it with, she suggests. Otherwise, go for the trail-mix bars, which generally are just one serving per package. Rx Bars are her go-to, but Larabars are a good choice, too.
Pack a Few Oh-Sh—t Snacks
Delays and cancellations happen, which is why it's smart to always have a little something packed in your bag. Pincus usually brings a few dried prunes, plus chia seeds, high-fiber cereal, and peanut-butter powder. She can mix these into oatmeal or plain Greek yogurt, and she'll have a full, well-rounded meal. Asche brings veggie sandwiches or peanut butter and jelly. "Hummus and veggies are usually pretty safe for a few hours, too, and peanut butter and jelly is basic, but I love it," she says. If you want to pack something that needs to stay cold, she recommends a Fitmark Bag, which has TSA-approved ice packs.
Lead Photo: Dan Gold/Unsplash
Trending on Outside Online