Tested: Travel Gear for People Who Hate Flying
Here's what worked—and what didn't
Heading out the door? Read this article on the new Outside+ app available now on iOS devices for members! Download the app.
Before coming to Outside, I spent close to four years living, working, and traveling abroad. During that time, I took dozens of flights—on everything from jumbo jets to shaky prop planes—and hated every single one of them. Ironically, I suffer from terrible plane anxiety that not even an in-flight menu of cocktails and a series of early-nineties Tom Hanks rom-coms can cure. For me, flying is an unfortunate side effect of my obsession with exploring new places, and my self-imposed exposure therapy has done nothing to help.
Living out of a backpack for several years also made me a packing minimalist. My idea of comfort is a rolled-up sweatshirt as a pillow, and anything I take with me has to pass a rigorous selection process before making it into my bag. Combined with my normal insomnia and the crushing fear of being in a flying metal death tube, this means that, minus quick naps in moments of unbearable exhaustion, I've never fallen asleep on a flight, be it a six-hour red-eye to New York or a 17-hour sufferfest to Qatar.
There are a whole host of products available at airport kiosks or online that promise to turn my 17-inch-wide seat into a four-poster bed. So on a recent trip to Italy with my mom, I decided to break from my light-travel principles and try them all—at the same time. Over the course of eight flights and more than 30 hours in the air (flying from Santa Fe to Palermo takes a lot of connections), I wanted to see, once and for all, if there's anything out there to help alleviate my flight stress.
---
FaceCradle Wanderlust ($40)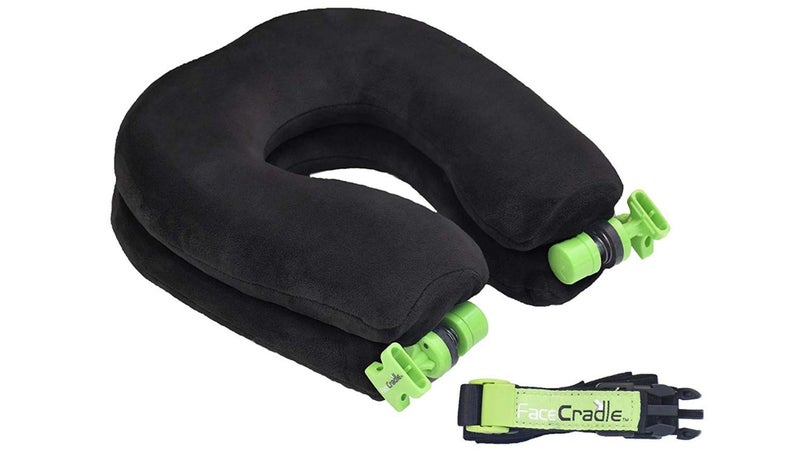 You've probably seen ads for the FaceCradle, a contraption that looks like you're sticking your head through a plush toilet seat. Its absurd design is why I'm surprised to admit that it was a clear favorite among the pillowy products I tried. The FaceCradle won out because it can accommodate any type of sleeper in virtually any position. You can use it in the most popular (and arguably most ridiculous-looking) fashion: attached to your headrest via a strap, with your face folded forward through the hole. Or it can be used as a pillow on your tray table or as a traditional neck pillow. My chosen method, though, was to prop it open on my shoulder and rest the side of my face on it, allowing me to almost feel like I was lying on my side in bed. Unlike normal pillows, I didn't have to worry about it slipping between the crack between my seat and the wall and could hold that position even when sitting in an aisle seat. The memory-foam filling and velvety cover made it comfy yet breathable. The only downside is its packability; while not ultra bulky, I'd still have a hard time justifying it for an extended trip. Otherwise, I have to say: it's worth the side-eye from other passengers.
---
Bose Quiet Comfort 35II Headphones ($350)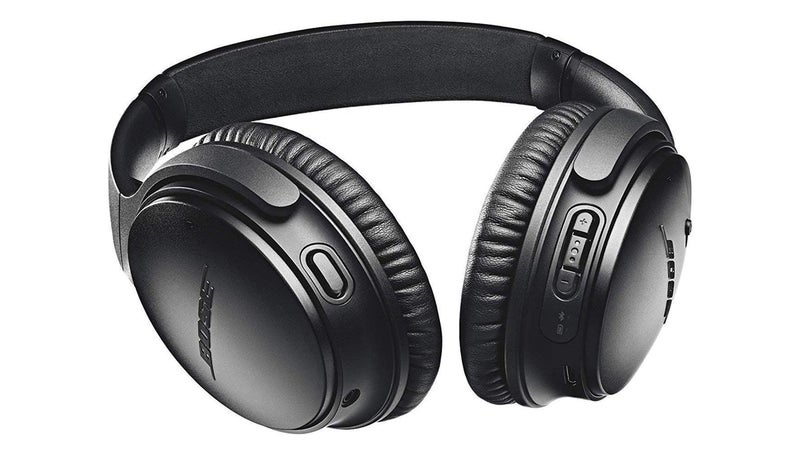 I've always been a $20-earbuds-from-CVS type of girl and thought that people who bought expensive headphones were suckers. But I have to admit that these made the single biggest difference in combating my flight fear. The active noise canceling did a startlingly good job at filtering out ambient engine sounds, the slight changes of which normally signal imminent doom to my anxiety-riddled brain. Encased in the glorious silence, I briefly forgot I was on a plane at all and even managed to drift off to the soothing voice of Tom Hanks in You've Got Mail.
---
Sunany Inflatable Tray Table Pillow ($19)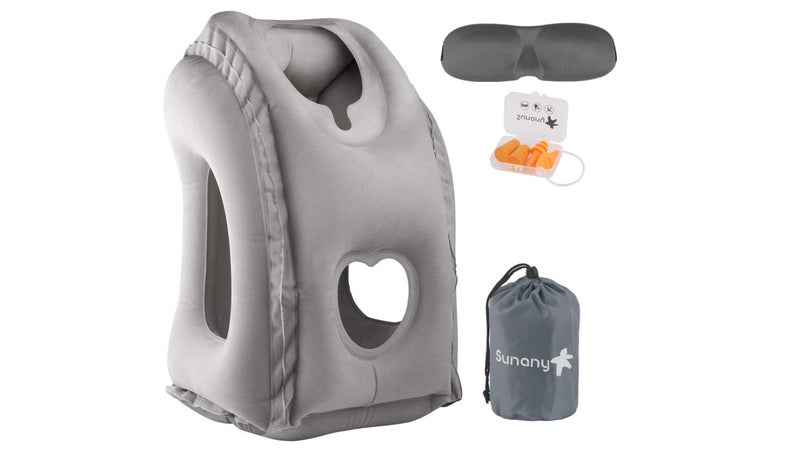 There are a half dozen different types of these on Amazon, so I picked one with good reviews and two-day shipping. I had high hopes, given that it fit my ultralight requirement and came with an eye mask, but in reality, it achieved subpar results. Here's how it works: you blow it up (not an easy task at 35,000 feet), stick it on your tray table, put your head through the top hole and your arms through the sides, and you're off to dreamland. Well, sort of. When paired with my headphones and a scarf over my head, I felt like I was in my own warm, dark fort. But it was a little too warm. Even after I took the scarf off my head, my breathing made this thing a hotbox in about 20 minutes. The biggest problem, though, was that the guy in front of me treated his seat like a rocking chair, slamming back into my head every ten minutes. Other than that, it was fairly comfortable—maybe just go for one with a bit more ventilation, like the Woollip.
---
Lululemon Vinyasa Scarf ($48)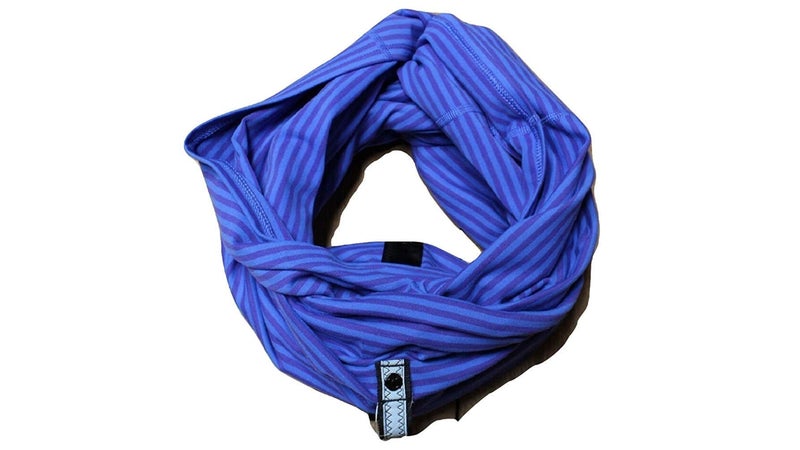 Versatility is my top condition for any travel gear. This scarf promises just that. While the company says it can be worn seven ways, I've had friends find far more uses, including as a shopping bag, a skirt, and a shirt. Still, $50 for a scarf? While I was skeptical, it became the item I used most on my trip. On the plane, it was a breathable light-blocking head cover and an alternative to those flimsy airplane blankets. Once I got to Italy, it became a towel, a beach cover-up, and a shawl, which came in handy when I had to cover my scandalously bare shoulders in Catholic churches.
---
Topo Designs Mini Quick Pack ($49)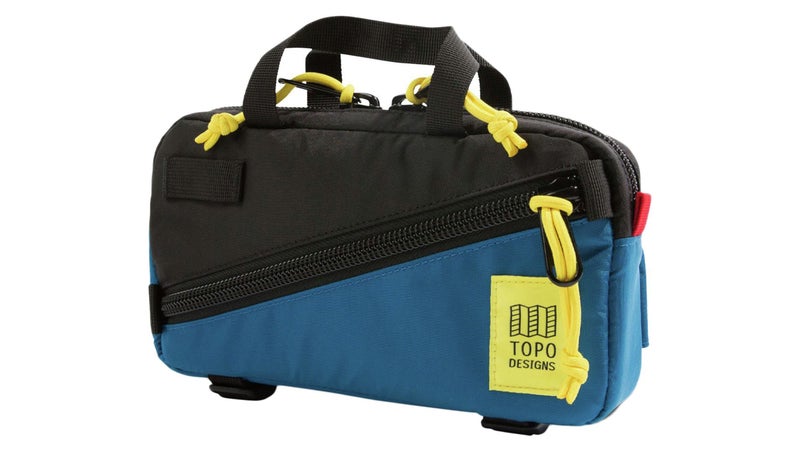 They say we all become our parents eventually, and with a fanny pack around my waist, I certainly felt like my mom circa the 1990s. Sure, these pieces have been making a comeback, but I swore I would never, ever use one out of fear that I'd suddenly feel the urge to start wearing high-waisted jeans and Keds. But this square and sporty pack has converted me. My passport and boarding pass, usually precariously shoved into a pocket of a jacket or backpack, could be safely zipped away and were easily accessible at my waist, along with my phone, cash, and a small travel camera. Getting through customs was never so fast or hands-free. Plus, it took the place of the bulky backpack I usually put under the seat in front of me, giving me far more leg room. Off the plane, I felt confident navigating the city with my valuables, unafraid of the notorious Palermo pickpockets my relatives had warned me about. Did I feel a little dorky? Yes. Did I care? No.
---
Fly LegsUp Flight Hammock ($55)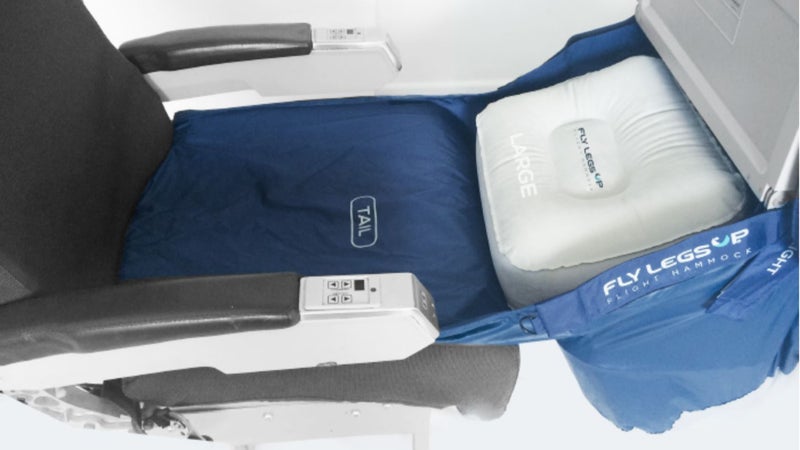 I've taken enough long flights to see the appeal of a leg hammock, which allows you to elevate your feet in a sort-of fabric sling. On many planes, those metal footrests have become a thing of the past (and never worked that well, anyway). As a side sleeper, I was excited by the possibility of being able to curl my knees up like I was lying in a recliner. Unfortunately, that wasn't the reality. Whether due to design flaws or my own incompetence, trying to set this up in a cramped economy seat was an ordeal, and I was glad that I had my mom sitting next to me in the aisle seat, as she absorbed the hits from my flying knees and elbows and blocked the curious stares from strangers in the process. Assembly required putting together a small U-shaped metal frame that sits upright on the floor and is attached to a fabric sheet, which I had to maneuver under me and put my legs on top of. After about 20 minutes, I was finally able to adjust it. I then blew up the three included inflatable pillows to stick inside the hammock to rest my feet and knees on. Even after all that, I had a hard time keeping it from collapsing and found it frustrating to repeat the entire process every time I needed to use the bathroom or stretch my legs. I'll admit it was mildly comfortable resting on my side with my legs curled up. But it wasn't worth the effort. The bulk also took up precious space in my carry-on that I was hoping to save for duty-free olive oil and cheese.
---
Vapur Eclipse Water Bottle ($10)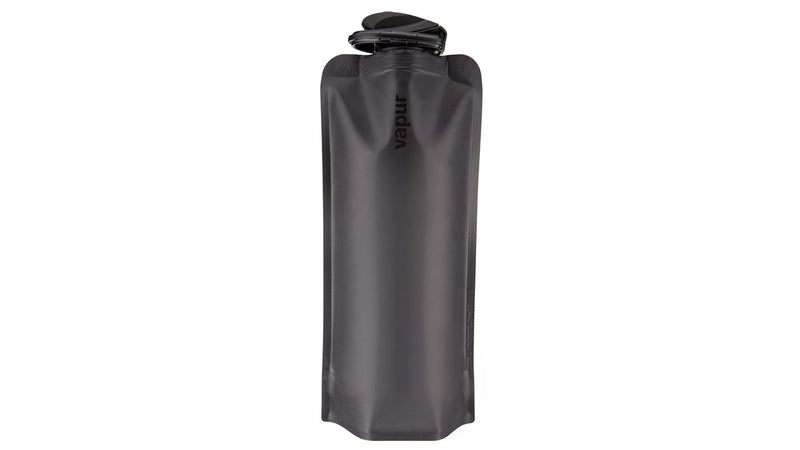 I love my mom, but the amount of plastic water bottles I saw her use on this trip to avoid the heft of a reusable one in her bag and the "funny-tasting" water was hard to stomach. The Vapur solved this problem for me. Its flat, foldable design rolled up small enough to fit inside my fanny pack. The latest version comes with a filter for locales with unsafe drinking water and would help with my mom's sensitive taste buds.
---
Trtl Travel Pillow ($30)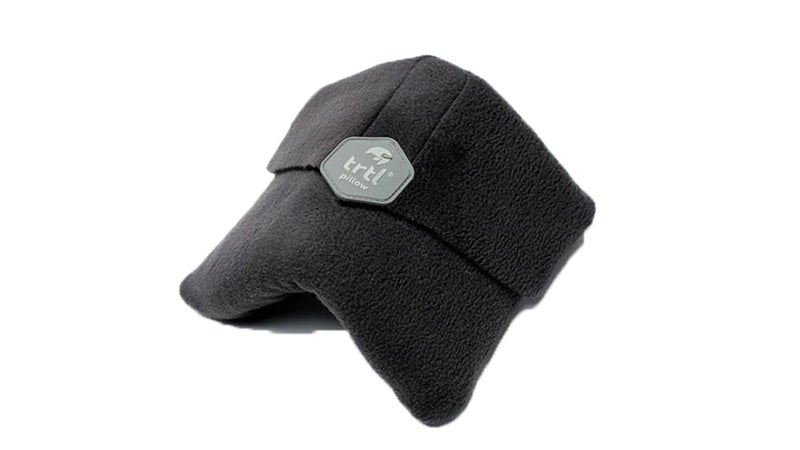 I've hated every neck pillow I've ever tried, from inflatables to memory foam, but thought I'd give the Trtl a shot. It bills itself as the most comfortable neck pillow on the market, thanks to supersoft fleece and improved neck support. To put it bluntly: it wasn't. The Trtl functions like a Velcro scarf, with a rigid side that's supposed to save you from neck pain by keeping your head upright. The problem is that, when wrapped too loosely, it slips out from under your cheek, but adjusting it tighter made me feel like I was being strangled. I will admit that I managed to fall asleep in it during a layover in Rome after two straight sleepless nights, and I woke up groggy but with no neck pain, so I suppose it did its job under extreme circumstances.