End Run
Amy Bechtel was there, and then she simply wasn't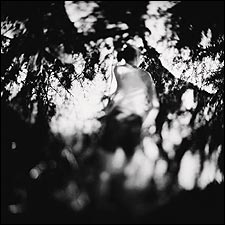 Keith Carter
Heading out the door? Read this article on the new Outside+ app available now on iOS devices for members! Download the app.
THE INEXPLICABLE disappearance of Amy Wroe Bechtel, on July 24, 1997, near Lander, Wyoming, awakened the town's close-knit outdoor community to a frightening realization: that a disturbed sociopath could be lurking in the trailside shadows.


On the morning of her disappearance, Bechtel, a 24-year-old runner and Olympic marathon hopeful, said goodbye to her husband, climber Steve Bechtel, and drove into town. The last verifiable sighting of her was in a local art gallery at about 2:30 p.m., wearing a yellow shirt, black shorts, and running shoes.


When Amy hadn't returned home by 10 p.m., Steve called her parents to see if she was with them. She wasn't. Shortly after, he called the sheriff's office. Amy's car was found at about 1 a.m. on Loop Road, which runs through the mountains of the Shoshone National Forest just outside of town. The car was unlocked, with the keys under Amy's to-do list on the passenger seat. She had been planning a 10K race in the area, and it is suspected she was scoping out the course. Before dawn, a group of Steve and Amy's friends began scouring the nearby woods but turned up nothing. As continued searches—involving horses, dogs, helicopters, the FBI, and the National Guard—came up empty, theories proliferated: She'd been a victim of a hit-and-run, and the driver had buried her body or sunk it in a nearby lake; she'd been attacked by a mountain lion or bear; or she had run away.


The authorities, faced with few other plausible options, began to focus on her husband. Steve Bechtel, now 33, says he was rock-climbing with friend Sam Lightner 75 miles north of town on the day Amy disappeared; Lightner backed up this alibi. But some, including Amy's mother, JoAnne Wroe, continue to suspect that he may have been involved. Steve, who has never been charged, has steadfastly maintained his innocence and has remained active in ongoing efforts to find Amy. The most recent twist in the case is the pending trial of Dale Eaton, a Wyoming man accused of the 1988 sexual assault and murder of an 18-year-old Montana girl whose car was found buried on his property, north of Lander. Fremont County sheriff's sergeant Roger Rizor, the lead investigator in the Bechtel case, has declined to comment until Eaton's trial is resolved.


"None of us are ever going to have all of our questions answered," Steve says. "That's going to be a really hard thing to deal with for the rest of our lives."


Amy's mother disagrees. "We will find out," Wroe says. "Whoever is responsible is going to make an error at some point that will lead us to answers."
Stranded
Roanoke Colony vanishes forever
IN 1587, a group of 117 English colonists sailed to North America to establish a city on Chesapeake Bay but ended up on Roanoke, a small island near the Outer Banks of present-day North Carolina, stranded at the end of the summer with few supplies. Their governor, John White, returned to England with the ships that had brought them, promising to be back by spring. It took him three years.


When White finally returned, he found little trace of the former inhabitants except for a few abandoned cabins and the word CROATOAN carved into a tree. None of the colonists was ever seen again. The most plausible explanation is that some of the settlers traveled to a more hospitable island 50 miles south, while others crossed over to the mainland. Residents of Jamestown, established in 1607, heard tales of white people that had been massacred by Indians, or held by inland tribes as slaves; others reported seeing wild, blue-eyed children in the woods. But relentless research (four books on the mystery have been published recently) hasn't turned up anything conclusive. Four hundred years later, America's original missing-persons case is still its most mysterious.
Chainsaw Massacre
Accused tree-killer Grant Hadwin may still be armed and dangerous

THE QUEEN CHARLOTTE ISLANDS, a world biosphere reserve 60 miles off the coast of British Columbia, was home to the earth's last giant golden spruce—a single specimen of Picea sitchensis "Aurea." The tree had stood for 300 years, and was fast becoming the Queen Charlottes' main tourist attraction. But Grant Hadwin had other plans for it. A former logger and gold miner known for erratic behavior, Hadwin ripped into the six-foot-diameter spruce with a chainsaw on January 20, 1997. Two days later the legendary tree toppled.


Hadwin, who immediately claimed responsibility for the act, sent a Unabomber-style rant to local papers, indicting "university-trained professionals" for "the destruction of life on this planet." He was charged with criminal mischief and the illegal cutting of timber, and a trial date was set for February 18. But Hadwin, who left Prince Rupert Harbor on a stormy February 13 in his kayak, never made it to court. Four months later, pieces of his smashed boat were found on an island 70 miles north of Prince Rupert. Investigators at the time believed the wreck couldn't have been more than a month old. Hadwin could have capsized in the water or been killed in his kayak by enraged locals. But it's equally plausible that he paddled up the coast, went ashore, and then set his boat adrift. He was a competent woodsman and would have had no problem traveling inland through the bush and back into mainland civilization anonymously. (Some speculate that Hadwin was involved in the 2000 chainsaw vandalism of Luna, the redwood tree that Julia Butterfly Hill made famous.)


Back in the Queen Charlottes, local Haida Indians took cuttings from the golden spruce and planted one of the saplings in a park. It is surrounded by a chain-link fence topped by barbed wire—in case Hadwin ever returns.
Escape Artist
How one man faked his death—twice

ALL MILTON HARRIS wanted was to disappear—permanently. A native of Baton Rouge, Louisiana, Harris faked his own death twice in an attempt to collect on nearly $3 million in life insurance policies, and then fell off the face of the earth for the (presumably) final time in 1995.


His first vanishing act was staged on a ferry off the coast of South Australia, where in May 1985 he jumped from the deck en route from Adelaide to Kangaroo Island. Reportedly, Harris was sitting on the seafloor breathing from a concealed oxygen canister when found by a 70-year-old retired police officer who had jumped in to save him. Four days later, Harris turned up in New Zealand, where he paid a young hitchhiker to help him disappear again. This time, Harris slipped off a New Zealand ferry as it departed. Once the boat reached open water, his accomplice shouted, "Man overboard!" and threw a life buoy with Oscar-worthy enthusiasm. Harris was gone.


Four years later, Harris was picked up by New Zealand police in Auckland, sent to the U.S., and sentenced to five years in prison for insurance fraud. Three years after his early release in 1992, he went missing again. "The authorities gave up searching for him," says Harris's sister, who wishes to remain anonymous. "It's one of those things that you'll always wonder about: Was there foul play, or did he pull another disappearing act?"
One Giant Leap
With $200,000 strapped to his body, D. B. Cooper stepped out the back of a plane and into history
AT 2:53 P.M. on November 24, 1971, a tall, nondescript man boarded Northwest Airlines Flight 305 from Portland, Oregon, to Seattle. Five hours later, with $200,000 in ransom money tied to his waist, he parachuted out the back of the Boeing 727 into the dense forests of southern Washington—and into the pantheon of folk heroes.


The man gave the alias Dan Cooper when he bought his ticket (an erroneous news report supplied the name D. B., which stuck). Wearing sunglasses and a dark suit, he found a seat in an unoccupied row. As the plane was taking off, he passed the flight attendant a note stating that he had a bomb in the briefcase on his lap and demanding $200,000 in small bills and four parachutes when they landed in Seattle. When his demands were met, Cooper released the passengers and directed the pilot to take off toward Mexico at an altitude below 10,000 feet and a speed of less than 200 miles per hour. Shortly after 8 p.m., Cooper ordered the flight attendants into the cockpit, put on two of the parachutes, lowered the aft staircase, and stepped out into the stormy night somewhere near the Washington-Oregon state line. To this day, it stands as the world's only unsolved skyjacking.


Despite one of the most extensive manhunts in FBI history, agents found no body or parachute and never determined the hijacker's real identity. Meanwhile, Cooper was rumored to be drowned in the Columbia River, dead and eaten by animals in the forest, laundering his cash in Reno or Las Vegas, or alive in New York, Florida, or Mexico. People came forward with skulls, deathbed confessions, and tales of a man who looked like the FBI's composite sketch, but none of it ever amounted to anything. Cooper's legend blossomed, inspiring a 1981 movie, The Pursuit of D. B. Cooper, with Treat Williams in the title role. In 1978, a hunter in Washington found a plastic placard that was verified to be from the rear stairs of the 727. In 1980, an eight-year-old boy playing in the sand on the banks of the Columbia River unearthed $5,880 of Cooper's loot. Those 294 bills are the only part of the ransom that has ever surfaced, and they seem to lend credence to retired FBI agent Ralph Himmelsbach's less than romantic version of what really happened.


"Most likely he was injured on impact," says Himmelsbach, who worked on the case from 1971 to 1980 and posits that Cooper died by the side of a creek. "And then later, the creek overflowed and carried him and the money downstream, where the money was found."


Sounds logical, but logic never killed a folk hero. The most recent fuel for the fire comes in the form of Duane Weber, a 70-year-old Florida man who, as he was dying in 1995, confessed to his wife that he was Dan Cooper. His widow, Jo Weber, contacted the FBI. She began to wonder about some of Duane's strange behavior—like the 1978 nightmare in which a sleep-talking Duane said something about fingerprints on the aft stairs, or the 1979 vacation to Washington during which Duane walked down to the banks of the Columbia by himself just four months before the portion of Cooper's cash was found in the same area.


"If Duane was not Cooper, someone will have to explain a lot of things to me," says Weber. "It is a story with so many coincidences that it defies the odds."


The FBI recently visited Weber's Florida home and removed gloves, an electric shaver, and hair samples, presumably for the purpose of extracting Duane's DNA to compare with that extracted from cigarette butts that the hijacker left behind. The FBI has confirmed that the case is still open, and will remain so indefinitely.
Gold Fever Dreams
Buried treasure beckons on the Atlantic coast
OVER THE PAST TWO centuries, six men have died in the Money Pit on Nova Scotia's Oak Island, site of the world's most famous treasure hunt. Legend has it that when the Pit claims its seventh life, the treasure will be revealed.


The Pit—which has lured FDR, John Wayne, and Errol Flynn to the hunt—has been variously rumored to hold the loot of Captain Kidd and Blackbeard, the crown jewels of France, and the Holy Grail. In 1795, as the story goes, three local teenagers discovered the shaft and eventually dug to a depth of 90 feet, encountering a stone that supposedly told of a treasure buried another 40 feet down. At 93 feet, they struck a booby trap that filled the cavern with water from the sea.


The Pit has now been explored to more than 200 feet, with little to show for it but several links of a gold chain and persistent rumors of a severed human hand and a preserved corpse deep inside. According to professional skeptic Joe Nickell, who has debunked mysteries from the Shroud of Turin to Jack the Ripper's diary, the shaft and the flood tunnel are natural features in the region's porous limestone geology. "Instead of asking, 'What might this fabulous treasure be?' we should be asking, 'What treasure?'" says Nickell. "If it sounds too good to be true, maybe it is."


Or maybe not.
No One Knows
Was 20-year-old Everett Ruess a suicide, murder victim, or something else?

"WHEN THE TIME COMES to die," wrote 18-year-old Everett Ruess in a letter in 1932, "I'll find the wildest, loneliest, most desolate spot there is." No one could have predicted it would happen so soon. In November 1934, just shy of his 21st birthday, Ruess left home and never came back. It was the end of a long, strange journey he'd begun four years earlier.


In 1930 Ruess, a dough-faced boy from Los Angeles with dreams of becoming a painter, set off alone into the Sierras with a set of watercolors, a camera, and a journal. A peripatetic loner, he ranged through the Sierras and later the Four Corners region, sending home paintings and ecstatic letters describing the natural world—an ebullience that contradicted his darker musings. Ruess's story bears an uncanny resemblance to that of Chris McCandless, the 24-year-old wanderer who died in the Alaskan wilderness in 1992. (Jon Krakauer devotes a large section to Ruess's story in Into the Wild.) Like McCandless, Ruess was charismatic and self-confident but also exhibited extreme mood swings. He dodged practical concerns—money, work, or parental expectations—that interfered with his free-spirited ramblings. Each year Ruess pushed deeper into the wilderness. When he hit Utah's rugged Escalante country in November 1934, the letters home stopped. Three months later, his burros, a bridle and halter, and candy wrappers were found in Davis Gulch, an offshoot of Escalante Canyon. Searchers followed Ruess's footprints out of the gorge, but the tracks disappeared at the base of the Kaiparowits Plateau. The only other clue was the word NEMO—Latin for "no one"—scratched into a rock and an old native dwelling in Davis Gulch.


Neither Ruess's body nor any conclusive evidence of his fate has been found, spawning endless speculation. It has been suggested that he was murdered by a Navajo named Jack Crank, who supposedly hated whites. Others are convinced that he was killed by cattle rustlers. Then there's the possibility he committed suicide, and left the NEMO carving as his farewell note. In 1999, the excavation of a mound thought to be Ruess's grave, near Hole-in-the-Rock, Utah, was discovered to be nothing but a pile of dirt.


W. L. Rusho, author of Everett Ruess: A Vagabond for Beauty, doubts Ruess made it out of Escalante alive, and guesses that the lad fell while climbing or got himself trapped in a side canyon. "It's very doubtful at this time that anyone could find Ruess's remains," says Rusho. "I think Everett's fate will always be a mystery."
Without a Trace
The mountain gods swallow another life

ON JULY 8, 1999, Bronx-born journalist Joe Wood hiked up to Mount Rainier National Park's Mildred Point Trail. A 34-year-old African-American editor for a New York book publisher, Wood was in Seattle for a minority journalists' conference when he decided to spend a day bird-watching. He was not a novice in the outdoors—he'd been an Eagle Scout—but he may not have been prepared for conditions in the park. Rainier had received the fifth-heaviest snowfall in its history, and the six-mile hike was lined with tree wells and treacherous snow bridges.


On the trail, Wood encountered Bruce Gaumond, a retired Boeing employee who came forward after he heard that Wood was missing. Gaumond told the National Park Service that the two had chatted briefly about birds, the length of the trail, and a dicey creek crossing ahead. Wood was never seen again. Did he fall into the creek or stumble off a snowy cliff? The Park Service thinks so, but Wood's mother, Elizabeth, is not so sure. She remains haunted by the possibility that some kind of foul play may have occurred. Searchers scoured the area for five days, but a warm spell had melted the snow, obscuring Wood's tracks. When a final search in September 1999 turned up nothing, Joe Wood was listed as the 65th person to disappear on Rainier.
An Untimely End
A photographer turned up dead in placid Isabella Lake, and there's no explanation

ADVENTURE PHOTOGRAPHER Barry Tessman survived a lot during his ten-year career behind the lens—two years in Siberia; ventures in Tibet, India, and Pakistan; and Class V torrents from China to northern Canada. But it was on a cold, calm day, on a glassy lake he'd paddled hundreds of times, that Tessman met his fate.


At 7:30 a.m. on January 16, 2001, Tessman, 41, a Class V river guide, backcountry ski patroller, and trained EMT, loaded his 19-foot Phantom racing kayak onto his truck and set out for the North Fork Marina for an hourlong flatwater workout on Isabella Lake, near his home in Kernville, California. By 10:30 a.m. he had not returned, and his wife, Joy, seven months pregnant with their second child, called Tom Moore, Tessman's friend of 20 years, to find out if he'd seen him. Moore had not, but promised to check the marina. Using binoculars, he spotted Tessman's kayak floating in the middle of the lake with its paddle stowed, but Barry was nowhere in sight. A 50-person sweep of the lake turned up no sign of the missing paddler. Then, on February 18, a Kern County park ranger discovered Tessman's body floating near Boulder Gulch, three-quarters of a mile from where his kayak had been found. The official cause of death was drowning, but a second autopsy showed that Tessman had also suffered blunt-force trauma to the head, raising the disturbing specter of foul play, and prompting his family to post a $20,000 reward for information about the case.


No one has stepped forward, and investigators at the Kern County Sheriff's Department have deemed Tessman's death an accident, while admitting to a lack of evidence. "We are no closer than we were the day his body was discovered," says Moore. "All the different theories we've come up with have gaping holes in them."


It's possible that Tessman flipped his boat and somehow cracked his head on an exposed rock, but that wouldn't explain why his paddle was stowed. He may have gone ashore to scout photo locations on Rocky Point, fallen, hit his head, and then slipped into the water. And then there is the more troubling scenario: Was he a victim of a random act of violence?


Tessman's death may never be fully explained, leaving his loved ones to grapple with the mystery. "Maybe they needed a photographer up in heaven," says Moore. "That's the only peace I can make of it."
Forever Wild
We don't know where Edward Abbey is buried. Maybe it's better that way.

"THE LAST TIME ED SMILED was when I told him where he was going to be buried," says Doug Peacock, an environmental crusader in Edward Abbey's inner circle and the prototype for Abbey's most famous character, George Hayduke, in The Monkey Wrench Gang. On March 14, 1989, the day Abbey died from esophageal bleeding at 62, Peacock, along with friends Jack Loeffler, Tom Cartwright, and Steve Prescott, wrapped Abbey's body in his blue sleeping bag, packed it with dry ice, and loaded Cactus Ed into Loeffler's Chevy pickup. After stopping at a liquor store in Tucson for five cases of beer, and some whiskey to pour on the grave, they drove off into the desert. The men searched for the right spot the entire next day and finally turned down a long rutted road, drove to the end, and began digging. That night they buried Ed and toasted the life of America's prickliest and most outspoken environmentalist.


Abbey's grave, a closely guarded secret for 13 years, has become a legend. His friends broke several laws by transporting Abbey's corpse without a permit, interring him illegally on federal land, and forging a death certificate. Ed would have been proud. Peacock and Loeffler, both of whom have written about the backcountry funeral, refuse to spill the beans, saying only that Abbey's grave is somewhere in the southwestern Arizona desert, decorated with feathers, shells, rocks, and other trinkets. There is a rough epitaph hewn into a nearby rock. It is, according to friends, one of the most beautiful and fragile spots in the American desert—a good reason why Peacock and his undertakers hope to keep the secret forever.


If by chance you find yourself in southwestern Arizona and accidentally stumble upon a decorated mound of dirt, avert your eyes, take a swig of whiskey, and head in the opposite direction. Some mysteries are best left unsolved.
It's Weird Out There
From Sasquatch to the Mothman, our writer takes on the supernatural
Paranormal mysteries are rarely solved; they're just tarnished by schlocky film adaptations. Mel Gibson's performance in Signs couldn't stop the centuries-old CROP-CIRCLE phenomenon, in which large-scale patterns mysteriously flatten sections of wheat fields and other crops. Teenage pranksters claimed responsibility for the 15 interconnected circles that turned up in June in a wheat field near Fairfield, California, but true believers (known as "croppies") suspect aliens at work…. SASQUATCH, the hairy North American man-beast still reeling from the box-office stinker Harry and the Hendersons, took another one on the chin last December. That's when the son of Northern California logger Ray Wallace announced that his pop had punked the world by faking the footprints that spawned the modern Bigfoot legend, in 1958. Ray died a few days before the announcement…. Meanwhile, the Brits keep hunting for Big Shaggy's snowbound Himalayan cousin, THE YETI. Scientists were baffled by the DNA in so-called yeti hair discovered by a British expedition in Bhutan two years ago. "It is not a human, not a bear, nor anything else we have been able to identify," said Bryan Sykes, of Oxford University's Weatherall Institute of Molecular Medicine. "We have never encountered DNA that we couldn't recognize before."… Nobody's filmed the MOVING ROCKS IN DEATH VALLEY NATIONAL PARK yet, although creeping boulders would have livened up Matt Damon's 2002 wander-in-the-desert snoozer, Gerry. The rocks, some as heavy as 700 pounds, inexplicably move across a region of the park known as Racetrack Valley, leaving long trails on the hard desert floor. One theory holds that rainstorm runoff saturates the ground, making it slippery and allowing heavy gales to push the rocks. Another says a thin coating of ice might move those big boys…. Richard Gere's recent thriller The Mothman Prophecies hasn't inspired any new sightings of the MOTHMAN, the bizarre seven-foot-tall, winged apparition that haunted the town of Point Pleasant, West Virginia, in 1967. Perhaps Mothy moved south and mutated into EL CHUPACABRA, the feared Latin American goat-sucker that's said to resemble a fanged kangaroo with wings. Chupa began draining the blood of goats, chickens, and rabbits in Puerto Rico in 1995. Since then, reports of Chupa have come from Mexico and Central and South America. Some believe the critter was born of a NASA genetic-tinkering experiment gone horribly awry. The Chilean news agency EFE quoted a Chilean architect as saying, "The gringos had at least three genetic experiments run away from them." Calling Hollywood: Can we get a Chupa biopic in development already?
Enduring Enigmas
These classic cases have stumped investigators for years—and perhaps always will
AMEILA EARHART

The 39-year-old aviator disappeared in the central Pacific on July 2, 1937, near the end of her 29,000-mile around-the-world flight. Neither her body nor her plane was ever found. Were Earhart and her navigator, Fred Noonan, U.S. spies, and were they captured by the Japanese? Was Earhart the voice of WWII radio broadcaster Tokyo Rose? According to American explorer Dave Jourdan, who's planning a two-month 2004 expedition to search for the missing aircraft, the truth is much more mundane: Earhart likely ran out of gas and drowned when her plane crashed into the ocean.


JOHNNY WATERMAN

Waterman proved his alpine skills with a five-month first ascent of Alaska's 14,573-foot Mount Hunter in 1978. But as Jonathan Waterman (no relation) reported in his 1994 book In the Shadow of Denali, Johnny's behavior became increasingly erratic after that climb. On April 1, 1981, 28-year-old Waterman attempted a solo first ascent of the east face of Alaska's 20,320-foot Mount McKinley. Witnesses say he carried very little food and gear when he started up McKinley. Did Waterman slip into a crevasse, or did he deliberately die on the mountain—as his father, Guy, would do 19 years later, freezing to death on New Hampshire's Mount Lafayette? GLEN AND BESSIE HYDE

The Idaho newlyweds were last seen walking down a Grand Canyon trail toward the Colorado River in November 1928. A month later, their wooden scow was found floating right side up at the western end of the Canyon, sans the Hydes. In 1971, a client on a Grand Canyon rafting trip claimed that she was Bessie Hyde, and that she had murdered her husband on the river years earlier. But Canyon locals long suspected that river guide Georgie White was the real Bessie; the Hydes' marriage certificate was said to be in her possession when she died in 1991.


CHRISTOPHER MCCANDLESS

McCandless headed into the Alaska wilderness in April 1992 to live off the land. Four months later, hunters found the 24-year-old dead outside of Denali National Park. As chronicled in Jon Krakauer's 1996 book Into the Wild, McCandless likely died of starvation. Journal entries indicate that he'd become too weak—possibly after eating poisonous seeds of the wild sweet pea—to continue foraging. But the question still remains: Was McCandless simply naive, or did he have a death wish? "If this adventure proves fatal and you don't ever hear from me again," he wrote to a friend before his trip, "I want you to know you're a great man. I now walk into the wild."
Case Closed?
After years of investigation, these fatal mysteries—from a trailside murder to the fate of a missing snowboarder—are now filed under "solved"
DRY CRIME
THE CASE: Best friends Raffi Kodikian, 25, of Pennsylvania, and David Coughlin, 26, of Massachusetts, got lost while hiking in the arid canyonlands of southern New Mexico's Carlsbad Caverns National Park in August 1999. When park rangers found their campsite four days later—just a mile from the trailhead—Coughlin was dead, and Kodikian confessed to killing him.
THE LATEST: At a May 2000 trial, Kodikian claimed that after several days without water, both men had become dehydrated and delusional. When Coughlin allegedly begged to be put out of his misery, Kodikian obliged and stabbed him twice in the chest with a folding pocketknife. Kodikian served 18 months for second-degree murder in a New Mexico prison and was released in November 2001.


MOUNTAIN MANHUNT
THE CASE: In 1998, when federal investigators fingered Eric Rudolph in a series of bombings—including the 1996 incident that killed one and injured scores more at the Atlanta Olympics—the 31-year-old carpenter headed deep into the Appalachian Mountains of western North Carolina. The feds combed the Nantahala National Forest on foot, with bloodhounds and heat- and motion-detector-equipped helicopters, but the wily Rudolph eluded capture for nearly five years.
THE LATEST: In May, a rookie cop busted Rudolph digging through a dumpster in Murphy, North Carolina. The grizzled survivalist has pleaded innocent to charges of bombing an Alabama abortion clinic. He'll go on trial in early 2004.


TRAIL OF TERROR
THE CASE: Hikers Lollie Winans, 26, of Maine, and Julianne Williams, 24, of Vermont, were found bound, gagged, and stabbed to death at their creekside campsite near the Appalachian Trail in Virginia's Shenandoah National Park in June 1996. The FBI interviewed thousands of locals and hikers, to no avail—and anxiety levels in the area soared.
THE LATEST: After nearly five years of investigation, in April 2001, federal prosecutors charged Darrell David Rice—a Virginia prison inmate serving 11 years for attempting to abduct a female cyclist in Shenandoah National Park in July 1997—with the 1996 AT murders. His trial is scheduled to begin October 20.


MISSING SNOWBOARDER
THE CASE: Twenty-three-year-old Duncan MacPherson, a professional hockey player from Saskatchewan, took a beginner's snowboarding lesson at Austria's Stubaier Glacier resort on August 9, 1989. Afterward, he had lunch with an instructor and got on a nearby chairlift. MacPherson's car was found later in the resort's parking lot, but he was never heard from again.
THE LATEST: In July 2003, a Stubaier resort employee found MacPherson's frozen and partially buried body near a chairlift, at 9,800 feet. An autopsy is pending at press time.