5 Places for a DIY Summer Camp
You can set up your own, off-the-cuff version of summer camp in one of these stellar settings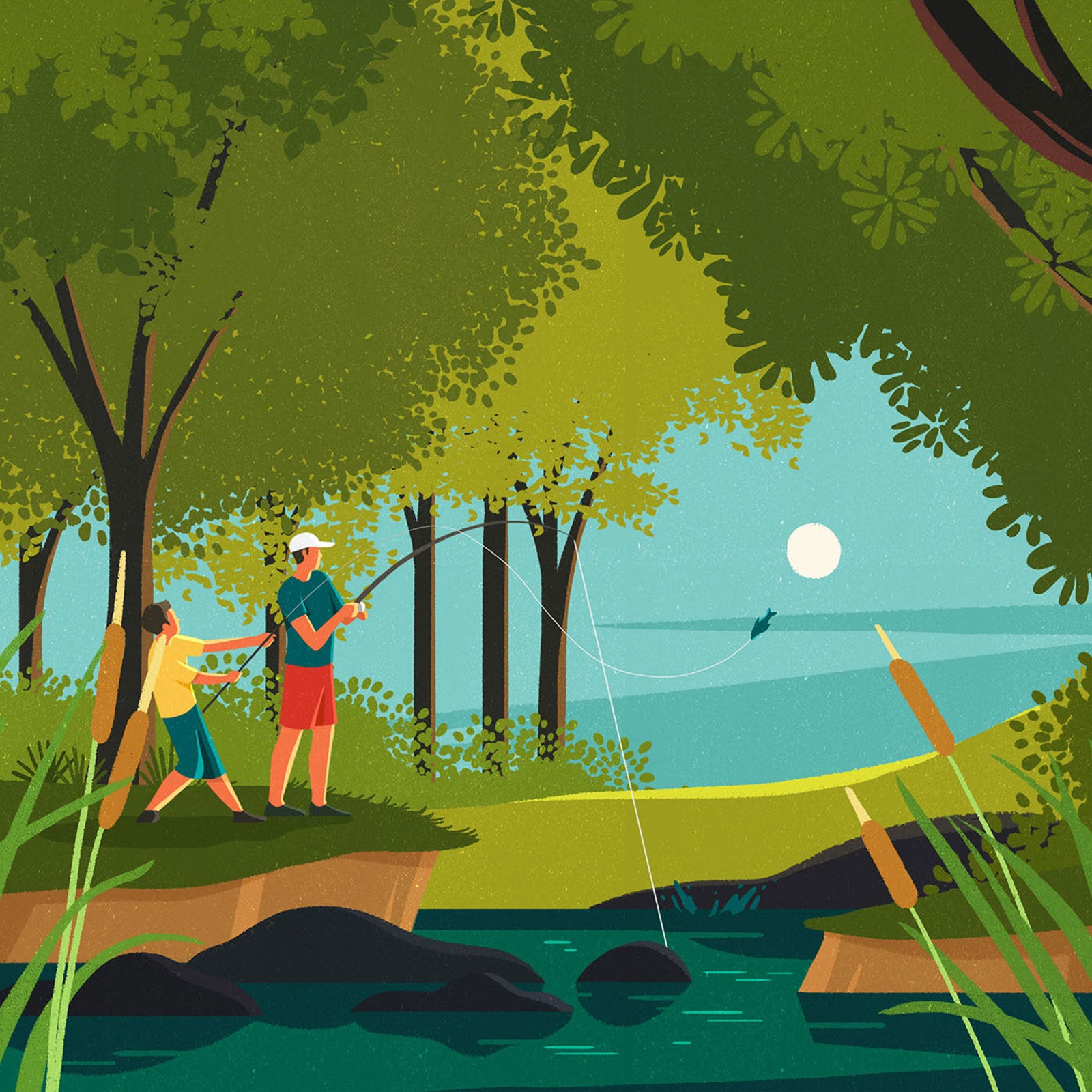 Geraldine Sy(Photo)
Heading out the door? Read this article on the new Outside+ app available now on iOS devices for members! Download the app.
Summer camp is one of those indelible rites of passage, right up there with the bar mitzvah and getting your driver's license. That week in a cabin on a lake with a bunch of other kids is formative. It's where you learn how to shoot an arrow and tip a canoe. And parents need summer camp as much as their kids. We all need the chance to decompress and go feral.
"We call it 'day-three magic,'" says Steve Markle, vice president of marketing for OARS, about the multi-day family-oriented rafting and adventure trips that his company runs throughout the country. "Once you're out there for a couple of nights, you completely forget about the deadlines and soccer practices, whatever dictates your day-to-day back home. You're on river time, totally distraction-free."
And that distraction-free vibe doesn't just pertain to river trips. Spend several days in the woods, doing things you did when you were a kid, like paddling a canoe and climbing rocks, and you'll experience that day-three magic and be feral again.
There are plenty of ranches and lodges that offer a full-service family-camp experience, complete with guides and chefs and "campfire hosts" who will make your s'mores for you, but there's a lot of satisfaction to be had by taking a DIY approach to this sort of thing. Not only will you save a chunk of change by acting as your family's camp counselor, but you'll also be able to set a more flexible schedule and pursue activities that work for everyone in your minivan.
We found five multisport destinations where you can set up an off-the-cuff summer camp for the whole family.
New River Gorge, West Virginia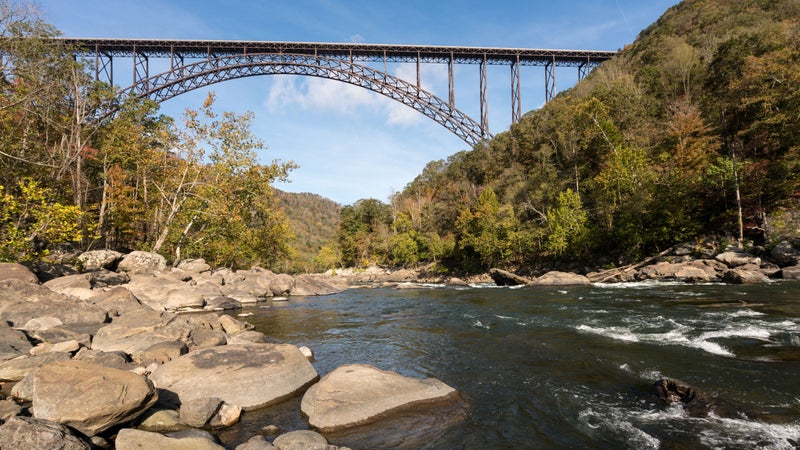 The New River Gorge embodies West Virginia's "wild and wonderful" tagline. One of the oldest rivers in the world, the New cuts a 1,000-foot-deep chasm through the state's hardwood canopy and has become a world-class destination for whitewater paddling and rock climbing. The most dramatic portion of the gorge is protected as the 70,000-acre New River Gorge National River, which is chock-full of hiking and biking trails, climbing routes, and rafting. The beauty of the gorge, though, is that there's just as much for families with small kids as there is for hardcore adventurers.
"My nine-year-old niece says there's a lot of 'big nature and little nature' here," says PJ Stevenson, marketing director for Adventures on the Gorge, a multisport resort in the area. "She used to be terrified of the big nature, like rafting big rapids. But every year when she comes to visit, she sets goals to accomplish a little more. It's so cool to see her grow."
The New River offers more than 50 miles of free-flowing whitewater, allowing you to customize a trip based on your kids' ages and sense of adventure. Meanwhile, there are 3,000 established climbing routes, ranging from 5.4 to 5.14, so the whole family can get on the rock together. Round out the trip with some mellow mountain biking and maybe a day paddleboarding and rock jumping on Lake Summersville, at the mouth of the gorge, and you've got the makings of the ultimate summer camp.
Top Three Adventures
Whitewater Rafting: Families with small children (ages seven and up) should look to the Upper New River, which pairs a half day of mild whitewater (up to Class III) with a pristine section of the gorge that's prone to bald eagle nestings. If you have older kids (12 and up), raft the 11-mile Lower New, which is packed with 25 Class II–V rapids. New and Gauley River Adventures is a family-owned business that's been guiding rafting trips for more than 30 years. Adventures on the Gorge is another great option.
Climbing: There are more than 60 miles of cliffs in the New River Gorge. The climbing is high quality and diverse, offering everything from easy top roping to hard-man, multipitch trad routes. It also happens to be a world-class destination for sport climbing. Head to Bridge Buttress for top-rope-friendly climbs next to tougher trad routes. Easily Flakey, a classic beginner route, is 5.7 and can be climbed as top rope or trad. The New River Climbing School has half-day and full-day trips designed for families.
Hiking: Endless Wall Trail follows the rim of the gorge for 2.4 miles, with several overlooks that peer deep into the canyon. Long Point Trail (1.6 miles one way) traverses mellow terrain to a rock outcropping with a dramatic view of New River Gorge Bridge.
Best Guided Trip
Load up a pontoon boat with climbing gear and stand-up paddleboards and explore the cliffs and waterfalls along the edge of Lake Summersville. The guides at Adventures on the Gorge will take you to easy top-rope sites that you can send from the bow of the boat and to rock jumps perfect for the kids. From $119
Stay
Adventures on the Gorge has a sprawling campus on the rim of the canyon that's complete with its own restaurants, swimming pool, and killer gorge views. Lodging ranges from campsites to deluxe cabins—we like the summer-camp vibe of the Kaymoor Cabins ($99)—while an on-site ropes course and zip-line park keep things interesting.
Moab, Utah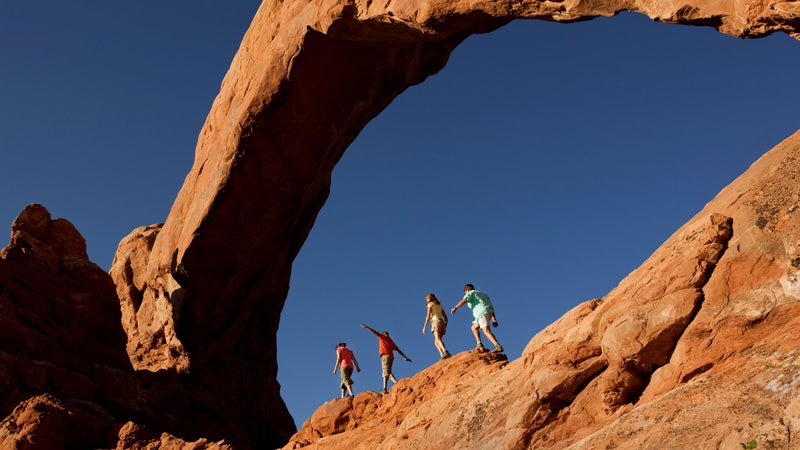 Utah's desert can seem downright inhospitable at first glance, but we'd argue that Moab is the ultimate family-friendly summer-camp base of operations. The city has front-door access to two stunning national parks (Canyonlands and Arches), all kinds of water-based fun on the Colorado River, lots of climbing, and enough singletrack to keep every member of the family entertained for days. And the fact that Moab is a well-established adventure town means there's no shortage of guides to help ease some of the logistical nightmares involved with family vacations.
"Organizing something like a family camping trip is a major undertaking," says OARS's Markle. "Getting a guide for a portion of your trip means you get to spend less time planning and taking care of your kids and more time just hanging out with them and having fun."
Top Three Adventures
Mountain Biking: Moab might be known for its all-day epic singletrack, but there are actually plenty of trails suited for families. Just remember to hit them early in the morning before the sun gets too high. Moab Brand Trails has a skills area and pump track at the parking lot and a few easy loops ranging from one mile to an eight-mile mini epic. Dead Horse State Park's Intrepid Trail System is extensive (17 miles) but not technical, making it perfect for older kids with more endurance. And the views of the Colorado River are postcard worthy.
Hiking: You should spend time in both Canyonlands and Arches, but we think Arches has the edge for families, because the dramatic natural bridges capture the imagination and the rock outcroppings along many trails are natural jungle gyms for kids. Start at Devils Garden Trailhead. If you have small children, head for Landscape Arch, an easy two-mile round-trip. If you have older kids who like to scramble, the five-mile Devils Garden Primitive Loop offers a bevy of slickrock hikes and sandy mini canyons with half a dozen lesser-known arches along the way.
Canyoneering: No, really, you can take your family canyoneering. The Moab Adventure Center offers a 3.5-mile canyoneering trip through Ephedra's Grotto that has two rappels and plenty of waterfalls on a half-day trip suitable for kids age ten and older.  
Best Guided Adventure
OARS offers family-friendly rafting trips all across the country, but its Desolation Canyon run, outside Moab, is practically a summer camp on its own. This five-day excursion begins with a small-plane ride from Moab to the put-in and continues with Grand Canyon–esque scenery. The Class II–III whitewater is mild enough for seven-year-olds, and OARS brings duckies and paddleboards to keep older kids entertained. You'll camp on beaches and play lawn games at night and stretch your legs by exploring the side canyons.
Stay
There are plenty of BLM campsites along the Colorado River within a short drive of downtown Moab, but if you want a hot shower and a classic western vibe, Red Cliffs Lodge is the spot. Grab a two-bedroom cabin facing the water, and save time for a horseback ride. The lodge also has an on-site winery, which doesn't hurt.
Lake Tahoe, California and Nevada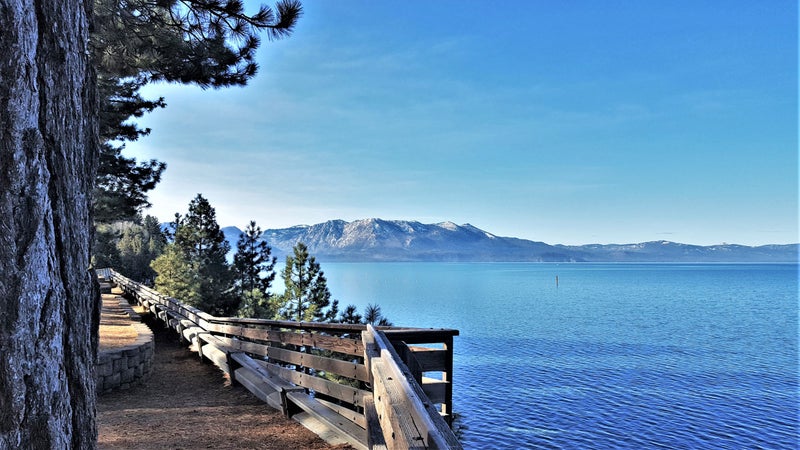 California gets a lot of attention for its West Coast real estate, but you can't overlook the massive inland coast on its eastern border. I'm talking about Lake Tahoe, the 122,000-acre alpine sea that straddles the border of these two states. The lake is a stunning centerpiece to the mountains that surround it, which are home to some of the best skiing, mountain biking, and hiking in the region. Put it all together, and you've got the ideal land-and-water multisport destination.
"The lake is the total equalizer," says Katie Hickey, owner of the Tahoe Adventure Company. "It's loaded with beaches, and the paddleboarding and kayaking are totally accessible, even for families with little kids."
On terra firma, there's beginner-friendly backpacking and day hikes galore, not to mention lift-served fun at the ski resorts. Just remember that you're working at elevation. "Everything starts at 6,200 feet," Hickey says. "For some reason, it doesn't tend to bother the kids as much as it does the adults."
Top Three Adventures
Hiking: Shirley Canyon Trail is a highlight reel of Tahoe's terrain—a six-mile one-way hike full of waterfalls, huge granite boulders, and its own high-alpine lake. Given the amount of snow this winter, the waterfalls should be raging as you follow the creek toward Shirley Lake and end at High Camp, where Squaw Valley's aerial tram peaks out. If you have young kids and want to cut out some mileage, take the tram to High Camp and hike down to the lake. Either way, you can take the tram back down the mountain for the ultimate shuttle hike.
Beach Partying: Sandy shorelines punctuate Lake Tahoe all the way around. Some of them get downright crowded on weekends, but Chimney Beach, in North Lake Tahoe, is far enough off the beaten path to escape the masses. The shore is hemmed in by tall evergreens and littered with massive granite boulders. Can you say "Rock jump!"
Learning to Rip Together: Northstar has as much beginner-friendly downhill-mountain-bike terrain as it does expert terrain, so you can take the lift to the top of the mountain and then choose your own adventure down. Even better, the resort runs an academy with private lessons for the whole family.
Best Guided Adventure
Knock out the ultimate Tahoe day by paddleboarding or kayaking the north shore of the lake, cruising through immersed boulder fields, then seek out family-friendly singletrack in the afternoon. Tahoe Adventure Company will design a plan based on your group's adventure threshold.
Stay
There's no shortage of high-end resorts at Lake Tahoe, but go old-school and get a campsite at DL Bliss State Park to enjoy six miles of shoreline and 1,830 acres of adventure when combined with the adjacent Emerald Bay State Park. You can swim and launch your kayaks from Lester Beach, hike to a lighthouse, and even explore a Scandanavian-inspired castle. Campsites from $45 a night
Copper Harbor, Upper Peninsula, Michigan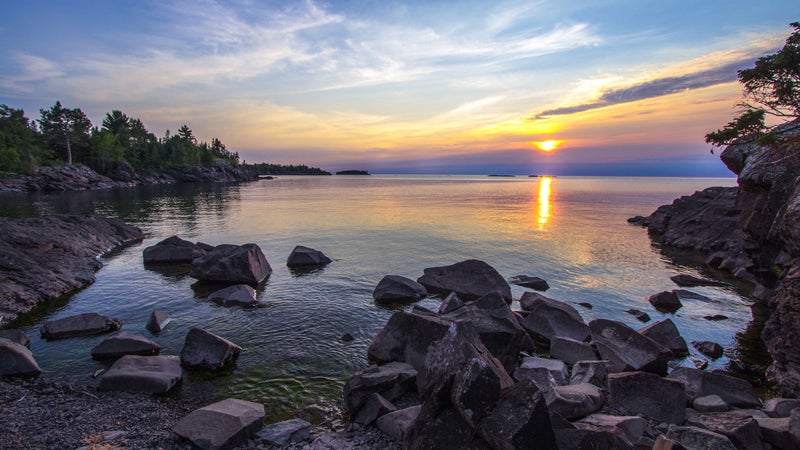 The whole point of family camp is to get away from everyday life, and Copper Harbor couldn't be further from your daily routine. This small town is so far into Michigan's North Woods that cell service is spotty at best. This is the tip of Michigan's Upper Peninsula (UP), sticking way out into the middle of Lake Superior. The interior surrounding Copper Harbor isn't exactly dry—it's peppered with natural lakes, perfect for learning how to tip that canoe. You can look forward to rolling peaks within the UP, and Copper Harbor happens to have the very best mountain-bike trail system in the Midwest. Want quality time and adventure? Copper Harbor is your jam.
Top Three Adventures
Riding the Midwest's Best: Copper Harbor has 35 miles of purpose-built singletrack that's earned silver-level ride-center status from the International Mountain Bicycling Association. The system is known for its technical challenges, from cliffside singletrack to big wooden features, but there's family-friendly flow in the woods as well. Copper Harbor Loop Trail is an easy half-mile through meadows near town perfect for younger kids, and the Flow is three miles of intermediate berms and grade reversals the whole clan will dig. Keweenaw Adventure Company runs shuttles on weekends to help save your legs.
Exploring Isle Royale National Park: A remote island that hugs the Canadian border in the middle of Lake Superior, Isle Royale is so hard to get to that it sees fewer people all year than Yellowstone does in a day. It takes 3.5 hours via ferry to get there, so plan on spending more than an afternoon. Grab a room at Rock Harbor Lodge, on the north end of the island, and spend at least two days exploring the wild archipelago by foot and by boat. A water taxi can pick you up from Rock Harbor and drop you off at various points around Isle Royale, or sign up for the park-ranger-led Hidden Lake Tour, which takes you on a four-mile boat ride followed by a two-mile hike past an inland lake before climbing 320 feet up to Lookout Louise, a rock outcropping with a spectacular view of Lake Superior. If you have little ones, take the boat back to Rock Harbor; if you have older kids, opt for the 9.5-mile hike back through the heart of the island.
Hiking: For the best views of Lake Superior and the UP shoreline, you need to tackle Bare Bluff, a three-mile loop that climbs 300 feet in elevation to the top of a rocky point with a panorama that shows just how expansive this body of water is.
Best Guided Adventure
Keweenaw Adventure Company offers guided sea-kayaking trips that take advantage of Copper Harbor's position on the world's largest freshwater lake. If you have older kids and are looking for fun, definitely opt for a two-day paddle around Isle Royale to explore its more than 150 miles of shoreline. Your best chance for spying moose is from the bow of a boat. If you have younger kids, take a 2.5-hour guided trip around Porter's Island, just off the shore of Copper Harbor, which is known for its black basalt perimeter. There are tandem kayaks to accommodate the little ones, too.
Stay
The cottages at Lake Fanny Hooe Resort ($135) aren't fancy, but all have small kitchens and, more importantly, large decks facing the 227-acre lake inside Fort Wilkins State Park. You'll also have a beach and boat rentals out your front door, and walleye and smallmouth bass lurk in the 40-foot-deep lake if you're game.
White Mountains, New Hampshire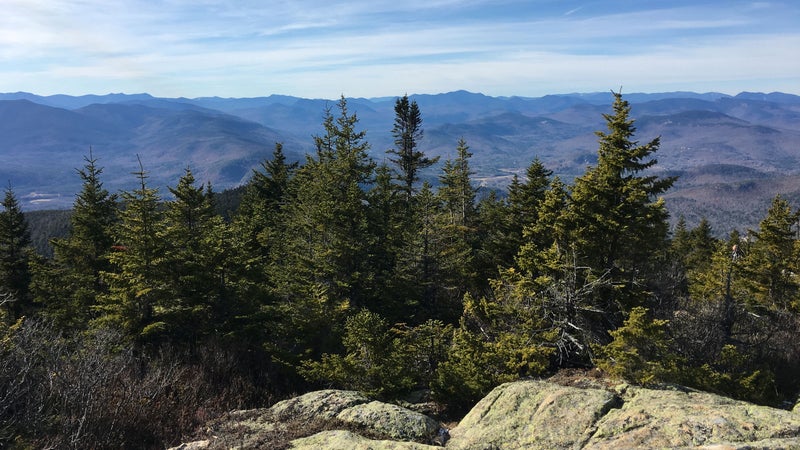 The White Mountains are no joke. These jagged peaks might not be as tall as their cousins to the west, but they're every bit as dramatic and feature plenty of adventure, from high-alpine peak bagging to multipitch trad climbing. Between the nearly 2,000 miles of trails that traverse the Whites (including more than 300 miles of the Appalachian Trail) and a number of state parks scattered throughout the peaks and valleys, the area is a backpacker's wild dream. It can also be incredibly intimidating, with so much terrain to choose from. Fortunately, the Appalachian Mountain Club (AMC) has been working and guiding in the area since 1876. Today it has a series of European-style mountain huts and a variety of guided programs, like introduction to backpacking or a multisport weekend that has you canoeing and hiking, that feel a hell of a lot like summer camp—except the whole family is invited.
"The beauty of this kind of summer-camp experience is you're not just dropping your kids off. You're doing this adventure together," says Nicki Pizzo, manager of the club's guided-adventures program. "You're learning skills together and building memories together. And all of the logistics are planned for you."
Take advantage of the AMC's infrastructure around the town of North Conway, and you'll have a solid base camp for exploring the White Mountains and expert guides for help along the way.
Top Three Adventures
Hiking: If there's a signature trail that isn't the AT, it's the Flume Gorge Trail inside Franconia Notch State Park. This 1.9-mile loop is made up predominantly of a boardwalk that runs through the heart of a super-narrow granite gorge full of waterfalls.
Climbing: There's no shortage of rock climbing in the Whites, but Cathedral Ledge State Park might lay claim to the most dramatic cliff. Cathedral Ledge is a 500-foot-tall wall that looms over North Conway. Though it's mostly trad climbing, there are sport and top-rope climbs, too. The exposure can be intense, but there are routes as easy as 5.5 along it, and Synnott Mountain Guides can put you on something that's appropriate for the whole gang. Or sign up for a family climbing course with Eastern Mountain Sports.
Summiting Mount Washington: There are three ways you can summit Mount Washington: drive to the top (lame), ride the Cog Railway (pretty cool), or hike Tuckerman Ravine Trail (very neat). There are actually a few trails that finish atop the 6,288-foot mountain, but Tuckerman Ravine is the most family friendly; it's a four-mile climb with a good amount of elevation gain (so families with little kids should take the train). You likely won't be hiking alone, though, becauase this is a White Mountains classic.
Best Guided Adventure
The AMC has a full portfolio of guided family adventures that will have you all learning how to climb or canoe, but if you want an experience that's unique to the White Mountains, sign your family up for one of its hut-to-hut trips, which begin at Joe Dodge Lodge and then ascend above tree line for a night in the Lake of the Clouds Hut before traversing the Presidential Range to the Mizpah Spring Hut. It's high-alpine hut life at its best.
Stay
Joe Dodge Lodge is the ultimate White Mountains base camp and the epicenter of the AMC's lodge and hut system. Snag a private room, starting at $98 per night in the summer; dinner and breakfast for the family are included. You can arrange for daily packed lunches, too. Easy hikes extend from the property, and its hiker shuttle makes hitting local trails a breeze. We also dig the evening astronomy talks.
Lead Photo: Geraldine Sy