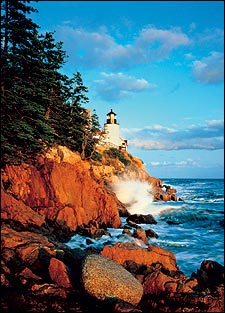 Heading out the door? Read this article on the new Outside+ app available now on iOS devices for members! Download the app.
There's more than one way to take in the adventure and splendor of America's national parks. So we're serving up a prize package of SECRET TRIPS—locals' no-tell favorites, from Acadia to Yellowstone to wildest Alaska—along with a roundup of DREAM TOWNS nearby, the places to eat, drink, and dance after a day or three in backcountry heaven. Throw away the guidebook: These trips are just between us
national parks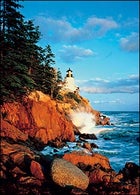 Bass Harbor lighthouse, in Maine's Acadia National Park

Capitol Reef National Park

Slide into Utah's Canyon Wonderland


Wrangell-St. Elias National Park

Trek Alaska's Monster Backcountry


Virgin Islands National Park

Splash in St. John's Wide-Open Waters


North Cascades National Park

Ride Tall in Washington's Wildest Range


Yellowstone National Park

Paddle Wyoming's Secret Sea


Big Bend National Park

Wheel Through Endless Texas Backlands


Acadia National Park

Set Sail on Maine's Rocky Coast


Mammoth Cave National Park

Crawl and Canoe in Kentucky's Multisport Adventureland


Yosemite National Park

Hike to Sweet Solitude in the Sierra


PLUS: Josh Shaffer—a man hell-bent on exploring every one of America's national parks—gives you his own personal recommendations and eight great guides who take you the heart of their favorite parks.
Capitol Reef National Park
Slide into Utah's Canyon Wonderland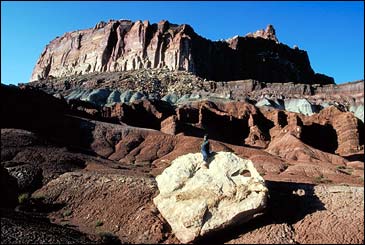 Kick Back in Torrey
Surrounded by some of the Southwest's most colorful desert views, Torrey, population 120, is an easily overlooked pleasure. Take a walk along the cottonwood-lined main street and visit local galleries and cafés, or check out the local Entrada Institute's offerings—from cowboy poetry readings to Bach recitals—at Robber's Roost Books and Beverages. Bunk four miles west of Torrey at Red River Ranch (www.redriverranch.com), a 2,200-acre private reserve with a three-story, 15-room lodge. For dinner, head to nationally known Cafe Diablo (www.cafediablo.net), a southwestern-fusion joint that turns local lamb, trout, and rattlesnake into feisty fare.
ONE FINE DAY: Get your morning fructose buzz strolling among 2,700 cherry, peach, and apricot trees in Capitol…
National Park: Capitol Reef National Park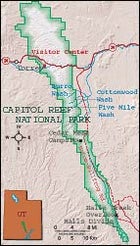 Acres: 241,904 Contact: 435-425-3791



CAPITOL REEF is the perfect place to find the type of free-form adventures that abound in U.S. national parks. Slickrock junkies will love the Waterpocket Fold, a 100-mile-long lopsided wrinkle of earth that offers one of the best backcountry playscapes in the Southwest. Satisfy your cravings on the park's south end, where canyons have sliced the Fold with narrows that require swimming through blackwater holes, scrambling over chockstones, and negotiating the odd rappel.


This trip's main event is a 21.9-mile backpacking loop that takes you from Halls Creek Overlook to Halls Creek Narrows. From the Brimhall Bridge trailhead at the Halls Creek Overlook, off Notom-Bullfrog Road, descend 800 feet to Halls Creek. Flanked by the Fold's red- and buff-colored cliffs, you'll hike seven and a half miles down a dry wash to the narrows, where you can set up base camp on a grassy bench.

Spend day two snaking through the three-mile-long slot canyon, whose tight walls will funnel you through pretzel twists and perpetually shaded pools. Head back to camp by going up Halls Divide, east of the narrows. The next day, retrace your footprints to Halls Creek Overlook. Throw your pack in the car and drive north on Notom-Bullfrog Road; crash at the park's Cedar Mesa Campground or sleep roadside near the mouth of Burro Wash, your destination for day four.

Burro is one of several drainages that penetrate the Fold, and—depending on how far you scramble—it may require technical canyoneering skills. Burro offers two sets of narrows with deep pools sandwiched between smooth, fluted walls that almost touch in some places. After four miles you'll come to an impossible pour-over. Turn around and head for more slots in nearby Five Mile and Cottonwood washes before calling it a day.


GETTING THERE: For guided trips in Capitol Reef, contact Wild Hare Expeditions (888-304-4273, www.colorcountry.net/~thehare). A free permit is required for backcountry camping, and even when it's hot, bring a wetsuit for the canyons' cold pools.


WHEN TO GO: Anytime but winter; and beware of summer flash floods.
Wrangell-St. Elias National Park
Trek Alaska's Monster Backcountry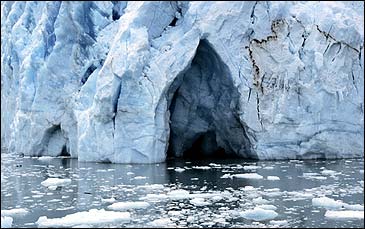 Kick Back in McCarthy
Until 1997 you could reach the remote Alaskan village of McCarthy only by using a hand tram to cross the Kennicott River. Then some meddler came along and put in a footbridge; now any old yahoo can walk straight into town. Get your fresh Copper River red salmon at the McCarthy Lodge (907-554-4402,
www.mccarthylodge.com
), which conveniently also houses the area's only bar, the New Golden Saloon. The same outfit runs Ma Johnson's Hotel, a restored boardinghouse with rooms for $159 a night.
One Fine Day:
Take a tour of the abandoned Kennecott Mine mill buildings; then float the Class I–III Kennicott and Nizina rivers in the shadow of the Wrangell and Chugach ranges. Contact Copper Oar Outfitters (800-52…
National Park: Wrangell-St. Elias

Acres: 13,175,901 Contact: 907-822-5234



PLANNING AN ALASKA WILDERNESS trip can be daunting—especially if you're heading into the vast glacier- and grizzly-filled Wrangell–St. Elias. But this park is surprisingly user-friendly, compared with some parts of big, bad Alaska. It's home to St. Elias Alpine Guides, one of the most experienced outfitters in the state, and it's relatively accessible via a 60-mile gravel road—no bush plane required. At road's end you'll find the town of McCarthy—and, four miles beyond that, Kennicott, your stepping-off point for a four-day expedition to Wrangell's Donoho Peak.


To get started, you'll hoist your pack and hike toward Donoho and the Root Glacier. St. Elias Alpine Guides' trips are small (no more than six people), and they're tailored to fit your group's skill level, with instruction available on everything from ice climbing to alpine mountaineering. Because Wrangell is one of the most glaciated parks in the U.S., the Donoho trek is the perfect setting for learning the rudiments of glacier exploration. Before breaking camp at the base of the Root, your guide will give you pointers on crampon use and safe route-finding. Then you'll start the traverse, planting your feet on an undulating sea of ice. Once you arrive at the west side of the glacier, you'll set up camp and mull your many options. You could make the nontechnical scramble up 6,698-foot Donoho for views of 16,390-foot Mount Blackburn and 18,008-foot Mount St. Elias, the second-tallest peak in the U.S. You could rope up and go ice climbing on the Kennicott or Root glaciers, or hike across the tundra to an alpine lake. Or you could just do it all.


GETTING THERE: St. Elias Alpine Guides' four-day Donoho Peak Trek is $699 per person, assuming a group of six. A variety of other options are also available, including custom expeditions and first ascents (888-933-5427, www.steliasguides.com).


WHEN TO GO: July through September.



Virgin Islands National Park
Splash in St. John's Wide-Open Waters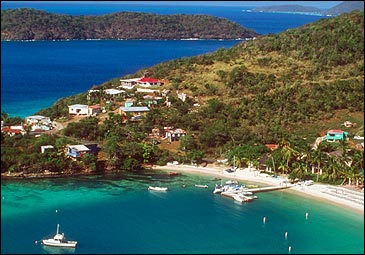 Kick Back in Coral Bay
Cruz Bay means honeymooners, Gucci, and retirees. Coral Bay means beachside conch fritters, wandering goats, and thoroughly basted expats living on their sailboats. The choice is fairly clear. If you find yourself in Coral Bay (population 300, they guess), head straight to Skinny Legs (340-779-4982), an open-air restaurant where locals gather to drink and watch yacht races on TV. Drop your bags at Concordia Eco Tents ($85–$125;
www.maho.org
), a lean, green collection of tent-cottages outside of town, complete with solar showers, private bathrooms, and kitchenettes. In the evening, take a walk around a place that local bumper stickers call "the world's largest open-air asylum." You're bound to meet some interesting folks&#…
National parks: Virgin Islands National Park

Acres: 14,689 Contact: 340-776-6201



VIRGIN ISLANDS IS ONE of the tiniest parks in the system, located entirely on and around St. John, the smallest of the three major U.S. Virgin Islands. But if idyllic Caribbean beaches are what you're after, this park—which occupies approximately 30 square miles of land and sea—is plenty big. St. John is home to some 40 sheltered bays, each with its own fluffy carpet of sand and many with a coral reef not far offshore. You can hit them all by circumnavigating the island in a sea kayak, covering roughly 35 miles in five days.

From Cruz Bay, paddle two miles to Henley Cay (a good snorkeling spot), and then on for two more miles to Cinnamon Bay and the park's only official campground. Several hiking trails lead from the camp to 18th-century sugar-factory ruins and into a tropical forest. On day two, a leisurely one-and-a-half-mile voyage takes you to the Maho Bay Camps, a managed eco-resort with cabin-tents perched on a hillside, a dive shop, and snorkeling. Start early the next morning for the island's primitive East End, paddling upwind along the north shore, eventually reaching Hansen Bay and a private beachfront campground run by Violet "Vie" Mahabir. Collapse in the sand beneath 100-year-old palm trees, or you can amble over to Vie's Snack Shack to refuel on fried chicken.


On day four you'll paddle five and a half miles to Ram Head peninsula and the island's wild, roadless southeastern coast. Hike to the top of the Head for crow's-nest views of the ocean. You'll spend your final night in Little Lameshur Bay at the nonprofit Virgin Islands Environmental Resource Station (888-647-2501, www.islands.org/virgin/viers), home to rustic cabins, hiking trails, and more great beaches. Complete the circle on day five, stroking four and a half miles back to Cruz Bay—it's downwind all the way.


GETTING THERE: For an outfitted loop around St. John, contact Arawak Expeditions (from $995 per person; 800-238-8687, www.arawakexp.com). Experienced open-water kayakers can rent from Crabby's Watersports, in Coral Bay (340-714-2415, www.crabbyswatersports.com).


WHEN TO GO: Year-round. But beware: Hurricane season runs from June through November.
North Cascades National Park
Ride Tall in Washington's Wildest Range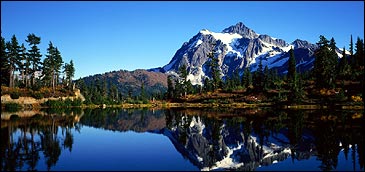 Kick Back in Mazama
The 250 residents of Mazama—a hamlet perched in the Methow Valley, on the park's eastern edge—don't want you sitting on your tush. The Mountain Transporter shuttle ($5-$55; 509-996-8294) will take you and your bike to dozens of promising trailheads, and Methow Adventures (866-638-4691,
www.methowadventures.com
) can gear you up for a custom biking, rafting, or fishing trip. Rest your bones at the Freestone Inn ($105-$220; 800-639-3809,
www.freestoneinn.com
), where every room has a stone fireplace and steelhead fishing is only steps away. Mazama's best eats are at the Freestone—think pecan-crusted trout—but for down-home chow, try the Burnt Finger Bar…
national park: North Cascades National Park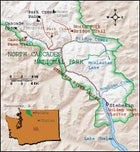 Acres: 684,302 Contact: 360-856-5700

THE NORTH CASCADES LOOK A LOT LIKE the Alps, with razorback peaks, alpine meadows, and plenty of glaciers. But the similarities to Europe end there: The park is almost all wilderness, and there are few roads in. Since backpacking on this steep terrain can be slow going at best, the smart way to see it is on horseback. The Courtney family, based in the hamlet of Stehekin, has been running pack trips in the region for two generations, with a low-key style that emphasizes good food, minimal impact, and stunning scenery.

Just getting to the Courtneys' Cascade Corrals is an adventure. As a private inholding in the park, Stehekin has no road access and must be reached by ferry—a 50-mile trip up Lake Chelan, through a glacial trough that's more than 8,500 feet deep. Once you've hooked up with the Courtneys, you'll ride on a surefooted Norwegian fjord horse, heading up the Stehekin River Valley to your base camp at Bridge Creek.

Your routine each day will be blessedly simple: Wake up; stuff yourself with pancakes, eggs, and bacon; ride the park trail of your choice; then go on a hike to burn off the grub. You'll travel to amazing spots like Buckner Meadows, Mount Logan, and McAlester Lake; while you're soaking in the views, don't be surprised if you feel the urge to yodel.

GETTING THERE: Cascade Corrals (509-682-7742, www.courtneycountry.com) offers scheduled horsepacking trips ($995, six days) and custom outings for a minimum of six riders. There's also a hiking option: You carry a daypack; the horse carries the rest ($750, six days).

WHEN TO GO: July through September.


Yellowstone National Park
Paddle Wyoming's Secret Sea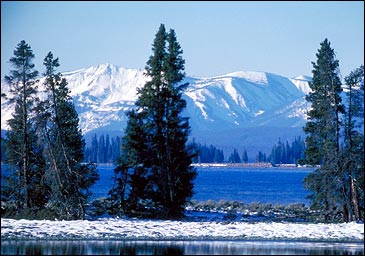 Kick Back in Red Lodge
Red Lodge, population 2,177, offers downtown trout fishing in Rock Creek, mountain biking in the Beartooths, and rafting on the Stillwater River. Locals like Bogart's, a bar known for giant pizzas and Montana's best margaritas, but when it's time to get down to business, head over to the Snow Creek Saloon, an excellent dive with live bands. Red Lodge won't bust your budget – rooms at the Rock Creek Resort (800-667-1119,
www.rockcreekresort.com
) start at $110, and it's a fairly swanky place, with a swimming pool, hot tub, and tennis courts. For the less swank, there are 61 nearby campsites in Custer National Forest.
One Fine Day:
Take a brisk morning hike on the south rim of the Grand Canyon of the Yellowstone, near…
national park: Yellowstone National Park

Acres: 2,219,791 Contact: 307-344-7381
COVERING 137 SQUARE MILES and perched above 7,700 feet, Yellowstone Lake is a formidable barrier between the tourist circus on the lake's north shore and the roadless expanse to the south. To get to this wild heart of the park, you can hike for days carrying a heavy pack, or you can take a wet shortcut and arrive in a few hours without breaking a sweat. The easy way starts at Bridge Bay Marina, on the lake's north end. Load your sea kayak on the Yellowstone Lake Shuttle ($124; 307-344-7311), hitch a ride to the top of Yellowstone LakeÂ's southeast arm, unload, and drift into a huge no-motors zone.
Approximately seven miles long, the southeast arm deserves at least four days of exploration. You're likely to see grizzly bears, moose, and elk, and hear wolves howling at night. From your drop-off point, set up camp at Columbine Creek or paddle down to Terrace Point, where you can hike up to stunning views of the upper Yellowstone River valley. The next day, continue to the bottom of the arm, camping at Trail Point or Trail Bay along the headwaters of the Yellowstone River. Grab your fly rod and head upriver or hike a network of remote trails (like Thorofare and Two Oceans Plateau) to overlooks and wildflower-filled meadows. Eventually, make your way back to the top of the arm, completing a horseshoe-shaped, 18-mile route. The ferry will return you to civilization.
GETTING THERE: Snake River Kayak and Canoe, in Jackson, Wyoming, rents sea kayaks and offers guided four-day trips into the Yellowstone Lake arms ($755 per person; 800-529-2501, www.snakeriverkayak.com). Advance reservations for backcountry campsites are recommended. Buy them at the park's trip-planner page.
WHEN TO GO: August and September. Early summer camping is restricted because of bear activity.
Big Bend National Park
Wheel Through Endless Texas Badlands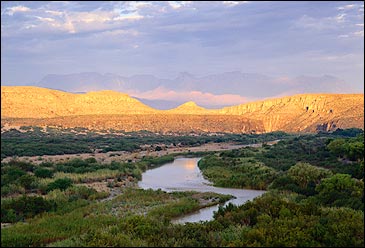 Kick Back in Alpine
West Texas is wide-open country, so don't be shocked that Big Bend's "gateway" town is 102 miles from the park's front door. In Alpine—population 5,786—longhairs and cowboys mix in funky downtown cafés and bars. The hippest inn is the Holland Hotel, built in 1912 and refurbished with 16 rooms, including an $80 "penthouse" with 360-degree views of the 5,000-foot Davis Mountains ($50–$80; 800-535-8040,
www.hollandhotel.net
). Alpine is home to Railroad Blues (432-837-3103,
www.railroadblues.com
), one of the best small-town music joints in the country, offering 124 brews and performances by famous Texas bands like the Derailers and Asleep at the Wheel. Sat…
national park: Big Bend National Park

Acres: 801,000 Contact: 432-477-2251

NATIONAL PARKS AND MOUNTAIN BIKES usually don't mix—bikes are illegal on most park trails, and designated bike paths are often a bore. But there's one major exception: Big Bend. This West Texas park's desert terrain is laced with 160 miles of dirt roads, where mountain bikes are not only allowed but welcomed. Since Big Bend receives just 300,000 visitors a year, many of whom arrive in lumbering RVs, riding the ghost roads that once served turn-of-the-century mining and river towns is a cool and private way to experience this sprawling Chihuahuan Desert landscape.

To cover the most territory, hire Desert Sports (contact below) to shuttle your vehicle from site to site. (On some parts of this trip, you'll want four-wheel drive to carry your bikes from place to place.) Begin your ramble with a one-way, 35-mile downhill bike ride on the Old Ore Road from Dagger Flat to the Rio Grande. You'll start atop an alluvial plain, with jagged Mexican mountains rippling on the southern horizon. Flanked by ocotillo and prickly pear, you'll make an easy half-day ride to the Telephone Canyon backcountry campsite. If you have enough oomph and water, take a sunset hike on the first few miles of the 17-mile Telephone Canyon Trail up into the Deadhorse Mountains.

The next day, head down steep grades through Ernst Basin to the Rio Grande and the U.S.-Mexico border, soaking at Langford Hot Springs. Now it's time for your next big roll: a two-day, 29-mile ride combining the Glenn Spring, Black Gap, and River roads. To get started, drive north on the paved park highway from Rio Grande Village to the Glenn Spring turnoff, just beyond Dugout Wells; keep going approximately 13 bumpy miles to Glenn Spring, where you'll pitch your tent next to a village that was raided by Pancho Villa's men in 1916. From the ruins, pedal south on Black Gap Road, and then east at the fork, past the Mariscal Mine site on River Road down to the river. Get your feet wet and head northeast on River Road, then take a left on Glenn Spring Road to complete the loop.

GETTING THERE: Desert Sports, in Terlingua, rents mountain bikes, provides shuttles, and offers guided rides (888-989-6900, www.desertsportstx.com). Free backcountry camping permits are available at the park's Panther Junction visitor center. There's no reliable water along these routes, so carry plenty or cache it in advance.

WHEN TO GO: October through mid-April.
Acadia National Park
Set Sail on Maine's Rocky Coast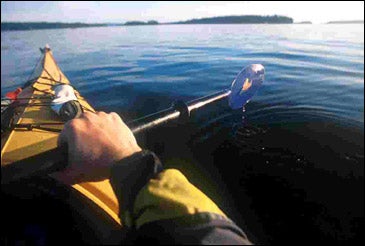 Kick Back in Bass Harbor
On the other side of Mount Desert Island from Bar Harbor's fudge shops lies Bass Harbor, a fishing village with enough patience to treat travelers right. Cozy up among the town's rugged cottages at the Bass Harbor Inn Bed and Breakfast ($75–$120; 207-244-5157), or pitch your tent at the seaside Bass Harbor Campground (800-327-5857,
www.bassharbor.com
), where, after a short hike to the Bass Harbor Head Lighthouse, you can watch the lobster fleet head out. Thurston's Lobster Pound (207-244-7600) serves fresh crustaceans right by the water.
One Fine Day:
Steal some solitude on 60-foot Otter Cliff and the pink granite crags of Great Head, some of the best sea-cliff climbing in the U.S. Rent gear at Alpenglow Acadia Mo…
national park: Acadia National Park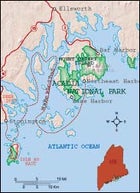 Acres: 47,000 Contact: 207-288-3338

WITH ITS GRANITE-DOMED MOUNTAINS and sea-sprayed coastline, Acadia attracts summertime tourists like a backwater pond draws blackflies. Luckily, the park's modest acreage is spread out over several islands along Maine's northern coast, which means you can avoid human swarms simply by sailing around them—giving you a chance to explore the park's more remote spots.

For this two- to three-day voyage, experienced sailors can rent a boat in the Deer Isle boating hub of Stonington. Newbies can charter a 37-foot cutter with Captain Bill Baker, of Old Quarry Ocean Adventures; pushing off from Stonington, you'll sail eight miles to Acadia's isolated Isle au Haut. Once you hit land, unload your mountain bike and stretch your legs with a 12-mile ride around the island, stopping to gorge on blueberries and watch golden eagles soar past cliffs overhead.

The next day you'll venture deeper into the mostly uninhabited Deer Isle archipelago and catch wind toward Mount Desert Island, where most of the park is situated. Follow the Maine Island Trail—a marked route connecting dozens of coastal islands—or chart a 20-mile course around rocky inlets where seals, puffins, and ospreys will be your only company. You'll find a quiet anchorage spot on Mount Desert Island at the village of Northeast Harbor. Break out the bike and pedal a 57-mile network of carriage roads, or hike to the top of 1,373-foot Sargent Mountain for ocean views. Back at the dock, load up on lobster and crash on the boat; the next day you can sail the 15 or so miles back to Stonington via a different route.

GETTING THERE: A two-day sailboat charter with Old Quarry costs $1,200 for four. You can also rent mountain bikes, sea kayaks, and 14-foot sailboats (207-367-8977, www.oldquarry.com). Other sailboat outlets include Downeast Friendship Sloop Charters (207-266-5210, www.downeastfriendshipsloop.com) and Hinckley Crewed Charters (207-244-0122, www.hinckleyyacht.com).

WHEN TO GO: June through September.
Mammoth Cave National Park
Crawl and Canoe in Kentucky's Multisport Adventureland
Kick Back in Cave City
This 2,200-person town is the official tourist hub for Mammoth—which means it's heavy on go-cart tracks, stressed-out families, and chain restaurants. Just this once, embrace the kitsch: You'll find gems of cave-country authenticity like the Floyd Collins Museum, celebrating "America's Greatest Cave Explorer," a man who got wedged in nearby Sand Cave in 1925 and slowly starved to death during an 18-day rescue attempt and media circus. The museum is housed at the Wayfarer Bed and Breakfast ($125; 270-773-3366), five miles outside of town, where you'll avoid Floyd's fate with daily breakfasts of country ham, biscuits, cheese grits, and fried apples.
One Fine Day: Roll out on the little-known Sal Hollow trail. A former four-wheelers' road recently converted to a mountain-…
national park: Mammoth Cave National Park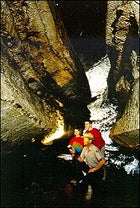 Darkness Illuminated: Shedding light on Mammoth Cave National Park
national park: Mammoth Cave National Park

Acres: 52,830 Contact: 270-758-2180

YOU PROBABLY KNOW MAMMOTH CAVE for what lies beneath. This park, tucked away in the hills and hollows of central Kentucky, protects the longest cave system in the world, a five-level labyrinth with more than 365 miles of tunnels. Up where the sun shines, the park is home to a 70-mile network of hiking trails, biking paths, camping spots, and 27 miles of prime canoeing river.

Begin your four-day Mammoth marathon with the ranger-led Wild Cave Tour. This six-hour, five-mile crawl is not for the claustrophobic—or anyone with a chest or hip measurement greater than 42 inches. You'll free-climb cave walls and shine your headlamp on bizarre limestone formations like Rainbow Dome and Cathedral Dome.Take it up top the next morning, renting a canoe and paddling the gentle, scenic Green River. Put in at Dennison Ferry, on the park's eastern boundary, and snake your way ten miles past forested bluffs, islands, and sandbars to circuitous Turnhole Bend. There's good backcountry beach camping along the north bank and easy access to the park's most isolated hiking paths via Turnhole Bend Trail.

Start day three with a ramble through terrain that hasn't changed much since it was first seen by American explorers in the 18th century. Then paddle nine miles to Houchins Ferry, just inside the park's western boundary, your take-out spot and campground for the night. The next morning, give your legs a workout with a ten-mile hike on the hilly, oak-forested McCoy Hollow loop.

GETTING THERE: The Wild Cave Tour costs $45; reserve through the park. For canoe rentals, contact Green River Canoeing (800-651-9909, www.mammothcavecanoe.com) or Mammoth Cave Canoe and Kayak (877-592-2663, www.mammothcavecanoe-k.com).

WHEN TO GO: March through November.

Yosemite National Park
Hike to Sweet Solitude in the Sierra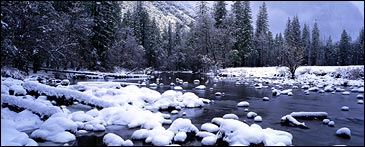 Kick Back in Sonora
Forty-five miles west of Yosemite, Sonora is the last nugget left from the Gold Rush—a mining town that's kept its old-fashioned vibe. The Gunn House Hotel ($69–$109; 209-532-3421,
www.gunnhousehotel.com
), a three-story Victorian, is the perfect base camp. Hit the Miner's Shack for breakfast if you can handle the stress of choosing from 35 different omelets. At dinnertime, Banny's Café serves risotto with prawns and anything else you might crave. Then try one of the various pubs lining Washington Street: The Office, 124, Servente's Saloon, or the Iron Horse Lounge.
One Fine Day:
Pack a breakfast to the top of Sentinel Dome, an easy 2.2-mile hike with views equal to those off the top of El Cap and Hal…
national park: Yosemite National Park

Acres: 761,266 Contact: 209-372-0200

YOSEMITE IS FAMOUSLY crowded—it draws 3.5 million visitors a year, more than the population of Mississippi—but it's easy to shake the mob if you walk in the right direction. This five-day, 45-mile loop offers premium Sierra scenery (meadows, waterfalls, lakes, and peaks) but few people. Best of all, you can get permits the same day you start your trip, even in the height of summer.

Your trek begins at the Mono Meadow Trailhead, near the end of Glacier Point Road. Hike down to Illilouette Creek, wade the stream, and continue up the Illilouette drainage through an old burn area. After about nine miles, you'll reach smooth granite slabs that make for excellent waterslides, and there's good camping and classic views of Yosemite's rock domes nearby. The next day, continue up the drainage toward the Clark Range and Red Peak Pass. Climb the pass and then drop down to a natural array of tarns and rock benches that create a rustically furnished campsite.

On day three, follow the switchbacking trail down the Triple Peak Fork drainage and make a steep two-mile climb to an alpine meadow just below Post Peak and Isberg Peak. Press on to the granite slabs tucked under the wall at the top of the canyon. From this campsite, you'll have a front-row seat for some of the best panoramic views in Yosemite. The wow factor continues the next day as you trek four miles across the high country, gazing at the Minarets and other famous Sierra peaks. Tag a walk-up before descending through the forested valley of Post Creek and climbing Fernandez Pass.

Your last full day of hiking is an easy six-mile jaunt through forests and meadows and a gentle climb over Merced Pass. In short order you'll rejoin the Illilouette drainage. Spend the night a few miles from the trailhead, where the path crosses the stream. You'll be out the next morning in time for coffee and doughnuts in Yosemite Village.

GETTING THERE: A wilderness permit is required. You can reserve in advance, for $5 a day, through Yosemite's Wilderness Center (209-372-0740, www.nps.gov/yose/wilderness).

WHEN TO GO: July through September.
Been There, Seen That
Josh Shaffer is a man with a mission: to explore every one of America's national parks. (To date, it's 20 down, 37 to go.) The 34-year-old from Wilmington, North Carolina, talks about the best places he's seen so far.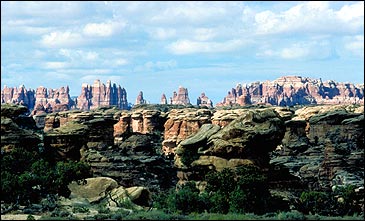 Elephant Canyon

CANYONLANDS NATIONAL PARK, UTAH
Getting there requires a tough hike, about 11 miles round-trip from the Squaw Flat trailhead, in the Needles section of the park. But it's worth the effort: Elephant Canyon is a harsh, beautiful landscape with a forest of 200-foot sandstone spires and no other people for miles.


Brown Mountain Trail

SHENANDOAH NATIONAL PARK, VIRGINIA
When the tourists pour in to see the autumn leaves, traffic on Skyline Drive can be a bit much. This 11-mile out-and-back trail from Skyline into Big Run Valley scares most people away, so hikers have the deep forest of oaks, hickories, and maples all to themselves.


Box Canyon Campsite

ROCKY MOUNTAIN NATIONAL PARK, COLORADO
Getting here requires about a six-mile hike on the Colorado River Trail. It's fairly gentle until the last mile, when it goes almost straight up. I topped out at 10,480 feet, in the middle of a meadow, where I camped among elk and could look up to see bighorn sheep on the 12,000-foot peaks above.


Riley Creek

DENALI NATIONAL PARK, ALASKA
I didn't want to see the park by bus, so I hiked south from the Denali visitor center and spent two days bushwhacking along deep, fast Riley Creek. I camped in a small clearing, where the ground was covered with moss so thick and spongy that I could hardly walk.


Guadalupe Peak

GUADALUPE PEAK NATIONAL PARK, TEXAS
The four-mile hike up 8,749-foot Guadalupe Peak, the highest point in Texas, can be brutal in winter. It was about 35 degrees, and the winds were unreal. But at the top, I had uninterrupted views for more than 100 miles in every direction.
Lead On Me
Want to know where the pros go? Meet eight great guides who will take you to the heart of their favorite parks.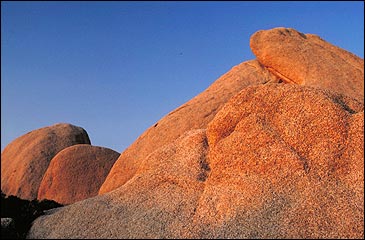 CHRIS CONWAY
Founder, Wild Basin Outfitters
Rocky Mountain National Park, CO
Conway is a crack high-country fishing guide who learned his craft as a kid growing up on Alaska's Kenai River. The 45-year-old mountain man will plop you on a horse and lead you six miles to Lawn Lake, at 10,789-feet, in search of the elusive greenback cutthroat trout. Come dinnertime, he'll also dish up a tasty tortellini and pour the chardonnay.
CONTACT: 877-525-7373, chris@wildbasinoutfitters.com
PRICE: $150 per person per half-day

RORY WEST
Island Guide
National Park of American Samoa
West came to Samoa's five-island archipelago 24 years ago to start a plant nursery, met a Samoan woman, and never left. Bunk with the West family, in their cozy home on the island of Tutuila, and you'll snorkel among 200 coral species in the 9,000-acre park, take an octopus-spearing lesson, and learn from the master as he rattles off amazing facts about local flora.
CONTACT: 011-684-258-3527, rorywest@yahoo.com
Price: from $35 per person for snorkeling and kayaking, $25 per person for a rental house with kitchen

ROLF PETERSON
Wildlife Biologist
Isle Royale National Park, MI
A self-described "old moose," Peterson works at Michigan Technical University, where for more than 30 years he's studied wolves and their impact on moose populations in the 850-square-mile park. Earthwatch, a field-research institute, offers guided multi-day backpacking trips with the 55-year-old biologist, who will take you moose watching on rugged trails like Minong Ridge.
CONTACT: Earthwatch, 800-776-0188, www.earthwatch.org
PRICE: $895 per person per week

MARK BOWLING,
Founder, Joshua Tree Rock Climbing School
Joshua Tree National Park, CA
Bowling, 45, has been monkeying around on J-Tree's Flintstones-esque mounds of quartz monzonite for nearly three decades and can guide you up any kind of route you care to tackle. One of his favorites: the labyrinthine Wonderland of Rocks—with routes like 5.11b Poodle Smasher. "Seeing people learn to climb," he says, "rekindles my own love of the sport."
CONTACT: Joshua Tree Rock Climbing School, 800-890-4745, climb@telis.org
PRICE: $110 per person per day

RANDY GAYNER
Founder, Glacier Wilderness Guides
Glacier National Park, MT
Gayner founded Glacier's only hiking-guide service 21 years ago, so the former backcountry ranger is plenty intimate with the 700-mile trail network, the grizzlies that ply it, and other dangers, like a falling apartment-size ice slab that Gayner saw crash into a lake back in 1989. Gayner's favorite march: the eight-mile hike through Many Glacier Valley.
CONTACT: Glacier Wilderness Guides, 800-521-7238, www.glacierguides.com
PRICE: $487 for the three-day hut trip; $70 for a custom day hike

DAN OBERLATZ
Co-Owner, Alaska Alpine Adventures
Lake Clark National Park and Preserve, AK
Instead of flaunting his feats on big peaks like Denali, 35-year-old Oberlatz would rather show you around the backcountry: You'll spend five days hiking and kayaking in the remote Twin Lakes basin, where you'll paddle beneath the snowcapped Chigmit Mountains. "That moment when the plane leaves you and there's total silence—that's what it's all about," he says. CONTACT: Alaska Alpine Adventures, 877-525-2577, www.alaskaalpineadventures.com
PRICE: from $2,900 per week per person

JIM CAMERON
Head Guide, Olympic Mountaineering
Olympic National Park, WA
Cameron has topped out on 7,965-foot Mount Olympus a mere 88 times. This summer he's shooting for his 100th summit. Meet up with the gangly 47-year-old guide at Glacier Meadows base camp and he'll help you cross crevasse- littered Blue Glacier en route to views of Rainier, Baker, and the Pacific.
CONTACT: Olympic Mountaineering, 360-452-0240, www.olymtn.com
PRICE: $295 per person

TIM AND DIANNE SHEW Owners, Balch Park Pack Station
Sequoia National Park, CA
These two Tennessee-born wranglers have spent the past 20 years riding the southern Sierra. Travel with them and their steeds to the deer-filled alpine meadows of Hockett Plateau, where 46-year-old Dianne, a published photographer, will drawl instructions on how best to capture the alpenglow off Vandever Mountain's 11,947-foot summit.
CONTACT: Balch Park Pack Station, 559-539-2227, www.balchpark.com
PRICE: from $175 per person per day