The Wanderlist
All it takes is one trip to change your life - and we've got 40 of 'em. Dreaming of close encounters with cheetahs or penguins? Want to climb a mountain in Peru? Experience an epic trek in China? One trip, one world - that's all it takes.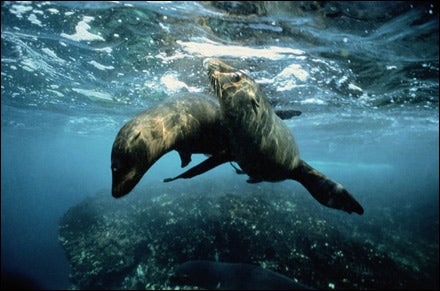 PhotoDisc
Heading out the door? Read this article on the new Outside+ app available now on iOS devices for members! Download the app.
BRAZIL (2006 Winner)
Outside Trip of the Year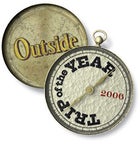 Tribes of the Amazon
Price: $5,386-$6,983
Difficulty: Easy
Very few outsiders have traveled to the heart of the Xingu Amazon Refuge. The 9,000-acre forest reserve is the isolated home of the Kamayura Indians; no roads link it to the modern world. Tribal elders have granted special access to trip leader John Carter, a former Texas cattle rancher, because of his years spent lobbying the federal government to protect their surroundings and way of life. This translates into one of the most authentic cultural-immersion experiences you'll find anywhere in the Americas. After being deposited by Cessna on a hand-cleared runway, you'll hike and canoe beneath the thick rainforest canopy, then sleep in hammocks inside the chief's own hut before flying out the next day. The rest of the 12-day trip is only slightly less remote, with a visit to a frontier cattle ranch and the Xingu Refuge Lodge— simple riverside retreat built to resemble a native village—and an overnight stay with the Waura Indians.
Outfitter: Ker & Downey, 800-423-4236, www.kerdowney.com
When to Go: June-August
PERU (New)
Cordillera Blanca Climb
Price: $2,750
Difficulty: Strenuous
This triple-summit foray into high-altitude climbing in the Andes requires little technical skill, but the thin air and occasional crevasses make the two-week journey anything but easy. After a few days of acclimatization in the foothills of the Cordillera Blanca above the town of Huaraz, you'll trek through the lupine-carpeted meadows of the Quebrada Quilcayhuanca valley. The hike takes you on pre-Inca trails that trace the edges of alpine lakes. Here you enter crampon country, where you'll camp and, in less than a week, top three snowy peaks—aparaju (17,470 feet), Huapa (17,761 feet), and Ishinca (18,138 feet)—before returning to civilization and a well-earned Peruvian feast.
Outfitter: Mountain Madness, 800-328-5925, www.mountainmadness.com
When to Go: July
ECUADOR
Sea-Kayaking the Galápagos
Price: $3,650-$6,280
Difficulty: Easy
When a turtle the size of a grizzly bear glides beneath your kayak, you'll understand the significance of Lindblad's new status as the first and only large-ship operator with a Galápagos paddling permit. The conservation-minded company has been escorting visitors to the islands since 1968. Travelers onboard the 80-passenger MS Polaris have access to another perk when not snorkeling, beachcombing, hiking, or viewing wildlife: outdoor spa services administered on a glass-bottomed pontoon.
Outfitter: Lindblad Expeditions, 800-397-3348, www.expeditions.com
When to Go: Year-round
ARGENTINA
Northwest Trek
Price: $1,375-$1,735
Difficulty: Challenging
Amid the deep red gorges of Argentina's rugged northwest, aboriginal adobe huts stand as reminders that this country's rich history far predates the tango. This nine-day trip covers both past and present, from the pre-Spanish Calchaquis relics in Quilmes to the up-and-coming wineries of Cafayate. After a stay at a comfortable bodega lodge, you'll embark on a three-day trek through the Cachi Mountains, where you and your packhorses will hoof it 29 miles up the Belgrano River Gorge to the multicolored sandstone formations of the Pukamayu Valley.
Outfitter: Adventure Life, 800-344-6118, www.adventure-life.com
When to Go: April-October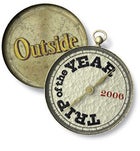 CHINA (2006 Winner)
Hiking and Rafting in Yunnan
Price: $4,990-$5,490
Difficulty: Strenuous
The Mekong may be renowned for its starring role in Apocalypse Now and as the newest target of China's village-displacing hydroelectric-dam campaign, but it's never been known as a commercial whitewater hot spot—until now. Under the leadership of your veteran guides, kick off the beginning of what may be a Mekong revival: commercial rafting trips on the wilder Class IV-V sections of the upper river. You'll spend the first week acclimatizing to Yunnan's Tibetan culture and altitude, with hikes through the 700,000-acre, bamboo-dense Baima Nature Reserve and a 5,000-foot ascent to the 12,000-foot-high village of Yubong, while sleeping in traditional Tibetan homes. By the second week, drop your raft into the Class IV rapids beneath the flapping prayer flags of Xidang's monastery for six days and 80 miles of gorge-squeezing whitewater bliss.
Outfitter: Mountain Travel Sobek, 888-687-6235, www.mtsobek.com
When to Go: March
INDONESIA (New)
Cycling Remote Bali
Price: $2,798
Difficulty: Moderate
Though the major Balinese tourist centers on the southern coast may still be reeling from the 2002 and 2005 bombings, the heady scents and lush foliage of the island's secluded interior and northeastern coast remain as untouched as ever. On this eight-day sampler, you'll get the full-immersion tour, biking 12 to 47 miles a day and sleeping in garden and seaside spa resorts at night. Starting inland, in Ubud, pedal to the Pura Taman Ayun, a "floating" 17th-century royal temple surrounded by a moat, and past acres of hydrangea and clove plantations. When you reach the northern coast and the black sands of Lovina Beach, strip off those Lycra shorts and take a dip in the Bali Sea. Then head east past volcanoes and verdant rice paddies, stopping to snorkel the coral reefs of the Blue Lagoon and dine on fresh coconut rice and rich green curry in the town of Candidasa.
Outfitter: Backroads, 800-462-2848, www.backroads.com
When to Go: October, January-April
MYANMAR (New)
Exploring the Mergui Archipelago
Price: $3,995-$4,495
Difficulty: Moderate
The Moken "sea gypsies" who travel the recently opened Mergui Archipelago, an 800-island cluster off the southern coast of Myanmar, are among the few who still practice their traditional nomadic marine life, fishing for sea cucumbers and lobsters and wandering from island to island in hand-built boats. For 12 days you'll emulate this vanishing culture, hopping from the powdery beaches of Clara Island to the stunning old-growth coral of the underwater reef gardens around Hayes Island. Snorkel and dive uninhabited Lampi Island's boulder-strewn seafloor and kayak through the limestone cliffs and tunnels along Horseshoe Island's dramatic coast. Base camp is one of five air-conditioned cabins aboard an 85-foot wooden yacht, where meals are a merging of Moken and Thai flavors, such as fish fresh from the Andaman Sea steamed with coconut and lemongrass.
Outfitter: Wilderness Travel, 800-368-2794, www.wildernesstravel.com
When to Go: November-March
INDIA
Tracking the Snow Leopard
Price: $3,575
Difficulty: Strenuous
Hidden in the Himalayan high-desert passes of Ladakh are some of the oldest untouched Tibetan monasteries in the world, as well as one of the highest concentrations of the near-mythic snow leopard. For 19 days, play Peter Matthiessen under the guidance of the Snow Leopard Conservancy. You'll sleep in tents and mountain farmhouses while trekking and tracking the elusive cats through the 5,000-square-mile Hemis National Park, home to about 170 of the world's last remaining 4,600 to 7,000 snow leopards. Along the way you'll visit the spectacular tenth-century Hemis Monastery, enjoy the view at your 12,500-foot-high Rumbak homestay, and trek to the 16,700-foot-high pass of Kongmaru La. A portion of your trip's fee is donated to the conservancy to help improve conditions for the locals—both human and feline.
Outfitter: KarmaQuest, 650-560-0101, www.karmaquests.com
When to Go: April-October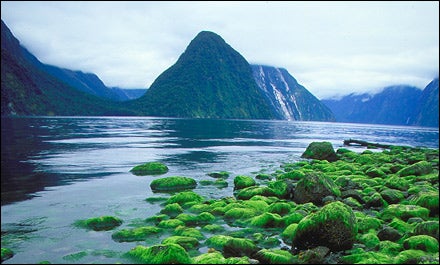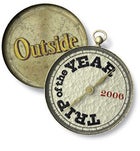 SOUTH PACIFIC (2006 Winner)
Secluded-Isle Hopping
Price: $5,950
Difficulty: Moderate
In 1790, the mutineers of the HMS Bounty selected Pitcairn Island, some 1,200 miles southeast of Tahiti, to live with their Tahitian brides because it was so far away and nearly an impossible place for their pursuers to anchor safely. Today, their 50-some descendants see few visitors for the very same reasons. Get a feel for their isolationist way of life by spending a week hiking craggy hills, helping the residents maintain their longboats, and hearing tales of life on a forgotten island. That's just the headliner of this three-week South Pacific voyage, most of which you'll see from the comfort of a 60-foot luxury sailboat. You'll also snorkel reefs teeming with tropical fish, hike the goat paths of Mangareva (a "floating mountain" in the Gambier Islands, 320 miles west of Pitcairn), and learn to trim the mainsails en route to uninhabited sand spits like Henderson and Oeno islands, where you can pretend you're starring in your own episode of Lost.
Outfitter: Ocean Voyages, 800-299-4444, www.oceanvoyages.com
When to Go: July-October
NEW ZEALAND
Circumnavigating the South Island
Price: $2,999
Difficulty: Challenging
During Active New Zealand founder Andrew Fairfax's 2,700-mile cycling expedition from Istanbul to London in 2003, he thought, Why aren't we doing this at home? The result of that epiphany is the Weka, a 13-day supported bike trip circling the South Island. It hits all the top spots, like the majestic peaks and gushing waterfalls of Milford Sound and the blue ice of the Franz Josef Glacier, while staying off most of the main routes, worn thin by tourist traffic. You'll log roughly 400 miles on Specialized hybrids that can handle gravel farm paths and other classic Kiwi obstacles like cow dung and stubborn sheep. Typical day: Pull off the Central Otago Rail Trail, ditch your gear in a renovated millhouse that serves as home for the night, and head to a tiny rural-outpost pub for a Speight's with the locals.
Outfitter: Active New Zealand, 800-661-9073, www.activenewzealand.com
When to Go: October-April
FRENCH POLYNESIA
Sea-Kayaking Raivavae
Price: $4,775
Difficulty: Moderate
Want to find out what Bora Bora was like in the days before tourism took over? Set out on a 13-day paddling recon mission to Raivavae (Ri-VA-vi), one of five time-forgotten archipelagos in the Austral chain, 2,244 miles northeast of New Zealand in French Polynesia. On this, one of the first outfitted kayaking trips from the island, you'll hop from motu to motu (tiny uninhabited islands) in the outer reef in the mornings, set up camp for the night, and head to the lagoons on an underwater hunt to spear grouper for dinner. (Don't worry, other provisions will be provided if you come up empty-handed.) Keep an eye out for blue whales—the reef's horseshoe shape brings the deep-dwellers of the Pacific right up to the shoreline.
Outfitter: Explorers' Corner, 510-559-8099, www.explorerscorner.com
When to Go: July
AUSTRALIA
Diving with Sharks
Price: $1,570-$1,950
Difficulty: Moderate
After three days spent exploring the ribbon of coral along the Great Barrier Reef, you'll keep heading east, some 110 nautical miles off the northern coast of Oz, to the Coral Sea, where the currents converge and the heavies of the Pacific come out to play. That's where Osprey Reef gives way to a 3,300-foot underwater shelf swarming with barracuda, tuna, manta rays, and scads of sharks—threshers, blacktips, whitetips, hammerheads, and leopards. Take it all in on four daily dives over six days. (If the deeps start to give you the creeps, try snorkeling.) Above water, watch and learn from Undersea Explorer's resident marine biologists, who measure and tag the reef sharks in an effort to secure protection for this remote and still-pristine marine environment.
Outfitter: Undersea Explorer,
011-61-74-099-5911, www.undersea.com.au When to Go: April-December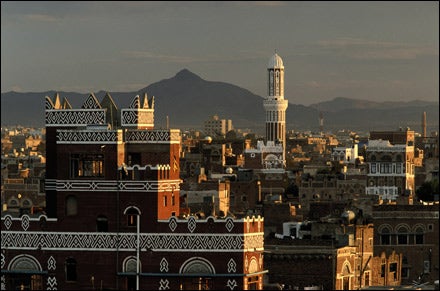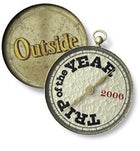 CYPRUS (2006 Winner)
Mountain-Biking the Trails of the Troodos
Price: $1,895
Difficulty: Strenuous
For a trip to fat-tire nirvana, try this six-day, 170-mile mountain-bike excursion on the island of Cyprus, south of Turkey. Pedal over rocky singletrack, fire roads, and chalky foothills, all of which have a mountain backdrop or a Mediterranean view. Your base camp is the Pendeli Hotel, in the high-country resort of Platres. From here, take daily cross-country explorations into the 6,000-foot Troodos Mountains, offering cool riding conditions even under the summer sun. Terrain is a mixed bag: technically demanding loose rocks and tight turns, scrappy climbs, fast traverses, and even faster descents. Ride up skittish slopes to the 6,401-foot summit of Chionistra and down to the sea, but be sure to pack that extra tube: The support vehicle can't follow you here. Postride, swim laps, soak in the hot tub, or have a sauna back at the family-run Pendeli Hotel.
Outfitter: KE Adventure, 800-497-9675, www.keadventure.com
When to Go: June, July, September
TURKEY
Sea-Kayaking the Mediterranean Coast
Price: from $3,495
Difficulty: Moderate
Scout Turkey's dramatic Mediterranean shoreline from the cockpit of a sea kayak on this eight-day multisport adventure. Then explore it on foot with a local guide, visiting ancient Lycian rock tombs, Apollo's birthplace, and tiny Kas, a chic and lively 2,400-year-old village. A luxurious wooden gulet with a gourmet chef is your floating hotel, but the starry nights will make you ditch your stateroom for a mattress on deck. Paddle your kayak along empty beaches before dipping into Greece to snorkel over sunken ruins.
Outfitter: The Northwest Passage, 800-732-7328, www.nwpassage.com
When to Go: September-October
YEMEN
Arabian Trek
Price: from $4,995
Difficulty: Moderate
Once home to the Queen of Sheba, Yemen had an advanced civilization more than 3,000 years ago. While security concerns have deterred visits in recent years, conditions seem to be improving. Over 18 days, you'll explore the diverse Arabian countryside. Begin in Sana'a, the 7,425-foot-high capital, then travel to the hilltop villages of the north before winding down in seaside al-Makallah. En route, sleep in castles right out of the Arabian Nights, wander through colorful, spice-infused souks, and four-wheel through steep-walled dry riverbeds.
Outfitter: Geographic Expeditions, 800-777-8183, www.geoex.com
When to Go: March and November
BELARUS, UKRAINE & MOLDOVA
Touring New Republics
Price: $4,895
Difficulty: Easy
Newly designed for 2006—Ukraine recently dropped visa requirements for U.S. citizens, and expanded flights have made the area more accessible—this 16-day cultural traverse starts in Minsk and heads south, for visits to cathedrals in Kiev, Yalta's seaside homes (where Pushkin and Chekhov summered), and the marble Livadia Palace. You'll sleep in charming four-star hotels, hike the Black Sea coast, and taste wine in Moldova, the unsung charmer of Eastern Europe.
Outfitter: Mir Corporation, 800-424-7289, www.mircorp.com
When to Go: May, August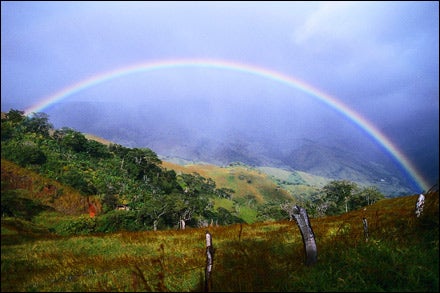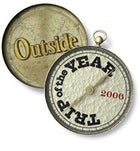 COSTA RICA (2006 Winner)
Cross-Country Traverse
Price: $2,790
Difficulty: Challenging
Here's how to get off the tourist track in Costa Rica: Try crossing the country from the Pacific to the Caribbean by bike, foot, and raft. You'll start this 18-day sea-to-sea journey by pedaling two days from the coastal pueblo of Dominical to the Tinamaste Mountains, where you'll hike through the cloudforest to your first night's campsite—a cave surrounded by waterfalls. The next day takes you over a ridge, where you'll stay at a quaint hotel on the Chirripo River before starting a porter-supported weeklong trek through the highland forest of the Cordillera de Talamanca. You'll spend the last several days on a rugged stretch of the Pacuare River, running Class III-IV rapids and floating through lush canyons where water cascades from hundreds of feet overhead. The river will deposit you in the Caribbean lowlands, and you'll spend your last wilderness night camping at the rainforest's edge.
Outfitter: World Expeditions, 888-464-8735, www.worldexpeditions.com
When to Go: March, September, December
PANAMA (New)
Darién Explorer Trek
Price: $4,995
Difficulty: Strenuous
As your piragua putters along the Tuira River en route to an abandoned mining town, you'll see far more tapirs and peccaries than travelers. Total seclusion is the payoff for five to seven hours of daily trekking (and canoeing) across rugged, often muddy terrain on this two-week exploration of the Darién Gap, the mysterious 6.4-million-acre rainforest that separates Central and South America. When you do come across humans, it will be at the remote villages where you'll stop to mingle with Embera elders. You'll overnight at ranger stations and rustic camps, and wake to a cacophony of macaws and caracaras.
Outfitter: Myths and Mountains, 800-670-6984, www.mythsandmountains.com
When to Go: December-April
BAHAMAS
Fishing Tutorial
Price: $3,190
Difficulty: Easy
This South Andros Island outpost will re-define your notion of "fishing lodge"; everything at Tiamo Resort—from its solar power to its banana-fiber office paper—is geared toward protecting the environment without sacrificing luxury. Breezy raised bungalows are steps from a secluded beach where you'll spend four days kayaking, snorkeling, and learning to cast for bonefish and tarpon in the island's legendary shallow flats. Beyond that, the Adirondack chairs on your beachfront porch lend themselves nicely to loafing.
Outfitter: Orvis, 800-547-4322, www.orvis.com
When to Go: March-July, October-December
MEXICO
Scouting for Jaguars
Price: $1,500
Difficulty: Moderate
Jaguars roam the tropical forest, wetlands, and dunes of Mexico's Sian Ka'an Biosphere Reserve, a Delaware-size protected zone along the Yucatán coast. With the help of biologist guides, you'll likely spot their tracks during your weeklong stay at the no-frills Santa Teresa research station, a ten-minute walk to a white-sand beach, and take daytime and nighttime hikes in a jungle that few outsiders get to explore after dark. You'll also camp one night amid the spider monkeys and white-tailed deer, and visit nearby Maya ruins.
Outfitter: EcoColors, 011-52-998-884-3667, www.ecotravelmexico.com
When to Go: January-March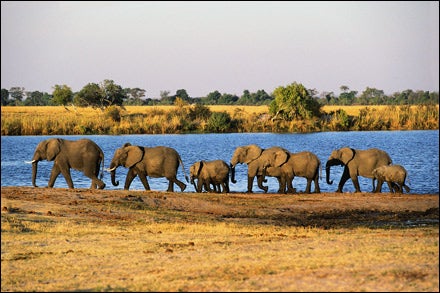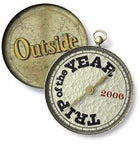 SEYCHELLES (2006 Winner)
Fly-Fishing the Cosmoledo Islands
Price: $6,000
Difficulty: Moderate
When you encounter the foot-and-a-half-long coconut crabs that reside in the Cosmoledo Islands, 500 miles off the coast of Tanzania, give them a wide berth: Their pincers can lift up to 65 pounds and crack coconuts with diamond-cutting precision. Then again, you won't be spending much time inland on this outer subgroup of the Seychelles—the real action is casting in the turquoise flats surrounding the four atolls. The Cosmoledos, protected by a ten-mile-wide coral ring, have never been inhabited—they had their last documented brush with humanity in 1822, when British captain Fairfax Moresby came ashore during an Indian Ocean mapping expedition. This isolation has led to a freakish evolution of fish species, including the giant trevally, weighing in at 70 pounds. You'll spend six days casting over the crystal water and seven nights aboard a retired 1935 North Sea research vessel, complete with teak-and-brass-appointed saloon and dining room.
Outfitter: FlyCastaway, 011-27-82-334-3448, www.flycastaway.com
When to Go: November-April
BOTSWANA
Safari by Elephant
Price: $6,270
Difficulty: Moderate
The trouble with most elephant-back safaris is that you never properly bond with your transportation. This issue is smartly resolved at the elegantly understated Abu Camp, in the Okavango Delta of the Kalahari Desert, where you live alongside eight resident elephants that roam the 395,000-acre reserve outside the six handsome platform tents. With assistance from the camp's wildlife experts and mahouts, spend four days and three nights interacting with the herd and riding them into the floodplains to graze undetected among zebras, wildebeests, giraffes, and impalas. At night, soak in the trill of some of the 500 species of birds while finishing off your five-star grub of sweet potato soup and harissa fish stir-fry by the campfire.
Outfitter: Classic Africa, 888-227-8311, www.classicafrica.com
When to Go: May-October
SOUTH AFRICA (New)
Archaeological Expedition
Price: $7,995
Difficulty: Easy
Jump into the hottest archaeological debate going—the true origin of man—with an exploration of the 3.2-million-year-old "Cradle of Humankind" sites at Sterkfontein and Swartkrans caves, 45 minutes north of Johannesburg. Led by the top archaeologists and paleontologists in the country, you'll spend 13 days poking around the gravesites of prehistoric Australopithecus africanus, from the limestone caves of Limpopo to the Knysna coastline, while bunking in wine-country estates and elegant hotels. You'll also check out the Big Five at Mthethomusha Game Reserve and the success at Addo Elephant National Park, where the pachyderm population has grown from 11 to 420 in the past 75 years.
Outfitter: Crow Canyon Archaeological Center, 800-422-8975 ext. 146, www.crowcanyon.org
When to Go: June
NAMIBIA
Cheetah Conservation
Price: $4,400
Difficulty: Easy to Moderate
Though Africa's largest population of endangered cheetahs—about 3,000—lives in Namibia, their propensity to snack on livestock keeps them in jeopardy. You'll try to change that during this two-week safari, five days of which are spent working at the Cheetah Conservation Fund training Anatolian shepherd dogs, building fences, counting wildlife, and staying in a nearby farmhouse. On your first night in Namibia, take in the view from the 1914 castle of Count von Schwerin, where the wine collection is stored in a cellar carved out of a stone hillside. Later, you'll check out the black rhinos of Etosha National Park, the shipwreck-littered Skeleton Coast, and finally the Namib Desert. After a day of sand-surfing the 1,000-foot-high dunes, refuge is in a kulala, an open-air bungalow with rooftop stargazing.
Outfitter: Mango African Safaris, 888-698-9220, www.mangosafari.com
When to Go: July-August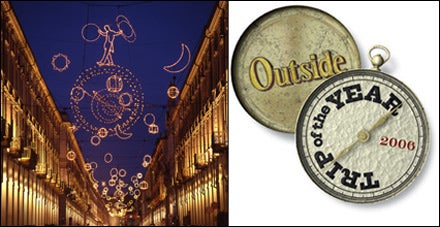 ITALY (2006 Winner)
Walking the Piedmont
Price: $3,995
Difficulty: Moderate
This six-day introduction to the still-quiet agricultural region 40 miles southeast of Turin is a glutton's guide to Italy. Long a gastronomic hot spot (the Slow Food movement began here), Piedmont produces the country's noblest wines—Barolo and Barbaresco—and hearty and refined cuisine like wild boar and risotto with fresh truffles. After daily hikes of six to 15 miles, arrive at a farmhouse ringed with vineyards. When you're not hiking with a naturalist or dining in an award-winning restaurant, taste wines with a local family, sip spumante with a top producer, trail a trifulao (truffle hunter) and his prized dog, or take cooking lessons—then soak in a hot bath enriched with crushed grapes.
Outfitter: Butterfield & Robinson, 800-678-1147, www.butterfield.com
When to Go: May, September
FRANCE
Cycling the French Alps
Price: $3,695
Difficulty: Challenging
A ten-day fantasy camp for serious cyclists: Accompanied by a former pro rider/professional photographer, you'll ride stages of the famed Dauphiné-Libéré, contested over many of the same roads as the Tour de France. Ditch the peloton at day's end for elegant digs in picturesque mountain villages such as Uriage-les-Bains, where you'll fortify yourself for the next day's ride with local delicacies like goat sausage from Savoy Alps pastures and flinty white wines. Save your legs for the final 73-mile day (you can also opt for either a 55-mile or 93-mile route)—the Megève-Mont Blanc Classic, with 9,000 feet of climbing over three magnificent cols.
Outfitter: Velo Classic Tours, 212-779-9599, www.veloclassic.com

When to Go: June
MALTA (New)
Swimming the Coast
Price: $1,200
Difficulty: Challenging
Caught in the narrows between Sicily and North Africa, Malta is a group of islands with some of the warmest and clearest waters in the Mediterranean. On this six-day swimfest, you'll self-propel two to three miles a day, hopping from island to island and drying off in small family-run inns. You can always hop aboard the escort boat, but rest assured that your guides know their stuff—many have completed solo crossings of the English Channel. In the evening, the fun continues with talks on swimming technique and video analysis in the hotel pool.
Outfitter: Swim Trek, 011-44-20-8696-6220, www.swimtrek.com
When to Go: April-June, September
SPAIN (New)
Dressage Training and Trail Riding
Price: $1,995
Difficulty: Easy to Moderate
Saddle sores will be your only worry on this six-day romp through Spain's vast central plateau. HQ is the utterly tranquil El Molino, an 18th-century equestrian center on the fringe of the medieval town of Pedraza. Each morning, saddle up your horse, perhaps a purebred Andalusian, and train in dressage technique. Then take guided afternoon trail rides through the wheat fields and rolling hills of the Castilian countryside, galloping by deep gorges and velvety forests or trotting through Roman ruins. Come evening, you'll dine on tapas, fresh seafood, and el frite—fried lamb with garlic and lemon—accompanied by dry local wines.
Outfitter: Cross Country International, 800-828-8768, www.equestrianvacations.com
When to Go: January-November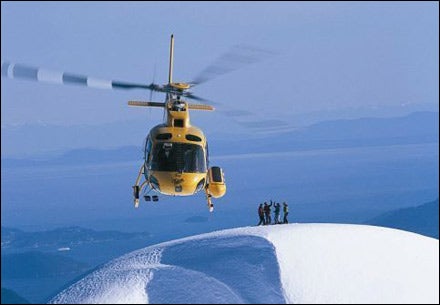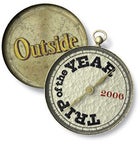 BRITISH COLUMBIA (2006 Winner)
Mega-Yacht Heli-Skiing
Price: $36,000 per day (for 12)
Difficulty: Moderate
When the B2 A-star helicopter drops you at the apex of a powdery slope amid millions of glacier-rimmed acres in B.C.'s Coast Range, you may think you've achieved the pinnacle of exclusivity. But that's only half the fun. After carving so many fresh tracks that your quads scream for mercy, you'll chopper back to a 201-foot luxury yacht to sip Dom and soak in an eight-person, 80-jet Jacuzzi. Moving anchor between two inlets in the Georgia Strait, the Absinthe serves as home base for the most extravagant, over-the-top heli-skiing in the world. Should the mountain weather turn foul, take out the kayaks, fire up the 40-foot fishing boat, or simply bask in the opulence of it all.
Outfitter: Sea to Sky Helisports and Megayacht Adventures, 866-935-3228, www.motoryachtabsinthe.com
When to Go: March-April
UTAH (New)
Hiking the Waterpocket Fold
Price: $1,375
Difficulty: Challenging
Grant Johnson has been exploring southern Utah's Waterpocket Fold, a 3,000-foot-high, 100-mile-long dinosaur-era geological formation, for 30 years. Thanks to drought conditions in nearby Lake Powell, he recently discovered an ancient Anasazi trail that allows him to lead trips into this remote, unmapped backcountry region. For six days, shimmy through two-foot-wide narrows and hike on slickrock to incredible vistas, camping beneath the cottonwoods while listening to his stories of the prehistoric landscape.
Outfitter: Escalante Canyon Outfitters, 888-326-4453, www.ecohike.com
When to Go: April, October
SASKATCHEWAN (New)
Paddling the William River
Price: $2,700
Difficulty: Moderate
Here in northern Saskatchewan, all life depends on the rivers that flow toward the Arctic. The Class I-II William River, congested with foraging moose, black bears, and ospreys, is no exception. This 13-day trip begins and ends with great fishing (grayling and walleye at the outset, trout once you reach Lake Athabasca). Take a pit stop in the middle at the 100-foot-high Athabasca sand dunes to explore the ever-shifting topography.
Outfitter: Piragis Northwoods Company, 800-223-6565, www.piragis.com
When to Go: June
HAWAII
Adventure Boot Camp
Price: $3,075
Difficulty: Moderate
When you wake to the sounds of your personal chef whipping up an egg-white omelet in your oceanfront villa on Kauai's north shore, you'll know this boot camp isn't Parris Island. Here you can customize all your meals and five days of activities to reach your fitness goals. Start out by surfing in Hanalei Bay or hiking to the base of 250-foot Hanakapeii Falls. After one-on-one yoga or weight training, recuperate with a massage, and cap off the day by learning how to grill fresh ahi.
Outfitter: Pure Kauai, 866-457-7873, www.purekauai.com
When to Go: Year-round
CALIFORNIA (New)
The Epic Tour
Price: $2,398
Difficulty: Strenuous
Lance, Levi, and LeMond all trained on the 15-degree inclines of Northern California's roads, and after you finish this seven-day epic, you may be able to keep up with them—for a few minutes, anyway. Starting from Santa Rosa, you'll ride up to 75 miles a day on inland country byways. Once you hit Mendocino, you'll return to Santa Rosa via the coast—with plenty of opportunities to regroup in some of the area's finest restaurants and hotels, like Bodega Bay's Inn at the Tides.
Outfitter: Bicycle Adventures, 800-443-6060, www.bicycleadventures.com
When to Go: October-November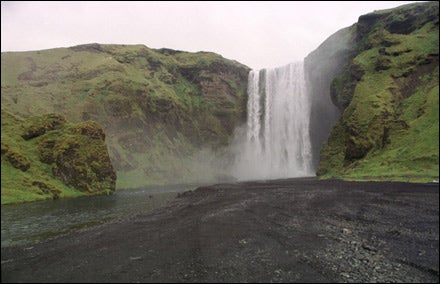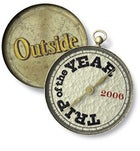 ANTARCTICA (2006 Winner)
Climbing and Photography Journey
Price: $5,190-$8,390
Difficulty: Challenging
Hundreds of unclimbed peaks form the towering spine of the Antarctic Peninsula. Your footprints could be the first atop two of them on this 12-day journey to the frozen south. A refurbished Finnish research vessel, the Polar Pioneer, will carry 56 passengers—including a photography expert and a naturalist guide—from the tip of South America through the Beagle Channel and across the Drake Passage to the peninsula's west coast. First stop if the weather's good: the South Shetland Islands, where Zodiacs will take you ashore with climbing guide Tashi Tenzing, grandson of the famed Norgay, who'll help you navigate the crevassed terrain. As the ship makes its way south, you can scale the bluish bergs or paddle a kayak along the shore. You'll pass leopard seals and penguin rookeries, and may even have some up-close encounters when you spend a night camping ashore. Life on the ship is comfortable; you'll appreciate the onboard collection of polar literature and the porthole view from your cabin on the long cruise home.
Outfitter: Aurora Expeditions, 011-61-2-9252-1033, www.auroraexpeditions.com.au
When to Go: November-March
GREENLAND & ICELAND (New)
Arctic Odyssey
Price: $5,295-$6,995
Difficulty: Moderate
When you and your camera venture into the realm of polar bears and musk ox, it's comforting to know there's an expert on board whose input could turn a wasted frame into the shot of a lifetime. Award-winning nature photographer Frans Lanting—as well as renowned polar explorer Will Steger—will accompany you on this 11-day voyage from Spitsbergen, Norway, to Keflavík, Iceland. The 46-passenger polar research ship Grigoriy Mikheev carries a fleet of Zodiacs for explorations of Greenland's east coast, where migrating seabirds and whales skirt the pack ice. The ship will make its way up Kaiser Franz Joseph Fjord in search of rare narwhals and visit Ittoqqortoormiit village en route to Iceland's southwestern shore.
Outfitter: Wilderness Travel, 800-368-2794, www.wildernesstravel.com
When to Go: September
ANTARCTICA (New)
Emperor Penguins Safari
Price: $8,495-$15,495
Difficulty: Moderate
For March of the Penguins fans, here's something new: A penguin specialist who helicoptered close to Snow Hill Island, in the Weddell Sea, during a 2004 Quark expedition, discovered an uncharted emperor rookery with 4,000 breeding pairs. You'll be among the first to witness the penguins on this two-week journey to the Weddell. Starting in Tierra del Fuego, Argentina, you'll set out on the 108-passenger icebreaker Kapitan Khlebnikov, traveling to shore by Zodiac or helicopter, then hiking about a mile across the ice to the rookery. You'll make up to three trips, and because it's early in the season, you'll likely see parents nuzzling chicks at their feet.
Outfitter: Quark Expeditions, 800-356-5699, www.quarkexpeditions.com
When to Go: October-November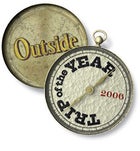 KENYA (2006 WINNER)
The Great Walk, Tsavo National Park
Price: $6,900
Difficulty: Challenging
"You smell them as you come closer," says safari veteran Nadia Le Bon, director of special programs at Mountain Travel Sobek. "You see the prints, which way they go, which way they come." Lest you forget that humans are not at the top of the food chain, the fresh tracks of a Tsavo lion serve as a poignant reminder—especially when you're traveling on foot through East Africa's largest national park, home of elephants, rhinos, crocodiles, and the infamous man-eating felines that terrorized railroad workers a century ago.
This 11-day, 110-mile Kenya journey is a walk in the park for trip leader Iain Allen, an honorary warden and seasoned adventurer who once trekked 300 miles from Mount Kilimanjaro to the Indian Ocean. You'll trace his steps along the wildlife-flush Tsavo and Galana rivers, tracking the Big Five (lion, leopard, buffalo, elephant, rhino) as you cross the 8,300-square-mile park from west to east. As for the carnivorous critters that are bound to catch your scent, Le Bon says, "They tend to walk away."
The trek begins at Mzima Springs, a hippo hangout at the base of the Chyulu Range, 149 miles southeast of Nairobi. From there you'll follow the palm-fringed Tsavo River through giraffe and kudu habitat to your first campsite, at the base of the jagged Ngulia Mountains. After a nap beneath the down comforter in your plush safari tent, you'll be ready for an afternoon game drive and cocktails by the fire. In the next few days you'll track gazelles, impalas, and zebras en route to the park's more arid eastern side, where it's easy to spot hartebeest and fringe-eared oryx across the open plain. The journey ends with a night of pampering at the Hemingways Resort, a posh hotel on a white-sand stretch of Watamu Bay, where you can lounge by the swimming pool and ponder your epic feat.
Outfitter: Mountain Travel Sobek, 888-687-6235, www.mtsobek.com
When to Go: March, June, September
2007 Trip Preview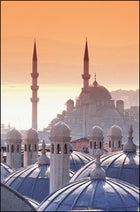 LET THE RATING BEGIN: Istanbul, one of the stops on the Holy Places by Jet tour.
01 CHILE
Heli-fishing
Trout fishing in the Chilean fjords has always been popular, if a little rough around the edges. But you'll be living large when the brand-new, 120-foot custom expeditionary yacht Nomadsofthesea begins offering heli-fishing excursions from its base in Puerto Montt in January 2007. The 22-passenger boat, equipped with a helicopter, Zodiacs, and jet boats, offers unprecedented access to both fresh- and saltwater fishing in the Rí;os Baker, Cisnes, and Simpson, among others. The myriad travel options mean that it's possible to cast a fly every day, despite the sometimes dicey weather, during Chile's peak trout season.
Price: About $10,000
Outfitter: Orvis Travel, 800-547-4322, www.orvis.com/travel
02 ITALY to TURKEY
Holy Places by Jet
On this crash course in world religions guided by renowned scholar John Esposito, travel to major sacred spots via private jet and come to your own conclusions about which faith works for you—or doesn't. In late March 2007, a custom-fitted Boeing 747 will take you to nine countries on three continents in 24 days, starting with Vatican City and journeying on to the holy sites of Judaism, Buddhism, Hinduism, Shinto, and Islam. The trip ends in the multi-cultural city of Istanbul, where you'll visit the famed Hagia Sophia.
Price: $44,950
Outfitter: TCS Expeditions, 800-727-7477, www.tcs-expeditions.com
03 UNITED STATES
High-style Trekking on the Appalachian Trail
Brace yourself for a debate as luxury through-hiking arrives on the Appalachian Trail in spring 2007. Foot Travel, an outfitter based in Black Mountain, North Carolina, will begin offering gear transport and other logistical services at key points along the trail, which means that the only chores left to you on this 2,170-mile, 153-day slog from Georgia to Maine are carrying a daypack and setting up your tent. Foot Travel does the dirty work—from cooking to cleaning to carrying that heavy load of Russian classics.
Price: $10,120 ($66 per day)
Outfitter: Foot Travel, 866-244-4453, www.bighike.com
Trending on Outside Online