Bike Snob
We Need Bike-Friendly Airports
Riding to your flight is the ultimate in smugness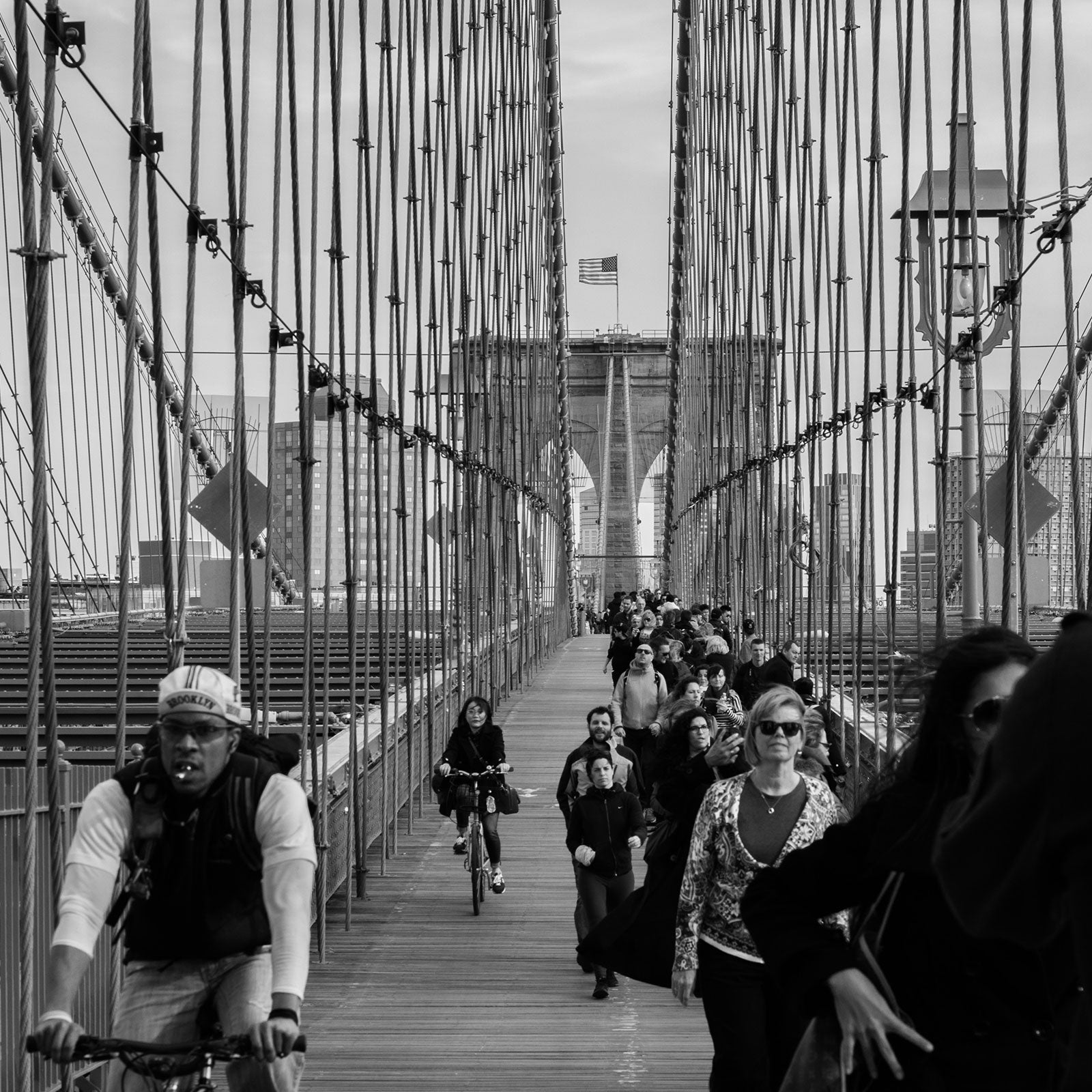 JULIAN ALEXANDER/Unsplash(Photo)
Heading out the door? Read this article on the new Outside+ app available now on iOS devices for members! Download the app.
So much of life can be frustrating and unpredictable. The news? Dispiriting. Your job? Soul-crushing. Your bank account? Endlessly fluctuating and eternally wanting.
It's only natural that in the face of such unrelenting uncertainty, many of us turn to our bikes. The bicycle is perhaps the most efficient and reliable machine ever built for generating a sense of well-being and accomplishment. You may roll out in the morning feeling impotent* and trapped under a pall of futility and despair, but by the time you crest that first climb you'll be basking in the virtual glory of that imaginary maillot à pois.  
Of course, you can't always strike out on an epic ride, which means it's crucial to integrate this sense of cycling satisfaction into your daily life. You can garner it from riding to work or from using your bike to take the kids to school or from leaving the car at home and making that BJs run on your bicycle. Recently, however, I discovered the ultimate in feeling good about yourself for using a bike in a practical way: Riding to the airport.
While Americans are becoming increasingly comfortable with the bicycle as a form of transportation, there are still many trips for which riding a bike might never even cross your mind. Catching your flight is probably one—or, if it does occur to you, you might automatically dismiss the bike as too frivolous, too whimsical, and too dangerous for such a serious undertaking. In this sense, going to the airport is like going to the hospital to give birth: the bike simply isn't among the canonical options, though the truth is that under the right circumstances, it's a perfectly viable one.
Even I, as a dedicated cyclist who regularly portages both parcel and child o'er hill and dale, had never really thought to ride my bike to the airport until quite recently as I prepared for a flight out of LaGuardia. Like any compulsive Strava-addled person deep in the throes of a midlife racing crisis, I found myself lamenting the fact that I wouldn't have time for a ride that day. I also didn't particularly relish either of my transit options, those being an expensive Uber that would involve lots of time sitting in traffic or else a cheap subway-and-bus ride that would also involve lots of time sitting in traffic. Then it hit me:
Why not just ride to the airport for free?
Why not indeed? I was traveling solo. It was summer, meaning I didn't have to pack much clothing. It was a weekday, meaning given all the traffic it wouldn't take me much longer to ride from my home to LaGuardia than it would to go by car or bus. Most importantly, I'd get a ride in. So I threw some clothes in a backpack, slipped my laptop and some accessories into a pannier briefcase and off I went. 
While I'm not a bikepacker, I imagine they experience much the same smug satisfaction as I did as I rolled out for my 20-ish mile ride with the entirety of my travel necessities strapped tidily to my bicycle and person. Riding through Manhattan on the 2nd Avenue bike lane among all the commuters and delivery people, I knew my destination was wholly unique from theirs. As I crossed the East River via the 59th Street Bridge, I reveled in a sense of imminent adventure wholly disproportionate to the simple act of visiting Queens. I was about an hour and a half into my trip when the planes started flying thrillingly low overhead, and at around the two-hour mark I was crossing the Grand Central Parkway and entering the actual airport along with innumerable yellow taxis and black TLC vehicles.
Presently, LaGuardia airport is basically a giant construction site, and while there were signs directing me to the bike route, that route essentially disappeared into a mess of chain link fencing and orange barricades. Attempting to navigate around this construction in search of the bike parking, I wound up in among the taxi drivers jockeying for position at the arrivals area, which made riding through midtown Manhattan feel like a leisurely spin in Central Park. Finally, thanks to my phone and the website of an intrepid traveler, I found the bike racks. From there it was just a short walk to the terminal, and in a matter of minutes I was sitting in an airport bar enjoying my much-deserved beer.
Perhaps I felt a bit more special than I should have. While relatively few travelers ride to the airport, it's becoming increasingly common (the New York Times has even covered it). And more airports are incorporating bicycle accessibility. (Some are more ahead of the curve than others; PDX has had a bicycle assembly station since 2010.) Bicycle accessibility is also especially vital for airport employees, yet New York City at least seems to be moving in the opposite direction. In 2018, a hit-and-run driver killed Steven Morales as he rode to his job at LaGuardia and the Port Authority's response was to restrict cycling access.
This is too bad, because despite the confusion and general bike-unfriendliness, this was easily the best trip to the airport I've ever had. Now that I've worked out the kinks, I'd certainly do it again. Even better was returning to LaGuardia a few days later and strolling right past the taxi lines to my bicycle. Not only was the ride home a great way to unwind after a flight, but by skipping the cab rides on either end of the trip I wound up with an extra 40 miles in my legs and an extra $100 in my pocket.
It's not often you feel like you've gotten away with something after flying commercial, so you should take every chance you get.
*Metaphorically impotent. If you're experiencing the other kind then change your saddle position.
Lead Photo: JULIAN ALEXANDER/Unsplash
Trending on Outside Online