The 10 Most Beautiful Beaches in U.S. National Parks
Some of the wildest, best beaches in the country can be found in our national parks system. These are the most spectacular.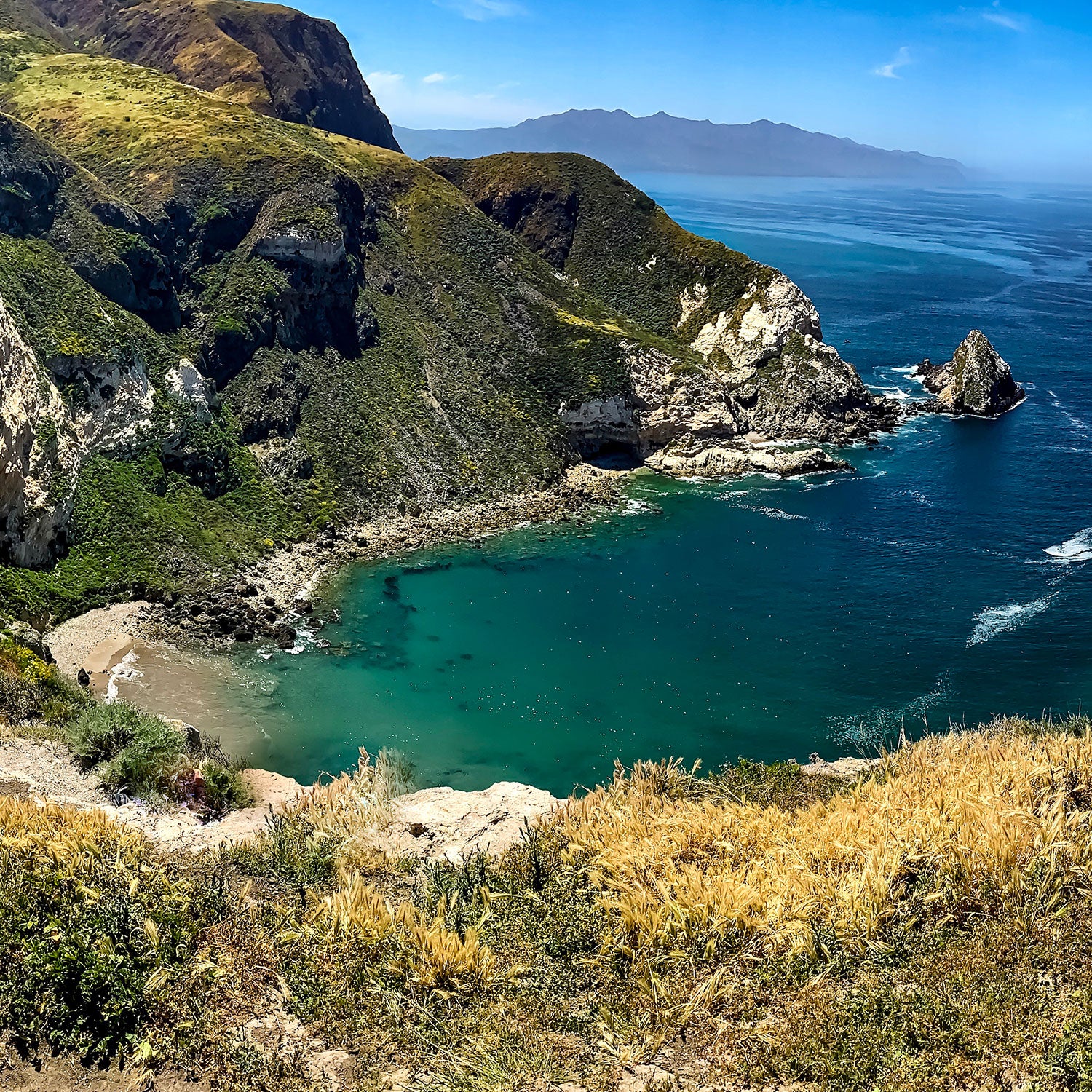 Jessica Katt/500px/Getty
Heading out the door? Read this article on the new Outside+ app available now on iOS devices for members! Download the app.
The beach was disorienting. There was just so much of it, spreading north and south as far as I could see: only sand, dunes, and ocean. No high-rise condos. No putt-putt courses. No boardwalk crammed with souvenir shops. It was just raw.
It was my first time in North Carolina's Cape Hatteras National Seashore, and I was in awe over the wild nature of the land and seascape—the exact emotion that our national park system is supposed to induce.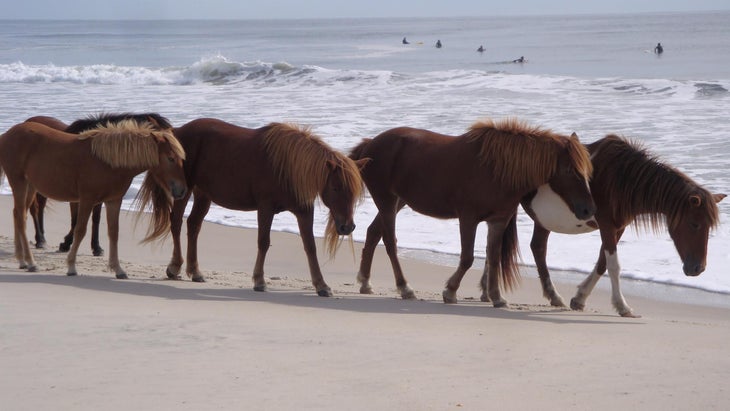 The park system protects many pristine beaches, long stretches of sand or secluded rocky coves just as awesome as a 14,000-foot mountain peak or 5,000-foot-deep canyon. And it's summer, the perfect time to go to the beach. There's no better place to do that than in a wild national park. Here are my top ten to visit.
1. Apostle Islands National Lakeshore, Wisconsin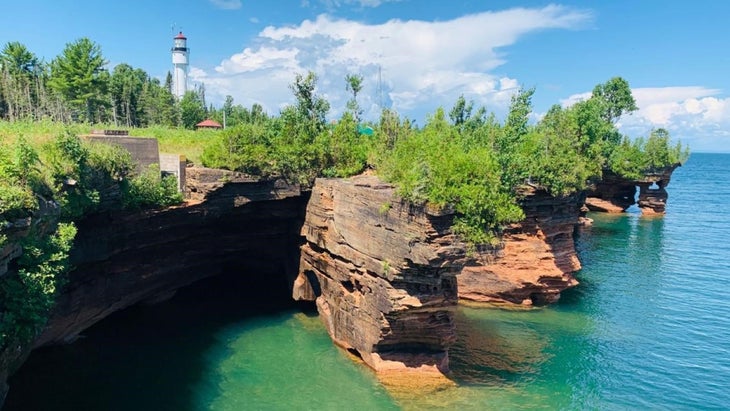 The sea caves of Apostle Islands National Lakeshore are truly stunning. Dozens of them, where Lake Superior has eaten holes in the orange and red sandstone cliffs, are scattered along the mainland of Wisconsin and the 21 islands that comprise this national lakeshore. But don't ignore the beaches between these cliffs, which are just as spectacular. The great Meyers Beach, which is on the mainland strip of this park unit and accessible by car, is the easiest choice. But if you truly want wild sand, strike out for one of the isles that sit deeper in Lake Superior.
Several of those islands have beaches you can only reach by boat, and most are beautiful. But Lake Superior's water temperature is notoriously cold, so my advice is to head to Julian Bay, on Stockton Island, where on sunny days a protected, shallow bay offers water temps in the 70s. The 1.5-mile-long beach wraps around the bay, giving you plenty of opportunity to find your own patch of sand with views that stretch across Lake Superior. Better yet, especially for kids, the sand "sings" when you brush it with your hand, because of the shape of the grains. It actually sounds like a seal barking.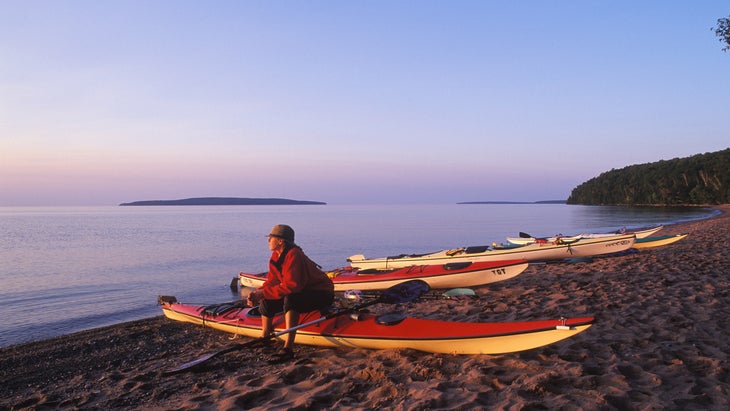 Though you can kayak to some of the islands in this park, Stockton is 14 miles from the mainland, so consider taking a water taxi or hopping on the Apostle Island Cruise Ship from Bayfield, Wisconsin ($52). The boat will dock at Presque Isle Bay. Walk the .4-mile Julian Bay Trail to Julian Bay Beach and relax. You can bring camping gear, but the ferry runs morning and afternoon service so you could just spend the day.
Logistics: There's no entrance fee to the park. Getting around requires aquatic transportation, though.
Stay the night: Stockton has a waterfront campground with 21 sites tucked into the pines of Presque Isle Bay. ($15 a night.) Make reservations at Recreation.gov.
2. Cumberland Island National Seashore, Georgia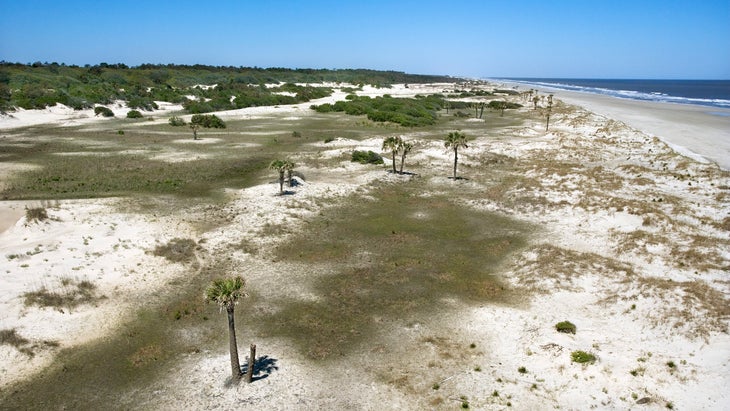 There's a lot of human history to be discovered on Cumberland Island, a 36,415-acre barrier island near the Georgia-Florida border that has been both the home of a freed-slave settlement and the resort mansions of the Carnegie family. Those slaves earned their freedom by fighting for the British in the War of 1812. Meanwhile, descendants of the Carnegies still retain rights to live on the island.
The natural beauty is a mix of marsh channels, live oak forest, and wide-open beaches. There are castle-like ruins to explore and  also plenty of wildlife to keep an eye out for—alligators dominate the interior marshes, and a herd of feral horses, descendants of a pack left behind in the late 1800s, roam the island. Almost 10,000 acres of Cumberland is federally designated wilderness. The beach is extensive, running for 17 miles along the eastern edge of the island.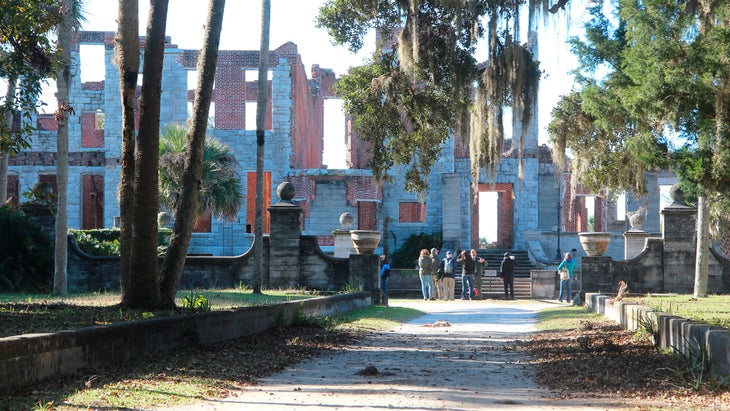 Crowds are scarce because the ferry from St. Marys can only bring a maximum of 300 people over on any given day, so it's easy to find a slice of sand to yourself if you're willing to hike. The majority of day trippers stick to Sea Camp Beach, on the southern end of the island, less than half a mile from the ferry drop. You can rent a bike ($16 a day) and ride Grand Avenue north, or hike along the beach until you find a spot with the right amount of solitude. The waves are generally too little to surf, but perfect for swimming, reading trashy novels, and taking naps.
Logistics: Catch a 45-minute ride on a ferry from St. Marys ($40 per person). Entrance fee is $15 per person.
Stay the Night: Cumberland Island has five campgrounds. Sea Camp is the most developed and easiest to reach, just a half mile from the ferry dock. It has 18 sites situated in a live oak forest with plenty of shade a quarter mile from Sea Camp Beach ($22 a night). Stafford Beach is your other developed option, with 10 sites and cold showers (which is fine—it's hot here, so you wouldn't want a warm shower), flush toilets, and potable water. It's a 3.5-mile hike from the ferry dock, but puts you in the middle of the island with fewer crowds and quick access to the north side of Cumberland. ($12 a night.)
3. Olympic National Park, Washington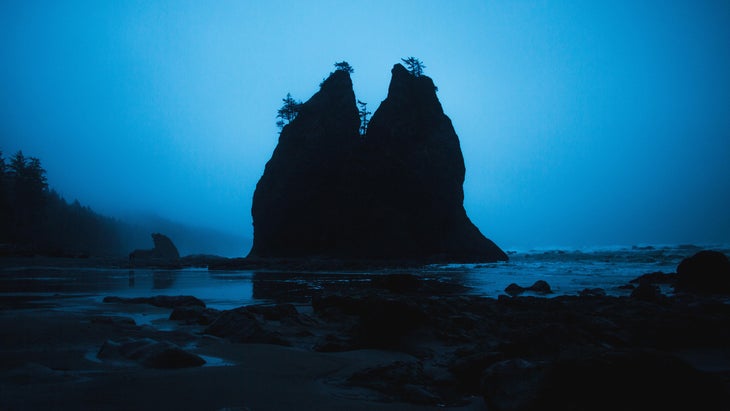 Olympic National Park encompasses some of the most diverse terrain of any park in the country. Protecting nearly a million acres, the terrain varies from glaciated peaks to rocky beaches. There are 73 miles of coastline within the park's boundaries, including the popular and picture-perfect Rialto and Kalaloch beaches.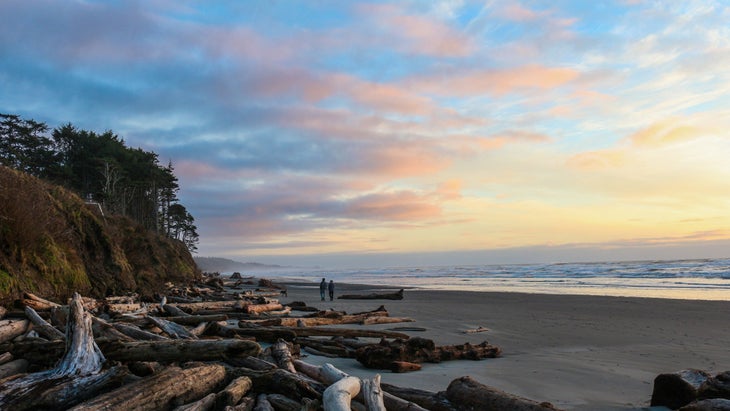 But if you want a wilder experience, hike beyond these vehicle-accessed destinations and deeper into the Olympic National Park's Wilderness Coast. Just be prepared for an arduous hike: a mix of forested paths, boulder hopping, and steep, rope-assisted trails that climb and descend tall headlands. You also have to pay attention to the tides; high tides can close out the beach.
Ozette Ranger Station, in the middle of the Wilderness Coast, is the perfect starting point. From there, you can do short, three-mile boardwalk hikes to Cape Alava or Sand Point, or begin multi-day treks 20 miles south to Rialto Beach or 15 miles north to Shi Shi beach. If you head north,  you'll be inundated with tidepools full of starfish, tall cliffs with sweeping views, and more sea stacks rising from the surf than you can count.
Shi Shi itself offers two miles of hard-packed sand bookended by tall cliffs and sea stacks. It's a popular spot, so don't expect to have it to yourself, but you won't find a better sunset on the West Coast. The waves are good too, and people surf here, but that means lugging your board on the hike.
Logistics: There's a $30 entrance fee to enter Olympic. If you plan to hike the Wilderness Coast, you can arrange for a shuttle with Olympic Hiking Company.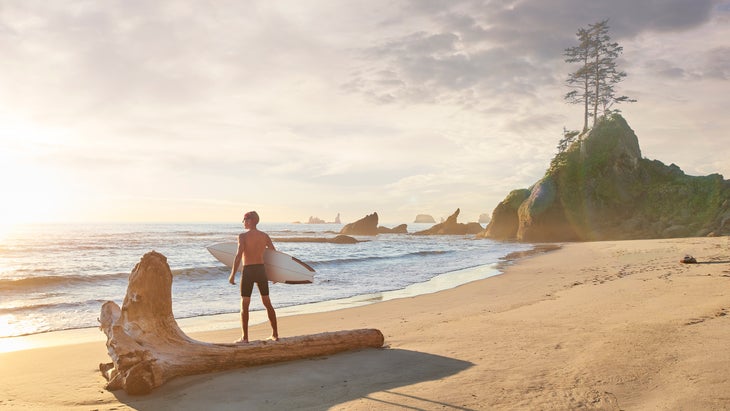 Stay the Night: Get a wilderness camping permit ($8 per person per night) and you can camp in one of the traditional forested campsites adjacent to the beach or pitch a tent on the sand itself. You can build a fire on the beach below the high-tide line, but may only gather driftwood, not wood from the forest. Shi Shi Beach, 15 miles from the Ozette Ranger Station, is a popular destination for backpackers.
4. Virgin Islands National Park, Virgin Islands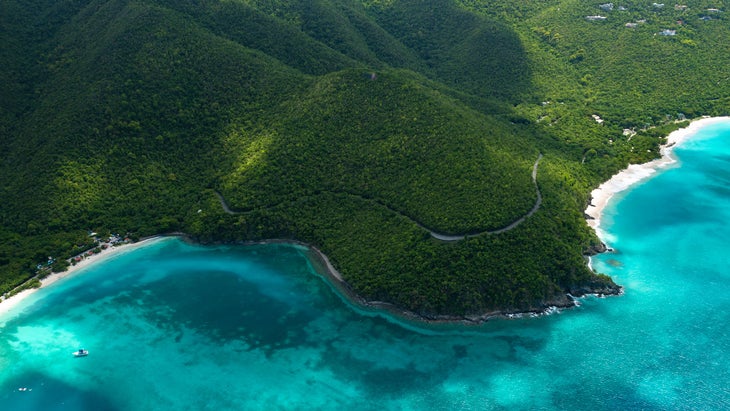 The U.S. Virgin Islands are a collection of three tropical keys in the Caribbean that range from the touristy (St. Thomas) to the culturally significant (St. Croix). Virgin Islands National Park protects more than 7,000 acres of the decidedly more rustic St. Johns, comprising roughly half of the island's total footprint and offering a mix of lush, forested hiking trails and picture-perfect beaches.
Trunk Bay is the most famous, largely because of its natural beauty; the white sand forms a horseshoe around light blue water, islands rise from the sea just off the beach, and mountains frame the horizon. Yes, it's crowded, but it's worth it. The Underwater Snorkel Trail is also a great way to get acquainted with the unofficial sport of the Virgin Islands—staring at fish through goggles.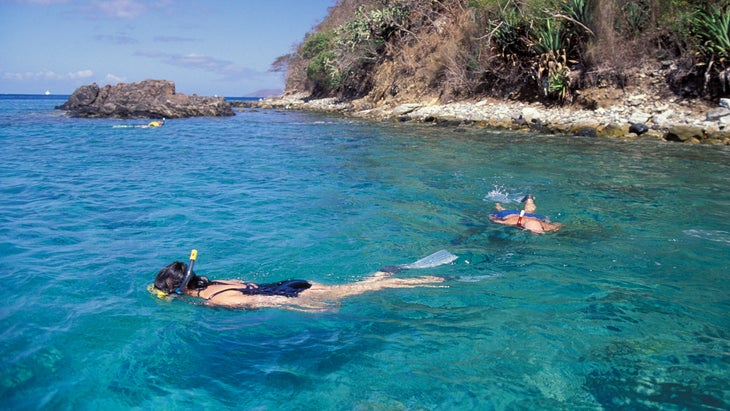 But don't spend all your time at Trunk Bay. Hit a few of the park's beaches to get a taste of the variety of terrain. Brown Bay has a small spit of flat sand that's only accessible by boat or trail, offering more solitude than Trunk Bay. Maho Bay is known for an abundance of sea turtles thanks to its healthy seagrass beds, and Honeymoon Bay has two beaches split by a rocky point where several species of coral offer habitat for colonies of colorful fish. I recommend visiting as many beaches as you can while you're on the island, and bring goggles and a snorkel. The park protects roughly 5,000 acres of coral reefs and seagrass beds beneath the surface of the clear water.
Logistics: There's no entrance fee to the park, but Trunk Bay charges a $5 amenity fee.
Stay the Night: The privately run Cinnamon Bay Resort and Campground operates within the national-park boundaries, complete with its own beach. You can bring your own tent, but we say opt for one of the campground's eco-tents, which have queen beds, fans, and shaded decks. (Two-night minimum; $165 per night.)
5. Assateague Island National Seashore, Maryland
Assateague Island is a 32-mile-long barrier island that splits its zip codes between Maryland and Virginia, though most of the national seashore is located in Maryland. It is a wild expanse of land known for its maritime forests, salt marshes, and mellow interior bays.
The Atlantic side of the island is dominated by a primitive beach that stretches for miles between choppy surf and tall dunes. Oh, and Assateague also has a population of magnificent wild ponies. Legend has it that the equine are descendants of ponies that swam to shore from a sunken Spanish ship in the 1500s.
The national seashore is just a couple hundred miles from Washington, D.C., so it can be crowded, but the beach is gorgeous, and there's a good chance you'll build a sand castle a couple hundred yards from a pony.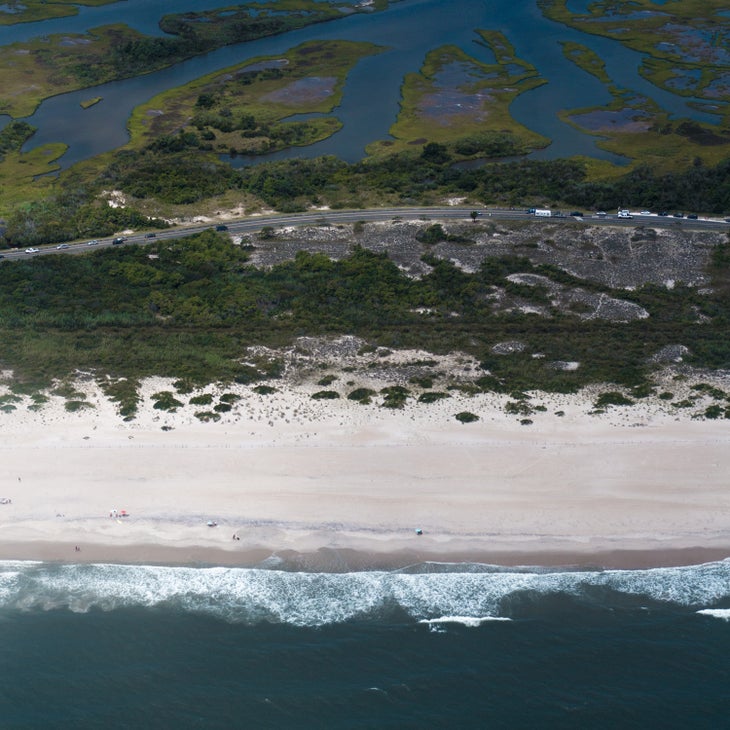 Take a break from the beach and paddle the Sinepuxent Bay, a shallow sound on the inland side of the island, where you'll have a good chance of seeing the wild ponies as they graze on the tall grass that borders the water. Assateague Outfitters has boat rentals and tours (rentals start at $20, tours start at $50). Catching blue crabs is a thing on the island. In Maryland, crabbing season runs from April 1 to December 31. Only keep crabs you're planning to eat, and only if they're at least five inches across.
Logistics: Entrance fee is $25. Get a permit to explore the Over Sand Vehicle (OSV) zone ($110, valid for one year), which is 11 miles long and offers your best chance of avoiding the crowds.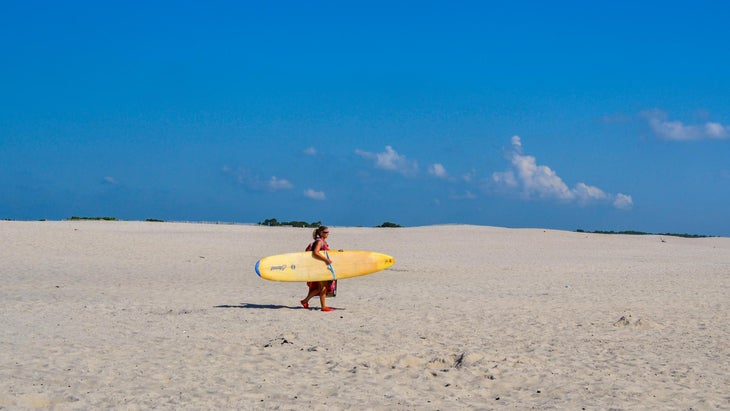 Stay the night: The many camping options here range from the developed campground of Assateague Island State Park—an 800-acre state park on the same island as the national seashore with 350 campsites ($27.50 a night)—to the primitive beach camping within the Bullpen area of the OSV zone ($200 for a year). Note that you must camp in a hard-sided vehicle with an approved waste-management system. Campfires are allowed on the beach below the high-tide line.
6. Redwood National Park, California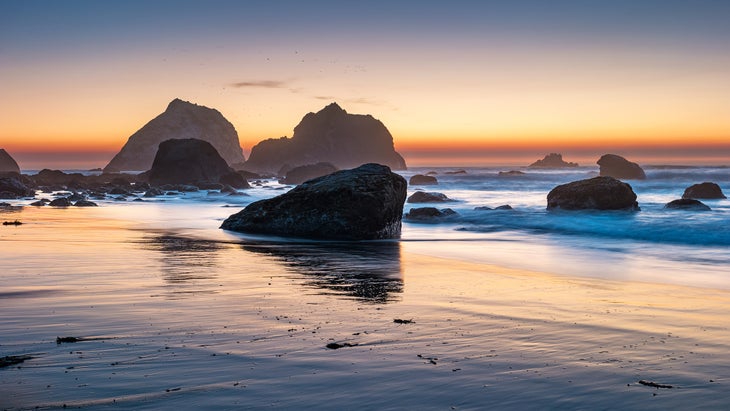 Redwood National Park is best known for protecting some of the world's largest trees, which can rise to more than 350 feet tall. The park also encompasses 40 miles of northern California's coast, where sandy beaches hide beneath bluffs holding old-growth spruce forest.
Gold Bluffs Beach makes for a good introduction to the coast, with miles of gray sand flanked by orange-colored cliffs. It's a popular beach with easy road access, so you'll need to apply for a free parking permit if you're visiting between May 15 and Sept. 15, and pay a $12 day-use fee.
Gold Bluffs isn't your only destination in Redwood National Park. The California Coastal Trail stretches for 70 miles through the national park and adjacent public lands, connecting a number of less crowded beaches. You can visit a few gems by hiking an 8.5-mile out and back portion of the CCT from False Klamath Cove south to the Klamath River. The trail mostly traverses the wooded hillside above the ocean, but short side spurs lead to secluded beaches without any road access.
One of the best is Hidden Beach, where a gray-sand cove is flanked by grass-covered hills, and massive rocks jut out of the Pacific surf. A pile of driftwood has collected at the high-water mark of the beach, and small boulders are sunk into the sand. The whole scene has a misty, moody vibe that feels more Pacific Northwest than California.
Logistics: No entrance fee required, but the parking lot at Gold Bluffs has a $12 day use fee.
Stay the Night: Grab a site at Gold Bluffs Beach Campground, which sits within Prairie Creek Redwoods State Park, and has 26 sites you can reserve up to six months in advance ($35 a night) with quick access to the beach below and the California Coastal Trail.
7. Cape Cod National Seashore, Massachusetts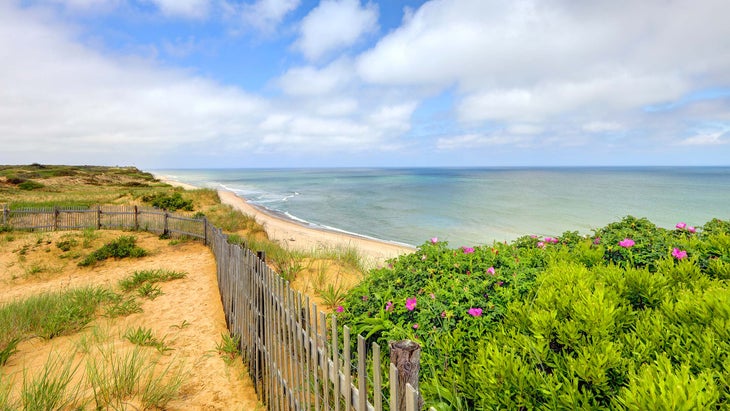 Cape Cod National Seashore protects 40 miles of the coast where Massachusetts meets the Atlantic, defining the edge of New England, and is so beautiful that in the 1800s Henry David Thoreau wrote about this place: "A man may stand there and put all America behind him." The seashore has no shortage of beaches, but Race Point, in Provincetown, offers an idyllic slice of the region.
This expanse isn't rugged and dramatic like some of the West Coast's beaches. Instead of tall cliffs and jagged sea stacks, you have soft sand and rolling sand dunes speckled with wispy grass. The beach itself is mellow, conducive to relaxation and the occasional nap. The sand next to the parking lot ($25 fee) in Provincetown can get crowded, but Race Point stretches for several miles around the tip of the Cape, so if you have the legs for it, keep walking until you find a quiet spot.
The thick grassland that separates the beach from the road and parking facilities gives you a more rustic vibe than a lot of more overdeveloped East Coast beaches. Spring is whale-migration season, so bring some binoculars and look for right and humpback whales cruising the channels off the coast.
Logistics: $25 entrance fee.
Stay the Night: There's no camping within Cape Cod National Seashore, but the park has a collection of rental cabins that put you close to the park's beaches (from $170 a night).
8. Gulf Islands National Seashore, Florida and Mississippi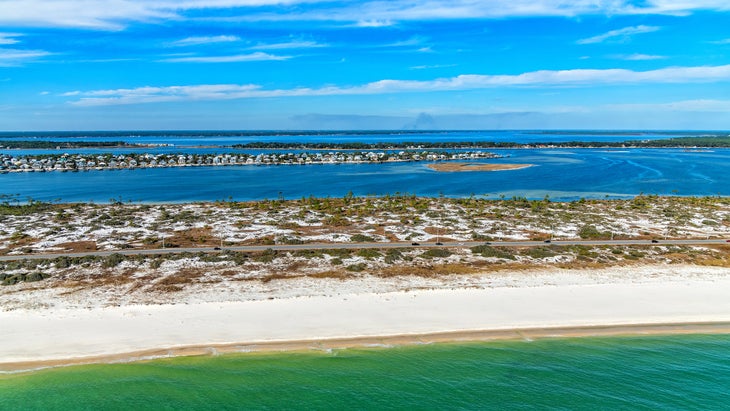 The beaches along the Gulf of Mexico are known for their sugar-white sand, like those found on Gulf Islands National Seashore, which protects pieces of the coast of Mississippi and Florida and islands within the Gulf. The national seashore hosts a mix of historic military forts, coastal forest, and pristine beaches.
The best sand of the lot is on Horn Island, an 8-mile-long, 1-mile-wide barrier island off the coast of Mississippi, protected as a federally-designated wilderness, and only accessible by boat. Horn is located seven miles off the coast of Mississippi, sitting in the Mississippi Sound of the Gulf of Mexico. No commercial ferries service the island, so you'll need your own boat (or to hire a private charter) to reach it.
A sandy path connects the two sides of the island. The beach on the south side, facing the Gulf, features soft sand flanked by small, grassy dunes. The interior of the island has warm lagoons and tall pine trees with tufts of green nettles at their tips, looking like giant bonsai trees. You'll find the occasional alligator on Horn, as well as nesting ospreys. Anglers wade into the shallow waters of the Gulf and cast for speckled trout and redfish, but mostly, you just soak in the deserted-island vibes.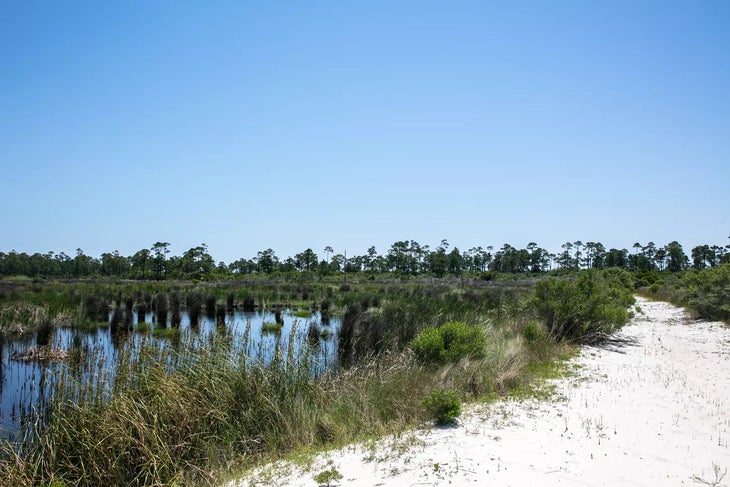 Logistics: There's no entrance fee to visit Horn Island, and you don't need reservations to camp. But you do need a boat. There's no regular ferry service to Horn, but you can find private charters.
Stay the night: You're allowed to pitch a tent on the beach here, as long as you stay off the dunes and any vegetation. There are no facilities and no drinking water, so bring everything you need on the boat. You can have a campfire below the high-tide line. No permits or reservations needed, but there is a 14-day maximum stay.
9. Channel Islands National Park, California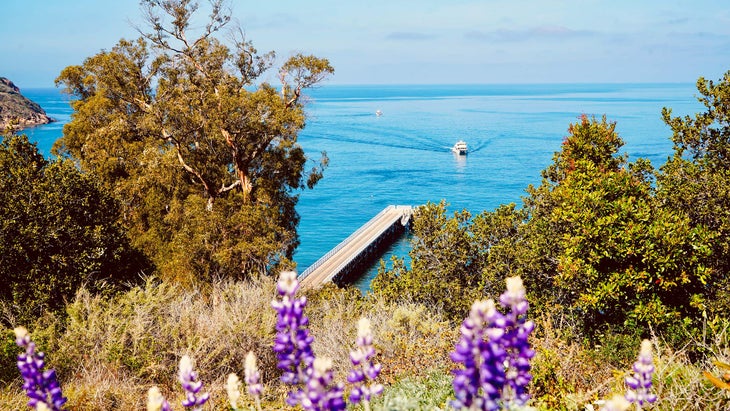 If you ever wondered what California was like before all the people showed up, take a 20-mile boat ride out to Channel Islands National Park, a five-island archipelago with craggy coastlines, rugged mountains, and remote coves where you'll find more sea lions and seals than suntanned bodies. Santa Cruz Island is the largest within the national park, with a total of 77 miles of shoreline, and has regular ferry service. It also has the best beaches.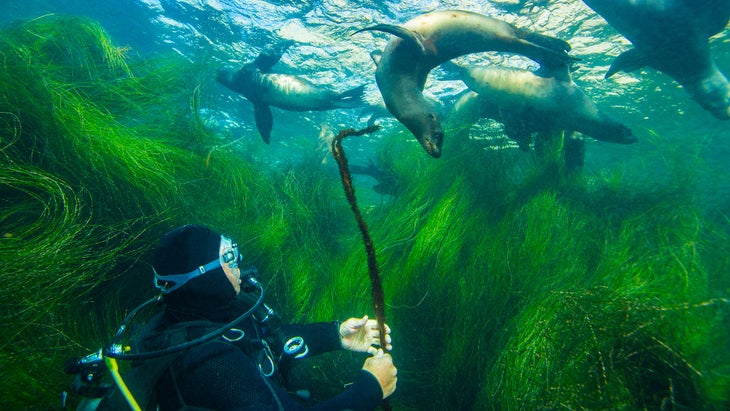 Start by exploring and snorkeling in Scorpion Beach, a rocky patch of land between two cliffs with clear water and underwater kelp forests. If you want a more adventurous beach, hike four miles across the island from Scorpion Beach to Smuggler's Cove Beach, a mix of dark sand and rock tucked into a protected cove surrounded by steep headlands. You might see some sailboats anchored off the beach, but probably won't have to share the sand with anyone.
Regardless of the beach you choose, keep an eye out for gray, blue, and humpback whales frolicking in the water near the islands in the summer and fall. You can also sign up for a kayak tour to explore the sea caves that punctuate the rocky coast ($186 per person).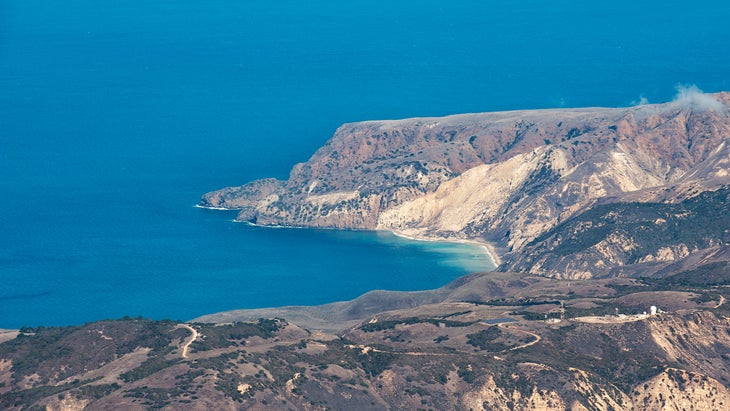 Logistics: Entrance to the park is free. If you don't have a boat, catch a ferry from Ventura, California. It's a 20-mile cruise to Santa Cruz. (From $31)
Stay the Night: Santa Cruz has one developed campground, Scorpion Canyon, with 31 sites and fresh water. It's just a half-mile walk from the boat landing. You can make reservations six months in advance. ($15 per night.)
10. Cape Hatteras National Seashore, North Carolina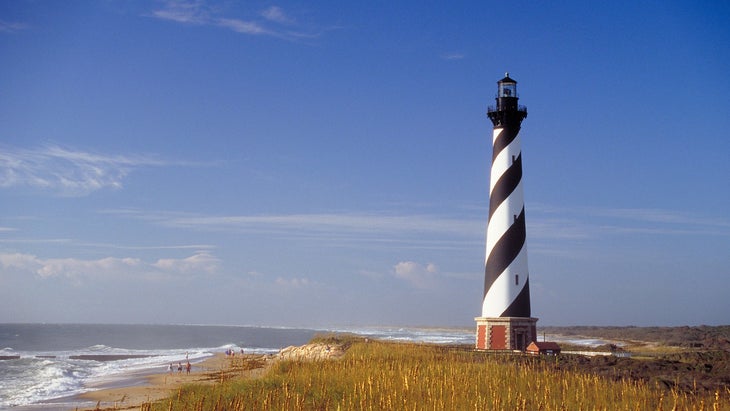 Cape Hatteras National Seashore stretches for 70 miles, protecting a string of barrier islands off the coast of North Carolina. The park is a mix of dune-flanked beaches, meandering channels, historic lighthouses, and small, thriving towns. This is the wild Outer Banks that has attracted visitors from the pirate Blackbeard, looking to lay low from the law in the 1700s, to surfers today seeking consistent East Coast barrels.
A single highway connects most of the Outer Banks with a series of bridges, with quality beaches along the entire length of this park. But Ocracoke Beach, on Ocracoke Island, is your destination, because it's largely undeveloped, and it's less crowded than most other beaches in the area; the island is isolated on the southern end of the national seashore. To reach it, you need your own boat or to catch a ferry ride from the mainland.
Development is centered around the harbor on the southern end of the island, complete with a lighthouse, while the rest of the spit is left mostly untouched. Ocracoke Beach is 16 miles of sand, tall dunes, and relentless surf. Bring a board, or rent one ($25 a day), some fishing gear, and a 4WD vehicle; sections of the beach are open to offroad vehicles with a permit.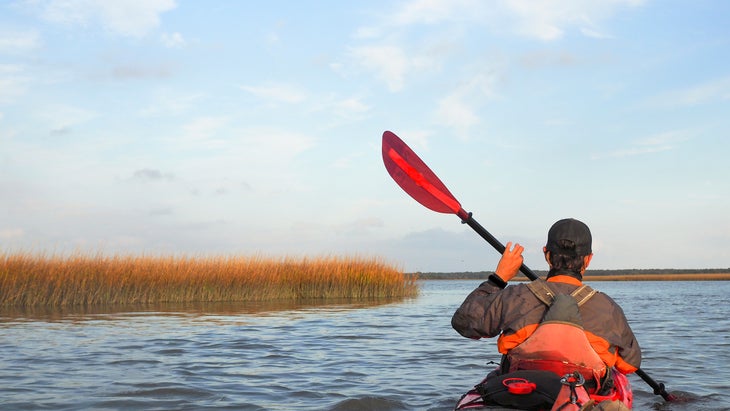 Logistics: There's no entrance fee to the park, but you need to catch a vehicle ferry from either Cedar Island or Hatteras Island to reach Ocracoke ($15 one way). You can get an ORV permit to drive on sections of Ocracoke Beach ($50 for a 10-day permit).
Stay the Night: Ocracoke Island has a large campground (136 sites) with gravel tent pads situated just behind the dunes, so you can hear the waves crash as you drift to sleep in your tent. ($28 per night.)
Graham Averill is Outside magazine's national-parks columnist. He is constantly having an internal debate about whether it's better to live at the beach or in the mountains. Right now, because it's summer, the beach is winning.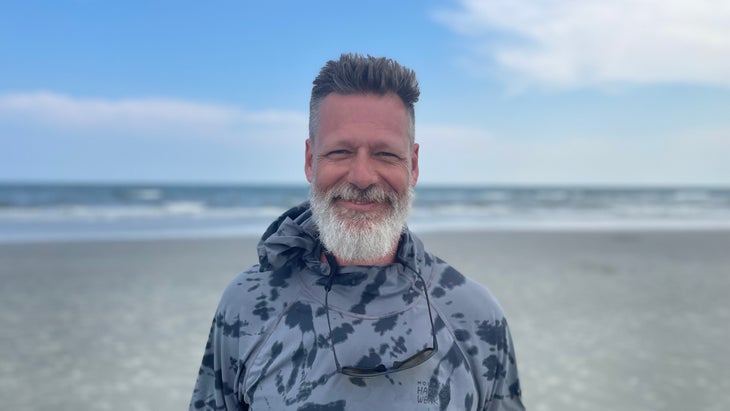 Lead Photo: Jessica Katt/500px/Getty