The Ultimate Rocky Mountain National Park Travel Guide
With more than a hundred 11,000-foot peaks, five glaciers, and some 150 alpine lakes, Colorado's most popular park has served as an idyllic backdrop for some of our writer's bigger life moments: it's where he proposed to his wife, where his kids earned their first Junior Ranger badges, and where he said goodbye to someone special. While you'll be among 4.7 million visitors who visit every year, there's something personal to be found here.
Heading out the door? Read this article on the new Outside+ app available now on iOS devices for members! Download the app.
As of press time, some trails, campsites, and businesses are closed due to Covid-19 precautions. To check for safety protocols and potential closures, check individual websites before you go.
I wasn't expecting to see the moose, which is a ridiculous thing to say considering I was running through an area known for attracting them: Kawuneeche Valley, on the western side of Rocky Mountain National Park. I had just started my run and was only about 200 yards from the car, so I wasn't in a wildlife-encounter headspace. But there it was, standing on the opposite side of the Colorado River, as tall as me and a thousand pounds heavier, with a massive rack.
That's the thing about the park: awe-inspiring sights come easy here. Elk gather in herds on the east side, while moose patrol the other. In between are bighorn sheep, mountain lions, and black bears. And that's just the wildlife. The 265,807-acre park, located in northern Colorado, offers some of the best access to high-alpine terrain in the country, thanks to Trail Ridge Road—the highest paved highway in America—which tops out at a 12,183-foot peak, one of more than a hundred in the park taller than 11,000 feet.
The lower elevations, below 9,000 feet and referred to as the montane, are dominated by broad, grassy meadows filled with more than 350 miles of trails. The subalpine environment, from 9,000 and 11,000 feet, is comprised of natural lakes, boulders, and evergreen forests, and the majority of trails meander through these breathtaking landscapes. And at 11,000 feet, the alpine ecosystem begins: trees give way to windswept tundra, craggy peaks, and cirque glaciers, and the crowds dissipate, leaving you with the "roof" of the park mostly to yourself.
I spent three years living in Denver, exploring the park as often as possible, sliding down its glaciers and wooing my soon-to-be wife in primitive campsites deep in the backcountry. Later, after moving away from Colorado, my wife and I would geek out on showing the park to our kids during long family road trips. They would earn their first Junior Ranger badges here. Eventually, we'd hold a memorial service for my wife's grandfather on the edge of his favorite backcountry lake. There's something personal to be found by anyone in this landscape, a standout even in a park system that only protects the most awesome swaths of land in the country.
What You Need to Know Before Visiting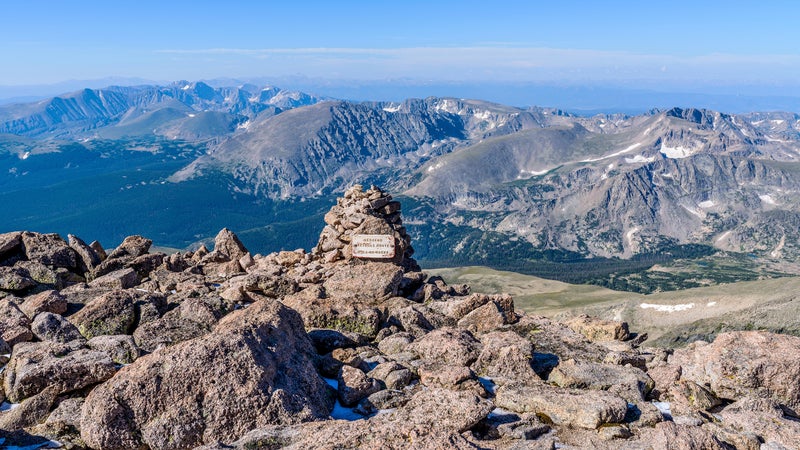 Altitude sickness is real. It can be as mild as a light headache or as severe as vomiting and disorientation. If you're coming from sea level, try to take it easy when you first arrive, and schedule tougher hikes later in your visit. Drink lots of water throughout the day, and eat regularly.
Pay attention to road closures. The park can get snowstorms into June, and some years snow will linger into July, affecting which roads are open. The park offers real-time road updates on its website, so check the information regularly.
Expect unpredictable weather. The temperature can vary by 20 to 30 degrees between high elevations and the lower valleys, and summer thunderstorms come on fast. If you're hiking above the tree line, keep your eye on the horizon for sketchy clouds forming, and always have an escape route in mind. Midsummer snowstorms aren't unheard of either. All of this to say: be prepared for any sort of weather in this park, regardless of how warm it is when the day begins. Bring extra layers, and always carry a rain shell in your pack.
Plan for crowds. Rocky Mountain National Park is the third most visited park in the country, and it's only getting more popular—visitation hit record numbers in 2019, pulling in nearly 4.7 million people. Parking lots in scenic areas like Bear Lake fill up before breakfast, and Trail Ridge Road is packed with minivans and RVs by 10 A.M. If you have your heart set on seeing some of the park's signature features, accept that crowds are part of the experience. If you want to minimize interaction with those crowds, get started as early as you can—essentially before dawn—and head to Grand Lake, on the western side; roughly 80 percent of all visitors enter through Estes Park, on the eastern side. If parking lots are full, don't fret; the park has a good shuttle system that will take you to popular trailheads. Use it.
How to Get There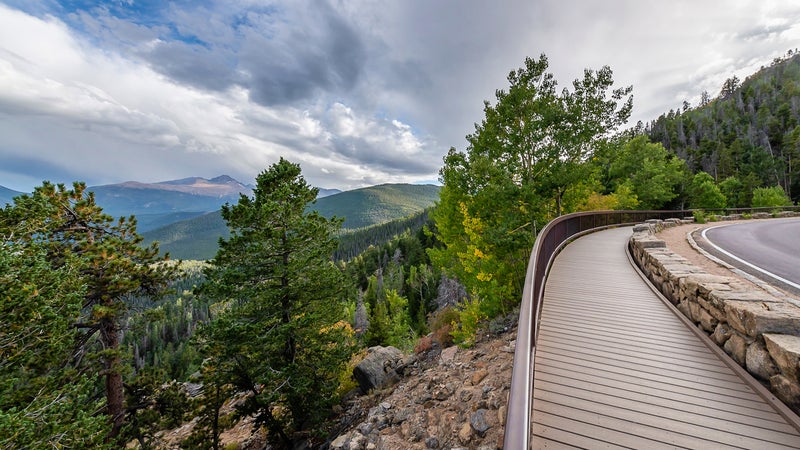 Rocky Mountain National Park acts as a sort of gateway to the mountains beyond Denver and Boulder. Most folks fly into Denver, 80 miles southeast, and either rent a car or hop the daily shuttle that brings visitors from the airport to the town of Estes Park and the main entrance, Beaver Meadows. The other three entrances, Fall River and Wild Basic on the eastern side and Grand Lake on the western side, receive far fewer visitors. The park runs a free shuttle bus from the Estes Park Visitor Center to popular trailheads like Glacier Basin and Bear Lake, but there's no public transportation into the western side of the park.
The Best Time of Year to Visit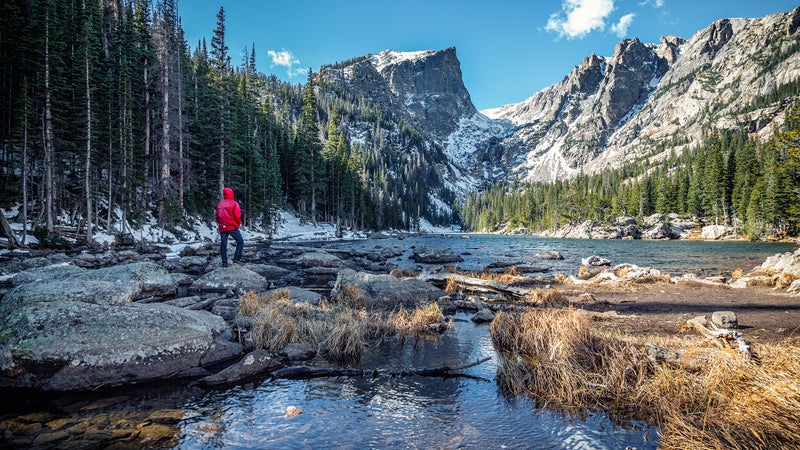 Most people frequent the park in the summer, which has as much to do with the weather as the public-school schedule. Given its location and high elevation, the park has a limited summer season, and most roads are snow-packed during the winter months.
Winter
If you really want to escape the crowds and don't mind temperatures in the teens, winter is your jam. Trail Ridge Road, the only road that crosses the park, is typically closed from the end of October to May due to snow, while avalanches are a concern and snow depth affects trail access. But many of the park's byways, like Old Fall River Road and even portions of Trail Ridge Road, become cross-country skiing and snowshoeing playgrounds during the winter. There's even an abandoned ski resort, Hidden Valley, located on the east side of the park, that attracts sledders and backcountry skiers. Grand Lake, the town on the western side of the park, has a bona fide nordic center with 22 miles of groomed trails.
Spring 
Snow lingers well into May in these alpine environs, so spring tends to be a warmer continuation of winter, with temperatures hovering between 30 and 50 degrees. But wildlife starts to get more active in this period, particularly the bighorn sheep, which are lambing in the spring. If you want to avoid the snow, stick to the Estes Park side, which gets significantly less in April and May than the Grand Lake side. Some years, lower elevations see temperatures hitting the sixties in late April.
Summer 
Trail Ridge Road is typically open by Memorial Day, and things really get hopping in June. You'll still find drifts of snow at higher elevations (we drove through in July one year, and the snowbanks on the sides of Trail Ridge Road were higher than my van), but you'll also find wildflowers popping up throughout the high-elevation tundra and lower-elevation meadows from June to August (head to the East Inlet Trail or Cub Lake for guaranteed sightings). Temperatures can reach the mid-eighties, but you could also encounter a freak snowstorm at the highest elevations. Afternoon thunderstorms are common.
Fall 
You could argue that the months of September and October are the best time to visit the park, especially if you can swing a midweek trip when the majority of potential visitors are working or in school. While fall might bring the occasional snowstorm, the roads and trails remain open into October most years. Temperatures are mild during the day, reaching the high fifties, and the aspens begin changing in the middle of September. That magical show is only matched by the elk rut—when large males start fighting and bugling for the affection of females—which commences in September and carries on into October and can be witnessed at the Horseshoe Park area at dawn and dusk.
Where to Stay in and Around Rocky Mountain National Park 
Outside Inc.'s National Park Trips offers a free
Rocky Mountain Trip Planner
filled with a complete itinerary, beautiful photography, a park map, and everything else you need to plan your dream vacation.
This is one of the few national parks without an overnight lodge, but there are five front-country campgrounds (from $30). Aspenglen, Glacier Basin, and Moraine Park fill up well in advance (make reservations up to six months prior to your date), while the Longs Peak and Timber Creek Campgrounds are first-come, first-served. Moraine Park, near the eastern edge of park, is the only campground open during the winter, and it's available on a first-come, first-served basis during that season.
The best front-country camping is at Aspenglen, located near the eastern Fall River entrance, a short jaunt off Trail Ridge Road. The 52 sites are surrounded by Douglas firs and lodgepole and ponderosa pines. Snag one of the five secluded walk-in tent sites on the loop. For a more primitive experience, show up early for one of the 26 tent-only sites at Longs Peak, which sits on the southeastern border of park at an elevation of 9,500 feet and puts you within day-hike distance of Chasm Lake and the park's signature Longs Peak, reached by a 15-mile round-trip trek via the Keyhole Route (discussed below). Plan on bringing all your food with you as the Trail Ridge Store, next to the Alpine Visitor Center, is the only restaurant inside the park.
The park has 120 designated backpacking sites scattered from the relatively low elevations of Big Meadows, near Grand Lake, to the Boulder Field campsites that sit above 12,000 feet en route to the Longs Peak summit. Get a wilderness permit ($30) at the Headquarters Wilderness Office next to the Beaver Meadows Visitor Center (near the Estes Park entry point) or at the Kawuneeche Visitor Center (near the Grand Lake entrance).
Beyond the Park 
If you need a bed and electricity (no shame in that), you'll need to look outside the park. You can find any level of accommodations in both Grand Lake and Estes Park. On the Grand Lake side of the park, Colorado Cabin Adventures has a handful of log lodgings on the North Fork of the Colorado River (from $160). In Estes Park, there are plenty of standalone cabins and cottages for rent, including Solitude Cabins, a collection of 30 properties scattered across nine acres that are abiding by stringent cleaning protocols (from $275).
What to Do While You're There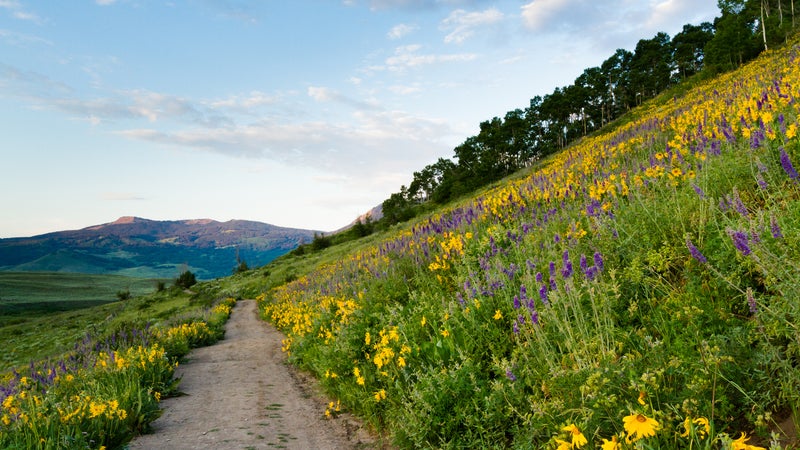 Hiking 
Yes, Emerald Lake Trail is going to be crowded, but you can't beat the bang for your buck on this 3.5-mile round-trip, which skirts the edge of some of the park's prettiest alpine lakes and has views of dramatic peaks, including Longs and Hallett. The prize is reaching Emerald Lake, which is framed by the 12,000-foot mountains of the Continental Divide. Keep an eye out for elk at the edges of the lakes and pikas and marmots in the rock outcroppings along the trail.
Colorado has 14 named glaciers, six of which lie within the park's borders. Andrews Glacier might be the most spectacular and most fun to explore. It's a popular practice ground for beginner mountaineers looking to test their ice-ax and crampon skills, and the mellow slope (less than 30 degrees) means you don't have to worry about avalanche danger. Reaching the glacier requires a tough ten-mile round-trip hike that begins at the Glacier Gorge Trailhead on east side of park, then passes Alberta Falls and the Loch on its way to Andrews Tarn, a small lake that gathers glacier water at the bottom of Andrews Glacier. Most days all you need are a good pair of winter hiking boots and some trekking poles to get to the bottom of the glacier. If you decide to explore the glacier properly and climb to the top with technical equipment, keep an eye out for crevasses, which have been known to form here.
Sample the park's high-elevation tundra along the 4.8-mile point-to-point Ute Trail, which begins just west of the Alpine Visitor Center at the high point along Trail Ridge Road. The entire route is above tree line and tops out at 11,660 feet along Tombstone Ridge, affording views of Forest Canyon, the Continental Divide, and Longs Peak. In the summer, this trail a perfect place to admire wildflowers, with species like the snowlover, alpine sunflower, and white alpine phlox popping up after the snow has melted.
Peak Bagging 
At 14,259 feet, Longs Peak is Rocky Mountain National Park's highest mountain and its only fourteener. Depending on your experience level, it's possible to knock this summit out in a long day, or camp at the base of Longs and turn it into a two-day adventure. While this is often the first fourteener for more advanced climbers, the route is a series of sheer vertical cliffs, narrow ledges, and year-round winter conditions, and the amount of exposure on the final mile of the ascent is severe enough to turn many would-be summiters away. The 15-mile round-trip Keyhole Route, which starts at the Longs Peak Trailhead in the east side of the park, is the most common approach. Follow the East Longs Peak Trail for six miles to the aforementioned Boulder Field campsite ($30 a night; make a reservation six months in advance), where dry-stack rock walls help protect the nine established tent sites from the wicked winds at 12,740 feet. The sites sit just before the home stretch of the summit, giving you the chance to turn this expedition into an overnight adventure. From this point on, things get real as you ditch the established trail and follow a series of cairns and painted bull's-eyes through the Keyhole itself, a rocky notch between Longs and Storm Peaks, and onto the steep southern slope of Longs. The crux is crossing the Narrows, an exposed ledge with fatal consequences if things go awry. Be sure to attempt this when there's no ice on the route and at less crowded times.
Rock Climbing
Hiking might be the number-one pastime in Rocky Mountain National Park, but you could argue that this is really a climber's park, thanks to massive cliffs that dominate its high-altitude peaks. There are nearly 500 established climbs, most of which are alpine affairs that require big days with long approaches. The bulk of the climbing is traditional, and much of it requires several pitches and descents that are way sketchier than the ascents. There are plenty of routes in the 5.9 to 5.10 range, though there are big lines for beginners, too, including Blitzen Ridge, an alpine route that combines Class 4 scrambling with 5.4-rated traditional climbing on 13,514-foot Ypsilon Mountain in the northern section of the park. Longs Peak has the most established routes, ranging from 5.4 to 5.12. You can even find destination-worthy bouldering in the park's central Chaos Canyon, which sits near Emerald Lake at 10,000 feet and has at least 100 problems, with something for everyone. But for a solid intro to what rock climbing is like in the park, head to the Glacier Gorge area, seven miles south of the Beaver Meadows entrance on Bear Lake Road, and climb the north ridge of the Spearhead, a seven-pitch adventure with a six-mile approach that requires some route finding. Once you're roped up, expect a 5.6 climb with a little of everything—jugs, cracks, corners, and a short scramble to the peak, where a grand view of the gorge lies below.
Wildlife Viewing 
While many of the large animals, like grizzly bears and gray wolves, were extirpated from the park in the early 20th century, there are plenty of charismatic megafauna living within its borders. The park estimates its elk population to be between 600 and 800, while the bighorn sheep have reached a population of 350. Moose were reintroduced to the park in the 1970s and are thriving, especially in the meadows on the west side of the Continental Divide. If you're lucky, you'll see plenty of wildlife from your car, but it's a hell of a lot more fun to spy animals (from a safe distance) while on foot. The 10.6-mile out-and-back East Inlet Trail to Lone Pine Lake, on the west side of the park, offers a good opportunity to see moose, and the hike passes Adams Falls and ends at Spirit Lake, so it's a win even if there are no moose in sight. Bighorn sheep are active throughout the day and can often be seen posing on cliffs at higher elevations. They also like the salt deposits in the meadow around Sheep Lakes. You'll see so many elk that you'll stop counting, especially on the east side, which is home to massive herds—you'll even see them in the town of Estes Park. If you're hiking in the subalpine areas of the park's central Bear Lake, keep an eye out for pikas and marmots, which scuttle around outcroppings throughout the forest. Black bears make a point of avoiding humans, so they're not often seen.
Road Cycling 
Trail Ridge Road cuts through the heart of the park, connecting Estes Park with Grand Lake via 48 miles of pavement. Yes, it's the main thoroughfare into the park for vehicles, but it's also a road cyclist's dream, climbing 4,000 feet from Estes Park to the summit, with a solid 11 miles cutting above the tree line. An out-and-back on Trail Ridge might be one of the most spectacular centuries you can do in the U.S. If you're not interested in climbing, there are shuttle companies that will drive you to the top of Trail Ridge Road so you can cruise down. If you're looking for gravel, check out Old Fall River Road, near Estes Park, which was the original road up and over the Continental Divide. It's a little over nine miles from point to point, climbing 3,180 feet, with an average 7 percent grade and stretches of hill that max out at 20 percent. You can do a killer sub-50-mile loop that has you climbing Old Fall River Road and bombing the pavement of Trail Ridge back into Estes Park. Bonus: both of these roads are typically open to pedestrians and cyclists a month before rangers permit access to cars. If it was a mild winter, you can enjoy the entire month of April on Trail Ridge without any traffic.
The Best Places to Eat and Drink Around the Park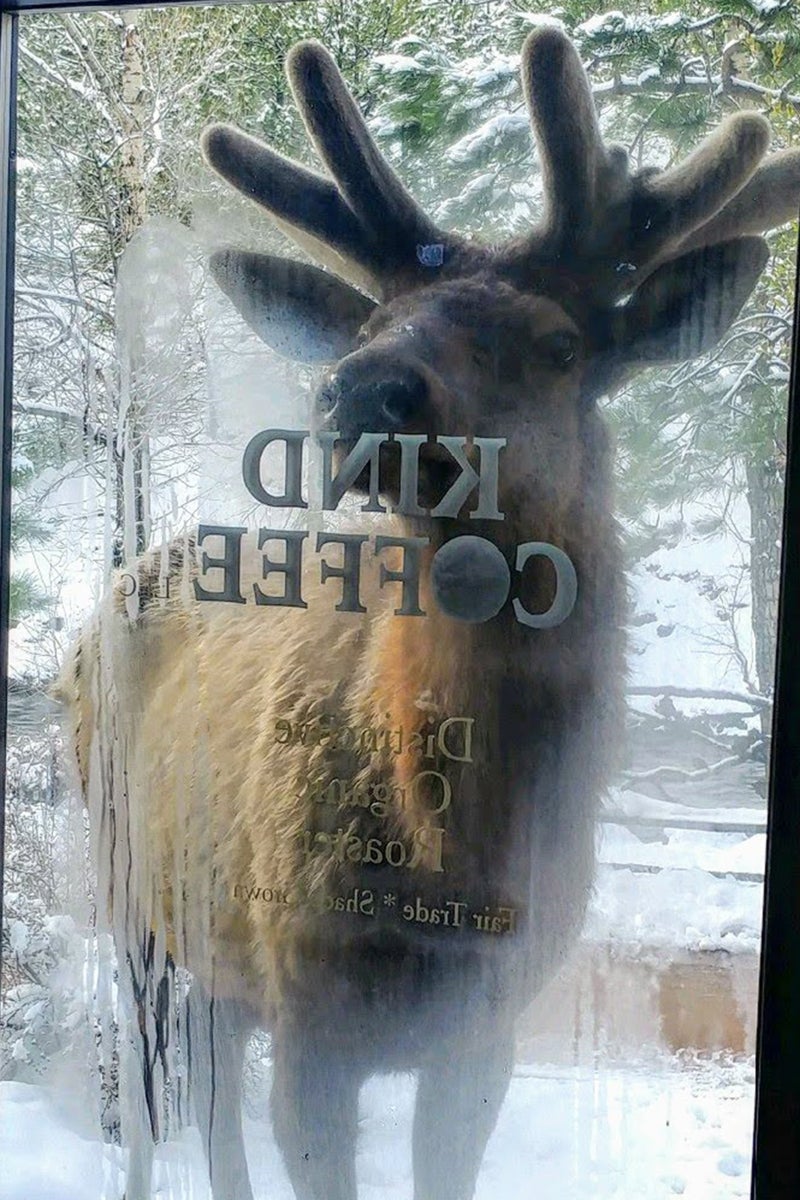 Estes Park is definitely the unofficial gateway to Rocky Mountain National Park, so it can feel a little bit touristy, but you can't argue with the location: surrounded on three sides by the park and a little more hipster sophisticated than Grand Lake, which leans more toward old-school rustic. Order online a wild-game meatloaf and a smoked old-fashioned to-go from Bird and Jim. Kind Coffee, in the heart of downtown, has organic fair-trade drip coffee for about $2 as well as a mean vegetarian burrito. Drive 45 minutes from the eastern edge of the park and you can make a pilgrimage to Oskar Blues Brewery in the town of Lyons to pick up a six-pack. If you're coming through Grand Lake, Sagebrush BBQ is currently doing takeout orders. Down the street, the World's End Brewpub and Inn offers a good selection of Colorado beer.
If You Have Time for a Detour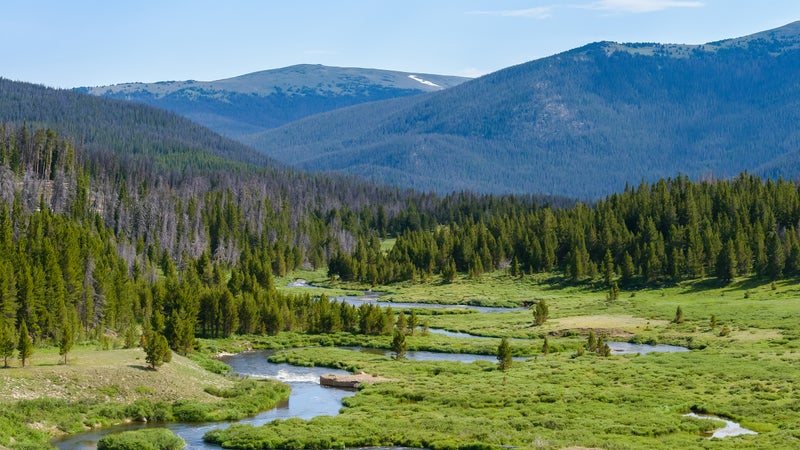 Bring your mountain bike and head west from the park into Grand County, where Winter Park Resort operates Trestle, one of the best lift-served mountain-bike parks in the country, now featuring a new gondola to whisk you to the top of the mountain. Twenty miles north, Granby Ranch has a lift that serves gnarly downhill and flowy cross-country trails alike. Spend an afternoon recovering in the pools at the Hot Sulphur Springs Resort and Spa, or search for the primitive Radium Hot Springs, which are carved out of the Colorado River south of the town of Kremmling.
North of the park, raft the Class III–IV Cache la Poudre River, the only designated National Wild and Scenic River in the state, which passes through Arapaho and Roosevelt National Forests. It's an ideal way to spot bighorn sheep on the Poudre Canyon cliffs. On the east side of the park, drive through the 25-mile-long Big Thompson Canyon from Estes Park to Loveland. The granite walls host rock climbers while sporadic roadside pullouts offer premier fly-fishing.
How to Be a Conscious Visitor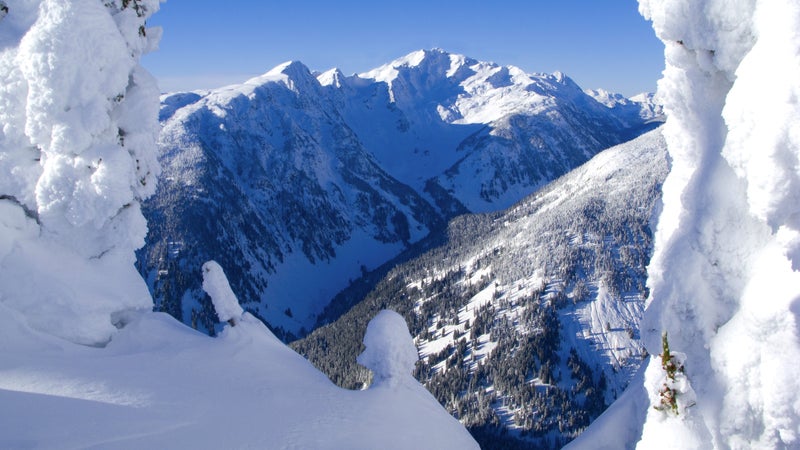 The park's original conservation group, the Estes Park Protective and Improvement Association, made this declaration back in the day: "Those who pull flowers up by their roots will be condemned by all worthy people." We couldn't agree more, but being a good steward goes beyond not picking the flowers. Whenever hiking above the tree line, stay on the trail. Exploring the park's high-alpine tundra is a treat, but keep in mind that plants and ground cover growing at such elevations are especially sensitive. Use the bear boxes at the campsites to store your food, and don't bring firewood into the park (mountain beetles have devastated the pine forest surrounding Grand Lake). If you're visiting the park in the winter and exploring the backcountry, follow avalanche-safety protocols and wear an avy beacon at all times. Better yet, go with a guide if you're unsure of how to handle that sort of terrain; Colorado Wilderness Rides and Guides has full-day tours starting at $210.
Lead Photo: lightphoto/iStock