The Ultimate Death Valley National Park Travel Guide
This central California park is one of the hottest, driest, and lowest places in the country. It's also one of the most beautiful—a place where sculptural canyons, undulating sand dunes, abundant wildlife, and a luminous sky abound.
Heading out the door? Read this article on the new Outside+ app available now on iOS devices for members! Download the app.
Like many people, I assumed a lot about central California's Death Valley National Park before visiting for the first time in 2015: that it was completely dry, utterly devoid of life, and composed of not much more than a shadeless expanse of sand. Had I known that the park stood in for the dramatic landscape of Tatooine in Star Wars, however, perhaps I would have thought differently.
From my very first hike in the park—to Darwin Falls, a year-round cascade that spills into a surprisingly verdant canyon—I learned that you can't always judge a national park by its name. Death Valley is very much alive. In addition to the lengthy human history in this part of the Mojave Desert, the area is rich with wildlife, from mountain lions to mule deer, desert bighorn sheep to wandering burros. The park is also home to several species of endangered pupfish that are endemic to its scant water sources.
While the floor of Death Valley itself is relatively flat, it's hemmed in by the sharp rise of the Amargosa Range to the east and the Panamint Range on the west, which contains the park's high point: the often snow-dusted Telescope Peak. Far below these lofty ridgelines, the earth creases in endless waves of rock decorated in bold striations and bursts of color thanks to the abundant metals and minerals contained within. The landscape itself is far from barren—more than 1,000 plant species populate Death Valley, from cacti and creosote in its lowest reaches to junipers and pines up high.
If there's one assumption I did get right so long ago, it's that Death Valley National Park is hot, vast, and remote. As long as you're prepared—staying well hydrated, protecting yourself against the elements, and planning for limited gas, food, and sundries—this seemingly alien landscape is a wonder to explore.
What You Need to Know Before Visiting Death Valley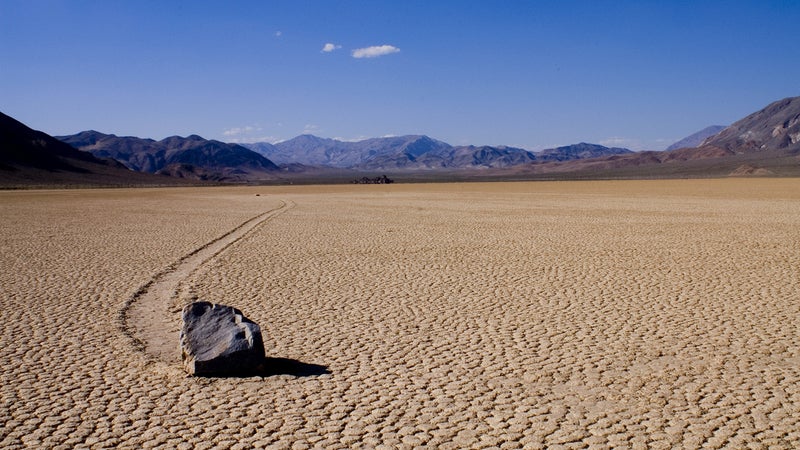 Prepare your rig.
If you plan to cruise the park's dirt roads, ensure your car is outfitted with off-road tires and that you have spares; flats are especially common on the park's gnarly 4×4 roads. Gas is available inside the park at Panamint Springs, Stovepipe Wells, and Furnace Creek, but carry extra if you're venturing beyond the pavement. No matter where you plan to travel within the park, carry plenty of water and maps—cellphones don't work in most of Death Valley, and GPS devices can prove unreliable.
Research the park's deep human history.
While it was designated a national monument in 1933 and a national park in 1994, Death Valley has a record of human habitation that stretches back an estimated 10,000 years. While much of the park's current boundary encompasses the homeland of the Timbisha Shoshone, who have resided here for at least 1,000 years, they were largely displaced during the Gold Rush and subsequent decades. The park's myriad ghost towns, along with historic sites like the Keane Wonder Mine, Harmony Borax Works, and Wildrose Charcoal Kilns, document this influx of settlers and extractive industry. Perhaps the most intriguing relic is Scotty's Castle. It's currently closed due to flood damage, but you can book a ticket when it reopens for a tour of the building's exquisite interior, complete with the fascinating tale of a grifter named Death Valley Scotty.
Pack your camera—and set your alarm.
Desert light can veer from harsh to otherworldly in an instant. Early birds flock to Zabriskie Point to watch the sun paint the colorful badlands as it rises. The morning spread from Dante's View is a worthy alternative. The centrally located Mesquite Flat Sand Dunes form a dramatic backdrop at either end of the day. Hike out a bit to lose fellow spectators and their footprints. Finally, make a golden-hour pilgrimage along scenic Artist's Drive to visit Artist's Palette, an explosion of color created by the oxidation of various metals and minerals embedded in the rock.
How to Get to Death Valley National Park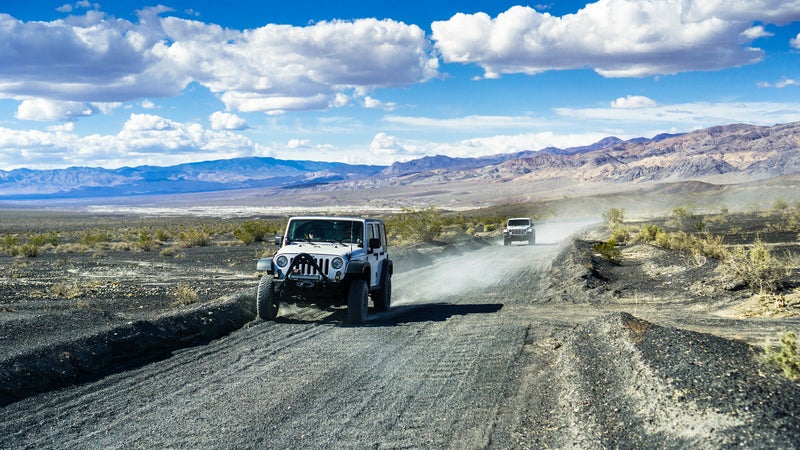 Death Valley is located in central California, pressed up against the Nevada border. The nearest major airport is Las Vegas McCarren, two hours from the park's main visitor center at Furnace Creek. If you're driving from Las Vegas, you'll pass through Death Valley Junction, a near-ghost town with a tiny population, before entering the park from the east. Those traveling from Los Angeles, 2.5 hours by car, can also cruise up scenic U.S. Route 395, entering the park from its western entrance at Panamint Springs via CA-190 out of Olancha. Or enter the park via NV-374 from Beatty, Nevada, a small town located two hours northwest of Las Vegas.
When Is the Best Time of Year to Visit Death Valley?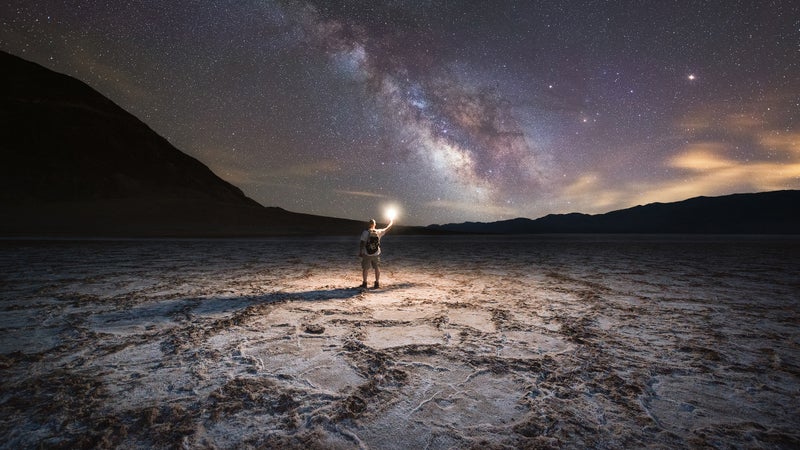 Fall: Starting in late October, when camping season begins and the crowds have yet to arrive, temperatures range from 50 to 70 degrees. Unless it's your destination, avoid the annual '49ers Encampment during the second weekend of November.
Winter: The months of November to February brings cooler temps ranging between 40 and 77 degrees, along with potential snowfall at high elevations. Despite Death Valley's general dryness, precipitation is most likely in winter. Because of the area's topography, heavy rainfall can prove dangerous. In 2015, flash floods ripped through the park, trapping visitors and damaging infrastructure.
Spring: March to early May boasts the most ideal weather and, in wetter years, vibrant wildflower blooms, which usually peak around late March. It's also the best time to view Salt Creek pupfish darting around the habitat they are named after. This is the most popular season in the park; while there are plenty of campsites to go around, a weekend arrival means you may have to drive around a bit to find a place to lay your head.
Summer: This season is for masochists—and for those who either stick to the park's highest reaches or stay put inside their air-conditioned vehicles. The heat index is relentless from May through October; highs rocket into triple digits and can hover there overnight. For this reason, park authorities close several campgrounds and caution against outdoor activities during the day.
Where to Stay in Death Valley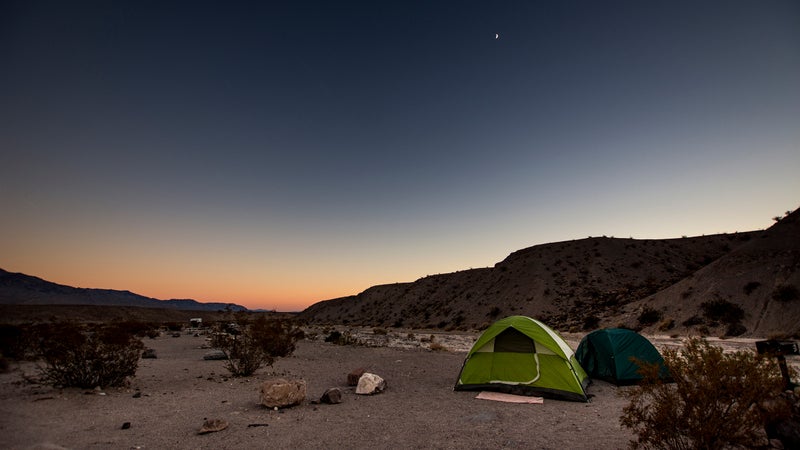 Camping
The park has nine campgrounds, four of which are free, with others starting at $14. All of them are first-come, first-served, except for the 136-site Furnace Creek (from $16), which takes reservations between October and April. While Sunset (closed in summer) and Stovepipe Wells are the largest campgrounds, with 270 and 190 spaces, respectively, my favorite is the 92-site Texas Springs, which is centrally located and perched just high enough to offer great views of the surrounding area. Backcountry camping is allowed in previously disturbed areas—the wilderness boundary is 50 feet from the park's dirt roads. Be sure to park your car right next to the road to minimize impact. If you're planning a summer stay, be aware that Texas Springs and Stovepipe Wells close due to the oppressive heat and dangerous ground temperatures.
Hotels
During hotter months, you may want to skip the campgrounds altogether and check into one of four hotels within the park. The most affordable options include the family-owned Panamint Springs Resort (from $55), which has 23 motel rooms, one cottage, and tent cabins; the 83-room Stovepipe Wells Village Hotel (from $144); and the Ranch at Death Valley (from $199), which has 275 rooms along Highway 190 next to the National Park Service visitor center. If you're looking for something that's more resort, opt for the recently refurbished Inn at Death Valley (formerly the Furnace Creek Inn, from $359), a lush, Mission-style resort with 66 rooms and 22 casitas that defies the arid surroundings. There's affordable lodging available outside the park in the town of Beatty and at the historic Amargosa Hotel (from $90) in Death Valley Junction, but choosing to bed down farther inside the park will allow you to avoid a sleepy drive on either end of the day.
What to Do in Death Valley National Park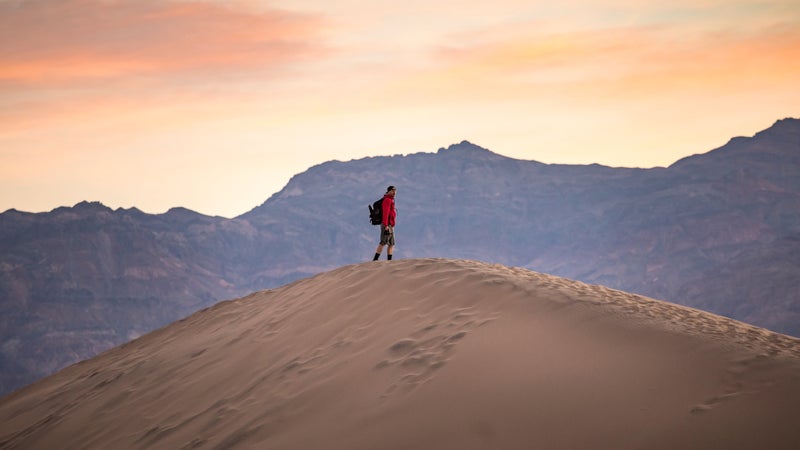 At 3.4 million acres, most of them designated wilderness, Death Valley is one of the largest national parks. That spaciousness means there's plenty of room to roam—but it also means you'll probably spend a lot of time blasting the AC in the car. If you plan to spend several days here, schedule your activities by location.
Hiking
For the most part, it's best to avoid hiking Death Valley in the hotter months. If you insist, a good warm-weather option is Telescope Peak, the park's high point at 11,049 feet. Bed down at the ten-site Mahogany Flat Campground next to the trailhead for an early start on the strenuous 14-mile round-trip hike. Keep an eye out for gnarled stands of ancient bristlecone pines along the way. Within a mile, the vegetation gives way to unobstructed views of the valley. The meadow between Rogers and Bennett Peaks is a good place to camp if you want to break up the hike into two days.
Plenty more options abound if you hit the ground in late fall, winter, or early spring. The one-mile hike to Natural Bridge is family-friendly, with a payoff less than half a mile into the high-walled canyon at a picturesque arch caused by erosion. You'll find the trailhead 13 miles south of Furnace Creek. Farther north, near Scotty's Castle, Ubehebe Crater offers a choose-your-own-adventure option with three very different trails: skirt the two-mile rim of the colorful depression that was gouged out of the earth centuries ago by a volcanic explosion; take a one-mile out-and-back that traces the western rim to its smaller adjacent crater, Little Hebe; or descend to its sandy bottom. Just remember: what goes down must climb 600 feet back up.
My personal favorite is the loop that winds through labyrinthine Golden Canyon and Gower Gulch. The trip offers varying routes that range in difficulty and is doable in as few as 4.2 miles, though it's worth adding more miles to visit Zabriskie Point, the towering Red Cathedral formation, and the sharp folds of Death Valley's dramatic badlands. Start at the Golden Canyon Trailhead, located two miles south of CA-190 on Badwater Road.
Overnight options abound for backpackers. One of the most iconic excursions is to Panamint City, an impressively intact ghost town that once boomed with prospectors mining its stores of silver ore. The steep, strenuous 14-mile round-trip hike begins along a crumbling roadbed in water-filled Surprise Canyon, about an hour south of Panamint Springs. Bring a map and expect scrambling, overgrown vegetation, and wet feet.
Driving
Death Valley boasts nearly 1,000 miles of roadbed. While many are accessible by passenger car, the possibilities expand if you're rolling in a vehicle blessed with high clearance and four-wheel drive. Most who explore beyond the pavement and maintained dirt roads choose to do so in a jeep; rent one from Farrabee's Jeep Rentals, located near the Furnace Creek Visitor Center.
One of the most famous—and famously difficult to access—spots in Death Valley is the Racetrack, a dry lake bed dotted with large boulders that move during infrequent freeze-thaw conditions, leaving slug-like trails in the playa crust. It's a long, rough drive to get here; tradition dictates a stop at mile 20 to hang a kettle at Teakettle Junction. Once you arrive, six miles later, tread very carefully—prints from humans and vehicles are not only unsightly but can scar the Racetrack playa, which is especially delicate when wet.
Farther north, an equally long drive deposits you at the Eureka Dunes, thought to be some of the tallest in North America. To the east, the narrow road in Titus Canyon cuts through 27 miles of the towering Grapevine Mountains, located between the outskirts of Beatty and Scotty's Castle Road in the park's center. Keep an eye out for hikers and cyclists, and plan to stop along the way to visit the ghost town of Leadfield and admire bighorn sheep and petroglyphs at Klare Spring.
One of the park's standout features is also the lowest spot in North America: Badwater Basin, a salt flat located 282 feet below sea level. For an exceptional vista that, on a clear day, includes Mount Whitney, the tallest peak in the continental United States, cruise up to Dante's View, an overlook perched high above the valley floor.
Cycling
A short bike path launches from the Furnace Creek Visitor Center and leads to Harmony Borax Works, but if you want a grand adventure riding on pavement, consider bisecting the park east to west or north to south. Beyond that, pack a mountain bike (and fix-it gear, plenty of water, and current paper maps) to explore the park's extensive network of dirt roads. The only limitations are time, physical ability, weather (winter and early spring are ideal), and water availability (scarce). If you're not so keen on going it alone, plenty of operators, from REI to local outfits, offer paid tours.
Stargazing
One of my favorite stargazing experiences happened during a late-winter evening at the Harmony Borax Works site, where it seemed the entire galaxy opened up overhead. As it turns out, Death Valley is a star nerd's dream; with little in the way of light pollution, it's been certified as a Dark Sky Park by the International Dark Sky Association. Rangers lead frequent night-sky programs, but it's pretty easy to enjoy the sights on your own—just head anywhere that's not obscured by canyon walls and look up. For a somewhat dreamlike experience, trek across the Mesquite Sand Dunes at sunset and stick around for the sky to open up. Just pay attention to your route—it's easy to lose your way in the lunar landscape.
The Best Places to Eat and Drink Around Death Valley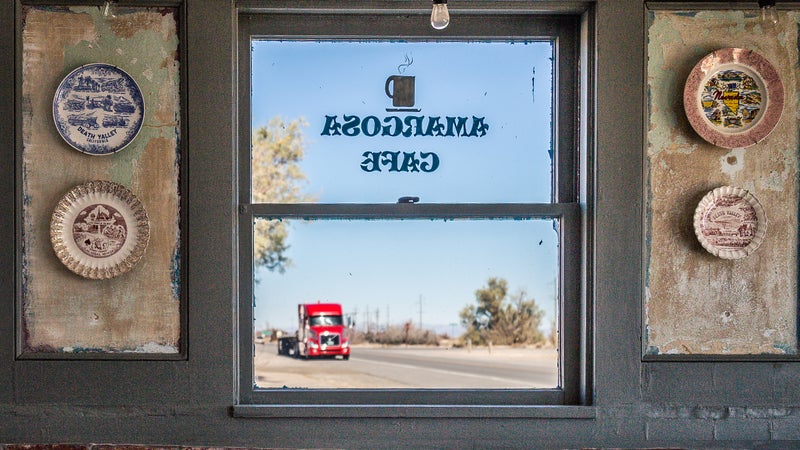 You might want to pack a cooler—it's slim pickings in this corner of the Mojave. Dining options are clustered around the Furnace Creek, Stovepipe Wells, and Panamint Springs areas, including at the hotels. The latter two offer relatively basic fare and unfussy settings, although the digs at Stovepipe Wells provide a bit more Western flair, especially at the Badwater Saloon. The Last Kind Words Saloon, located in the town square area of the Ranch at Death Valley, cranks that theme up to eleven, with loads of atmosphere and fancier grub, and prices to match. Believe it or not, there's also a poolside bar in the park, complete with cocktails and cabanas, though it's limited to guests of the Inn at Death Valley.
It's worth a visit to Death Valley Junction on either end of your trip to order breakfast or lunch from the slim but well-curated menu at the historic Amargosa Café, open fall through spring.
If You Have Time for a Detour
Speaking of Death Valley Junction, no visit is complete without a tour of the Amargosa Opera House, lovingly restored by a dancer from New York named Marta Becket who discovered the abandoned theater building in the late 1960s while stranded in the tiny outpost with a flat tire. Though Becket died in 2017, the theater continues to present films, concerts, and stage shows in her honor; tours are available year-round.
Another can't-miss is Rhyolite, a large and well-preserved ghost town located just outside Beatty, Nevada, whose population soared into the five digits before it shuttered in 1916. Among the remaining buildings are three unique bottle houses, made by embedding glass beverage bottles in mortar, built by a prospector named Tom Kelly, who gathered his materials from the dozens of saloons that once dotted the town. It's not the only sign of artistry in the area—the Goldwell Open Air Museum down the road features a collection of massive sculpture installations that rise from the desert floor.
How to Be Conscious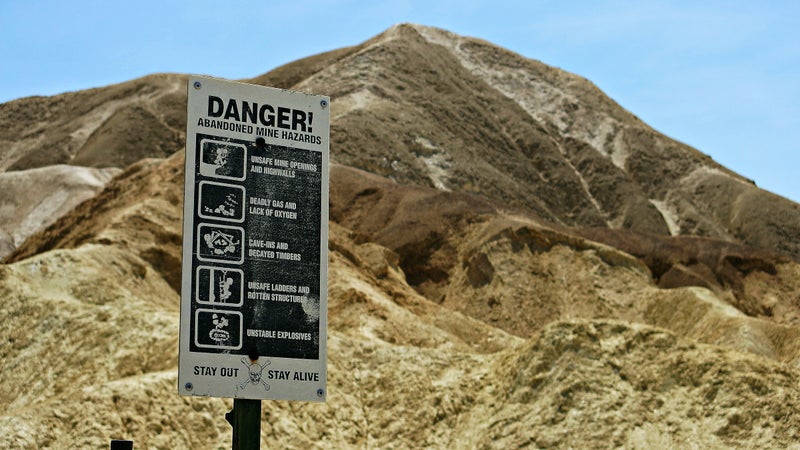 In 2016, the endangered tiny pupfish at Devils Hole made a big splash in the news when three men were arrested for trespassing in its protected enclosure. One of them decided to go for a drunken swim with the endangered-fish population, which numbers just over 100 in total, and landed himself a prison sentence after a dead fish was discovered in the pool. That's all to say: don't be that person.
Also, protect yourself by paying attention to the surroundings. Death Valley is pockmarked with thousands of shafts from abandoned mines, and though the park has been working on it for a decade, it's only been able to sign and barricade a portion of them. Open shafts abound, so steer clear.
---
Editor's Note: We frequently update this National Parks guide, which was originally published on Nov 6, 2019.
Lead Photo: DougLemke/iStock