Outside Business Journal
The Retail Immersion Project: 10 Ways Brands Can Be Better Partners to Their Retailers
After three days working the sales floor at Sunlight Sports, NEMO founder Cam Brensinger walks away with some insights on how brands can better support their retail partners and grow their own business in the process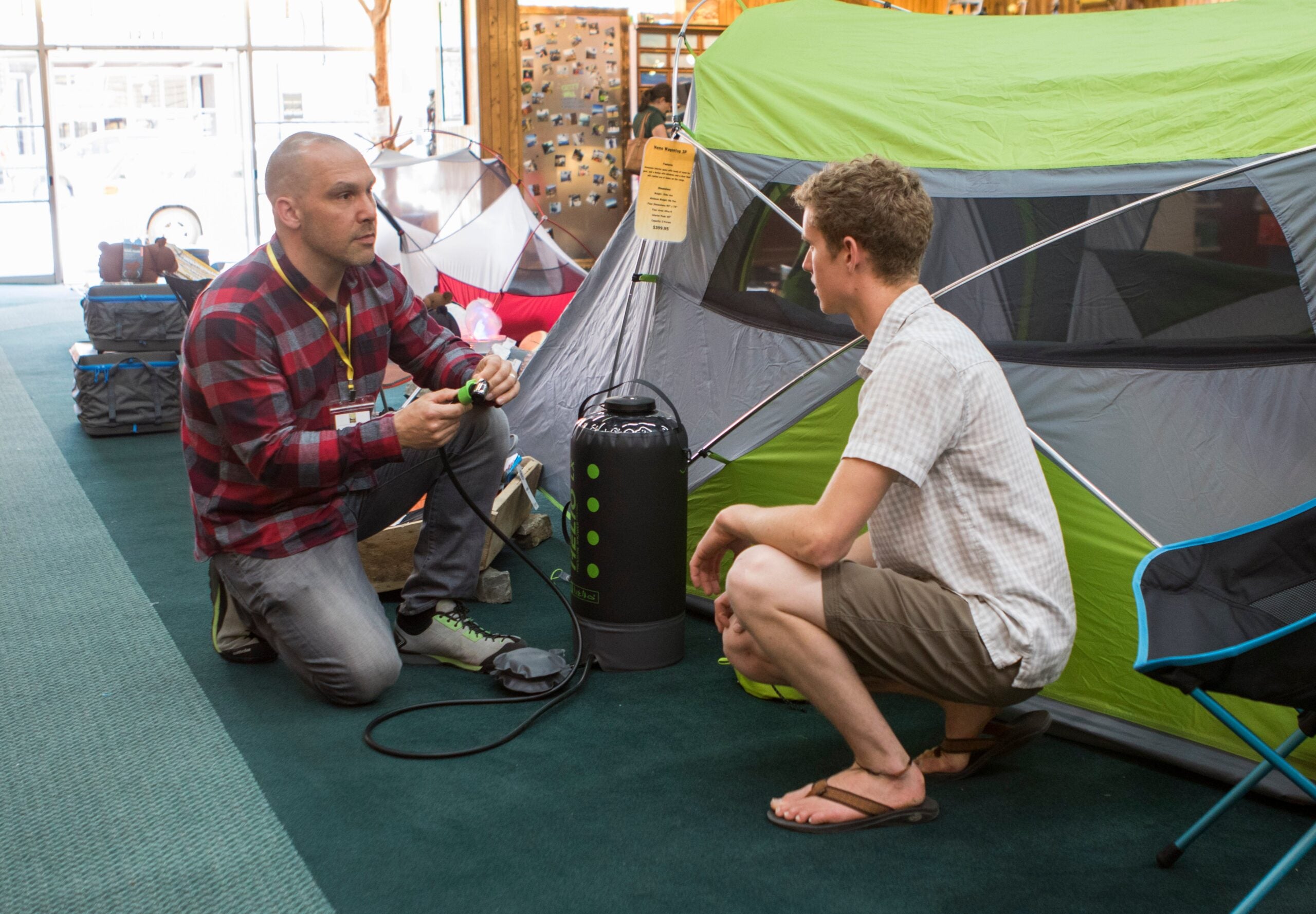 Heading out the door? Read this article on the new Outside+ app available now on iOS devices for members! Download the app.
If you're running a small to medium-sized outdoor brand today, there are so many competing forces trying to shape your business. It's easy to freak out and be too scattered in your focus or retreat altogether and stubbornly stick to an old way of doing things.
Neither approach is workable for the long term. The landscape is getting more challenging, and success more elusive. Building an outdoor lifestyle brand you can be proud of, one that's enduring and reflects your values, requires good partners and careful route-finding through the chaos.
Small specialty retailers have long been the literal and figurative mountain guides of our industry, the interface with the consumers, the experts on gear and trails. They validate the best gear, carry our product and brand stories to the consumer, build local communities of enthusiasts, and perpetuate the spirit of our industry. They can point you in the right direction to becoming a core, legacy brand. But you have to listen and do them service. Partnerships go both ways. After listening carefully to Wes, here's the list I came up with for brands that want healthy long-term relationships with specialty
10 Ways Brands Can Be Better Partners to Small Specialty Retail
1. Make specialty product.
Creating real innovation, bringing it to market, and getting a new and unique story across to the customer is a tough, expensive, and risky investment. If you're really doing something new, there's no market research to show unequivocally that it's going to be a success. But customers don't visit specialty stores to see more of the same. They need to discover things they couldn't have found much more easily on their smart phone on their couch at home. If you want a thriving partnership with specialty retail you have to create product for them that's truly unique and special. Making truly unique and desirable product is the bedrock of success.
2. Have a point of view.
Great brands have a unique point of view and great specialty stores are thoughtfully curated ensembles of these unique voices. To build a great experience for the customer, a store assembles an assortment of products, décor and culture to offer a rich and harmonious experience; each compelling brand and interesting product representing one instrument or well-played note in the orchestra. You can't make a great symphony out of just cellos. So your brand has to stand out and contribute something special. And you can't buy this from a creative agency…it has to come from the soul of your company. The good news is every brand has its own story and collection of personalities. Your identity is special, you just have to dig it up and maybe polish and tune it a bit.
3. Build an iconic and lasting brand.
Specialty retailers need enduring product franchises that give their businesses a modicum of predictability and security; brands that deliver great product and great content over and over again and pull customers through the doors. Their identity and reputation is built, in good part, from the collection of brands they carry and that bond of trust with the customer is something that takes a long time to build and an instant to destroy.
Play the long game if you want to appeal to specialty retail. If you're publicly traded or beholden to partners seeking a two- to three-year return on investment and you're looking to cash in on your hard-earned brand equity as you move down market in search of top line growth, understand that it will be at the cost of your small specialty relationships, and consider what you're giving up. Wes's store embodies the spirit of our industry and the lifestyle we have all espoused.
4. Control your discounting.
Train your customer to buy your product on sale and soon they'll never pay full price. Establish a rigorous MAP (minimum advertised price) policy, run it with an iron fist, and obey your own rules. Don't make SMU (special make up) product for the closeout channel. Stop and think about where that's headed…is your business really sustainable for the long-term on those thin margins and stripped of its aspirational qualities? One thing's for certain, the small specialty shop can't survive on those margins and the smart ones won't try to compete in that rarified environment…they'll just shut you out.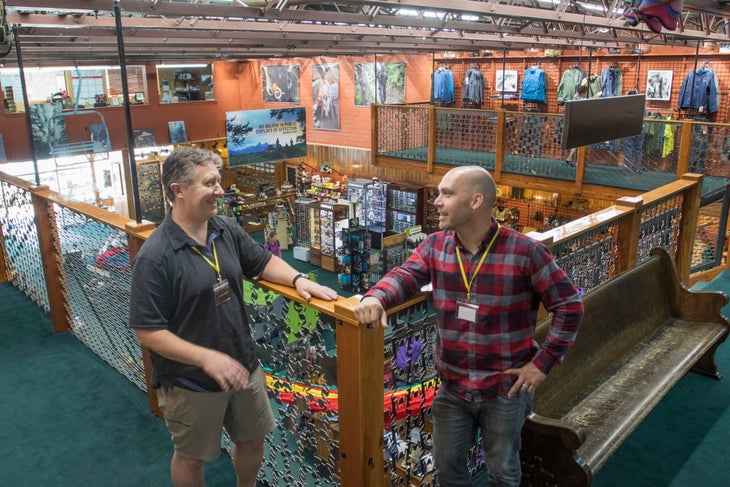 5. Take the time to sit with and listen to your partners and visit their stores.
It struck me how interconnected and yet different my daily universe is with Wes's. You've had the same thought when you visited your factories…they make your products and yet your worldview is so divergent. Get out there and visit retail. I think you'll find they sell your stuff, but have a whole different set of challenges and perspectives. If it's an especially important account, establish a communication pipeline between the principals.
Sunlight Sports Branded Swag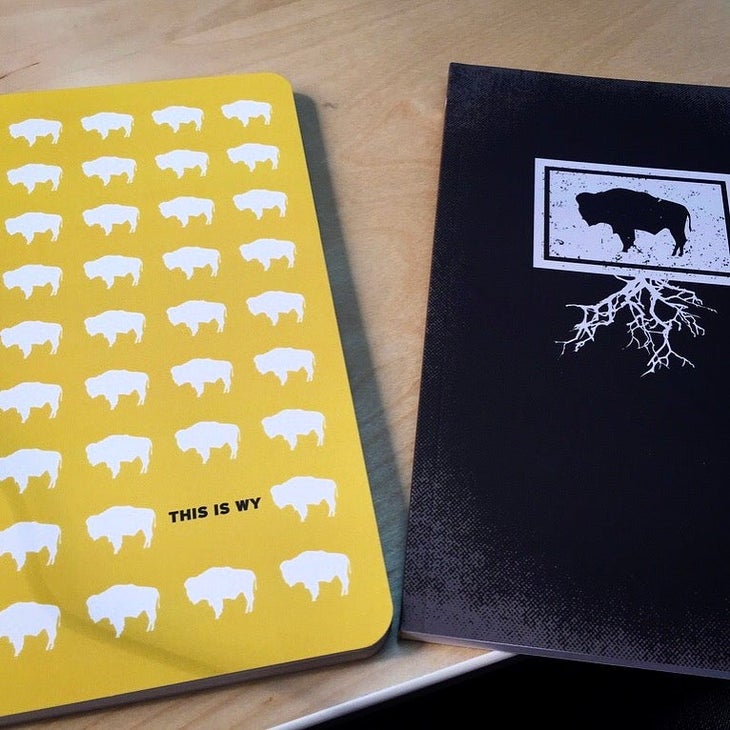 Sunlight Sports branded notebooks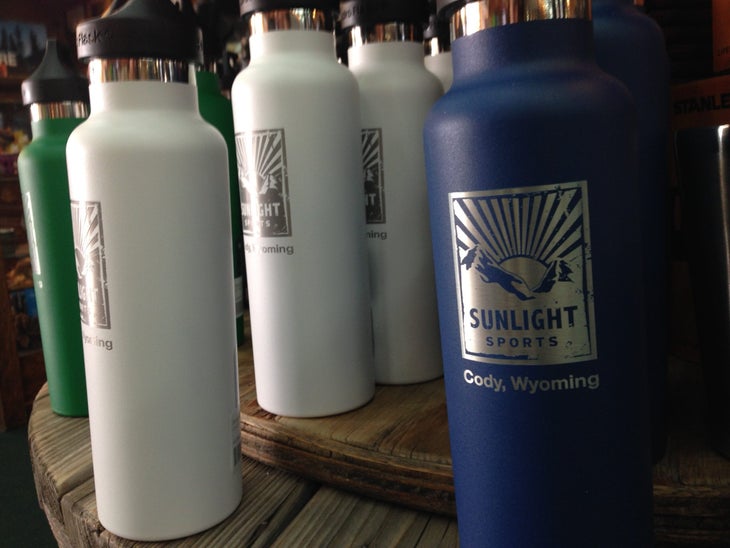 Sunlight Sports branded bottles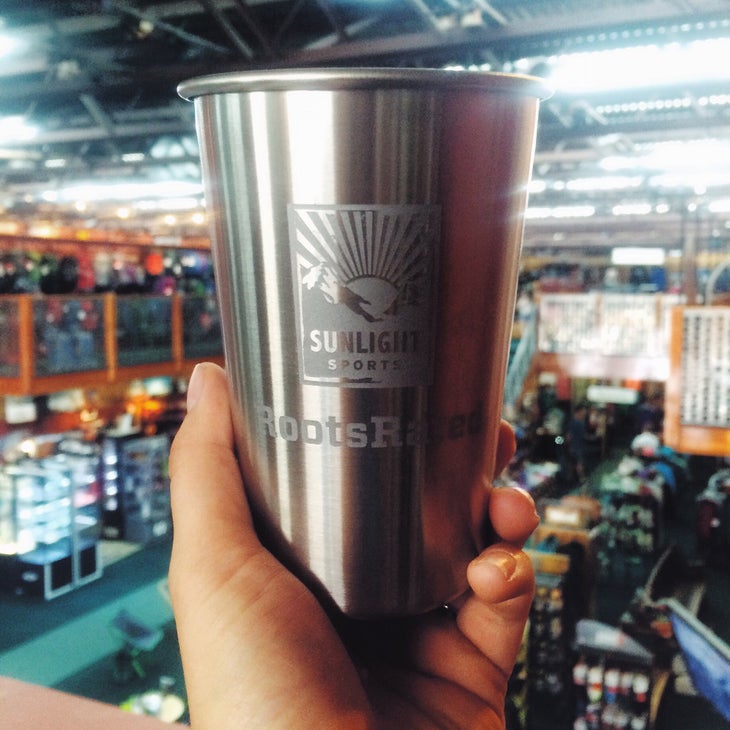 Sunlight Sports co-branded cups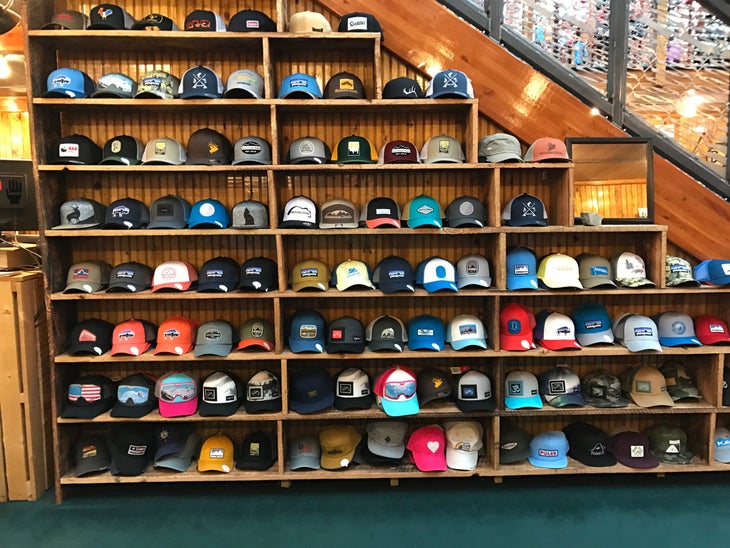 Sunlight also brands hats and tee-shirts
6. Help your partners build their own brand.
Remember that your retailers, the best ones anyway, have their own brands. Respect that their shop has a point of view and identity in the community, a look and feel they have carefully developed and must carefully steward. The storytelling of your fixture program or latest marketing campaign may not fit into the story they're trying to tell. At the end of the day, it's their orchestra to conduct and the audience will walk out happiest if you just focus on playing your own instrument well.
7. Be transparent.
Don't try to sneak things in like influencer programs. It's a very flat world we live in today in terms of information. Everyone has astonishing access to everything. Assume you can get away with absolutely nothing. Besides, operating with integrity is always the best long-term play. Come through on your promises. Don't change the rules in the middle of the game. Sudden floating mark-down windows, unacknowledged exclusive programs, or changes in distribution mid-stream burn your loyal specialty partners.
8. Have a great website and sell your own products direct.
Wes surprised me on this. He pointed out that these days consumers use their smart phones to do research on the store floor. Your website can be an important component in completing a sale. The key is that you follow your own MAP policy. If the customer clicks to your site and sees a discount in exchange for an email signup, Wes loses a sale. But if they see a great site with wonderful storytelling and everything at full price, with additional technical information and product reviews, you've added something to the selling process for Wes and his crew.
9. Seek critical feedback.
This applies not just to your relationships with your retailers, but internally too. Ask what you can be doing better. The world is moving fast. You have to constantly seek good updated intelligence and pivot to stay on course. There is no immutable formula for success.
10. Be choosy when you pick your partners.
Don't ship to every account that will sell you—like the hardware store down the street. Curation should go both ways. Pick partners that flatter your brand. For example, says Wes, being in Urban Outfitters is great. They're making outdoors part of mainstream culture and they're portraying it as aspirational. That grows the community of outdoor enthusiasts. But the dispassionate big box store, the faceless online retailer that copy/pastes all your content and gives back nothing to the community, the multifarious country store that shoves a few of your products in the back corner for travelers who forget something at home? Not so much.
Whether these tenets—and the ones outlined in my previous article—are spot-on or not, they are certainly not an exhaustive list. There's a lot more, big and small, that makes a shop or a brand thrive these days.
Most of all, it requires passion and conviction. Wes and Melissa aren't running a specialty shop because there's nothing else they could be doing with their lives. They're doing it because they love it. And that applies to me, and making NEMO gear, too. Passion, plus a little grit and hunger for knowledge, can carry you a long way and make you pretty resilient, even in an ever-flattening, hyper-competitive and fast-evolving world.
The Retail Immersion Project is an ongoing OBJ initiative that bridges the gap between outdoor brands and specialty retail by imbedding C-level executives onto the sales floor. By sharing these stories, our goal is to create dialogue that raises important issues and ultimately to work toward solutions that create a healthier outdoor industry.