Outside Business Journal
Can Polartec and eVent Make a Comeback in the Hardshell Scene?
Polartec's NeoShell and eVent took the hardshell scene by storm more than a decade ago—only to be outshone by proprietary versions of the same stuff. Can these brands mount a comeback?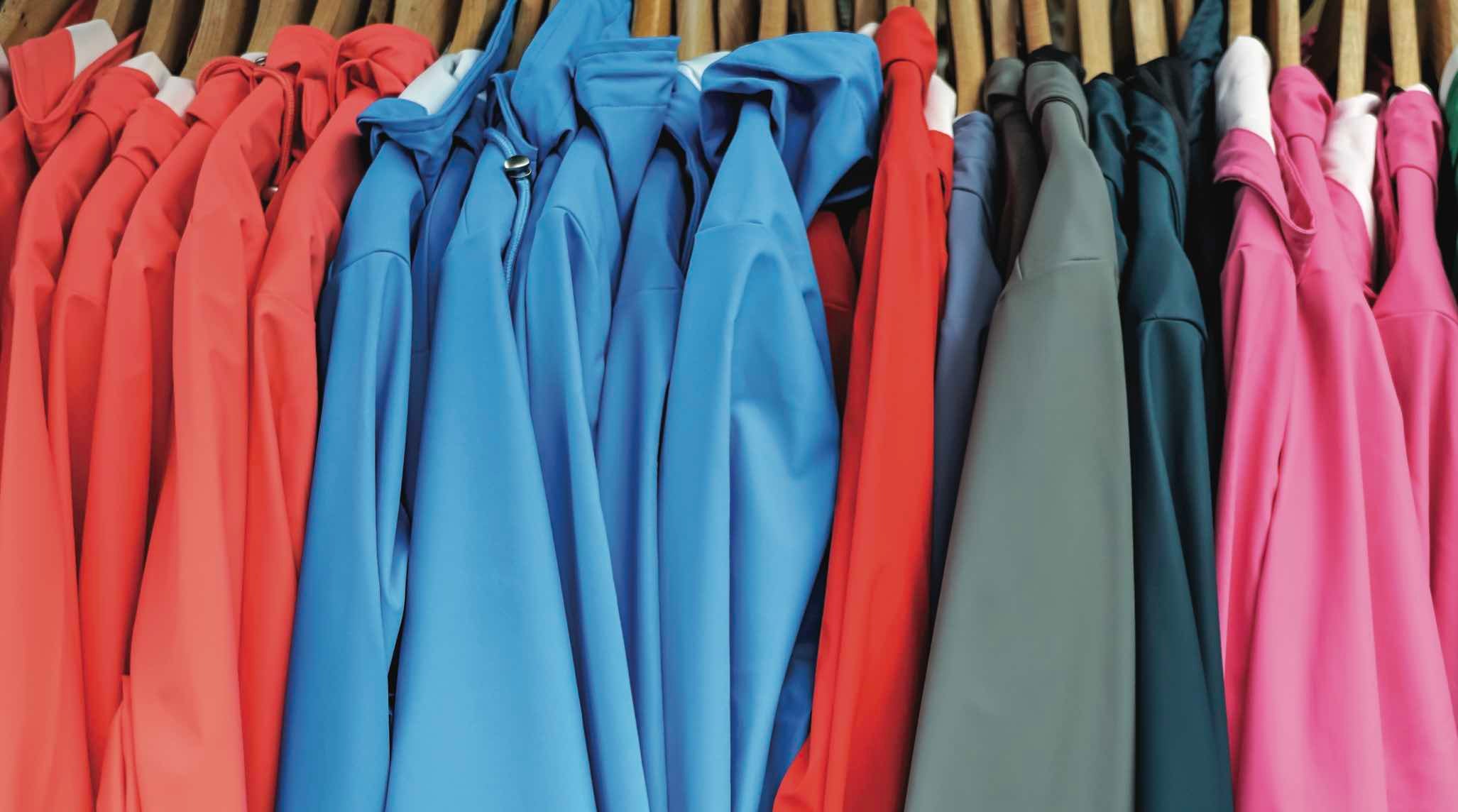 Heading out the door? Read this article on the new Outside+ app available now on iOS devices for members! Download the app.
Once upon a time, Gore-Tex dominated the waterproof/breathable membrane landscape. Until, that is, upstarts eVent and Polartec's NeoShell hit the market. These waterproof membranes promised superior breathability by permitting the passage of air (membranes that are vapor permeable, like Gore-Tex, do not).
Fast-forward to today, and air-permeable membranes are everywhere. The North Face, Helly Hansen, and Outdoor Research have all jumped on the air-perm bandwagon within the last few years by developing proprietary formulas. These brands join early adopters such as Flylow, Strafe, and Westcomb, which embraced the original air-permeable technologies when they debuted. EVent gained traction among outdoor brands in 2008, and the first NeoShell garments hit the market in 2011.
Yet the recent surge of new air-perm membranes has largely overshadowed the branded options that got the party started in the first place. Flylow, Marmot, and Strafe no longer use NeoShell. REI, Rab, and Mountain Hardwear have stopped using eVent (which Mountain Hardwear marketed as DryQ Elite). That's surprising, given the stacks of performance accolades that eVent and NeoShell collected over the years from outdoor publications.
Cycling pubs raved about the debut rainwear made with eVent, and Westcomb earned Backpacker's 2012 Editors' Choice Snow Award for its women's Fuse LT Jacket and men's Shift Hoody, which used NeoShell (and still do). "Companies like Polartec and eVent know these air-permeable fabrics are the way of the future and are bringing to the market more and more waterproof, breathable outerwear," Strafe declared in 2016 on its company blog.
But since that heyday, Schoeller has entered the air-perm market with aerobrane (used in Strafe's Cham Jacket), and outerwear companies have developed their own air-permeable layups, such as Futurelight from The North Face and The Perm from Flylow.
NeoShell "started with a splash, but ultimately, never reached its potential," acknowledged Polartec president Steve Layton. Production difficulty is partly to blame. "All phases of the process are challenging," he said of making the electrospun polyurethane membrane, which is composed of a mesh of microscopic fibers and the many air pockets between them. "Our supplier ran into some serious issues that kept us from taking it mainstream."
Worldwide, only a handful of factories have the capability to produce electrospun, air-permeable membranes (and one membrane factory in Korea burned down in 2018, which didn't help matters). Polartec had to iron out the production kinks of a brand-new technology; once it did, it became easier for factories to produce spin-offs for other brands.
There were additional hangups with NeoShell, said Flylow cofounder and owner Dan Abrams. "NeoShell maxes out at 10K waterproofness, which I personally know to be sufficient, but it doesn't sell as well as 20K," he said. After searching in vain for a 20K air-permeable membrane that could stretch, Abrams worked with Denver-based manufacturer Intuitive Fabrics to develop a proprietary formula that met his specs.
"Polartec was the middleman between us and the fabric mill," Abrams said. Eliminating the intermediary has allowed Flylow to address design and production problems more quickly. It's also expanded the array of available fabric options. "With NeoShell, you had a limited number of fabric choices, so it was pretty likely that you'd see the same fabrics being used by different [outerwear] companies," he said. "Going proprietary, I can have anything under the sun, so I can actually innovate." Strafe also took a hiatus from NeoShell; its line now includes eVent, aerobrane, and a proprietary air-permeable blend called Recon Elite 3L.
Outdoor Research developed its proprietary AscentShell out of a similar desire to exploit a broader range of fabrics. Another advantage of going proprietary is cost savings, said Alex Lauver, the brand's director of commercial innovation. "Everyone needs to make their profit, so the costs are higher [with a branded membrane], which directly impacts the end consumer," he explained. "Our vertical supply chain allowed us access to the exact same membrane at 'wholesale pricing'—if you want to think of it like that—with the ability to experiment and tweak."
Such pricing advantages let Outdoor Research sell its most premium AscentShell jacket (the Skyward II) for $350. But its pinnacle hardshell, the Archangel Jacket, uses a Gore-Tex Pro membrane—and costs $699. Lauver said that AscentShell and Gore-Tex play well together, because they offer consumers a choice. "Do you care about extreme comfort? Or extreme weather protection?" he asked.
However, Abrams maintained that folding Gore-Tex into a mixed lineup of membranes isn't an easy feat. "As a licensing partner, Gore-Tex wants exclusivity," he explained. "My understanding is that it needs to be your top-end offering. That may mean you can't also offer NeoShell, or you can't offer air-perm as your most premium product."
For now, The North Face (which didn't respond to requests for comment) appears to have decided not to play the Gore-Tex game. In the fall of 2019, the brand released its own electrospun membrane. Futurelight is air permeable like NeoShell, but also zonable, which allows for variations in breathability across a single garment. Thus The North Face is pushing air-permeable technology into new heights of functionality—something that some apparel brands feel that NeoShell has failed to do.
The North Face also put unprecedented marketing power behind its air-permeable option when it launched. Consequently, this behemoth's entry into the air-perm competition "has actually helped us, because it validates the story we've been telling for almost a decade," said Zach Hayes of Strafe.
And consumers don't seem to be picky about which air-permeable membrane brands use. Flylow's Abrams says he didn't see any dip in sales after switching from NeoShell to the proprietary Perm. "Retailers apparently didn't care, because they have to educate consumers about everything that isn't Gore-Tex" anyway, he said. "It doesn't matter if they're explaining NeoShell or our proprietary version."
Another name in the "not Gore-Tex" slush pile is eVent, which is typically an air-permeable version of the ePTFE membrane favored by Gore-Tex (eVent's current spectrum of membranes also includes non-ePTFE materials). The brand has encountered its own set of challenges. Unlike NeoShell, eVent has always enjoyed a strong supply chain, said Chad Kelly, eVent's president. But eVent was hobbled by lackluster backing from its former parent companies (BHA, General Electric, Clarcor, and Parker Hannifin). "We have always been an adjacent business within an industrial filtration company, where we were never really the focus of investment and resources," Kelly explained.
But that's changing. In June 2020, textile specialist Performax Pro bought eVent and is already supercharging the membrane's applications, Kelly said. Now, eVent offers 15 air-permeable membranes that fit a range of applications, from pinnacle products to entry-level models. One of those membranes even features sustainability cred: at the January 2020 Outdoor Retailer show, eVent debuted a bio-based membrane made of castor beans that are converted into a nylon resin that's recyclable and biodegradable. The first garments to use eVent BIO will hit the market in fall 2022 (eVent declined to name its partner brands).
Polartec also claims to be caching ammunition for a NeoShell comeback. According to Layton, Polartec has developed a sustainability innovation for NeoShell that will be unveiled this November. "We'll be pushing really cool things that are in the works," he promised. "Imitation is the highest form of flattery. But it forces us to innovate and to ask, 'What's the next problem we can solve?'"
Will it be enough to lure brands back to Polartec and eVent? Time will tell.