Outside Business Journal
Retailers: 12 Ways to Build Community and Become Local Heroes
Gear shops are most powerful when they sit at the center of a strong community orbit. Here are a dozen proven strategies to grow your clan.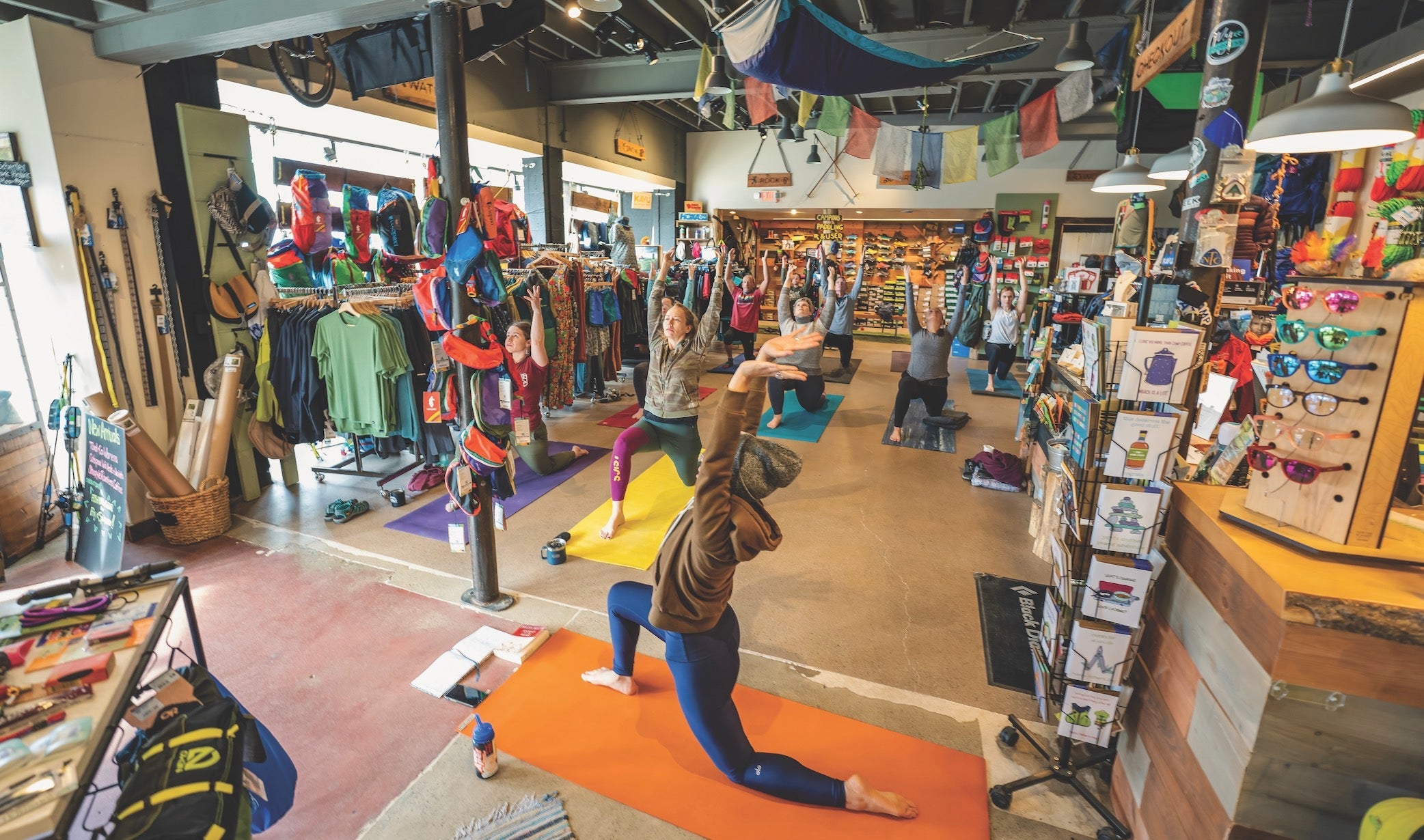 Heading out the door? Read this article on the new Outside+ app available now on iOS devices for members! Download the app.
There's a lot of buzz around community building these days, but what do retailers really achieve when they devote money, space, time, and staffing to community outreach and support? Plenty. Retailers that build meaningful bridges with their communities improve environmental stewardship, fuel inclusivity among outdoor enthusiasts, grow participation in sports—and, yes, boost sales. Here, four of the industry's most innovative retailers share 12 proven strategies for harnessing people power.
The Strategy: Be the Clubhouse
Christine Iksic, owner of 3 Rivers Outdoor Company in Pittsburgh, Pennsylvania, had multiple requirements for her retail store's location when setting it up in 2018: it had to sit near the hiking, mountain biking, and running trails in one of Pittsburgh's city parks, and it had to have an outdoor area for campfires. With a spacious patio out front that accommodates a fire pit and cluster of Adirondack chairs, 3 Rivers Outdoor Company now hosts campfire hangouts two to three nights a week. They're incredibly popular, said Iksic, in part because snacks are readily available (she's right next to D's Six Pax and Dogz, a Pittsburgh hot dog institution).
The Benefit
"Hangouts help people find and connect with other outdoorsy people in Pittsburgh," said Iksic, explaining that in smaller outdoor-oriented communities, it can seem like everyone you meet at work or in your neighborhood loves outdoor sports—but finding your tribe isn't so easy in larger, more diverse cities like Pittsburgh. Iksic founded her store to make it easier for outdoor enthusiasts to locate one another, and campfire hangouts let people feel like members of the club. That pays dividends for the store, says Iksic: "We've seen double-digit growth since we opened, and it just keeps getting better."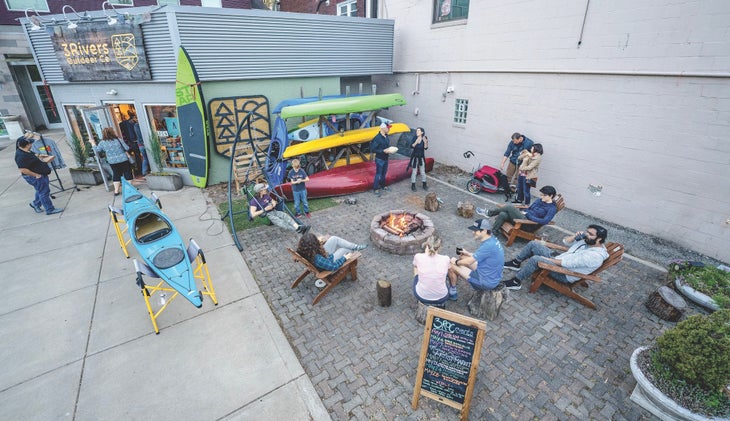 The Strategy: Befriend a Clan
Mountain Chalet in Colorado Springs has developed a close relationship with the soldiers stationed at Fort Carson and the Army's 10th Special Forces Group, which is just one of the city's many military installations. "They rely on us and trust us to know what'll serve them best," said shop co-owner Jim Smith, who runs the store with his wife and business partner, Elaine. The shop and the Fort Carson soldiers share a mutual dedication to mountain climbing and skiing, which served as the initial bond. But what really strengthened the relationship was a common emphasis on community, according to Jim. Several members of the military even joined the shop's staff after getting out of the service. Said Jim, "There's a joke among some of our friends in active military that they'll all come back and work for us."
The Benefit
Expeditions initiated by current and former members of the military enjoy financial support from Mountain Chalet. The Smiths (along with brand partner Mountain Hardwear) helped a group of special forces veterans climb Mount Everest and assisted the "Camouflage for Conservation" project that aimed to reduce elephant poaching in Africa. The shop also benefits from the relationship: the veterans who become Mountain Chalet employees are particularly hard workers, said Elaine. Soldiers are also loyal customers who often place bulk orders (the Army supplies some, but not all, of the gear they use) and they refer Fort Carson newcomers to Mountain Chalet.
The Strategy: Stage "Hero Shows"
Colorado Springs is also home to more than its fair share of elite athletes, so Jim and Elaine Smith regularly invite local athletes to give in-house presentations at Mountain Chalet about their exploits. "Joe Grant, an ultrarunner, got 100 people in our shop," said Elaine. Grant and athletes like him attract large numbers of outdoor enthusiasts to the store to learn and get inspired. "Yes, these people do extraordinary things beyond what most of us do, but that's okay," Jim said. "Someone like Joe is still motivating, even if you don't plan to mimic what he does."
The Benefit
Hearing from local athlete celebrities builds community pride and lets shoppers share in the excitement of their neighbors' dazzling accomplishments. And retailers benefit from enthusiasts' heightened interest. Said Jim, "These heroes inspire people to get out and enjoy the outdoors and the mountains in their own way."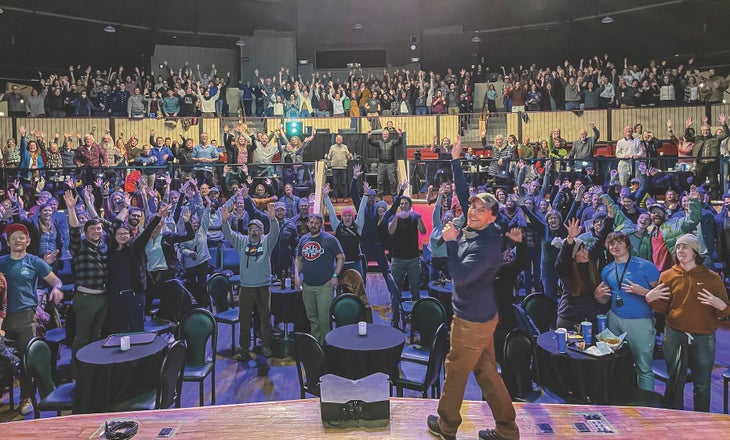 The Strategy: Host Pint Nights
It's no secret that beer brings people together, but the best community-building events do more than just serve some suds. At Sunlight Sports, a specialty retailer in Cody, Wyoming, weekly Pint Nights raise money for local nonprofits. Buying a purple silicone pint glass for $15 gets participants a free pour at every Thursday evening gathering, and all proceeds go to four outdoor initiatives that benefit area kids. "Last I looked, we sold 3,900 pint glasses, and that's in a town of 10,000 people," said Sunlight Sports owner Wes Allen. "It's a date-night event for a lot of people, a reason to get a babysitter."
For maximum inclusivity, serve non-alcoholic beverages alongside the beers, recommended Christine Iksic of 3 Rivers Outdoor Company in Pittsburgh. Iksic's shop always keeps a keg of beer (donated by a local brewery) as well as non-alcoholic alternatives on hand for après events following weekly running and mountain biking clubs, and proceeds generated by sale of the beverages are donated to area nonprofits.
The Benefit
Nonprofits receive much-needed revenue. Drinkers feel good knowing that their beer money benefits causes that they care about. Customers make connections with other outdoor enthusiasts. "Sharing a drink—alcoholic or not—after the event, that's how the walls come down," said Iksic. Doing that among an outdoor-loving tribe lets people reveal and reinforce their identity, said Allen. "People meet, make friends, make plans, all in the context of being in the shop and supporting local nonprofits," he said. Plus, those crowds also buy store items while they're in-house. Before Allen instituted Thursday Pint Nights, Saturdays had been the biggest days for sales. Now, Thursdays lead the week, with no dip in Saturdays' numbers.
The Strategy: Teach Stewardship
"Over the past two years, during the pandemic, we saw an explosion of outdoor use," said Scott O'Brien, co-owner of Skinny Skis outdoor store in Jackson, Wyoming. "We, as a gear retailer, are the enablers."
In response to the spiking use (and sometimes abuse) of the region's natural areas, Skinny Skis developed several initiatives aimed at helping customers become responsible users of the gear they buy. The shop asked local land managers for the messages about responsible use that they most wanted to circulate among the public; then, Skinny Skis printed that advice on the maps that the shop publishes for summer and winter activities. "Of course, the map also includes ads for the products we sell," said Skinny Skis co-owner Taylor Hall. But it also broadcasts expectations about picking up dog poo, avoiding run-ins with wildlife, and other strategies designed to minimize the potential negative outcomes of outdoor recreation. The shop also posts wildfire-prevention regulations near the shop's front doors and registers. And it developed educational hang tags for various products it sells. Ski-touring backpacks, for example, get hang tags advertising the Backcountry Zero initiative (aimed at reducing fatalities in the Tetons) and links to avalanche forecasts, winter safety courses, and the Backcountry SOS app that contacts first responders in emergencies.
The Benefit
Teaching customers how to be responsible members of the outdoor community results in cleaner, healthier natural resources. It also improves people's safety and enjoyment of the outdoors, saidys Hall. And in a tourism-dependent economy like Jackson's, happy visitors equates to better business for the destination overall. Said Hall, "Any bad experience that a tourist has affects their desire to come back."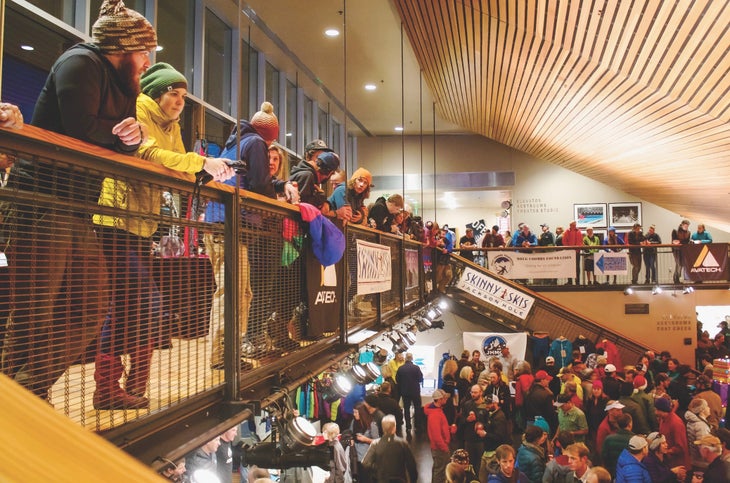 The Strategy: Cater to the Curious
"I remember being that person who looks at whitewater paddling and thinks, that looks really cool, but how do I get into it?" said Christine Iksic of 3 Rivers Outdoor Company, who organizes one- and two-day introductory trips aimed at participants who have never tried the sport before. Rock climbing, mountain biking, rafting—all of these activities impose real barriers to participation that Iksic seeks to overcome through her shop. Not only does she offer experiential learning adventures in outdoor locations around Western Pennsylvania, she also rents out equipment and sells used gear so beginners can try something new with a minimal financial investment.
The Benefit
Holding introductory outings turns curious amateurs onto new sports and lets them make connections with potential adventure buddies. Such conversions broaden a shop's customer base, said Iksic: "We've seen that people will respond if you give them an easy opportunity to try things."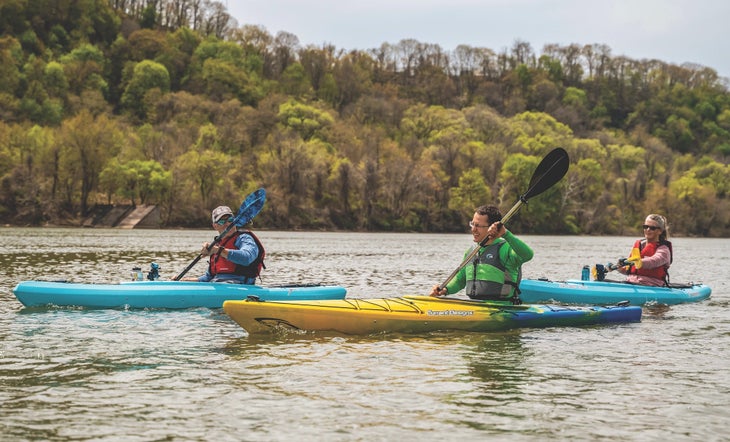 The Strategy: Hold Contests
Handing out raffle tickets doesn't exactly build community. But mounting a contest that engages customers in a shared mission? That's capable of forging meaningful bonds between an outdoor retailer and its patrons. That's what Jim Smith learned when he devised a contest celebrating Mountain Chalet's 50th anniversary in 2018 (it's the oldest outdoor store in Colorado). Spanning the months of February through October, with winners announced in November of that year, the contest invited participants to attempt and document various objectives in one of six outdoor sports. The shop created a dedicated Facebook page where contestants posted photos of their achievements, applauded one another's exploits, and exchanged banter. More than 300 people signed up to win a complete gear kit for their chosen sport. And the prize giveaway parties felt like true community gatherings, said Smith.
During the start of the pandemic, he hatched another contest idea—this one in digital form. "The shop was closed for eight weeks, and we were trying to think of ways to stay relevant and connected with our community," said Elaine Smith. Using social media, the co-owners started publishing map fragments from different locations in Colorado and challenging followers to identify them. The guessing contests generated lively participation among audiences.
The Benefit
The 50th anniversary contest generated a lot of buzz, said Jim. Between that contest and the map identification challenge, Mountain Chalet customers won impressive quantities of gear: a backcountry ski kit, for example, included more than $6,000 in equipment.
The Strategy: Avoid Divisive Causes
Many shops facilitate fundraisers for local causes. But in doing so, Wes Allen is careful to avoid crusades that spark contention among Sunlight Sports' customers. "We pick things that all outdoor-loving people can agree on," Allen explained, like supporting youth groups working to get more kids outside. "I believe we can get a lot more done by bringing people together," he said.
The shop's neutrality ends, however, when the controversy lands on racism or other forms of social violence against marginalized members of the community. When the shop's home of Cody, Wyoming, experienced a surge in homophobic sentiment in 2020, Sunlight Sports backed an LGBTQ+ employee by posting a statement on social media saying, unequivocally, that haters and harassers simply aren't welcome in the store. "If you think it's OK to make someone's life worse because of who they love, stay out," wrote Allen and his wife, Melissa. That stance didn't result in any blowback for Sunlight Sports, said Allen: "We got to do that because we'd been working on bringing people together for more than a decade."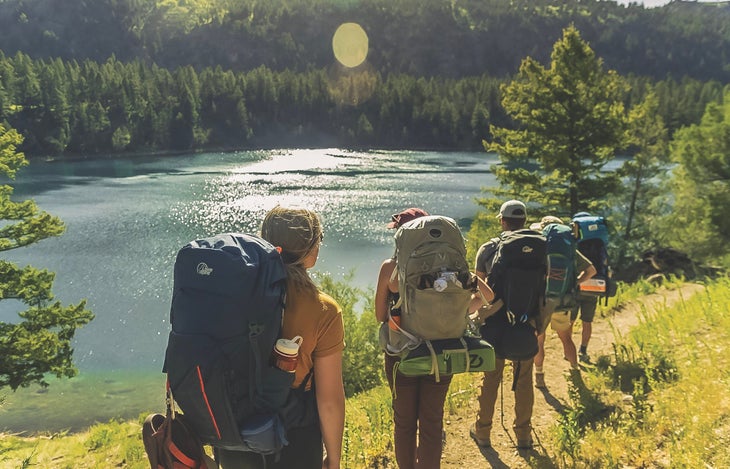 The Benefit
Avoiding divisive causes lets everyone feel welcome in the community of the outdoors. And supporting youth programming yields a host of benefits, said Allen. "If you want to court customers, do something for their kids," he said, adding that people are very loyal to shops that feed their children's development. Said Allen, "The best way to get young people engaged in the environment is to get them outside and see what they might lose if they don't do the right thing."
The Strategy: Ask for Support
In March 2020, at the start of the pandemic, Alpenglow Sports owner Brendan Madigan asked community members in Lake Tahoe, California, to save the store from long-term closure by buying gift cards. They responded: within four days, they'd purchased a whopping $75,000 worth of them. More recently, at 3 Rivers Outdoor Company, Christine Iksic launched a "Good Gear Investor" program that asks supporters to buy $1,000 in gear credits that can be redeemed for store purchases. So far, 70 investors have stepped forward to issue something akin to a micro-loan to the fledgling outdoor store.
The Benefit
Madigan used the capital to support his staff. Iksic, meanwhile, is devoting her funding to expand the business to a second 3 Rivers outpost—a seasonal paddlesports rental location on the river. Her vision is to create a beach-like environment where people can not only rent watercraft but also lounge in hammocks (rented for use like cabanas) and buy snacks from food trucks. "It's a win-win," said Iksic, because investors get their money back in gear, while 3 Rivers gets to create a new outdoor space the whole community can enjoy.
The Strategy: Support People in Crisis
Roads Rivers and Trails, an outdoor retailer in Milford, Ohio, responded to pandemic-related economic difficulties by launching a fundraising initiative called Milford Strong, which generated relief money for local businesses by selling gift cards. And for the past 15 years, Skinny Skis in Jackson, Wyoming, has sponsored Run and Ride for the Cure, a race that raises money for the Cancer Patient Support Fund at the St. John's Health Foundation. "A lot of those patients are our customers," said Skinny Skis co-owner Scott O'Brien. "But the race also lets us touch a broader swath of our community." The shop committed to similarly broad outreach when it responded to the pandemic with a shoe sale fundraiser: for every pair of shoes Skinny Skis sold, the store contributed $5 to a community resource fund that distributed money to families experiencing economic insecurity.
The Benefit
Skinny Skis' fundraiser generated several thousand dollars for families in Jackson. Since 1999, the Run and Ride for the Cure has generated more than $200,000 for local cancer patients. Less quantifiable is the feeling of connectedness that shop employees, customers, and racers enjoy by participating in community initiatives. Said O'Brien, "The size of our community is growing rapidly now, but we're still a small town, and the core community has got to support each other."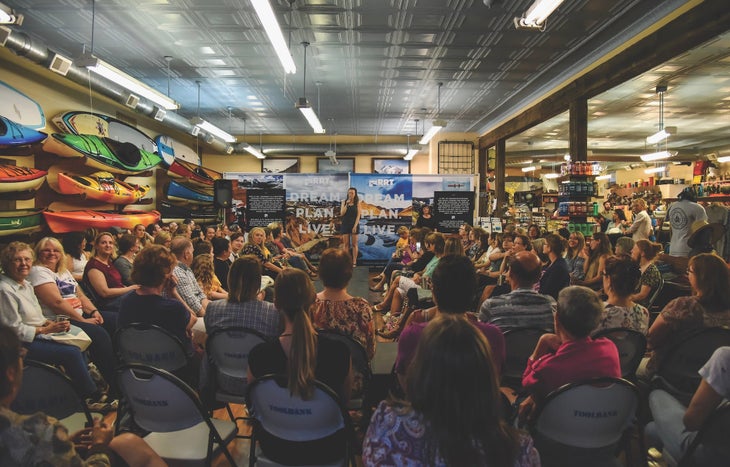 The Strategy: Tout Your Victories
"When I go to the grocery store, people stop me and thank me for everything we do for the community," said Wes Allen of Sunlight Sports. Why? Because the store is good at talking about its contributions, Allen maintained. He prints the shop's fundraising accomplishments on Sunlight Sports' paper shopping bags. Invitations to store events also include fundraising summaries so everyone hears about avenues for support and totals generated. Allen also posts info about donation recipients on the store's social media pages and asks people to make their own contributions in addition.
The Benefit
Knowing the store's community-support record increases residents' willingness to shop at Sunlight Sports, even if it means spending more than they would at the much larger Sierra discounter four blocks from Allen's place. "There's always something cheaper around, so our appeal has to be about how we engage with the community," Allen said.
The Strategy: Make Community Your Mission
Every retailer who contributed to this article repeated the same thing: community building only works when businesses make it part of their overall mission—not just an ad hoc effort that's intended to grow sales in the short term. Community connection is "one of the pillars of our operation," said Jim Smith of Mountain Chalet. Taylor Hall of Skinny Skis put it like this: "Community is baked into the DNA of the business." (He's not exaggerating: the store was, in fact, founded as a collaboration with the Jackson Hole Ski Club to help young skiers get the gear they needed).
The Benefit
Making friends and forming community connections feels good for both business owners and customers. Plus, shops that enmesh themselves in the fabric of their communities enjoy an enviably stable customer base. "The benefit [of community building] is customer acquisition," said Smith. "When a customer feels like a part of a community, they support you over the long term."