Get Schooled
Making Your Kids Uncomfortable Is a Good Thing
Coziness is good, but a little hardship is way more meaningful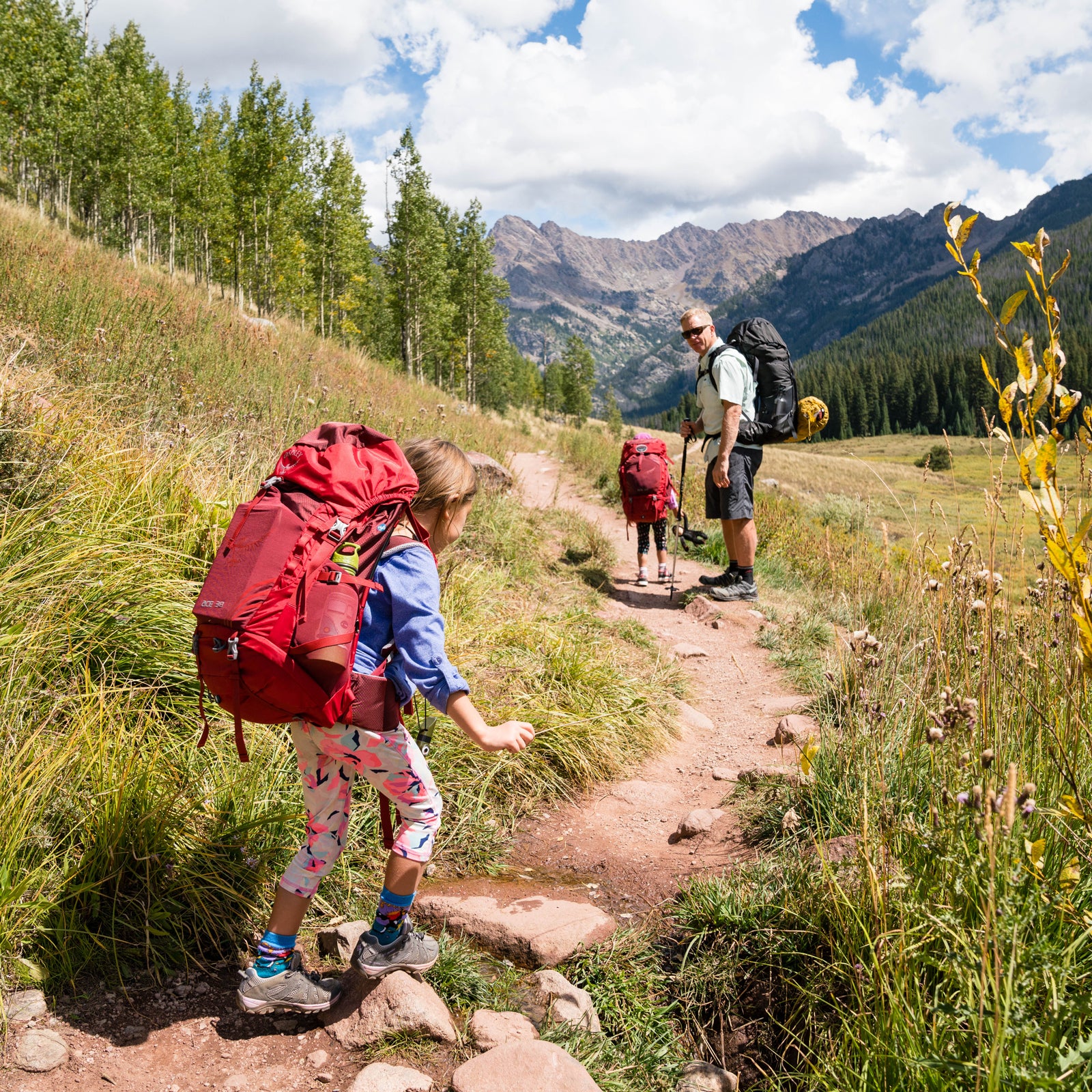 Lisa Seaman/TandemStock(Photo)
Heading out the door? Read this article on the new Outside+ app available now on iOS devices for members! Download the app.
Recently, my family and I finally watched Free Solo. Our two boys piled into our bed, and all four of us endured 90 minutes of empathetic cold sweats and forearm cramps as Alex Honnold climbed 3,000 feet up El Capitan without ropes. It was an intense experience—probably for Honnold, too.
In the days after watching the Oscar-winning documentary, what stuck with me wasn't so much the sheer terror and athleticism of Honnold's climb as an offhand comment he made, lamenting the fact that the priorities of his girlfriend, Sanni McCandless, include being happy and cozy.
"Anybody can be happy and cozy," he snarked. "Nothing good happens in the world by being happy and cozy. Nobody achieves anything great because they're happy and cozy."
I took this personally. I'm half British, and I love being cozy. Sometimes on a sunny summer afternoon, I dream of a chilly downpour and a hot cup of tea. To me, being cozy is appreciating one's comfort in the face of some relative adversity—a thermos of chili after a ski, dry clothes after a rainy hike, a down sleeping bag in a snow cave. In my mind, coziness is an honest, worthwhile aspiration. 
Of course, not everyone can be happy and cozy. For most people in the world, adversity is an overwhelming constant, and comfort is fleeting. Coziness can happen only after our basic needs have been met. It entails a lot of privilege, something it would behoove Honnold, and the rest of us, to acknowledge. 
But as a privileged American outdoorsman for whom comfort is a predictable baseline, I recognized some truth in Honnold's words. When I think of my childhood, I don't remember mugs of hot cocoa by the fireplace; I remember the moments my parents described as "character building." I remember following my father through chest-deep snow to go fishing in January and not being able to feel my fingertips for two weeks afterward. I remember grimy 28-hour bus rides in India, where we lived. I remember nighttime storms in the mountains when rain flooded our tent. Cozy, happy moments are nice adornments to a life, but hardship is the skeleton on which they hang.
To Honnold, I assume, being cozy means procrastinating the opportunity to test oneself in nature's crucible. It's a lifestyle of challenge avoidance, of forfeiting the chance to walk to the brink of your own mortal limits. It's safe, predictable, and boring—exactly the opposite of what Honnold must have felt from his toes to his fingertips as he hung 3,000 feet above the Yosemite Valley floor. I envy that crackling, centered aliveness, and I find it also offers some instruction for parenting.
I don't have it in me to climb vertical granite walls without a rope, nor would I like my children to take up this pastime. But as a parent responsible for curating a balanced, active, healthy risk-taking life for my kids, I am finding simpler (and safer) ways to make our days together slightly less comfortable and infinitely more meaningful.
These are seven ways I parent outside of my comfort zone, choosing the memorable over the predictable, for my kids' benefit and my own.
Camp in Your Backyard
It takes time and forethought to pack for a weekend camping trip. It takes very little preparation to camp in your backyard. Pitch a tent in the grass, roll out your sleeping bags, and get cozy. (Don't tell Honnold.) If weather permits, keep the fly off the tent and look for shooting stars. If you're ready to escalate the adventure, wait for a decent winter snow and build an igloo to sleep in. If it gets too cold, or if the sprinklers soak you in the morning, you can always run back inside to bed.
Ride Bikes Everywhere
The number of American kids riding bikes has dropped by 19 percent since 2007. This is a shame, because bikes are the happiest mode of transportation, and cycling helps develop fundamental skills of independence, self-esteem, and healthy risk-taking. My wife taught our son Theo to ride when he was four, and it's been the best thing to happen to us. Now we try to go as many days as possible without driving. I put our two-year-old, Julian, in a bike seat and we ride together to the store, the dentist, the library, their aunties' houses, and to the creek. On longer trips, I'll put the boys in the bike trailer. Biking entails more planning and sweat than driving, but the experience is more engaging and sensorial for all of us.
Forage Your Dinner
You don't have to be Bear Grylls to live on the food you can scrounge from the forest. Foraging with your kids helps get them outside and gives them a task, while also teaching them lifelong skills, like how to recognize plants and mushrooms and how to honor an animal before you kill it. Foraging with your family offers a way to feel connected with your food and with your children. Whether you're dining on Dungeness crab and silver salmon in Alaska or seaweed and mussels in San Francisco, finding your own food will give you a renewed appreciation for what's on your plate and also the healthy appetite to enjoy it.
Plan an Epic Day
My family is lucky to live at the foot of the mountains. One of my greatest satisfactions as a father has been introducing my boys to their local geography by planning epic day hikes. With enough fruit snacks, creative storytelling, water breaks, and encouragement, five-year-old Theo has hiked up to the top of several mountains near town, while Julian rode in a backpack. Reaching these summits has given Theo self-confidence and a new perspective on where he lives. And it usually tuckers him out enough for an early bedtime.
Ride the Bus
Just like cycling, riding the bus requires a level of engagement that car travel lacks. When we take the bus around town, my boys meet people. They see their town in a new way, and they have a lot more fun than they do in their car seats. Riding the bus is less efficient than driving, but it's more environmentally friendly and fosters a sense of community. It also opens the window for the sort of unpredictable encounters that make life memorable.
Build Something
Nothing upsets the daily humdrum of parenting like a project. My father has memories of building a balsawood biplane with his father and releasing it into the wind on the English coastline, where it slowly banked toward the waves and soared off toward France. When I was a boy, my dad and I built a wooden sword. This summer, Theo and I built and launched a model rocket, which was equally thrilling for both of us. It could be anything from building a treehouse to assembling a bike, but when you make something with your child, you are simultaneously constructing a better relationship.
Go Backpacking
Camping in your backyard is good, and car camping is better, but backpacking may be best of all. When we just had one kid, backpacking was relatively easy, so long as we had enough sunlight to dry his cloth diapers. With two kids, it's a little more challenging. Now we require a three-person tent, another sleeping bag, and more food and water. When we took a backpacking trip last month, Theo walked, my wife carried Julian and a daypack, and I carried the rest. It was grueling. But when we reached our campsite, and our kids fell into a state of nature bliss around the fire, we knew it was the best decision we'd made all summer.
Lead Photo: Lisa Seaman/TandemStock