What You Should Know Before Starting Vanlife with Kids
Tips from the pros about the importance of communication, being prepared for a breakdown, and taking it slow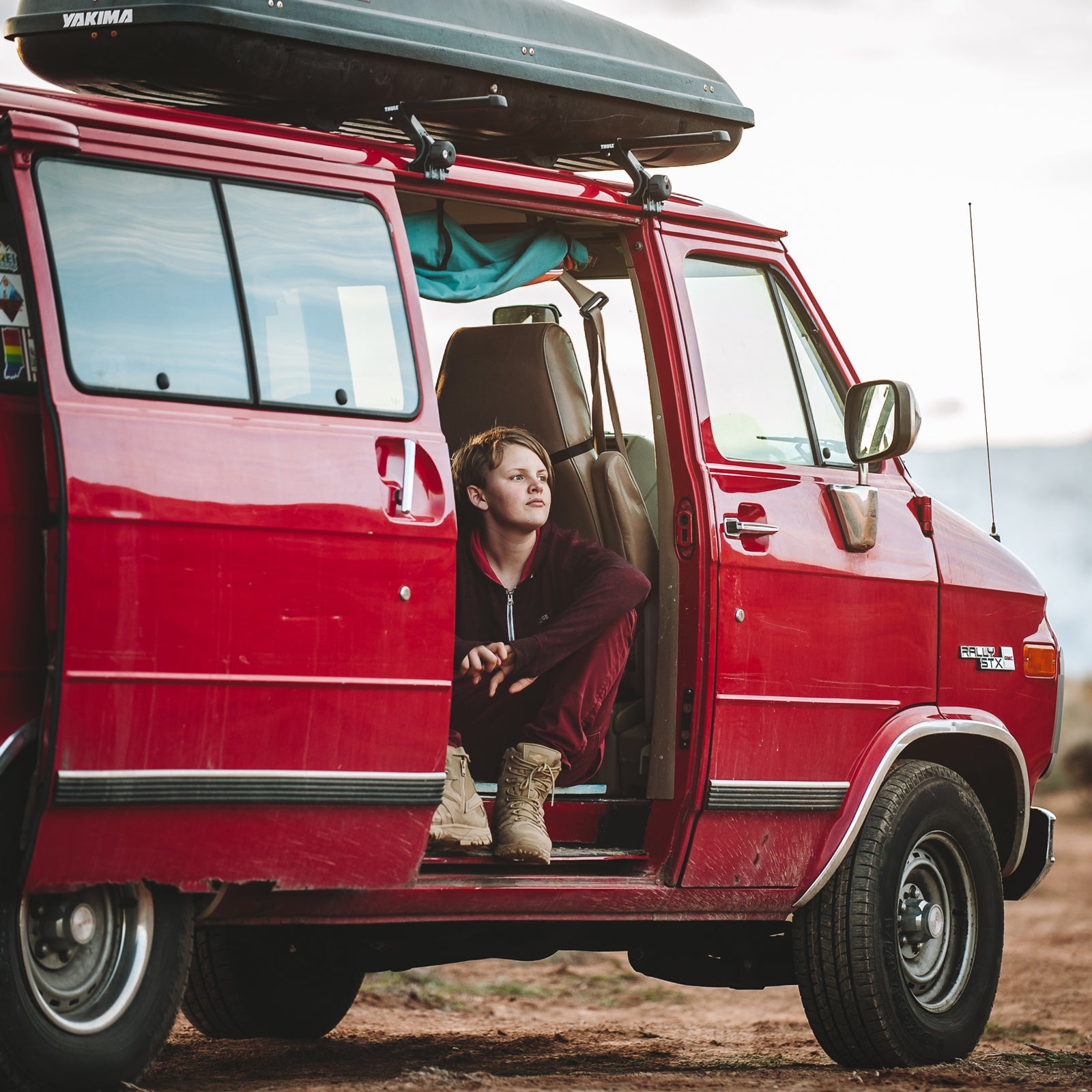 Michelle Craig(Photo)
Heading out the door? Read this article on the new Outside+ app available now on iOS devices for members! Download the app.
My daughter Josephine had just fallen asleep in our rented camper van, and I was ready to wash off the day's stink in one of Iceland's wonderful campground showers. Sauntering across a grassy field toward the shower, I stopped short. Forgot my towel. I dashed back to the van, slid open the door as quietly as possible, and snagged the towel that had been doubling as a curtain to block out Iceland's endless summer light. Then I headed back to the shower. I'd just started to undress when I had another realization: the shampoo was still in the drawer where I'd hastily stashed it a couple days earlier. Shit. 
When I opened the van door again, my husband—still getting Josephine back to sleep after my last intrusion—shot me an icy look. "Sorry," I mouthed. 
Two months earlier, I was feeling restless and had taken to perusing camper vans on Craigslist. But even as I honed my search to vans that were car seat compatible, I knew it was a pipe dream. We'd recently bought our first house and weren't about to sell it to live on the road, nor did we have the disposable income to buy a van while also paying our mortgage. So we compromised. We bought tickets to Iceland this summer, rented a van, and spent two weeks driving the country with 14-month-old Josephine. 
Those days on the road served up some magical moments—cooking dinner beneath a glacier while two Icelandic girls entertained Jo; driving our home on wheels through an otherworldly mossy valley while Jo napped in her car seat; waking up on a black-sand beach with no one else around. But as the Great Shower Debacle illustrated, we clearly had some vanlife kinks to work out. I returned home still dreaming of buying our own van someday, but I knew that to make it work, we'd need some tips from the pros. So I got in touch with four families who lived full- or part-time on the road with their kids. Here's what they told me. 
Be Ready for a Breakdown
Susan Kennedy and her husband spent 2012 to 2015 traveling the United States in a 1984 Volkswagen Vanagon with their two sons, a one-year-old and kindergartener. They now live in Bayfield, Colorado, parenting three boys and answering van-related questions for others on social media. Kennedy says that even for experienced families, vanlife isn't always as idealistic as Instagram makes it out to be. Moving car seats to fold out your bed every night is a pain, your vehicle will probably break down, and kids and parents alike may struggle with homesickness. But there are ways to cope.
Make sure you have your rig's manual on hand, and connect with other van owners on social media and use the VanAlert app to find repair shops, campgrounds, and other resources. Think of mechanical breakdowns as a time to relax, rather than a source of stress. To combat homesickness, plan to visit family and friends on the road, and keep a van journal where kids can record their favorite memories before bed. (Unfortunately, there's no way to avoid schlepping around those car seats.)
Get Road Schooled
Nathan Swartz (@wandrly on Instagram) traveled for ten years with his wife and three boys, ranging in age from infant to teenager. He says raising kids on the road never felt more difficult than raising them any other way. In fact, Swartz and his wife, Renee, "road schooled" each of their kids while they were traveling. Rather than rely on standard lesson plans and curriculums, Swartz simply involved his kids in every aspect of their life, from changing the oil to planning meals.
"Our daily life was a lesson," he says. "Hiking a trail and doing Junior Ranger books was school. Visiting a museum or just going to the playground was school. Learning to navigate a bus schedule when we'd visit a city, how to read a map, or listening to audiobooks…everything was learning." 
Communicate
Michelle Craig (@theroamschoolfamily) is a queer single mom and freelance photographer who's been living full-time in Jerry Lee the Van with her teenage son, Noah Sage, since January 2018, and part-time for a year before that. Like Swartz, she road schools (or "roam schools," as she puts it), incorporating museums, national parks, and other learning experiences into their itinerary. Her biggest tip for families considering vanlife is to just do it. "I spent so much time over-researching and overthinking things before we made the jump," Craig says.
Being super organized also makes living in a tight space easier, as does being intentional with communication, especially with older kids. "We have a one-to-ten scale of how we are feeling about certain aspects of our lives," Craig explains. "We check in with each other monthly at the very minimum to see if this lifestyle is still working for both of us."
Plan to Take It Slow
Ash, Margaux, and one-year-old Mar (@sowewent; they prefer to go by their first names) have a stationary home base but have been camping and road-tripping in Bruce the Van since Mar was four weeks old. Their best advice is to start early. "We decided to travel as early as we could to make camping and living in the outdoors a cornerstone of our new chapter with our daughter," Margaux says. "After the first few trips, it became easier and more routine."
Margaux also says that parents considering vanlife with their kids should plan to take it slow—everything takes longer with a baby on board. Her rule of thumb is to add an extra 45 minutes for every three hours of driving to account for stops to change or feed an infant. And instead of rushing to fit in a big hike or busy day, Margaux says, "We've come to love slow mornings making breakfast and early nights." 
Lead Photo: Michelle Craig