'DamNation': Trailer and Q&A With the Filmmakers
Heading out the door? Read this article on the new Outside+ app available now on iOS devices for members! Download the app.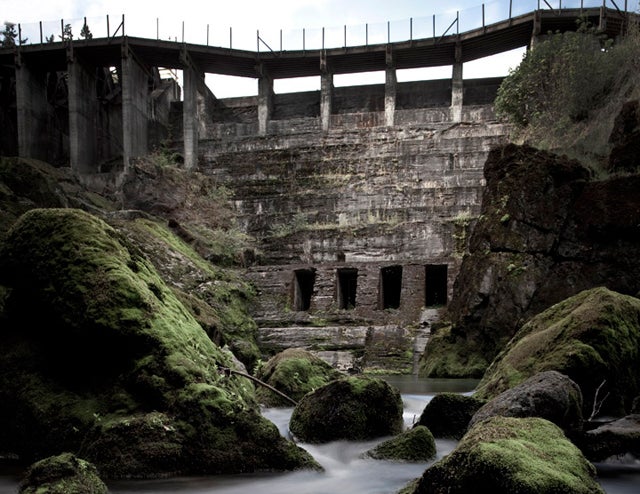 If you've seen Red Gold, about efforts to stop the proposed Pebble Mine in Bristol Bay, Alaska, you know the documentary-making prowess behind Felt Soul Media. The trailer for the team's next film, DamNation, has just been released.
Conceived by Patagonia founder Yvon Chouinard and biologist Matt Stoecker, who is co-producing the film with Felt Soul Media's Travis Rummel, DamNation documents the current movement to dismantle outdated and dangerous dams across the United States. It also explores the history of U.S. dam-building and focuses on the environmental and economic impacts they've wrought. The film, which won a 2011 Mountainfilm Commitment Grant and is being edited by Ben Knight, is due out early next year.
With the Elwha River running nearly completely free and salmon populations starting to rebound, it's a good time to be a river. But the drama is just beginning to unfold. Watch the trailer, below, and then check out our Q&A with Travis Rummel and Matt Stoecker on the making of the movie.
What do you want people who watch DamNation to come away with, in terms of understanding the role that major dams and hydropower have played in American history and development?
Travis Rummel: There is absolutely no doubt that dams and hydropower have helped develop our country into what it is today. The industrial revolution happened next to rivers that powered mills and carried away their pollution. Many attribute the Grand Coulee and Bonneville Dams on the Columbia system with helping us to victory in World War II. We will definitely pay tribute to the role that hydropower has played in helping us get where we are today, but look at where we are. The continental United States is quickly losing its salmon and steelhead. A free-flowing river is an anomaly. We are beginning to realize the costs of divorcing rivers from the sea: beaches lacking sand and headwaters lacking salmon. Ecosystems are being stripped of the fuel that drives them. The beauty of dam removal is that it works quickly. This film is about hope and the power to restore what has been lost in the name of progress.
Matt Stoecker: Dams have played a vital role in building America. The people who built them were ambitious and well intentioned. But, like coal-fired power plants, dams have come with a high cost to the health of our shared environment. It's time for a shift to technologies that deliver truly clean energy, maximize water efficiency, and protect people and the environment. Replacing dams with such technologies achieves this vision and as the movie will hopefully show, any motivated citizen can lead an effort to remove a dam; it's how almost all of the successes have been started.
The argument for removing the outdated Elwha River dams (Elwha Dam and Glines Canyon) was such a no-brainer. What dams, in your opinion, are not such an easy call? Are there any major dams that you don't think should be deconstructed despite petitions to do so?
TR: It is easy to get on a soap box and say all dams should come down, but unfortunately it is not quite that clear. It would be shocking if even one of the 11 main stem dams on the Columbia came out in my lifetime. They simply produce a ton of hydropower and have a firmly entrenched federal bureaucracy in the BPA backing them up and protecting them at the federal level. Once you get to Chief Joseph Dam, just 545 miles from the sea, there is not even fish passage leaving the remaining 700-plus miles of the Columbia strikingly devoid of salmon and steelhead. 
MS: Dams are an outdated and destructive technology. We should start with removing the unsafe and unneeded dams first, but over the long-term we need to shift away from dams. Most existing dams lose storage capacity every year due to sediment being trapped behind them, the concrete gets old, reservoirs lose water to evaporation. Proven solutions are popping up around the world showing that alternatives to dams, like groundwater storage, damless diversions, off-stream reservoirs, restored floodplain function, water efficiency and conservation technology, regionally appropriate crops for farming, solar and wind power, and energy efficiency measures make more sense financially and in terms of our own security and reliability. I don't think removal should be off the table for any dam; it's more a matter of replacing the current benefits from dams with better options.
Rivers and dams evoke fierce emotions among those who oppose dam construction, as well as among those who support it. In filming DamNation, are you getting a better sense of where those emotions come from? 
TR: Rivers and water are powerful. The root of the disagreement comes from the perceived best use of a river. Should we simply let it be a river or exploit it for hydropower, irrigation or flood control? The latter options serve humans exclusively while just letting a river be a river serves the entire ecosystem. From colonial times through the 1970s the mainstream convention was that water flowing downstream was essentially water wasted.
MS: With hydropower there are definitely parallels with the emotions you see around issues like burning coal or nuclear power plants. Many folks touting hydro only focus on the lower greenhouse gas emissions compared to more dirty options like coal. But there's no such thing as "clean" or "green" hydropower at a large or medium scale. Hydro dams are to water quality and entire watershed ecosystems what coal-fired power plants are to air quality and climate change.
What is the journey like in making this film? What about it is surprising you? 
TR: The journey continues. After spending three months on the road shooting last summer and fall, we still have a lot of shooting to do and a whole lot of editing before DamNation is complete. The most compelling surprise for me is actually witnessing dam removal in person. It is incredibly powerful to see a river roar back to life after being constricted for almost 100 years. That being said, I always envisioned the monkey wrench approach of just blowing the dam up—the reality is so much more involved. People we have interviewed have literally spent their entire professional careers working toward a single dam removal. Their passion and resolve are really inspiring.
MS: It's been great to witness the size of the dams starting to be removed, the accelerated rate at which they are being taken out, to watch the instantaneous improvements to a river, and to meet the folks that have pushed the projects along for years in the face of being called crazy. There is a powerful movement underway in our country to revive our natural and cultural heritage. Hopefully our film will give this movement even more momentum. 
What about the trend toward small-scale hydro and mirco-dams? Does that type of energy development have a future?
MS: Even small-scale hydro dam operations are showing that they have significant negative impacts to aquatic life in most cases. For example, some small "green" hydro dams are causing fish kills downstream due to the massive fluctuations in water release. There are cases where micro-hydro can be done with minimal harm, but this is on an individual or neighborhood scale. We had a micro-hydro set up on a tiny creek near a lodge in Alaska where I worked. Salmon migration was not blocked, water quality was not impacted, and flows were not altered downstream. You just can't pull this off at a larger scale on a bigger creek or river. 
Have your opinions about hydropower and dams in general changed over the course of making the film?
TR: I never gave much thought to dams to be completely honest. Living in Colorado, they were always just part of the landscape I had grown to know. After spending so much time wrestling with the issues around dams, I am beginning to appreciate how truly destructive dams are on our landscapes, native cultures and anadromous* fish populations.
MS: Having been a part of small dam removal and working on larger ones for a decade now, my views were only reinforced by the destruction observed at other dams and the renewal observed at the places where dams have been removed or are being removed.
*Anadromous fish migrate upriver from the sea to spawn.
—Mary Catherine O'Connor
@mcoc