A Park Slope Transplant Wrote a Story About Boulder…
And things got rocky fast. Our correspondent talks to Jennifer Miller about Colorado, misconceptions, and a mysterious type of footwear called "hiking sandals."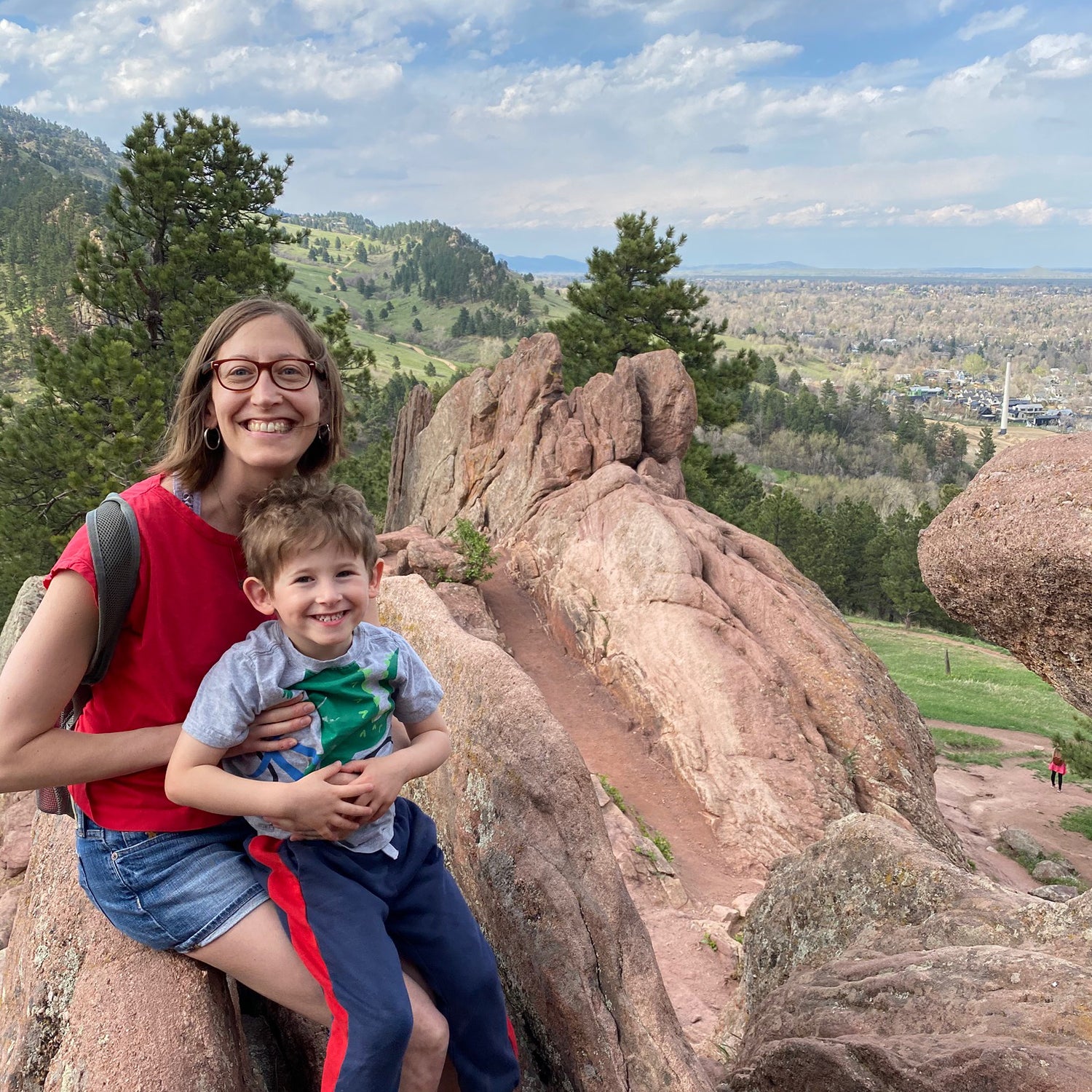 Courtesy Jennifer Miller(Photo)
Heading out the door? Read this article on the new Outside+ app available now on iOS devices for members! Download the app.
Hell hath no fury like social media does for a well-meaning Brooklyn mom and writer who shared her story about living in Boulder, Colorado, during the pandemic.
This harsh truth became apparent on March 8, when The Washington Post Magazine published a piece by Jennifer Miller about moving with her family from Brooklyn's Park Slope neighborhood to Boulder, where she lived for most of 2020 and into 2021. The article is an amiable part of a special issue on spring travel, but an army of trolls, angry Boulderites, and Front Range truthers took to their devices to rip it to shreds. Their insults—which showed up in the story's comments section and on social media—ranged from "lmfao did WaPo really just publish a whole ass article about some yuppies moving from one place to another" to "I'm almost in awe of how clueless this woman is." We reached out to Miller, who said she hadn't read the comments (good idea!), to find out how it feels to be the victim of a Colorado landslide.
Outside: Did you have any idea your piece would be greeted with such over-the-top vitriol? I mean, it's not like you stomped on a kitten. Why are people so fired up?
Miller: I honestly didn't think a lot of people were going to read it. It's a travel issue of The Washington Post Magazine—who even reads special issues? But it ended up on the Post's home page, I guess, and got traction. I was expecting some pushback, like, Here's this white, privileged woman writing about fleeing the pandemic, but I didn't think Boulderites would get really angry. I thought they would understand that this was meant to be a fun fish-out-of-water piece.
Have you read the comments on the article itself, on Twitter, Reddit, and other social media platforms?
Oh, God, no. I never read the comments on any of my stories—and I don't for this precise reason. Because I think people have strong feelings about things, and they use those platforms to express those feelings. I don't need to engage with that. If people have constructive feedback, I'm happy to hear it, but those platforms are often used only to vent.
Do the reactions change the way you feel about Boulder or Colorado or people in general?
It's funny, right? There's a part in the story where I talk to a guy who was dressed up in drag on a street corner, who's standing near two opposing groups of protesters. I asked him why he was out there, and basically he said, "Because there's too much tension and animosity on the other corners." To me, that's Boulder. It's that open-mindedness and sense of freedom, and people are able to be who they are. I guess if the story is getting that kind of negative reaction, that's contrary at least to this one gentleman's view of what Boulder is.
I thought Boulder or Coloradans would understand that every place is incredibly complex, and that in a 2,000-word story—which is first person and based on my specific experience—all I can do is describe what happened to me. If you want a story that's about what it's like to live in Boulder and be a longtime Boulderite, and you observe the changes, that's a story worth writing and thinking about. But that's not a story for the spring travel issue of a magazine put out by The Washington Post. That's a hardcore feature that you report when we're not in a pandemic. That wasn't the story I was asked to write, and it's not what I wrote.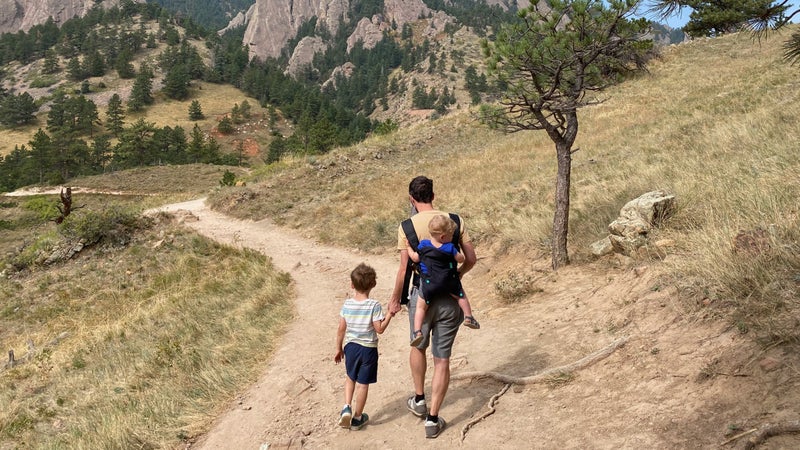 I've heard people calling you out for not having a real connection to Boulder. For example, they took issue with your use of formal names for trailheads, like the Walter Orr Roberts Trail, which locally is known as NCAR, which is a reference to its location behind the National Center for Atmospheric Research lab.
But for readers of The Washington Post Magazine, this is a travel story, and if you're traveling to Boulder, you need to be able to easily locate the things that are referenced in it. In terms of trailheads, it doesn't matter what Boulderites call it. You have to be able to Google it to know where you're going.
I thought this comment from an angry reader of your story was hysterical, because there's some truth to it: "They were so into it [Boulder], they actually think it's interesting." I've been to Park Slope, and I have to say, it's a lot more culturally stimulating than Boulder.
It's not really fair to criticize one place for lacking aspects of the other. Both cities have special things to recommend them, though I wouldn't say broth tonic is one of them.
OK, having lived 13 miles west of Boulder for 17 years, there are a few things that I have questions about. Starting with: What the hell are "hiking sandals"?
They're like Keens or Tevas—basically sandals, open-toe, with tread, and people wear them hiking, and everyone I saw on the trails last summer wore them. I called them that instead of their official names, because I didn't want to give free publicity to big brands.
Look, the fact that I'm calling them hiking sandals and saying the Walter Orr Roberts Trail and not NCAR—this shows we are outsiders. That's the point. The story is about the fact that we are New Yorkers who don't belong here, and who on that day were ruining the experience of people who were hiking with us. It could not be more self-aware.
Where did you read that the average summertime humidity in Boulder is zero percent? Several weather websites say it's in the 40 to 50 percent range. 
I found that information online. 
Ah, I see. This site is talking about the "feels like" humidity of Boulder in summertime. From someone used to eastern humidity, that's probably accurate—that is, it would feel like zero percent.
Totally. In New York during the summer, it's like standing in the shower all the time.
You mentioned that you can drive 4,000 vertical feet in Rocky Mountain National Park "in just a few minutes." You also mentioned how harrowing the drive was for you. Where were you that you climbed that high that quickly?
That is directly off the website for Trail Ridge Road in Rocky Mountain National Park. That's from the base to the highest point above the tree line. And it did not take us more than 15 minutes to get from the entrance of the park up to above the tree line.
In the story, you mention letting your kid "jump in" the Blue River in Breckenridge, and that you kept "one eye on him and another on the quaint shops and cafés." That's a real river with a strong current, so this part confused the heck out of me. 
We're talking about the part of the river that's right in downtown Breck. All the kids were down there, playing in that river. They were all wearing their hiking sandals. [Laughs.]
I've seen comments from people demanding that you "check your privilege." They also call you "tone deaf" for saying things like, "It was an opportunity for us to test-drive a new kind of existence, even be a different kind of family." What would you say to them?
I would say that I do check my privilege in the piece. I even use the word! And again, it's a travel story. The point of traveling is to try on a different existence. I think that's something a lot of people might be interested in doing if they had the chance. Or if they were lucky—and privileged—enough to have family willing to take them in during a pandemic.
One commenter wrote, "You shouldn't be writing CO articles yet, your voice is that of an outsider and it hurts to read." Should only insiders be allowed to write about Boulder?
Then it wouldn't be a travel story. It wouldn't be a story for people coming to check out Boulder. I'm sure the insider would have lots of cool recommendations—which, it turns out, I wasn't able to experience or know about because of the pandemic. From the jump, I make it clear I'm an outsider and that's the point of view you're getting. 
I noticed that you left some of Boulder's less perfect stuff out—the year-round homelessness problem, all the millennials who swarmed Boulder Creek last summer, completely disregarding the mask mandate. Did you not see these things, or did they not fit into the narrative?
I'll answer the second question first. Again, because this was written for a time when people can travel to Boulder freely—that is, post-pandemic—you hopefully won't still have the kind of University of Colorado chaos you mention—that is, the people in Boulder Creek. But, yeah, I was well aware of the university and problems students can create. As for the homeless problem, I guess… put it this way: I'm coming from New York, so what I'm seeing here is what I'm seeing back home.
What was your takeaway from all this?
Don't read the comments! Other than that, all I can say is that I recognize both our privilege and our outsider status. It's all there in the story. And, yes, Boulder has shown us a different kind of existence—in a really good way. But we're still going back to New York.
Lead Photo: Courtesy Jennifer Miller