Cannabis-Infused Beer Is Hitting Shelves
It's alcohol-free—the THC provides the buzz. And it's healthier, say its makers.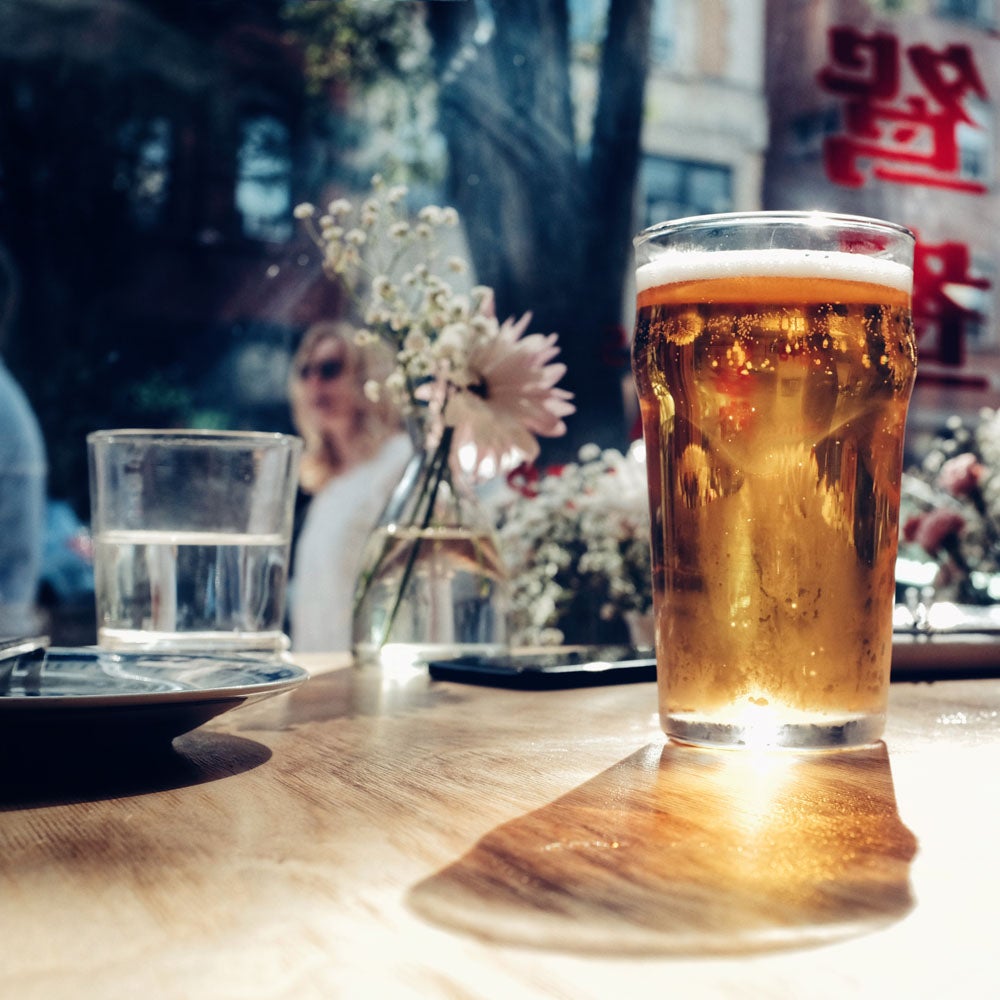 Heading out the door? Read this article on the new Outside+ app available now on iOS devices for members! Download the app.
Nonalcoholic beer sometimes feels like it's missing that certain je ne sais quoi. Makers of cannabis-infused beer have a plan to change that.
"Alcohol is being consumed less and less by young people, and they're looking for an alternative that tastes great, has fewer calories, and doesn't give you a hangover," says Keith Villa, who has a Ph.D. in brewing from the University of Brussels and is the cofounder of Ceria Brewing Co., which is producing a new cannabis-infused, nonalcoholic beer called Grainwave Belgian-Style White Ale. Villa was the brewer behind MillerCoors's Blue Moon Belgian Wheat, the iconic macrobeer that was many drinkers' first introduction to the craft style. Villa left MillerCoors in early 2018 and started his cannabis beer company in Arvada, Colorado, shortly afterward. "With this generation of young adults, no one wants to lose control and end up seeing their image on Facebook or Instagram," says Villa, citing his two twentysomething daughters and their disinterest in alcohol as part of the impetus for Ceria.
His solution? Microdosing nonalcoholic beer with five milligrams of THC per bottle. Grainwave is the company's first offering and provides the familiar ritual and taste that so many of us equate with socialization and relaxation. And it's socially acceptable in a way that vape pens aren't. Grainwave's flavor is just like a typical Belgian white, and the THC provides the good vibes. Because the THC is in liquid form, it's absorbed faster than your standard edible, which can take up to an hour to be felt. Villa says you start to feel the effects in about 15 minutes, similar to how fast alcohol works. This keeps you from Maureen Dowd–ing, taking in a giant dose because you don't feel anything after the first 20 minutes.
Grainwave's flavor is just like a typical Belgian white, and the THC provides the good vibes.
The Alcohol and Tobacco Tax and Trade Bureau, a federal agency known as the TTB, legally prohibits making beer that includes both alcohol and THC. But nonalcoholic beer isn't regulated by the TTB. In Colorado, it's regulated by the MED, the state's marijuana enforcement division. Currently, Ceria is available at 50 Colorado dispensaries and a ten-ounce bottle retails for $9. Villa hopes it will soon be available in other states where recreational marijuana is legal.
Kevin Love, director of product development at Two Roots Brewing Co. in San Diego, which has five styles of nonalcoholic THC beer available in California and Nevada, says he wouldn't want to mix alcohol and THC. "The whole goal is to get away from alcohol and to have a healthier alternative," he says.
THC wine is coming, too. Saka Wines, of Napa, California, plans to offer rosé infused with both CBD and THC, available in California dispensaries in March. CannaVines, another Napa-based company, says online orders for its CBD-infused red, white, and rosé wines will begin soon. You can taste them now if you go on a California Wine and Weed tour.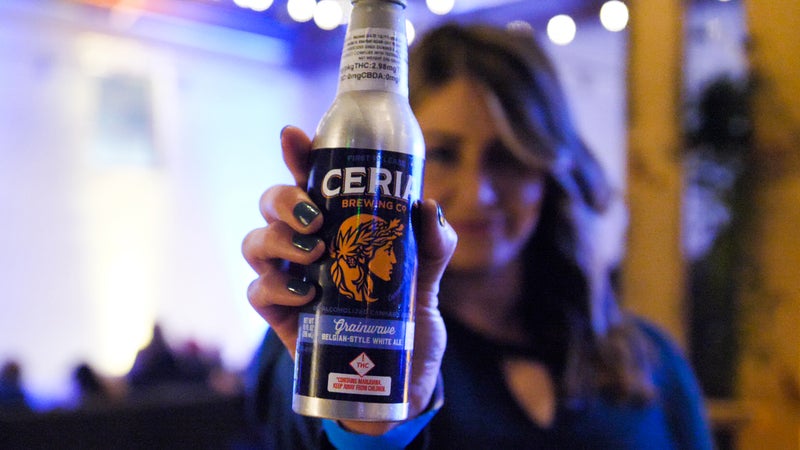 Meanwhile, CBD beer is on the rise. The 2018 Farm Bill made industrial hemp—and therefore CBD, a nonpsychoactive cannabinoid found in hemp—legal across the U.S. In theory, mixing CBD and alcohol isn't as much of a quagmire. However, it is still pretty tricky to get products approved. But a few brewers across the country are trying it, hoping to tap into the sudden American interest in CBD as an alternative treatment for anxiety, pain management, and insomnia.
When I asked Phil Boyle of Portland's Coalition Brewing what to expect from drinking his brewery's CBD-infused Two Flowers IPA, one of the first CBD beers available on the market, he gracefully sidestepped the question. "It's a beer, so we have to be careful and not make any claims of how you will or will not feel," he said. "It's up to the individual drinkers to determine how it makes them feel."
Since I'm not a beer maker, I'll put forth my bold prediction on what to expect. CBD makes me sleepy, and beer, a depressant, can send me in that direction, too. It stands to reason, then, that with four milligrams of CBD per serving, I may have to be carried out of the bar after two rounds of Two Flowers IPA. The difference, though, is that this time it won't be because I'm two sheets to the wind—it will be because I've punched my first-class ticket to dreamland.
For Two Flowers IPA, Coalition had to go through a special inspection by regulators to be able to produce CBD beer. Currently, the brewery is only selling it in stores and taprooms throughout Oregon, because federal regulations to sell it elsewhere are too cumbersome to navigate. In Aurora, Colorado, Dads and Dudes Brewery sells its CBD-infused IPA, called George Washington's Secret Stash (named after our first president, who grew hemp), in its tap room, where you can also pick up a six-pack.
Villa wants to see the stigma removed around cannabis use. He's tired of watching people park two blocks away from the dispensary and sneak out the back with their bud wearing hats and sunglasses. He thinks beer is the way to bridge that gap.
The THC and CBD beers that are available now must be bought in their home states, so if you want to try one, you need to go to Colorado, Oregon, Washington, California, or Nevada. But those working in the industry think that the pace of getting things approved is starting to pick up. "By 2022, we think we'll be federally legal," Villa says of Ceria.
This year Ceria will introduce an American light lager with 2.5 milligrams of THC per bottle, and an India pale ale with ten milligrams per bottle, to offer a range of dosages to customers.
Villa wants to see the stigma removed around cannabis use. He's tired of watching people park two blocks away from the dispensary and sneak out the back with their bud wearing hats and sunglasses. He thinks beer is the way to bridge that gap. "I want to see people taking Ceria beers to family functions, to get-togethers for the Super Bowl. That's the day we're really looking forward to," he says. "I think beer is going to make cannabis more and more acceptable, to where we see the stigma gone in the next five years."