Create the Perfect Outdoor Kitchen with These Pro Tips
Ashley Rodriguez, host of the 'Kitchen Unnecessary' YouTube show, shares her favorite tricks for creating delicious meals outside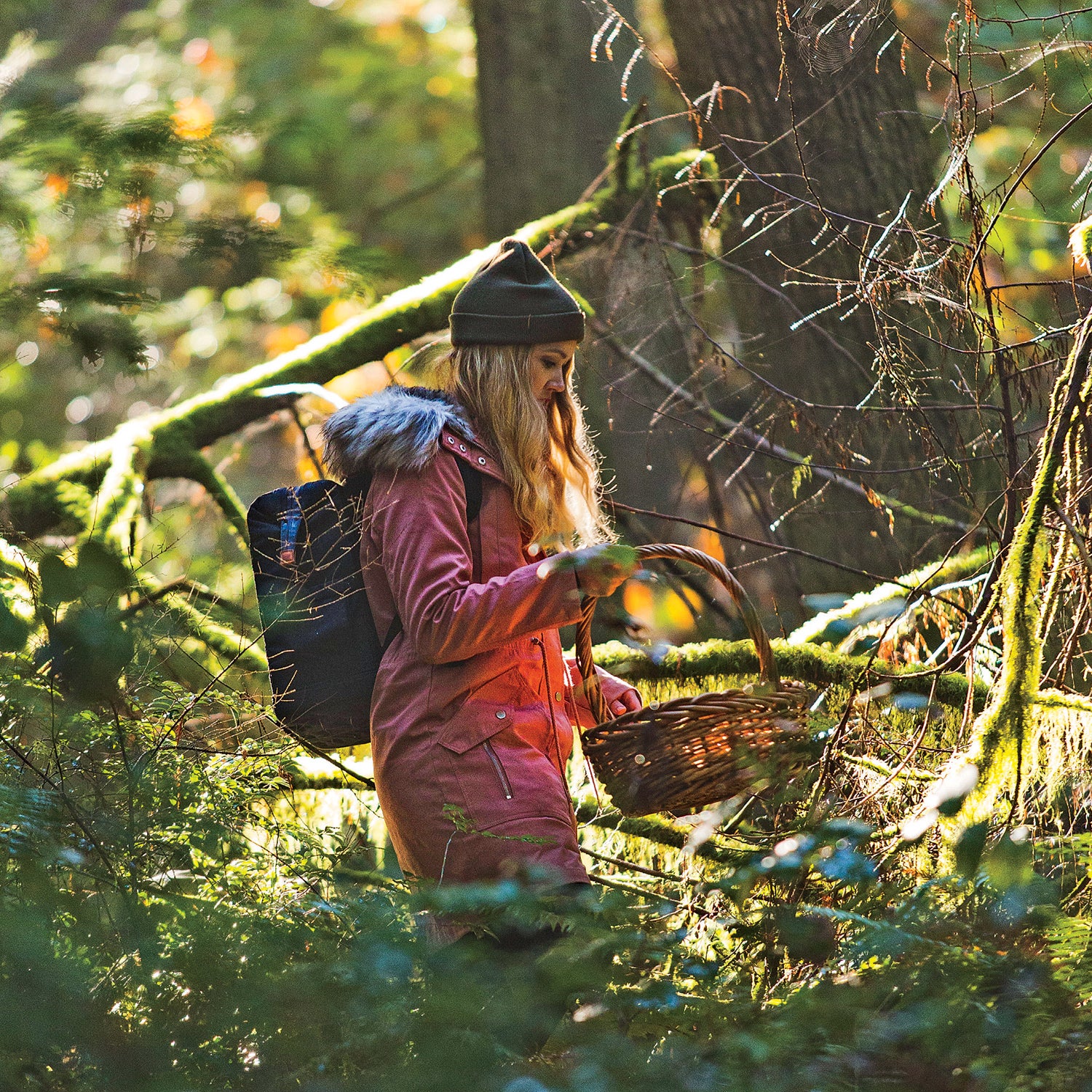 Gabriel Rodriguez
Heading out the door? Read this article on the new Outside+ app available now on iOS devices for members! Download the app.
Ashley Rodriguez has taught cooking classes, worked at Wolfgang Puck's Spago restaurant in Beverly Hills, California, and done professional food photography. She also writes and hosts Kitchen Unnecessary, a James Beard Award–nominated YouTube show that she created about cooking outdoors with wild ingredients. That's how we found her.
"I have made smoked clam carbonara, with the waves of the Salish Sea lapping at my fire, and spiced buttery biscuits cooked until golden on top of rosy-hued apricots in the Cascade Mountains," says the chef, who is based in Seattle.
These days, Rodriguez is putting together her third cookbook (she offers a multitude of outdoor-cooking recipes on her website), and she was recently certified as a nature-and-forest-therapy guide. "Cooking outside is a beautiful way to connect deeper to the earth—something we need so desperately these days," she says. When she isn't cooking or eating, you will find her foraging for mushrooms or oysters, fly-fishing, or feeding her sourdough starter. We asked Rodriguez to walk us through what we need to cook delicious meals outside.
---
Ashley Rodriguez: My preferred way to cook outside is over a large fire pit. Most campsites have one. In an ideal situation—private property, for example—I would dig my own, to make it easier to have different cooking zones for grilling, braising, and smoking. I have a collapsible grate that I bring with me to set over low flames and hot coals. To ensure high, even, long-burning heat, I use hardwood, which I bring along or buy at the campground. If there's room in the car, I'll pack a large bag of hardwood lump charcoal to help get the fire going more quickly. I also bring a Coleman double-burner camp stove for boiling water in the morning or to use if there's a fire ban in place.
When I'm cooking in my backyard, I use a Weber charcoal grill that I love. Nothing fancy. Just classic and dependable.
I keep a camp-cooking pantry at the ready. It includes olive oil, salt (both flake and sea salt), pepper, vinegar, Dijon mustard, sugar, and all-purpose seasoning I make myself (ingredients: salt, pepper, chili powder, lemon, rosemary, thyme, and dried mushroom powder). I keep everything in a lidded plastic container. I have a checklist on top and mark anything I run out of so I can replace it before the next adventure.
Everything is a bit more difficult at a campsite, so I prep whatever I can at home. Vegetables are washed and cut, greens are washed, salad dressing is made. That way all I have to do is assemble and cook. Coming from a background in restaurant kitchens, I have an affinity for storing produce in Cambro containers, which are washable and reusable.
Depending on the season, I try to incorporate ingredients from the wild. Greens are abundant in spring, berries in summer, and mushrooms in fall. I love to roast meat over a bed of pine and maple. The meat is fragrant and incredibly tender. Pork shoulder, beef, and lamb all work well.
I always have my knife bag packed and ready to go. In it I keep all my kitchen essentials: knife, Microplane, oyster shucker, wooden spoon, fish spatula. My go-to outdoor knife is the Opinel No. 8. While I often bring a larger chef's knife, this slim little blade helps me prepare a restaurant-worthy meal.
I have a small collapsible table that I set up close to the fire to keep tools and ingredients at the ready. I use part of the camp picnic table for prep and have others prep there as well. Camp cooking is always a group effort.
My best advice is to let people help you, and be present. Cooking outside is delightfully unpredictable. The wind, coals, and weather play a major role in how soon dinner will be ready. Be ready to adjust at any moment. This way of cooking is instinctual, and it's the reason I love cooking outside over a fire. Oh, and always make sure the fire is completely out before leaving. Douse the pit with plenty of water.