Don't Drink and Ski
Put the beers in the snowbank. Drinking while shredding—or running or biking—is for Joes, Chads, Barts, and Squis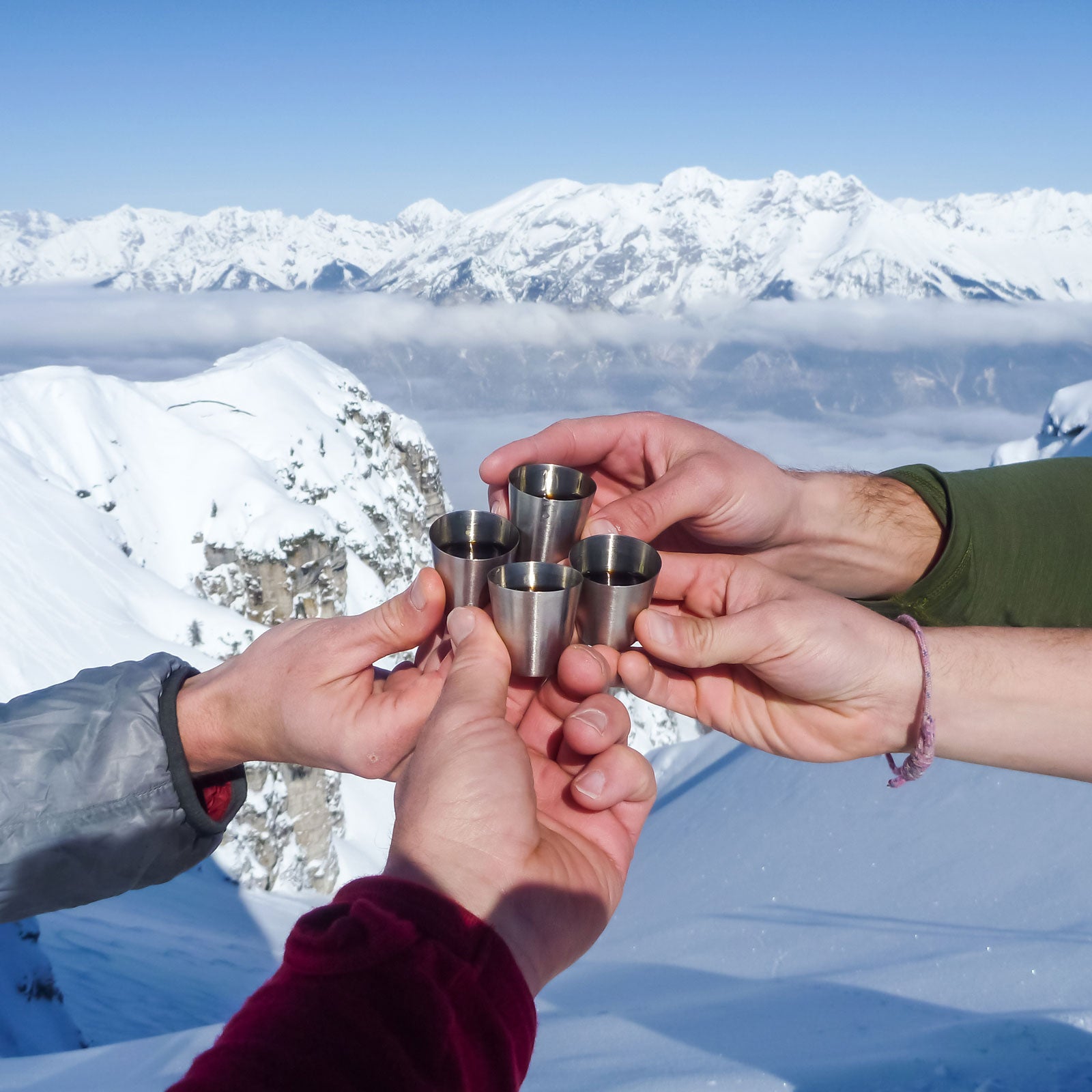 Heading out the door? Read this article on the new Outside+ app available now on iOS devices for members! Download the app.
The poseurs are day drinking.
My son and I are standing in the gondola line at Jackson, waiting for patrol to finish avalanche control so the lifts can start spinning and we can reap another day of untracked snow. With more than a foot of fresh overnight, it's a powder Saturday in February. We've driven up from Colorado to catch the three-day storm, sleeping in a friend's van in the "no camping" parking lots. (Screw the man!) The crowd is jittery with anticipation. But while I'm still working on a pocket breakfast burrito, three out of the four groups around us in the corral are drinking Coors Light from cans.
I'm incredulous. Skiing is an athletic pursuit. You need to have your legs under you. Gotta get your breathing dialed. Even with fat skis, skills are helpful for powder. At the least, one has to be alert enough to make split-second decisions so as not to leave teeth in bark. But here, at one of the best big-mountain resorts in North America, at 8:30 a.m., skiers and snowboarders are pounding suds. By all appearances, they aren't clueless vacationers—they're locals. I can tell because they have all the right gear, including the telltale accessory of the try-hard townie, the Kinco work glove, with an oversized phone in one poorly insulated hand and a "cold can" in the other. My son calls them "Wyoming hype beasts."
Locals…pounding beers…on a powder day. Oh, the humanity.
Yeah, yeah, drinking and skiing have a history: I watched visiting French ski instructors plying their clients with wine back at Copper Mountain's Club Med in the '80s. Hot dog–era glam skiers with the wind in their hair sipped schnapps from bota bags before that. And certainly Jets fans still drink at mid-mountain lodges throughout Vermont. I also knew one New Hampshire tree-skiing buddy, the wood booger of all wood boogers, who was locally famous for carrying "three sticks and a six" in his parka on big days. But his family had a special tolerance gene. For any serious skier, day drinking has been a long-honored taboo. Now it's part of poseur culture, like work gloves that make you look like ski patrol, the custom-built skis that ski like garbage, and—huge apologies to my buddy who loaned it to me 'cause it's freakin' sweet—the Sprinter Van my son and I slept in around Jackson.
I get it—beer culture is intertwined with mountain culture. This is especially true today with the craft beer movement, because, by edict, every mountain-town craft brewer must grow a beard, carry a slight paunch, wear a tattoo of hops, and ski and bike with winded enthusiasm. I, too, love a crisp German pilsner or three after skiing or backcountry mountain biking with friends. Endorphins pair well with malt barges, preferably served outside with nachos. But drinking decorum has been lost. Here's a reminder of how it should work: Après-ski happens after you ski. Learn something from your elders, and bury the beer in the snowbank until the hibachi is flaring with moose burgers and it's time to tailgate proper-like.
Lately it's not just skiing that's mixed up about when to drink. Day drinking is now part of organized endurance events like bike races and runs. I entered the 50-mile Steamboat Stinger mountain bike race a few years ago. Near the top of the fourth monstrous climb, a slew of supporters were out trying to hand beers and shots to competitors. I blame this on the growing influence of northern European cyclocross racing, which consists of a muddy circuit around a beer garden. Cross and cross drinking, I'm convinced, were originally thought of as tandem cure to seasonal affective disorder.
Just as it's not OK to drink and drive, it's not OK to drink and ski—or ride bikes at the bike park, for that matter.
The revelers in Steamboat were well-intentioned, but in my already wasted state at the top of Emerald Mountain, the peer pressure to drink was immense. They were screaming at me to pound beer from plastic cups like my college rugby team—a part of my life I thought I left behind when I started riding bikes. But even though I wasn't fighting for a podium that day, I was racing at high speeds. You know, trying not to crash while finishing in a respectable time. And violently vomiting from rotgut whiskey was not part of my 12-step training regimen. What about the poor bastards who took up riding after AA? Not everyone in the world needs to be harassed to chug. Kindly show your support in another manner. Like with a mist of water. Or a slice of bacon. Or a shot of espresso. Beer hand-ups to racers went out of favor at the Tour de France in the 1960s.
Vomiting isn't an embellishment. Last summer, a friend of a friend entered a team event in Missoula called the Mullet Cycling Classic. One XC mountain biker would race the uphill (business up front) and tag their partner for the enduro-style downhill to the finish (party in the back). Race officials offered two general categories, the second of which was "Party." In the Party class, the uphill rider had to chug a beer before making the tag and sending the downhiller, who would chug after crossing the finish line. As it was described to me, the transition zone was full of gassed riders actually vomiting while they guzzled.
Now, that shit might fly with Supreme Court justices, but who said it was part of exercise?
Oh, the backers of the Beer Mile, that's who. Haven't heard of it? The official motto is "Four Beers, Four Laps." The events—more than 7,000 to date—happen on tracks, and the rules stipulate, among many other details, that "ladies" (their word, bunch of Barts) also must drink four beers. And oh yeah, those wide-mouth cans are illegal; same with that wretched hard cider they sell to preteens. It's the tenth rule, though, that's most relevant to the topic at hand. "Competitors who vomit before they finish the race," the organizers specify, "must complete one penalty lap at the end of the race." The current world record is held by—no surprise here—a Canadian, who ran and drank a 4:33.6-minute mile.
OK, that's super-impressive, actually. And although it in no way looks like anything I'd call fun, and it sure as shit isn't good for you, the Beer Milers and the Mullet Party Class drinkers look like they're having a hella time out there, so who am I to judge? Drink up if getting sleepy by 2:00 p.m. is your thing. The only person you're going to hurt is yourself. Hell, drink and surf with white sharks if you want to. This ain't no nanny state.
But just as it's not OK to drink and drive, it's not OK to drink and ski—or ride bikes at the bike park, for that matter. Most important, there are little kids downhill of you. Less vitally, the joy you get from shredding at the height of your abilities is a thousand times more spirit lifting and long lasting than the three-beer buzz you hamstrung yourself with in the lift line.
Next time your buddy breaks out pocket beers, you have to ask yourself, "Am I a skier? Or am I a Squi?"
Lead Photo: Wild-Spirit/iStock