Outdoor Meccas Are Not a Social-Distancing Hack
As wilderness hubs like Bishop and Moab shutter their gates to visitors, what's an outdoor lover to do during a pandemic? We're here to help.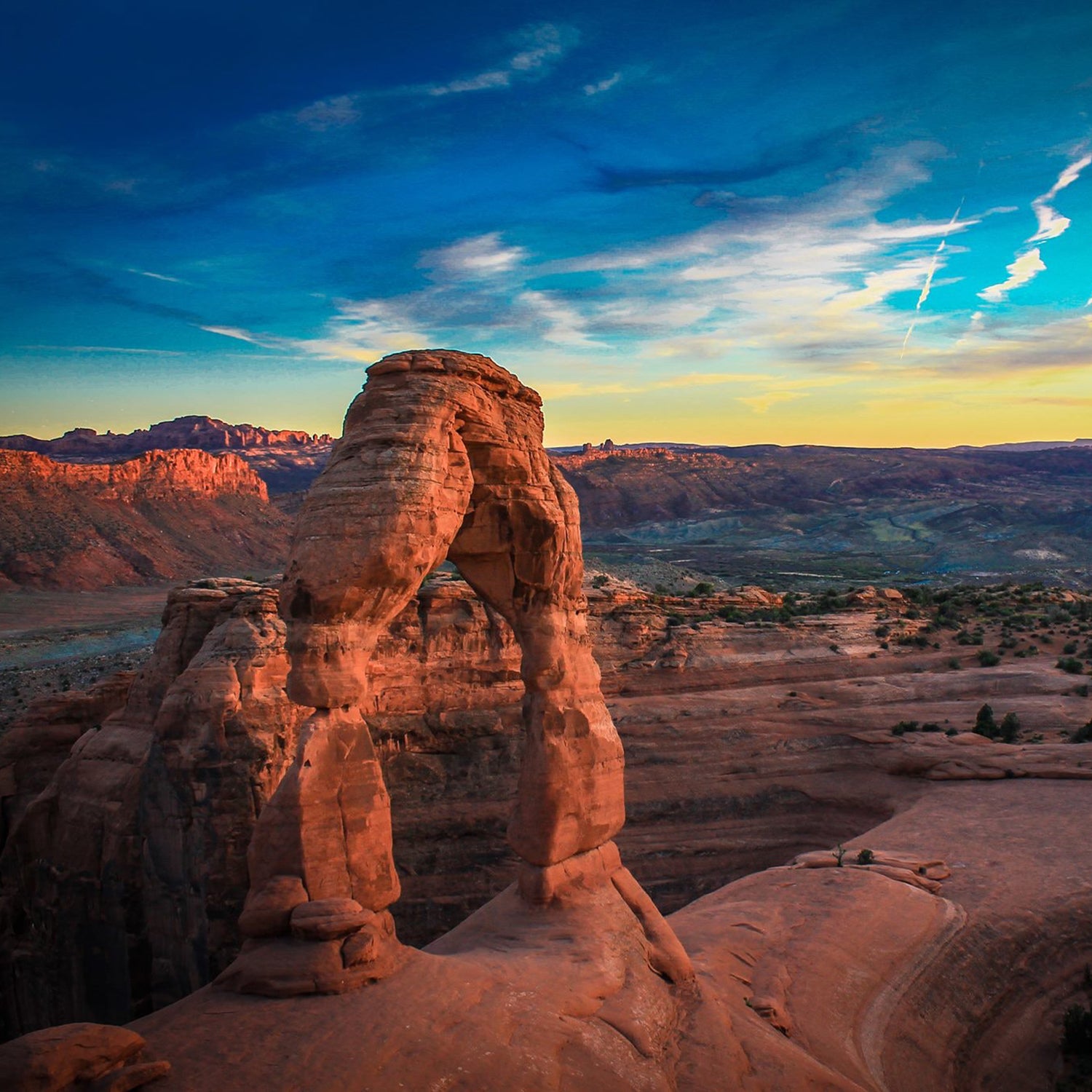 Heading out the door? Read this article on the new Outside+ app available now on iOS devices for members! Download the app.
As the coronavirus washes across the country, with closures and restrictions rippling before it, one impulse has been to grab some supplies and light out for the hills—or the desert, or the crag. Out there, the thinking goes, there's clean air to breathe, fewer people, and less contagion. 
But this Huck Finn approach to the pandemic is quickly running into the realities of the modern world, and how disease spreads, and its speed, and the consequences of our actions. 
Already there's a new message for most of those pioneers, and it's being shouted by everyone from tourist offices to ethicists: Come back to the raft, Huck. And park it, for two- to four weeks. Maybe more.
Even one week ago, people seemed to be looking for safety in the boondocks, or thinking of doing so. California State Parks received about 97,417 camping reservations between February 1 and March 11, about 80 percent more than during the same period in 2019. In Texas, a park official told Outside this week that Big Bend National Park "is packed." Sales of the tent Roofnest have more than tripled since the outbreak began, the company reports. Climbers poured into Bishop, California, in the eastern Sierra, and New Hampshire's North Conway. (Last weekend, a long line of cars carrying residents of Seattle, the national epicenter of the outbreak, arrived at their second homes or rental homes in the rural mountain valley where I live in Washington state, their SUVs laden with clothes and bikes. They stopped on the way into town to empty our grocery store of fresh vegetables and the good coffee.)
But something shifted this week, and quickly. Perhaps it was simply the ever-evolving situation with the virus. On Wednesday, California State Parks closed those same campgrounds it was reserving. Suddenly, getting away from it all didn't feel necessarily wise at all. Instead, it felt almost like trying to outrun the tide. Worse, it seemed selfish. In a much-shared article on the climbing site, ThunderCling, Dave McAllister scolded the Bishop climbers who had arrived to play, and hide out, with seemingly no concern for their potential impact on a community that has a significant proportion of older people and has limited medical resources. As Paula Flakser, a Bishop local and climber, told McAllister: "I, personally, am livid seeing people use this as an opportunity to take a climbing vacation 'away from it all.' You are not away from it all. You are just going to a different type of community."
On Tuesday, the American Alpine Club published a note to climbers asking them to postpone climbing trips in which they would hang out in small towns such as Bishop. "This is not the time to head to the desert or rally to your favorite national park for "social distancing," AAC's note read. It was an unprecedented admonishment, at an unprecedented time, acknowledged Taylor Luneau, the club's policy manager. "I think the context of 'social distancing' got spun up with the idea of, 'Hey, now is a good time to be outside,'" Luneau said. "The problem is that it leaves out the issue of, 'Hey, I stop at the gas station along the way, and I go to the store," he said. "There's multiple touch-points where you potentially interact with other people." The response to the note has been mostly positive, he said. 
But maybe no place shared the same experience as Moab. In early March, the usual, large, late-winter crowds began to assemble around Utah's red rock adventure town to bike, hike, and off-road. But something felt "eerie" about the scene, said Mayor Emily Niehaus. Though public lands spraddle around the city, Moab itself is small, which means few resources if and when the pandemic arrives.
Moab is safer if you stay home, the mayor said. And you're safer too, because there are likely more medical resources where you are.
Utah took some actions in early March, including closing schools for two weeks. By Monday, however, the top brass at 17-bed Moab Regional Hospital was extremely worried about the pandemic. They wrote a strongly-worded letter to Herbert. As many as 6,000 people from all over the country could be on their way. "Please. Do. More. Now," they wrote, in boldface letters.
On Tuesday, the Southeast Utah Health Department did just that: the three-county health department closed all bars and restaurants (except for take-out orders) and prohibited all lodging—hotels, Airbnbs, campgrounds—from taking new guests who are not primary residents or essential visitors, among other actions. The order applies for 30 days.
It was bold. It was meant to be. Mayor Niehaus said officials are trying to send a message that Moab can't accommodate people who think they can come there and practice 'social distancing.' The local hospital has just 17 beds, she said, and right now it is running so low on supplies that the local sewing community is stitching face masks. And there aren't even any confirmed cases in the community, yet. What if a visitor arrived carrying the virus and spread it? she asked. Or, worse, had an accident—as people do, in Moab—and contaminated a bunch of people at the hospital? she said.
Moab is safer if you stay home, the mayor said. And you're safer too, because there are likely more medical resources where you are. "This is not the time for vacation. And then, when this pandemic is over, I'll see you in Moab."
Some people seem to be getting the message. Reservations were booming in February for Native Campervans, which rents 45 tricked-out rigs for road trips around the West. But "we've seen just a mass exodus of customers canceling, right now," said Dillon Hansen, one the co-owners.
Concerned, too, about the impact of their business, on Thursday the company rolled out a new policy that restricts where renters can take their vans: no national parks, no gateway communities. "We value the small towns and gateway communities that surround our National Parks and other destinations which is why we have to advise responsible travel to them," the policy reads. The company asks renters to pick up any necessities in big cities near the van pick-up spot, and to use the van for dispersed camping, away from others.
"We understand this is going to cause more cancellations," Hansen said. "But I feel if we don't do our part to slow the spread of this disease, then we're just contributing to this outbreak." 
What is an outdoor lover to do right now? The signals can be confusing. This week, President Trump said to avoid discretionary travel. On the other hand, the federal government also just waived national park entry fees. So, which is it—Get out? Or stay home? Perhaps there's a third way: Stay home, but head out. 
"The thing to be doing is to isolate. That's the only weapon we have," said Arthur Caplan, director of the Division of Medical Ethics at the NYU Grossman School of Medicine. "And that means not spending time with other people. It's not to stand with 300 people at a rock-climbing venue. If we want to re-create Italy—meaning their death rate—we should continue to wander around." 
You can still go outside and recreate, Caplan said—but go outside with your dog. Don't be hanging around with other people. "Again, we're talking about a month. It's not like the cruelest confinement ever imposed on a human being," he said. "You can watch rock-climbing videos." 
Go walk the dog. Put your face to the sun. Listen to the spring birds. Even Californians, all of whom are under lock-down as of Thursday night, are allowed to go for a walk or a run, so long as they're alone. "I can't underscore how restorative I think that is," especially during this time of uncertainty and anxiety, said Land Tawney, president and CEO of Backcountry Hunters and Anglers.
Tawney said his children are old enough to read the headlines. They are scared. So the other day his family went for a walk in the woods, away from others. They built a small fire. Then they crumbled up headlines about the coronavirus, and tossed them into the flames. "When I came back," he said, "my brain was in a much different place."
Lead Photo: SoloTravelGoals/Unsplash