6 Ways Chefs Elevate Their Camping Meals
Consider it your guide to eating better in the backcountry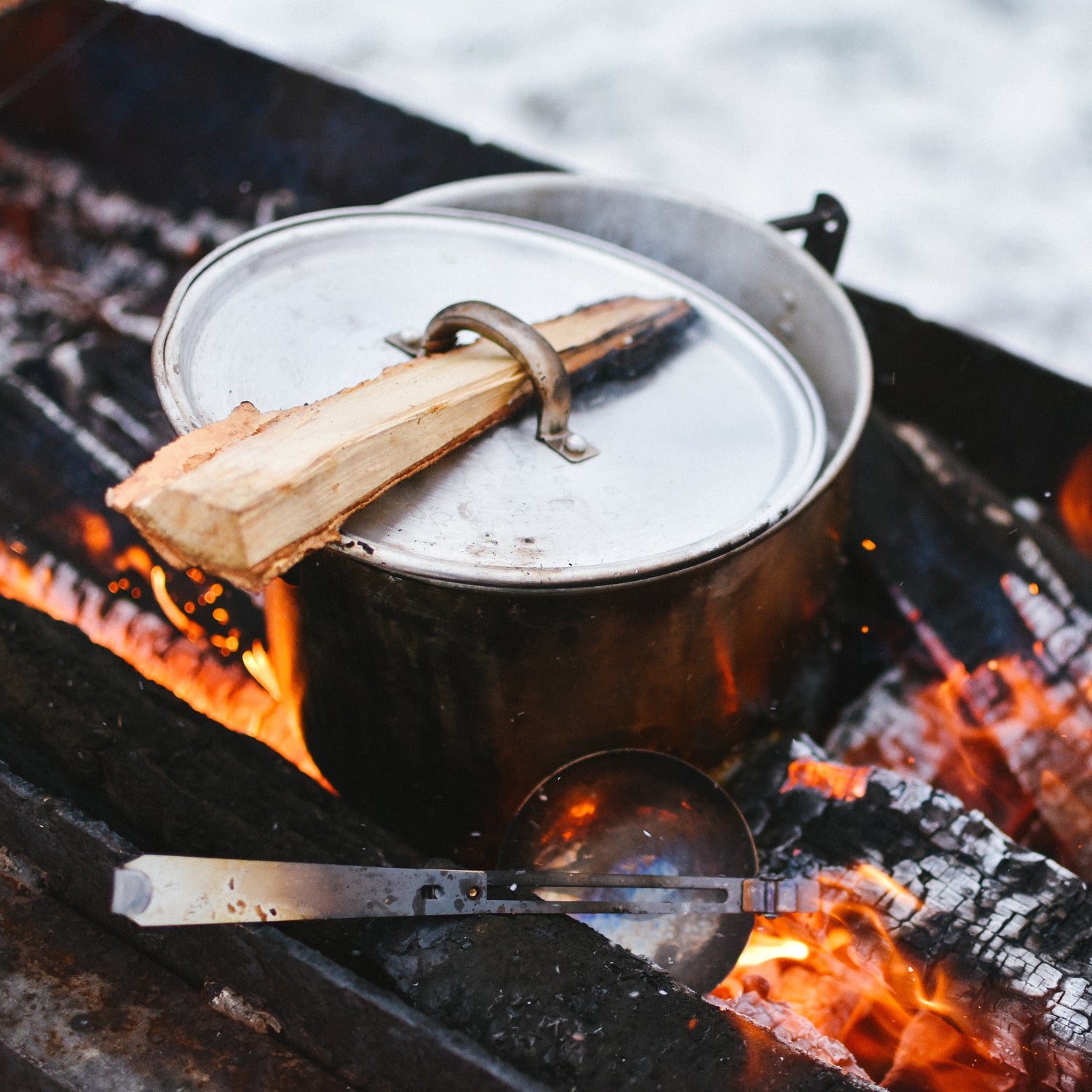 Alex Ruban/Unsplash(Photo)
Heading out the door? Read this article on the new Outside+ app available now on iOS devices for members! Download the app.
If there's one thing chefs love, it's being told to make something delicious in an impossible situation. Which is why so many of them go nuts on backcountry meals. "Cooking outdoors over a campfire is one of my favorite things to do—no matter what the season," says Josh McFadden, a chef at Ava Gene's and Roman Candle Baking Co. in Portland, Oregon. "But it takes some practice, patience, and skill to master a live fire cookout in the woods."
But it's worth it. We asked five outdoorsy chefs their genius techniques to elevate our backcountry camping fare, and all agreed that you should start by giving the pink slip to your stove. Unless you're in an area where fire is prohibited, an open flame is always going to yield better, more flavorful results. Now go forth and heed their favorite dirtbag gourmet advice.
Learn the Wonders of Heavy Duty Foil
"Aluminum foil is good for cooking just about everything in the campfire," says Adam Price, the executive chef at Victory Ranch in Park City, Utah. "If you use heavy duty foil, you can unroll it in 12-inch squares and fold them up to save space when packing for your trip." He says that the heavy duty stuff can be used for two or three cook jobs apiece, so you only need a few squares to get you through a multi-day adventure.
Yes, you can wrap potatoes and veggies in foil, but it has a million other uses too. Chef Shane Hammett of Lake Tahoe's Lone Eagle Grill uses his foil to finish large cuts of grilled meat. "Lay it flat on a part of the grill away from the fire," he says. You'll start the meat directly over the flame to get those lovely crispy bits, but finish it on foil to keep it from becoming totally charred.
Or, "if you find yourself in front of one of those rusted out, crappy campground grills, [use foil to] turn it into a smoker," says San Antonio-based chef Jason Dady. Build a fire in the base of the grill, tent the sides with foil, then soak some wood chips and plop them over the fire. Add your protein and let it smoke slowly. Cook time will depend on the cut of meat, but Dady advises adding 30 minutes to the length of time you'd cook it at home.
Go All Out the First Night
By day two, you'll need to be consuming well-preserved products, otherwise you risk angering the gods of bowel distress. But the first day, if you're smart about it, you can pack a killer fresh meal to cook over the coals. Price says the best pack-in meal he ever had was years ago in the Sierra Nevada: "I stuffed and tied a whole buffalo tenderloin with goat cheese, spinach, cranberries, and walnuts, wrapped and froze it for two days before we set out. After hiking all day, I unmasked my grand scheme to the entire group and they were beyond psyched."
To create something similar, you'll need to freeze the meat as deeply as you can (if your freezer has a dial, crank that sucker down to Arctic). Then wrap it in multiple layers of foil, tuck it in a plastic bag to catch any drips that happen during the thawing process, and pack it together with all of your cold items.
Price also really likes to cook bacon the first morning of the trip. It will hold up well if you start from frozen and are camping in a place that has cool overnight temperatures. Cook the whole pack, too; any leftovers from breakfast can be eaten on the trail or used to flavor that evening's dinner. Likewise, if you can, save the grease for flavoring dishes later in the week. As those of us with southern grannies know, bacon grease can live for a very long time in a coffee can on the counter. This—plus its smoky, robust flavor—makes it perfect for hauling along in the backcountry. Just make sure you hang it or put it in a bear canister at night.
Don't Let Cooking Times Mystify You
"I think of [the fire] like a 350-degree oven at home," says Dady. Your fire is super-hot, but it's not burning at 500 degrees and it's not going to go below 200 degrees. Let your food cook for however long it's going to take at home. About 20 minutes for fish. About 40 minutes for chicken."
Make the Best Car Camping Breakfast: Pan-Free Omelets
Scott Leysath hosts The Sporting Chef cooking show on the Sportsman channel, so he knows a few things about backcountry breakfasts. One of his favorites is boil-in-bag omelets. "Break a few eggs into quart-sized Foodsaver or Ziploc bags. Add cheese and your favorite omelet ingredients. Give it a stir and seal the bags, but not airtight. When it's time for breakfast, place the bags in lightly boiling water. In just a few minutes, you've got omelets."
Make Pizza on a Camping Grill
If your campsite comes with a grill grate, you can fire off mind-bendingly good pizzas, says Glenn Cybulski, a World Pizza Champion and co-founder of Persona Wood-Fired Pizzeria (he also holds the top spot on our cookout guest lists). Start your dough first thing in the morning—all you need if flour, salt, yeast and water. Mix and let it rise in your pack as you hike. (Old timers will know that on-trail breadmaking is a time-honored craft.)
When you return, work the dough out and into a circle. Don't worry if it's more amoeba shaped than round—you're camping, roll with it. Cybulski recommends building a super-hot but low-profile fire, which means you don't want the flames leaping up past the grate. Top your pizza however you wish (pepperoni and other cured meats are often shelf-stable enough to be used safely), then flop it onto the grill and sear it until the crust blisters and the toppings are warm. The entire cooking time should be about four minutes.
Stock Up on Key Spices
These weigh practically nothing and have miraculous powers. "Kosher salt is the most important thing, followed closely by black pepper, smoked paprika, and cumin," says Dady. He likes this foursome because it's loved by just about everyone, kids included. Two other must-haves in your pack: a head of garlic and a small amount of olive oil. These alone can make a freeze-dried meal just a little more bearable, says Price. "Chop it, roast it, or eat it raw. It will add great flavor to your meal."
Lead Photo: Alex Ruban/Unsplash