8 Good Reasons to Take Your Phone to Dinner
User reviews are out, expert opinions are in. And these eight apps are doing it right.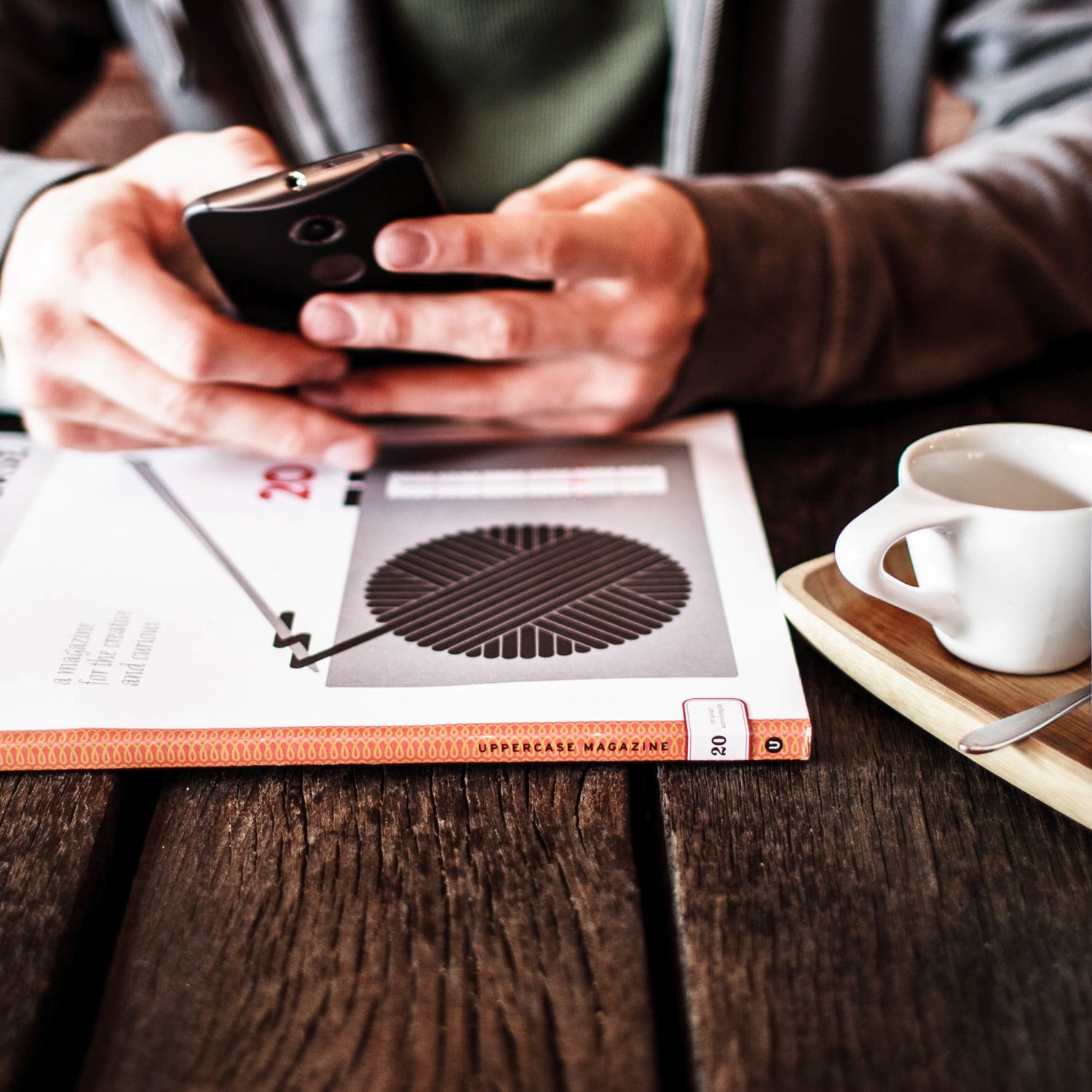 Heading out the door? Read this article on the new Outside+ app available now on iOS devices for members! Download the app.
You're in a new city and looking for the best lunch in town. But when you type "sandwiches" into your Yelp app, Subway is the top rated local option. With all due respect to the general public, crowdsourced foodie apps have their limitations.
Luckily, app developers are getting savvy. Thirstie, for example, is a new app that coordinates liquor delivery services in 18 cities, and pays experts to write drink recipes and food pairing advice for the app, rather than just relying on user input. "Obviously user-generated content is less expensive," says Thirstie's CEO Devaraj Southworth, "but people want quality content to help guide them towards making a decision." And way too often that's lacking—we're looking at you, guy who just rated Applebee's atmosphere as "date night romantic."
These eight apps did their homework before making recommendations, meaning you'll never have to settle for a mediocre chain restaurant again—no matter how good the Yelpers swear the jalapeño poppers are. Presented in order of general interest to oddly specific:
Google Field Trip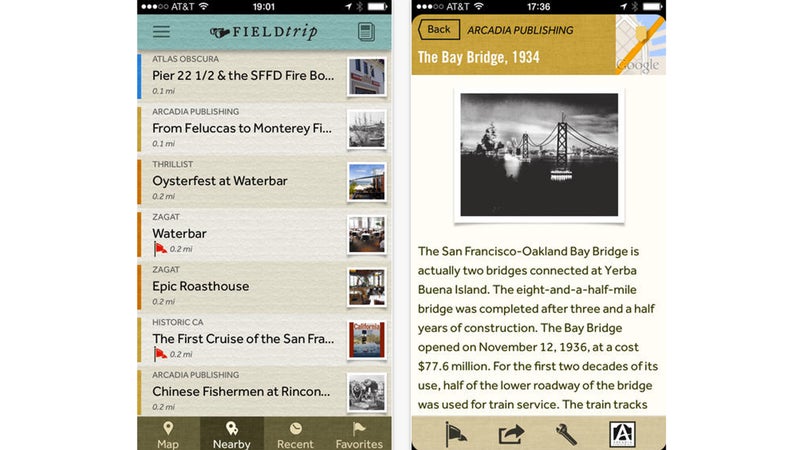 This app combs top publications like Eater, Tasting Table, and Zagat for food reviews, then pings you when you're near a not-to-be-missed restaurant. When the notification pops up, you can read the restaurant reviews and decide whether you want to stop in or not.
---
Brewery Passport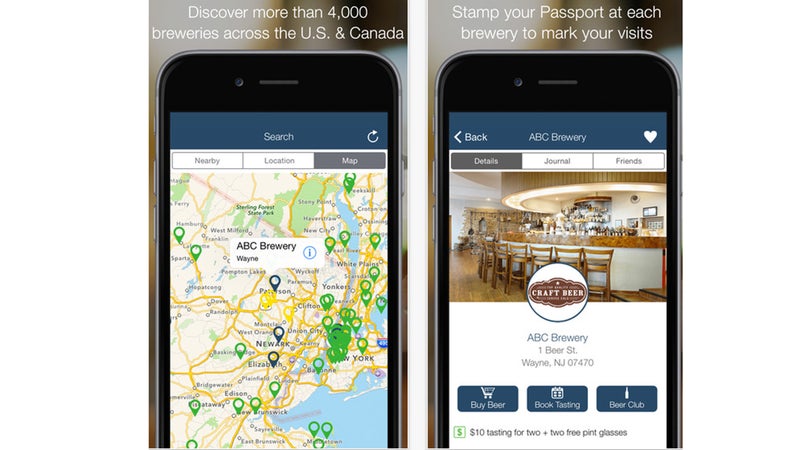 With more than 4,000 local breweries in the database, if there's something fermenting near you, Brewery Passport probably knows about it. Use the app to find local breweries across the U.S. and Canada, and, once you're there, jot down tasting notes using the app's journaling feature. You'll never have to worry about forgetting whether it was the saison or the pilsner that you really liked. There's also a Winery Passport companion app for oenophiles.
---
ChefsFeed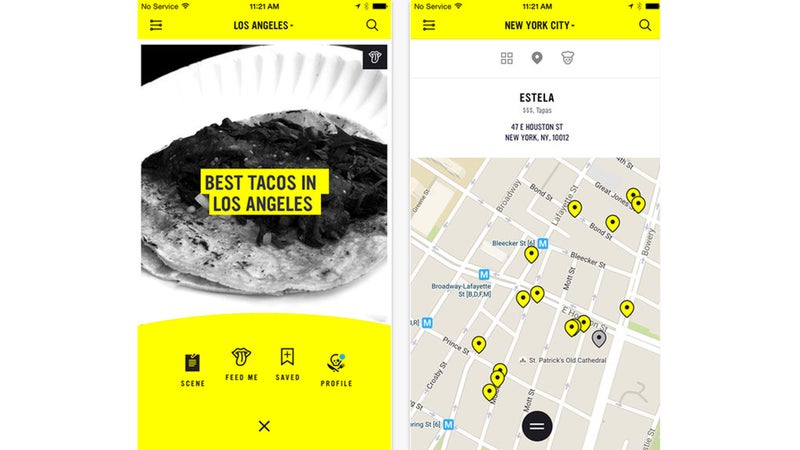 So you want to eat like a chef. You either need to make some new friends or download this app. On ChefsFeed, culinary heavyweights dish on favorite haunts. There is some you-scratch-my-back-I'll-scratch-yours going on with chummy chefs, but at least you don't have to worry about reading a review from someone who's pissed about small tapas portions.
---
Off the Menu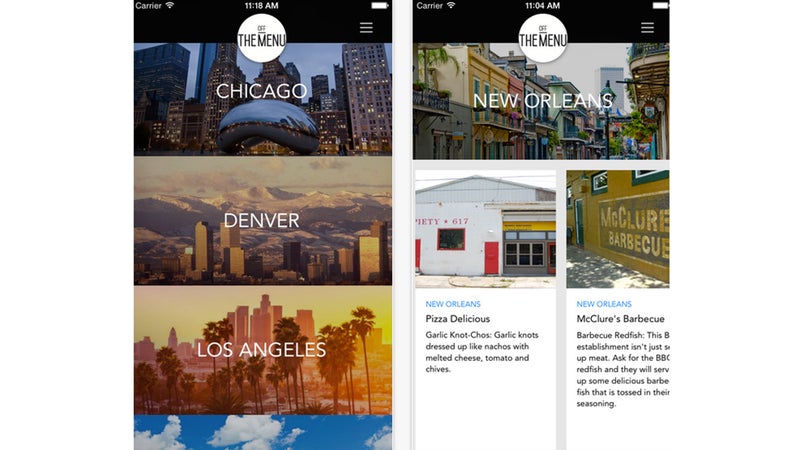 There's something fun about knowing that secret menu items exist—even if it's a burger wrapped in lettuce that you'd never order, not even in the Paleolithic Era. This app—which is technically being launched next month—shares those secrets for restaurants in 16 cities. There are the big chains like Chipotle, but some local restaurants are included too. Good for folks who like to lord their insider knowledge over their friends.
---
Distiller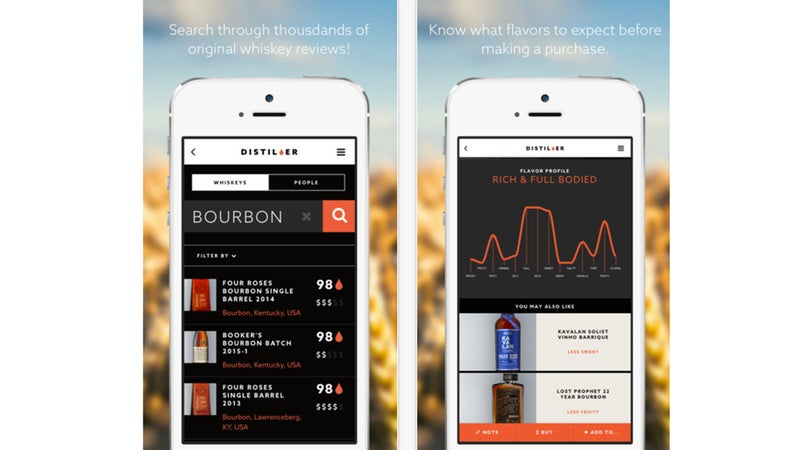 This all-whiskey-all-the-time app gives you pro tasting notes for both easy-to-find and rare bottles. You can rate bottles and the app will use those ratings to select other whiskeys you might like. Plus, if there's something you've been just dying to try but not in your local store, you can get it shipped through the app.
---
Seafood Watch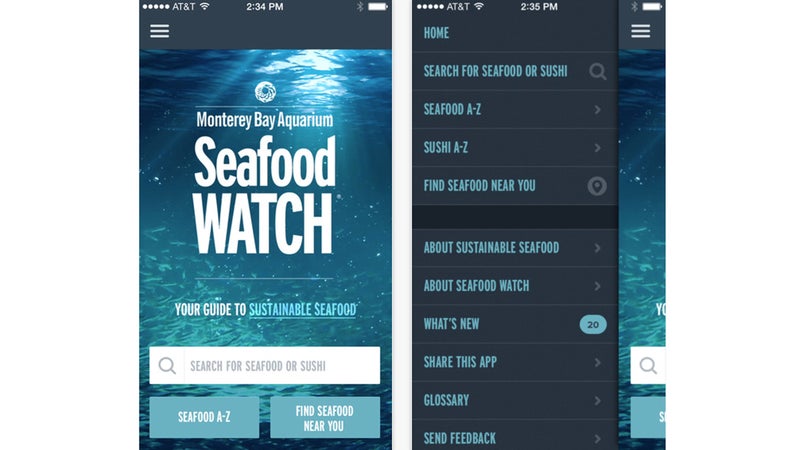 Navigating the world of sustainably sourced seafood is tricky enough at the grocery store; it's nearly impossible on the road. But this app, built by the Monterey Bay Aquarium, provides a breakdown of conscientious seafood choices in the store and on the menu. It's updated regularly with new fishing regulations and consumption recommendations that span the entire country, and a geolocation feature shows which restaurants near you are serving sustainable seafood. You can search by both English fish names and the Japanese sushi names.
---
Thirstie
​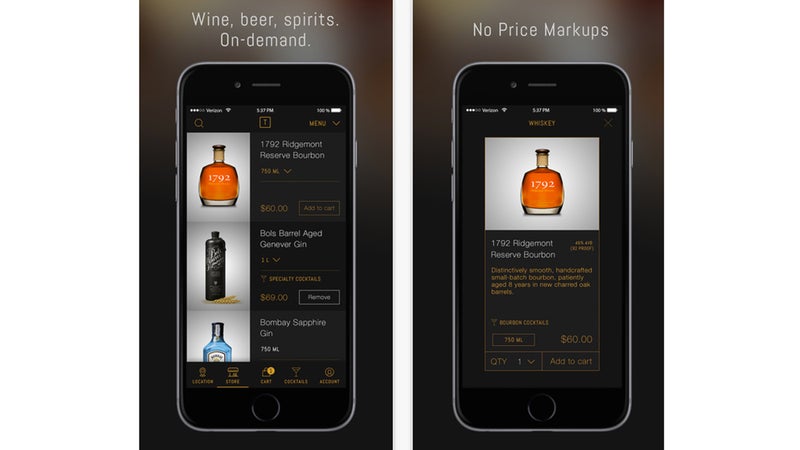 Let's face it: There are times when you want to stroll the aisles while mulling your next bottle of booze. And then there are times when you just wish something strong would magically appear in your empty liquor cabinet. Thirstie is specifically built for the second scenario. Pick out your bottle of liquor and have it delivered within 60 minutes, all without ever having to put on pants (except maybe as a courtesy when the delivery guy arrives). It's currently available in 18 cities, with more being added weekly.
---
Pearl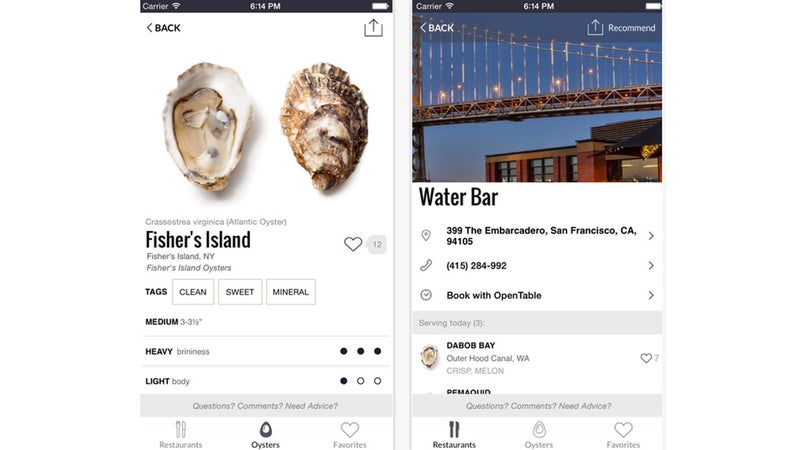 Remember that time you had those really amazing oysters? You know, the round, salty ones? If you find yourself constantly trying to describe your favorite variety of bivalve to your waiter or just need a little help ordering competently, download this app, stat. Pearl gives users in-depth info about different oyster types—everything from cup depth and brininess to where and when they're harvested. When you find an oyster you particularly like, simply note it in the app. Next time you'll look like a pro when the waiter asks what you want.
Lead Photo: Maliha Mannan/Unsplash