9 Ultimate S'mores Recipes
They're a perfectly engineered camping food (there's scientific evidence somewhere), but you spend a lot of time around campfires. You should tweak the recipe every so often.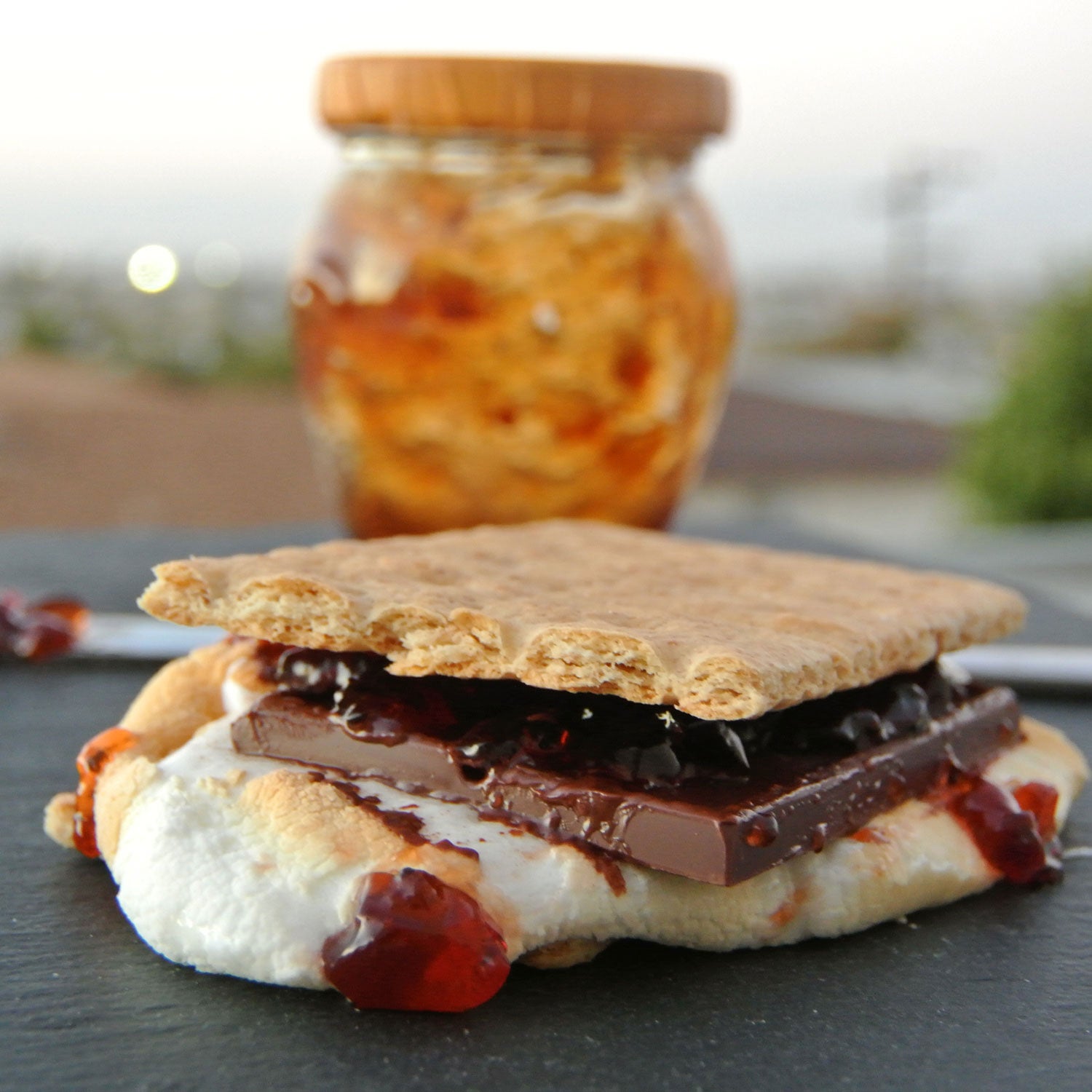 Courtesy of Kristina Miksyte(Photo)
Heading out the door? Read this article on the new Outside+ app available now on iOS devices for members! Download the app.
It's hard to top the joy of a classic s'more. Graham crackers, milk chocolate, and perfectly toasted marshmallow are a campsite threesome we'll never say no to. But while the original recipe is childhood happiness in a sandwich, we're not kids anymore. And being an adult has some real perks. Like, say, adding beer frosting to your fireside treats. 
Want to try your hand at gilding the s'more lily? These nine chef-created recipes will give you the golden touch (and very sticky fingers). 
Note for the graham cracker semantics police: One graham cracker equals two graham cracker squares.
Beer S'mores
Because beer makes everything better. This recipe is courtesy of Anette Righi DeFendi, head chocolatier at Kohler Original Recipe Chocolates. It relies on beer-chocolate frosting for its boozy taste. Make the frosting ahead of time and stuff it in your pack for your next camping trip. 
Ingredients
1 1/2 to 1 3/4 cups powdered sugar (The amount will depend on the chocolate you use. Start with 3/4 cup and add as necessary.)
1/4 cup Dutch process cocoa powder 
3/4 cup salted butter at room temperature 
1/4 to 1/2 cup stout beer
2 to 3 ounces dark chocolate, melted and cooled to room temperature (Use 55% cocoa or higher, otherwise what are we even doing here?)
Graham crackers
Toasted marshmallows
Preparation
Sift the powdered sugar and cocoa together into a small bowl. 
Cream butter and stout beer together until incorporated. They won't fully emulsify, but that's okay, says Righi DeFendi.
Add the powdered sugar and cocoa mix. Beat on medium to high speed until light and fluffy.
Add the melted chocolate and beat until smooth and creamy.
Adjust flavor and texture by adding more beer or powdered sugar. It should be schmearable—not too runny but not super thick. 
Spread on graham crackers, add toasted marshmallows, and enjoy with a frosty bottle of stout.  
---
Honey and Fig S'mores
S'mores are perhaps described as "blood-sugar-spike forward." Their overly sweet nature is exactly why we love them. But subtle fig jam and honey, plus some fine single-origin chocolate help temper the glycemic hit of toasted marshmallows. This combo is courtesy of chef Kristina Miksyte, who runs Doma Kitchen in Los Angeles. 
Ingredients
Marshmallow(s)
1 graham cracker
1 tablespoon Dalmatia Fig Spread
Drizzle of honey
1 ounce Frederic Blondeel Costa Rica 40% Milk Chocolate Bar 
Preparation
Toast marshmallow(s).  
Smear one graham cracker square with fig spread and the other with a drizzle of honey. 
Add chocolate and marshmallow. 
Smush. 
---
Whiskey S'mores Lollipops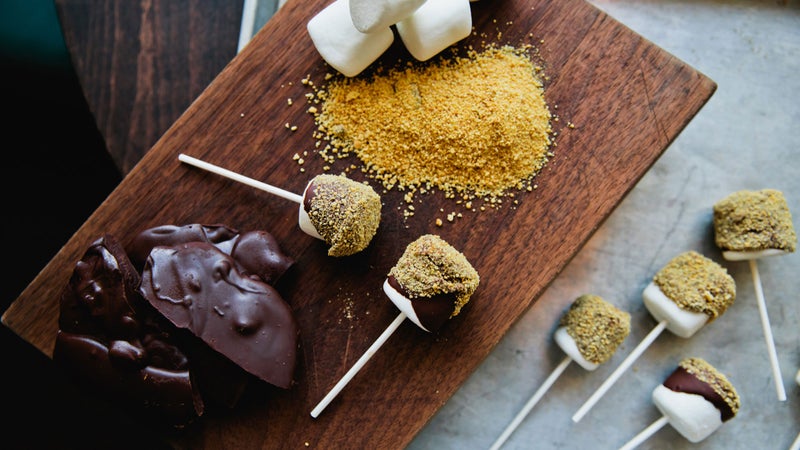 When the rain ruins your campout, go full-throttle on glamping s'mores. Head inside and make these, which call for a blowtorch to toast the marshmallows. (If you don't have a blowtorch, you can carefully use the flame on a gas stove, or use your camping stove or grill.) This recipe is courtesy of Chicago-based chef Cory Morris.*
Ingredients
1 cup heavy cream
9 ounces bittersweet chocolate
1 tablespoon whiskey (You choose what to do with the rest of the bottle.)
1 bag jumbo marshmallows  
2 cups graham cracker crumbs (You can find these in the baking section of your grocery store, or put 2 packs of graham crackers into a food processor and pulse briefly.)
Supplies
2-quart sauce pot
Whisk
40 lollipop sticks
BernzOmatic WT2301C Campfire Torch
BernzOmatic 16-ounce Propane Camping Gas Cylinder
Safety glasses and gloves
Preparation (Ganache)
In sauce pot over medium heat. bring heavy cream to a simmer. 
Add chocolate and mix until incorporated. 
Whisk in the whiskey and remove from heat. (Don't let it get cold. If the mixture cools too much, the chocolate ganache will not coat the marshmallow.) 
Assembly
Skewer marshmallows with lollipop sticks. 
Dump graham cracker crumbs onto a plate. 
Quickly dip skewered marshmallows into the ganache, then roll them in graham cracker crumbs. 
Let cool at room temperature for as long as you can possibly stand. 
Once the lollipops have cooled, lightly torch with the blowtorch. (Be careful not to burn the graham crackers.)
---
The Samoa
This recipe will bring you back to the Girl Scouts campouts of your youth. It's on the menu at the Sanderling Resort in Duck, North Carolina, which has a nightly s'mores setup with unexpected topping options.
Ingredients
2 marshmallows
1 graham cracker 
1 ounce caramel-filled chocolate (Ghirardelli or Carmelo make great options.) 
1 tablespoon toasted coconut 
Preparation
Toast marshmallow.
Assemble with remaining ingredients atop graham cracker. 
Accept your "S'more Master" merit badge. 
---
S'mores Ice Cream Sandwich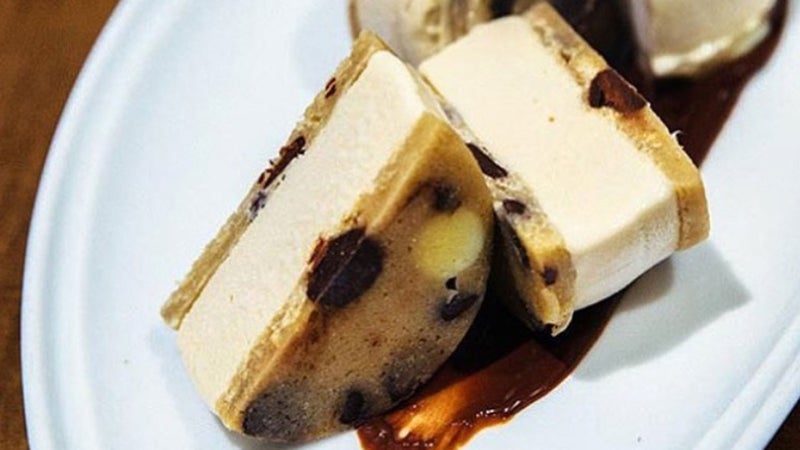 If you live in a part of the country where fall is slow to arrive (looking at you, Florida and Texas), make these while you wait. This recipe from chef Basil Yu of Chair 5 in Narragansett, Rhode Island, is pretty complex, so block off plenty of time. The finished product is worth it, though—and they keep well if wrapped tightly and stored in a cold corner of your freezer. 
Toasted Marshmallow Ice Cream
Ingredients
8-ounce bag marshmallows
2 cups milk
1 cup cream
Pinch of salt
5 1/2 tablespoons sugar, divided
5 egg yolks
1 teaspoon vanilla extract
Preparation
Place marshmallows on a rimmed sheet pan and broil until toasted. Watch them extremely closely—toasting in a broiler takes only a few seconds—and do not place marshmallows too close to the heat. A blow torch also works nicely. 
In a pot, bring milk, cream, salt, and half the sugar to a boil.
In a bowl, whisk remaining sugar into egg yolks until the sugar has dissolved.
Pour the hot mixture in a slow stream into the yolks while whisking. Then pour this new combined mixture back into the pot.
Cook over low heat, constantly scraping the bottom and sides of the pan until the liquid has slightly thickened.
Stir in toasted marshmallows and vanilla extract. 
Refrigerate mixture until cool, ideally overnight.
Place a bread loaf pan in freezer to chill.
When mixture is cool, spin it in an ice cream maker (or hand crank it if you want an arm workout).
Pour ice cream into chilled bread loaf pan. Ideally, this layer should be about 1 inch thick. Return pan to freezer while you work on the cookie dough. 
Chocolate Chip Graham Cracker Cookie Dough
Ingredients
3/4 cup butter
1 cup brown sugar
1/4 cup sugar
1/2 teaspoon salt
1 egg
1 3/4 cup flour
1/2 cup graham cracker crumbs
2 teaspoons cornstarch
2 teaspoons vanilla extract
1 1/2 cup chocolate chips
Preparation
Mix together butter, sugars, and salt until the sugar dissolves and butter becomes light and fluffy.
Add egg and mix. Add remaining ingredients and mix until just combined.
Place dough on floured parchment paper. Flour the top of dough and cover with another piece of parchment. 
Roll dough to 1/4-inch thick. Cut with ring cutter of your choice. (This will determine the size and shape of your ice cream sandwiches.) If you don't have biscuit cutters, a clean soup can will work.)
Assembly
Slightly soften the ice cream. Using ring cutter, cut ice cream circles from the pan and sandwich between cookie dough disks. 
Wrap in waxed paper or parchment and return to the freezer to set. 
---
The World Is Your Oyster Marshmallow Recipe
It takes a bit of doing, but once you've had homemade marshmallows, you'll never buy them again. This recipe is courtesy of the Lodge at Sea Island in Georgia. The hotel has its very own "s'morrier"—like a sommelier, but he handcrafts s'mores for each guest based on their taste preferences. (Have we hit peak luxury?) 
Ingredients
11 tablespoons gelatin
1/2 teaspoon salt
2 3/4 cup sugar
3 tablespoons light corn syrup
1 cup water
4 egg whites (Be really, really careful that no yolk accidentally slips in.)
Flavor extract*
Powdered sugar
*The great thing about marshmallows is that they can take on any flavor. Add a few drops of coffee, almond, or mint extract, or try something wild, like root beer extract.
Preparation
Bloom gelatin following instructions on the package, then pour into the bowl of a stand mixer outfitted with the whisk attachment. (This is one recipe that is really not worth attempting without a stand mixer. If you don't have one, borrow a friend's.)
Spray a sheet pan with vegetable oil and dust with powdered sugar.
In a saucepan, heat salt, sugar, corn syrup, and water until it reaches 240 degrees Fahrenheit.  
Pour hot sugar mixture on the top of the gelatin. 
Whip until mixture is warm to the touch. This may take five minutes or even longer. 
In a separate bowl, whip egg whites until stiff peaks form.
Add the egg whites to the whipping sugar and gelatin mixture.
Add flavoring a few drops at a time, whisking continuously and tasting regularly until you reach the desired flavor level.
Pour mixture onto prepared sheet pan and dust the top with powdered sugar. 
Refrigerate until cool. 
Cut into squares, then toss in powdered sugar to keep them from sticking together. 
---
Cookie'd Up S'mores
These recipes are from the chefs behind Hampton Creek, a company that sells healthier versions of cookies and mayo. While we wouldn't recommend combining their products, they had some damn tasty ideas for adding cookie oomph to s'mores.
Triple Peanut Butter S'mores 
Ingredients
Safe-to-eat-raw cookie dough (Hampton Creek Peanut Butter Just Cookie Dough is a good, safe bet.)
Marshmallows
Peanut butter
Graham crackers
Peanut butter cups
Preparation
Stuff a small scoop or ball of cookie dough inside a large marshmallow. The easiest method is to poke a hole in the marshmallow with your thumb, then stuff. 
Skewer through the marshmallow and dough, then toast over the campfire. 
Spread peanut butter on graham cracker and top with peanut butter cup. 
Smush.
Chocolate Cherry Almond
Ingredients
2 chocolate chip cookies (Again, Hampton Creek makes a chocolate chunk dough that works perfectly.)
Marshmallows
1 ounce dark chocolate
Almond butter
Dried cherries
Preparation
Fill two chocolate chip cookies with toasted marshmallows, dark chocolate, a smear of almond butter, and a few dried cherries.
Tip: If your dried cherries are hard, try soaking in them in warm water for a few minutes to soften—and put them on top of the almond butter so they don't slide around.
Corrections:
(09/27/2023) A previous version of this article stated that Cory Morris serves the whiskey s'mores lollipops at the Loews Chicago Hotel. Morris created the recipe, but it is not served at the hotel.
Lead Photo: Courtesy of Kristina Miksyte