America's Best Adventure Bars
Saloons so good you'll take an adventure just to see them.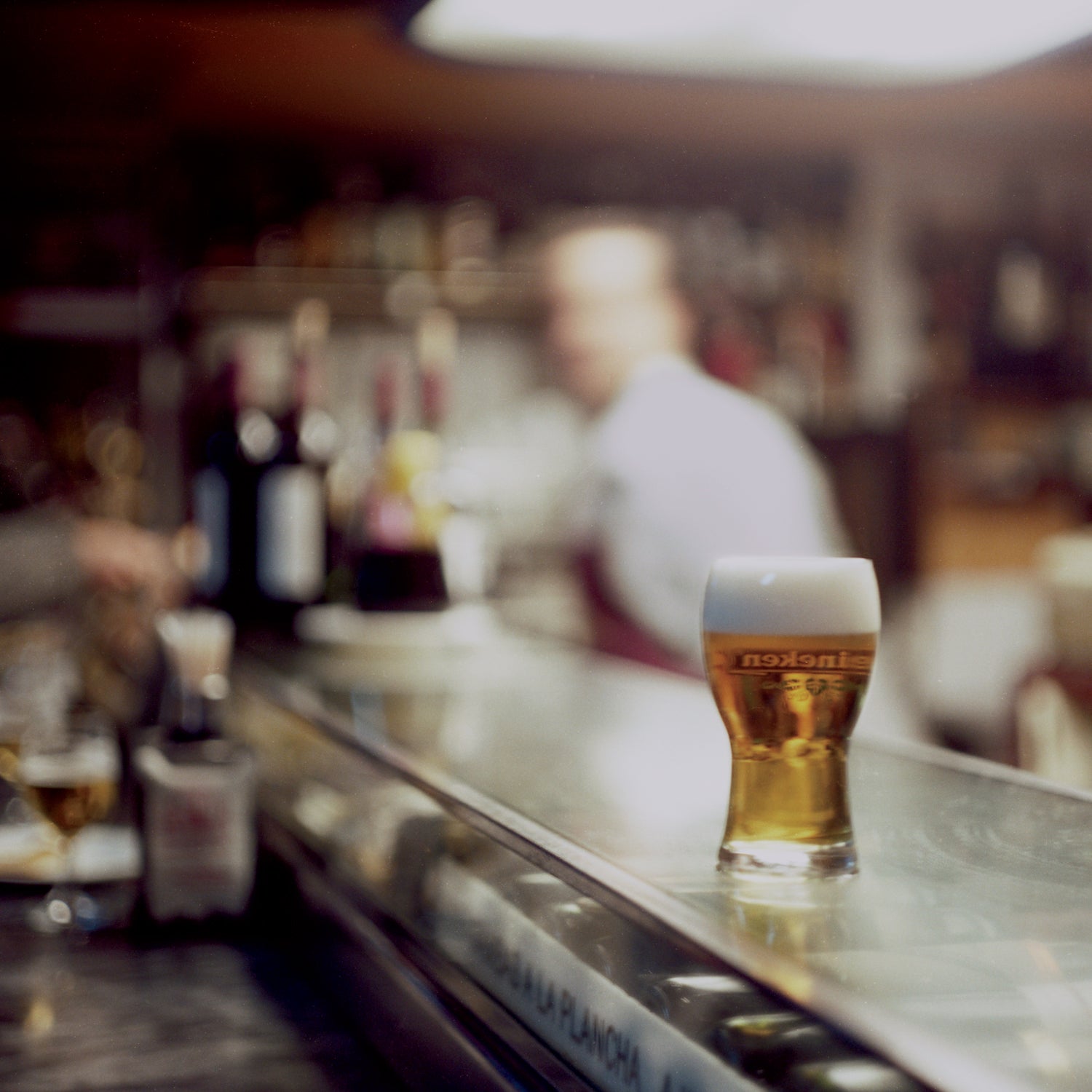 Heading out the door? Read this article on the new Outside+ app available now on iOS devices for members! Download the app.
If experience has taught us one thing, it's that sun and adventure make you thirsty. But where to "rehydrate"? We asked our writers, athletes, friends, spouses, and readers—all of whom were quite eager to help us research our first-ever roundup of the best places for people like us to relax and refuel.
The Best Bars in the Western U.S.
Brouwer's Cafe: Seattle
In the funky Fremont area, this active-lifer hangout is swimming in Belgian suds—and is situated just off Lake Union, along the multi-use Burke-Gilman Trail. The sailors and kayakers out on the deck know from good, and with 63 brews on tap, 400 in bottles, and a 70-strong Scotch selection, food pairings make for a different kind of adventure.
Cowgirl BBQ: Santa Fe, New Mexico
Two blocks from our HQ, Santa Fe's movie-star dive bar, staffed by hipsters in cute western outfits, is the city's most unavoidable institution. The food's good (pulled pork and green-chile-cheddar fries), the beer's cheap, and the music is live. We're not saying you need to make a point of going there; we're saying that, when you drag in off the Winsor Trail after hiking Lake Peak, you'll just end up there.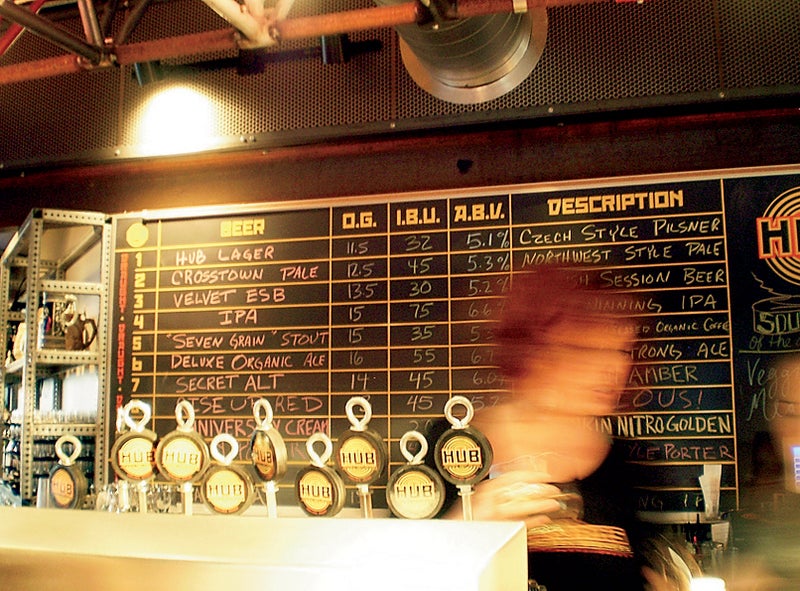 Hopworks Urban Brewery: Portland, Oregon
Hit one of Velo City's ubiquitous cycling events and you're sure to encounter Hopworks' custom cargo bike, a two-keg bar on two wheels. HUB, the home of this rolling rath­skeller, is a carbon-neutral saloon where you'll often find crews of filthy, race-ragged cyclocrossers (the owner among them) clogging its looong bar—yes, that light fixture is made of 42 bicycle frames—for tasty organic beer and burgers.
Haleiwa Joe's: Haleiwa, Oahu, Hawaii
Yes, it has other outlets now, but the original Joe's sees as many surfers as tourists, thanks to its proximity (swimming distance) to Haleiwa, the first of the world-class breaks on the North Shore. The bamboo chairs on the patio are really comfy—but you might just be feeling the effects of barkeep Cliff's famously stiff mai tais.
Highlander Steakhouse: Ashford, Washington
Every summer weekend, out-of-town climbers and UV-baked guides from nearby Mount Rainier pack this Formica-and-foosball loggers' den to toast their summits with the locals. "That's when things can get out of control," says Peter Whittaker, co-owner of Rainier Mountaineering. "Climbers and loggers breaking down cultural barriers—and occasionally practicing indoor archery in the early-morning hours."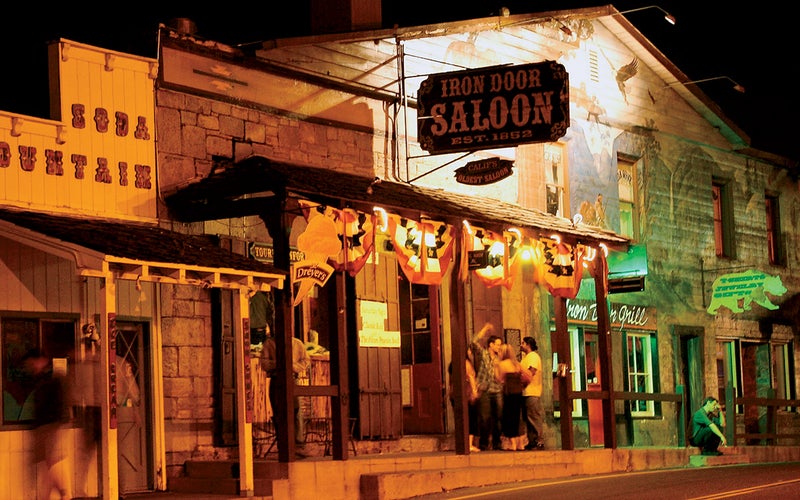 Iron Door Saloon: Groveland, California
This Yosemite National Park pit stop started serving swill to miners in 1852 and has been a perennial favorite of tourists and climbers like Conrad Anker ever since. Photos of John Muir and pre-dam Hetch Hetchy share the schist-and-mortar walls with taxidermy, and dollar bills hang from the ceiling like bats.
Le Chamois: Olympic Valley, California
How easy is it to meet a bona fide ski-film star? With more locals per square foot than any place in Squaw, all you have to do is amble onto Le Chamois's slopeside (and usually sun-drenched) outdoor patio. The barbecue-chicken-and-basil pizza is our favorite, and the beer's surprisingly cheap: A $40 Buddy Pass gets you 20 pints of Budweiser.
The Minturn Saloon: Minturn, Colorado
The thing that sets it apart from other creaky Old West ski bars is the price of entry: On any winter day, everyone drinking with you in this temple to Vail's ski history has skied the Minturn Mile—a mellow backcountry run out the gate from Vail's Lost Boy—to get there. Order the charbroiled quail with enchiladas.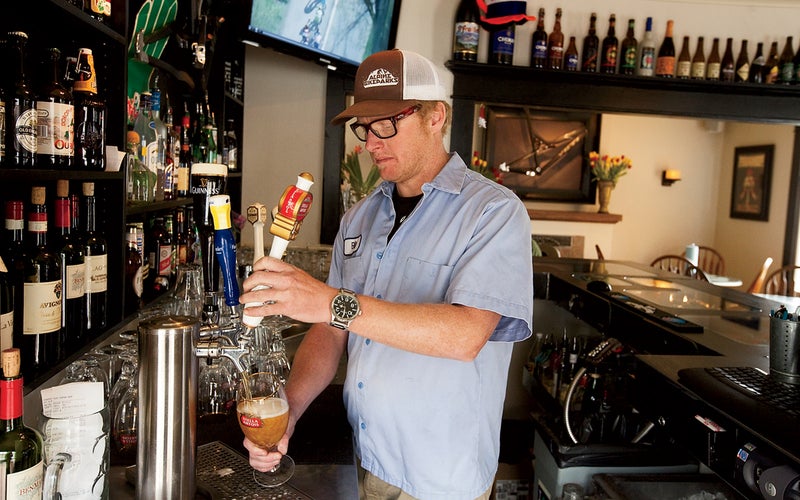 Powerhouse Bike Café: Hailey, Idaho
Just south of Sun Valley, local bike guru Billy Olson has created a new kind of biker bar. Bikes are framed like pieces of art. Tables are shadow boxes filled with parts. And you can get a high-end ride (like Pivot and Serotta) custom-fit in the shop in back. All that plus grass-fed beef and dozens of Belgian beers.
Oskar Blues Grill & Brewery: Lyons, Colorado
The birthplace of Dale's Pale Ale, the first microbrew in a can, attracts a similarly full-flavored yet down-home mix of bikers (Harley and full-suspension) and river people (paddlers and fly-fishermen). The Kansas City–style barbecue pork and gumbo are almost as impressive as the national blues acts that regularly play here.
Ray's Tavern: Green River, Utah
Near the banks of the Green River, Ray's has long been the first stop for thirsty rafters taking off Desolation and Cataract canyons. The John Wesley Powell museum is just down the street, but the kitschy seventies-era raft-company T-shirts and photos lining the walls of the ramshackle barroom tell a more interesting story. Get the burger.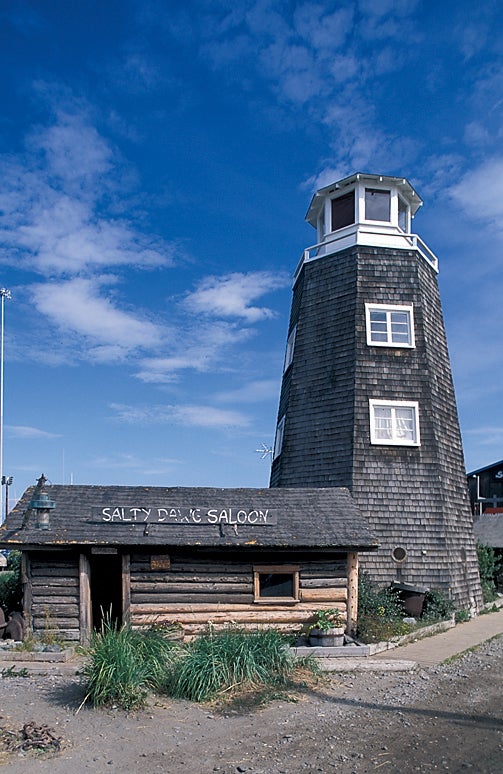 Salty Dawg Saloon: Homer, Alaska
In an old lighthouse near the end of the Homer Spit, this sawdust-floored hideout is where the cannery workers go when they get off at 2 A.M. Beer is Foster's in an oil can, and the surfaces are plastered with dollar bills (along with some bras and underwear). It's also where commercial fishermen unwind. If they had a great catch, they'll ring the bell, which means you're in luck: They're buying the whole place a round.
Zeitgeist: San Francisco
The bathrooms are dirty and the waitstaff can be surly. We don't care. And neither do the scenesters, cyclists, and tech wizards who flock to this classic Mission dive for cheap Bloody Marys and Niman Ranch kielbasas. The outdoor patio—with its bike hooks, communal picnic tables, and nightly visits from the tamale lady—is our happy place.
---
The Best Bars in the Southern U.S.
Frog Level Oyster Bar: Apalachicola, Florida
This relaxed antebellum fishing village was the birthplace of refrigeration, and you can thank whoever came up with that two times as you slurp oysters on the half shell and wash them down with cold pitchers of Budweiser. The deck is built over the Apalachicola River, where you can watch the boats unload their catch in the evenings.
Jack of the Wood: Asheville, North Carolina
Following a singletrack session down Bent Creek, in Pisgah National Forest, cyclists trade their saddles for an outdoor table at Jack of the Wood, taking in house-brewed IPA and live Irish music. Be sure to sneak down the street to their tasting room, where you can sample the bar's newest concoctions.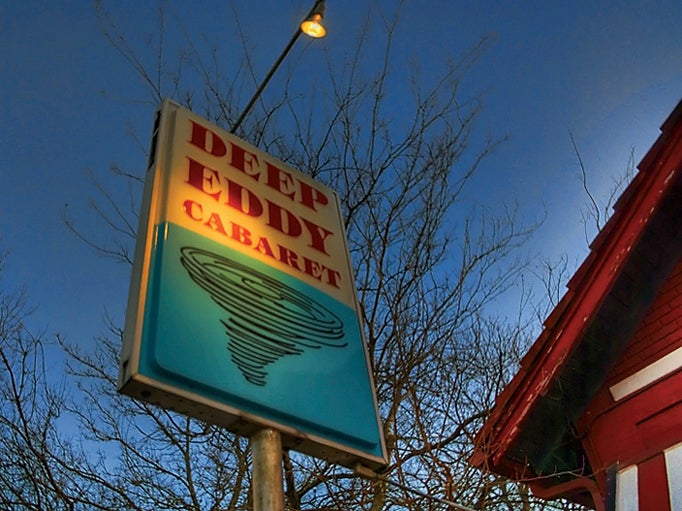 Deep Eddy Cabaret: Austin, Texas
After a Saturday afternoon at the spring-fed Deep Eddy Pool, the oldest swimming pool in the state, Austinites scoot next door to this former grocery store and bait shop that's been an unassuming institution since 1951. Lone Star is $6 a pitcher, and the always-in-use jukebox plays Elvis and Edith Piaf.
Lucky Bar: Washington, D.C.
The traditional last stop for ad hoc bike-messenger races through the capital, Lucky Bar, just off Dupont Circle, is what a great bar should be: dark, loud, and packed with TVs showing soccer from Europe. Come for the happy-hour burgers; stay for $3 Yueng­lings.
Pies and Pints: Fayetteville, West Virginia
Fayetteville might be best known as a whitewater hub, but the mountain biking and climbing around here are pretty damn good, too. As are the unique cheese-on-the-bottom/sauce-on-top pizzas that co-owner and ex–New Yorker David Bailey dishes up at this popular refueling spot.
Schooner Wharf Bar: Key West, Florida
Boats block the view of sunset at this rambling open-air bar. Thank God. It helps keep the hordes of camera-toting tourists away—and increases the chances that you'll strike up a conversation with an open-shirted old fisherman and his bandanna-wearing dog. Get a half-pound of the fresh pink shrimp and the house special, a rum concoction called the Schooner Breeze.
Surf Bar: Folly Beach, South Carolina
Twenty minutes south of Charleston, Folly Beach is home to a burgeoning if mellow surf culture. Just off the water, Surf Bar is the epicenter of that scene, with local bluegrass acts, surf films on the patio, wood-fired cheese­­steaks, and the strongest Painkillers north of the Bahamas.
---
The Best Bars in the Midwestern U.S.
City View Tavern: Cincinnati
Hill-climbing cyclists top out at this 135-year-old Mount Adams establishment, reloading with hot mett (minced pork) on rye, best-in-town Big Ted burgers, and signature Bloody Marys (pickled green bean in place of celery). They also flock here for the view from the back deck, encompassing the town, the Ohio River, and some of Kentucky. Get there early.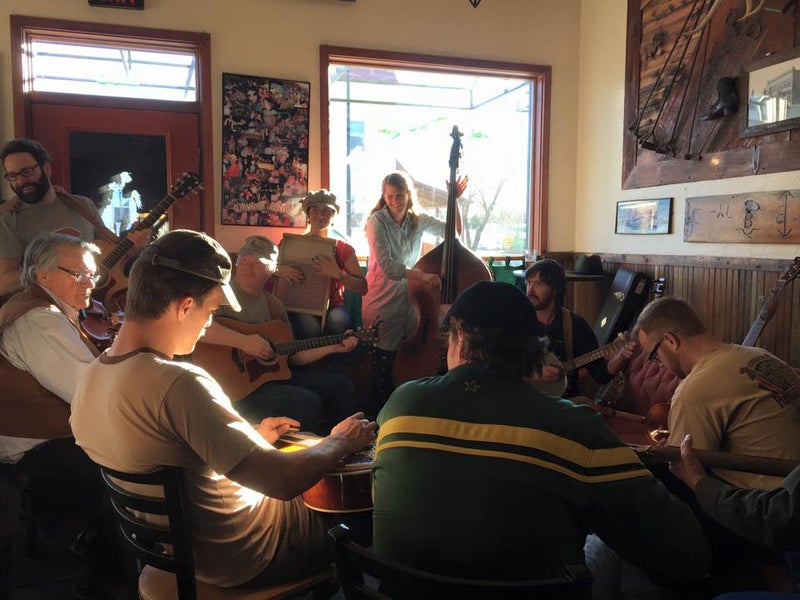 The Lander Bar: Lander, Wyoming
This classic western outpost may pour more microbrews than domestic beer now and serve only local organic beef, but with the National Outdoor Leadership School headquartered just down the street, the crowd is still a rowdy mash-up of climbers, guides, and ranchers. Try the On Belay IPA, brewed specifically for the town's annual International Climbers' Festival (July 7–11), and don't be surprised if somebody rides a horse through the bar.
Claim Jumper Saloon: Ennis, Montana
The fly-fisherman statue in the middle of town says it all: With so many world-class rivers nearby—Madison, Big Hole, Gallatin, etc.—everybody comes to tiny Ennis to cast. And everybody, from hedge-fund managers to local ranch hands, ends up at this scruffy Old West saloon.
The Stagecoach: Wilson, Wyoming 
As local pro skier Lynsey Dyer says, "all drainages eventually lead to the 'Coach." You can park here when backcountry skiing or mountain-biking Teton Pass. You can also order fish tacos from Pica's, this honkytonk bar's in-house Mexican restau- rant. Purchase a twelver of High Life from its attached drive-through liquor store. Or just wear your tightest Wranglers and fit right in.
Elbow Inn Bar and Barbecue: Devils Elbow, Missouri
Give free rein to your inner Huck by paddling 4.5 miles along the Ozarks' Big Piney River from Mark Twain National Forest to the Elbow Inn, a Route 66 institution since 1929. Enjoy backwoods tales from owner Terry Roberson, a former game warden, and try to survive the famous Devil's Eye shot—half Everclear, half Frank's Hot Sauce—before climbing, carefully, back into your craft.
Grandma's Saloon and Grill: Duluth, Minnesota
Runners and spectators have celebrated the finish of Grandma's Marathon at this former brothel since the first running, in 1977. Amble past cyclists fresh off the Lakewalk and families dressed in Minnesota formalwear (a.k.a. plaid) in the dining room, belly up beneath some taxidermy (16-inch crappies) at the bar, and ask Eric for the wild rice soup and his secret-recipe Long Island iced tea.
Jerry's Bait Shop: Lenexa, Kansas
A prototypical neighborhood bar in this historic Kansas City suburb, Jerry's plays host to bikers of both the leather-fringe and shaved-legs varieties and kids from the nearby University of Kansas. Carbs come in the form of best-in-K.C. pesto chicken pizzas, and on Mondays a cycling club meets here for the discounts on house drinks like the Hawaiian Punch.
The Map Room: Chicago
This small and dimly lit Bucktown neighborhood pub may be travel-themed (maps and old issues of National Geographic line the walls), but Chicagoans don't come here to plan trips; they come for the cask-conditioned ales. Belgian beers are a specialty, but with some 230 bottled beers and 27 on tap, we're pretty sure you'll find something you like.
The Terrace at Memorial Union: Madison, Wisconsin
It's easy to get distracted at this sprawling lakeside institution: You can rent canoes and sailboats at the adjacent rental shop or sign up next door for an outing with Hoofers, the university's legendary outdoors club. Don't. Stay seated and sample what should be the official state meal: a Usinger brat and a pint of New Glarus Spotted Cow Ale.
---
The Best Bars in the Northeastern U.S.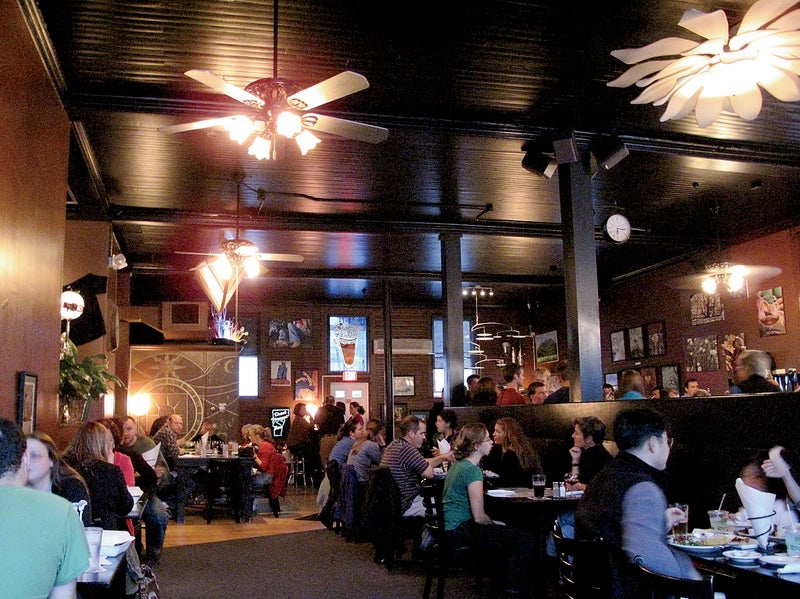 The Alchemist Pub and Brewery: Waterbury, Vermont
Yes, it's always remarkably jamming, and, yes, they have the requisite gluten-free beer on tap. But this isn't your run-of-the-mill upscale gastro-pub: The beer (award-winning Lightweight pilsner) is so good and the food (sweet potato fries with herb sour cream) so local and fresh that, after a day of skiing or mountain-biking at nearby Stowe Mountain Resort, we'll happily wait in line with the local neo-hippies, greennecks, or whatever they're calling themselves these days.
The Frying Pan: New York City
We've always been partial to the Half King, in Chelsea, owned by contributors Sebastian Junger and Scott Anderson, but on a sunny afternoon you'll find us a few blocks away at this 81-year-old lightship parked on a barge at Pier 66. Manhattan Kayak Company, next door, gives lessons, and you'll partake of steamed lobster and Coronas alongside junior VPs in bespoke suits and sweaty soccer players from next door's Chelsea Piers.
The Rack BBQ: Carrabassett Valley, Maine
As evidenced by the global reach of their stickers, Sugarloaf locals are a fanatical bunch. Head to this barbecue joint and bar, owned by hometown hero and two-time Olympic snowboard-cross champ Seth Wescott, order a tallboy PBR, and you'll see what we mean.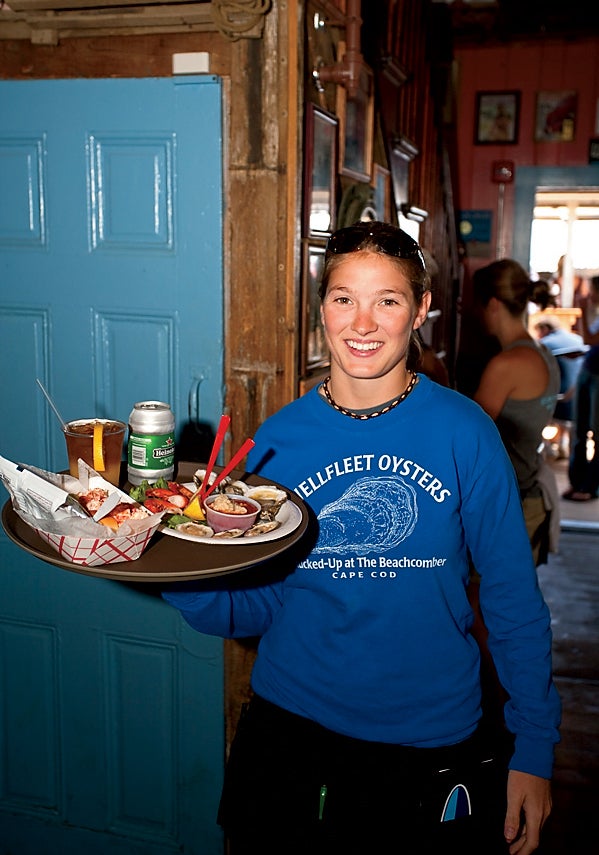 The Beachcomber: Wellfleet, Massachusetts
You'll hear complaints about its 21-plus policy on Sundays, the lack of stairs down to surfer-favorite Cahoon Hollow Beach, and the $15 parking fee, but that's the genius of the 'Comber: insouciance on Cape Cod's otherwise staid shores. They're known for their live music and a concoction called the Goombay Smash, but stick with a Sam Adams Summer Ale and sidle up to the raw bar.
---
Outliers
Northern Overexposure
The bar had a Ping-Pong table but no name. Just a dark saloon upstairs from the Fort Seward Lodge & Restaurant, in Haines, Alaska, it was a place where oddballs got thrown together because they needed each other, even if they wouldn't admit it—which is basically what being Alaskan is about. I worked there as bartender and resident pretty young thing but mostly just hung out with the owner, Jon, and his buddy Roadkill, a skinny red-haired tramp who'd earned his nickname after passing out in a tight spot on a fishing boat one night. Jon and Roadkill had once bet on a game of Ping-Pong, the loser having to swallow whatever the winner served him, and Roadkill's crowning invention became the house drink: the Roadkill. Take equal parts tequila, Yukon Jack, and crème de menthe, plus a dash each of Tabasco and 151-proof rum; pour into a glass, light on fire, and persuade tourists from the cruise ships to try one. (Douse the fire first.) Eventually, I tried one, and it was awful. Many drinks later, a friend set a bucket beside me, just in case. I promptly fell in. The long moments I spent pawing at it earned me my own nickname: Buckethead. —Marin Sardy
Subterranean Texas Blues
When I was a touring songwriter, I went to a lot of bars in Texas. But none remotely resembled Terlingua's La Kiva Bar, located in a semiunderground cave ten miles from Mexico. Walking up after a hike at Big Bend National Park, I remember blinking in the musty dark as Bad Company's "Feel Like Makin' Love" loudened with each step. The picker—Gandalf in a Tommy Bahama shirt—somehow blended with the bar's tree-stump tables, wifebeater-attired bartender, and "Penisaurus Erectus" mascot, a collection of cow bones embedded in the wall that vaguely resembles a saber-toothed cat.
The bar cats were either taking a break from reality or never bothered to check in: a PGA Tour caddy, a Hollywood set designer, a border-patrolling Minuteman. I drank Mind Erasers—vodka, triple sec, and sweet and sour—until my lips went numb and the music started to sound good. Maybe the bar's outlaw spirit is derived from the dusty heat, but don't expect any TGI Friday's flair from the staff. When I called last week to verify their Mind Eraser recipe, the bartender replied,"Busy," and hung up. —Stayton Bonner
Razing Arizona
When my family moved to Sedona, in 1977, it didn't have a single crystal shop. All through my teen years, red cliffs loomed over me; when my parents would ooh and ahh, I'd look up and shrug. But in uptown Sedona, by age 15, I learned what escape meant when I tagged along with my sister and brother-in-law to the Oak Creek Tavern. Built in the forties, it was a hideout for John Wayne and Jimmy Stewart when they were in town to shoot westerns. It had a polar bear in a menthol-blue case, jaws frozen in a tilted, glass-eyed roar that felt like a benediction: Under the guise of this bear I was safe, slouching in the naugahyde corner booth as Sally and Bob would sneak me a Coors (just one) under the table. By 1993 the tavern was gone, replaced by the Cowboy Club. Today they have misters out front to cool the tourists, and the hostesses are spunky. Sedona is now a car and a color. The polar bear no longer abides. I heard he got moved to someone's garage. If I could put the world back together the way it should be, I'd start by finding the bear. —Will Palmer
Mixology 101
Our favorite cocktail recipes from the best bars in the U.S.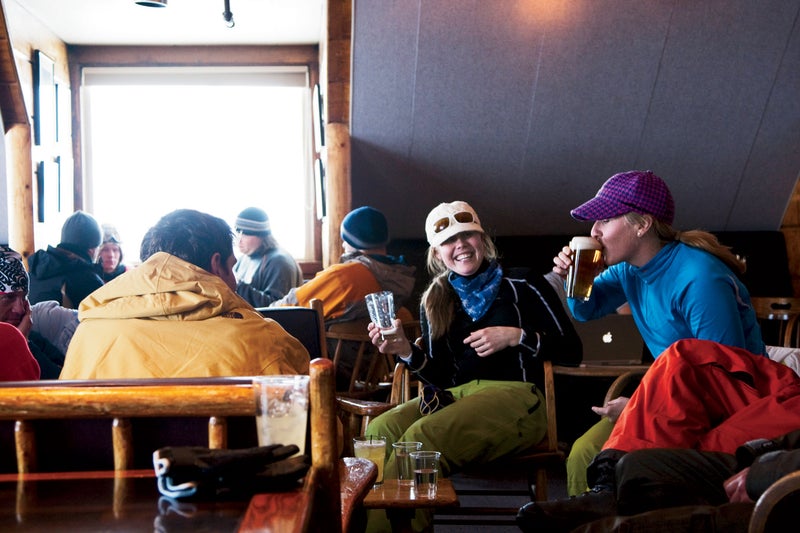 The Boomerang
2 parts cinnamon clove cider
2 parts "Twiskey" (equal parts bourbon whiskey and tequila)
1 orange slice
The heart and soul of old-school Alta, the Sitzmark, in the Alta Lodge's attic, is hallowed ground to skiers like Ingrid Backstrom and Julian Carr, this drink's creator. His advice: "The orange slice is vital. Let it soak during consumption, then eat at the end. If you don't eat it, then you drank it wrong, and if the bartender serves it without an orange, call him out on it. If there's no orange, it's not a Boomerang; it's an Omaha."
The Mount Lychee
3 lychees (canned)
1 oz of the syrup
1 3/4 oz Mount Gay rum
1 lemon twist
Under the Volcano, named for the Malcolm Lowry novel, is a popular spot post-ride on the Hermann Park Trail. Muddle lychees, syrup, and lemon twist in a cocktail shaker. Add rum and ice, shake, and pour (don't strain) into a highball glass.
The Three-Legged Chihuahua
4 oz Absolut vodka
1/2 oz crème de coconut
3 oz pineapple juice
The Boathouse's semi-outdoor patio, perched above the town's white­water park, is the perfect spot to watch kayakers while supping on a green chile BLT and this house specialty.
Contributors: Alicia Carr Troxell, Ryan Krogh, Sam Moulton, Justin Nyberg, Frederick Reimers, Grayson Schaffer, Doug Schnitzspahn, Jeremy Spencer, and Joe Spring