The Best Backcountry Cooking Secret: Packin' Heat
Craft hot sauce is the new craft beer. And there's no better way to spice up your backcountry meals.
Jeff Wasserman/Stocksy(Photo)
Heading out the door? Read this article on the new Outside+ app available now on iOS devices for members! Download the app.
Hot sauce is the perfect backpacking condiment. It often doesn't need refrigeration, a tiny amount goes a long way, and we have yet to find a dehydrated meal that isn't improved with a dash of it. Getting Tabasco into MRE ingredients was a priority for the U.S. military, as soldiers requested it time and again. Studies show that spicy food even helps some people poop, a useful thing after days of freeze-dried entrées.
Today hot sauce has gone well beyond Tabasco, with new boutique-made batches for sale. "It's a lot like craft brewing used to be," says Brian Ruhlmann, host of the Craft Hot Sauce podcast and a blog by the same name. "People are still welcoming about giving out information and encouraging competition, because it drives everyone forward." In 2014, when he started his site, there were a handful of small hot-sauce brands. Now he can barely keep up.
All this is to say that it's time to give the big brands a rest. There's so much more "tang and funk" out there, which is what a good hot sauce should bring to a dish, says Tatsu Aikawa, the James Beard–nominated chef behind Kemuri Tatsu-Ya, a restaurant in Austin, Texas.
A great hot sauce isn't that hard to make at home, and we've got Aikawa's recipe to help you get started. He douses his breakfast of tamagoyaki (a Japanese-style omelet) and salmon and rice in a good bath of this. In the backcountry, it would be great on eggs or freshly caught trout. If you don't want to make your own, the five hot sauces below his recipe should earn a spot in your pack.
Tatsu's Jalapeño-Yuzu Hot Sauce
Ingredients
2 cups water
8 to 10 ounces fresh jalapeños
3 garlic cloves, chopped
1/3 bunch scallions
1 teaspoon black pepper
1 teaspoon kosher salt
1 cup rice vinegar
Juice and zest from 2 large yuzus (or substitute Meyer lemons or limes)
Directions
In a saucepan, bring the water, jalapeños, garlic, scallions, black pepper, and salt to a boil. Reduce the heat and simmer until the ingredients are soft, approximately 15 to 20 minutes.
Cool down the mix and then pour it into a blender with the vinegar, citrus juice, and zest. Puree until smooth and add additional salt to taste. Let the hot sauce marinate in the fridge for at least a week before using.
---
Yamajirushi's Yuzu-it ($15)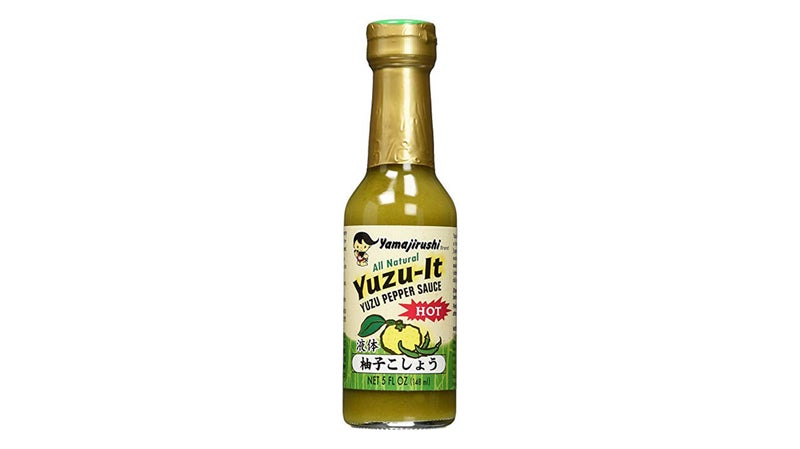 Yuzu-it is Aikawa's pick for a great store-bought hot sauce. It's a lot like his homemade sauce, but without the work of making it. Crafted with sweet-tart yuzu and hot chilies, it's got a zingy citrus profile and a good slow burn. 
---
Silagy Sauce's Smokin' Habanero Sauce ($8.50)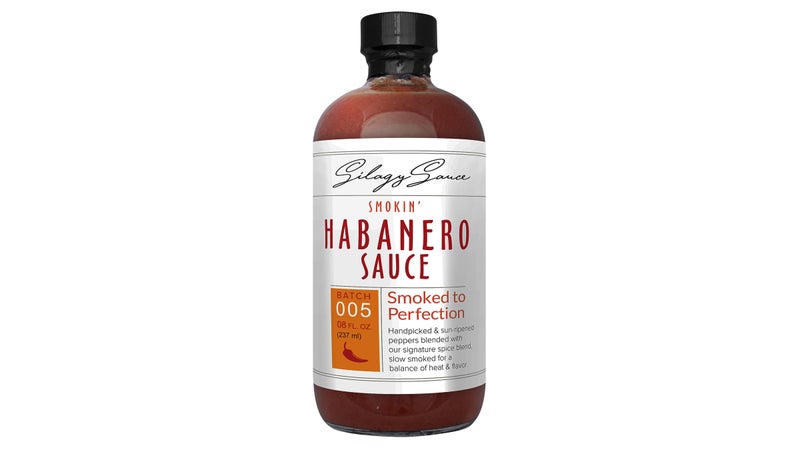 This is one of Brian Ruhlmann's favorite picks. The Washington State–based hot-sauce company delicately smokes its habaneros before blending them with cilantro and lime juice. The final product is bright and fruity but also smoky and just a bit sinister. Because there's a lot going on in this sauce, it's perfect for topping something simple like scrambled eggs.
---
Hoss Soss's Bi-Bim ($8)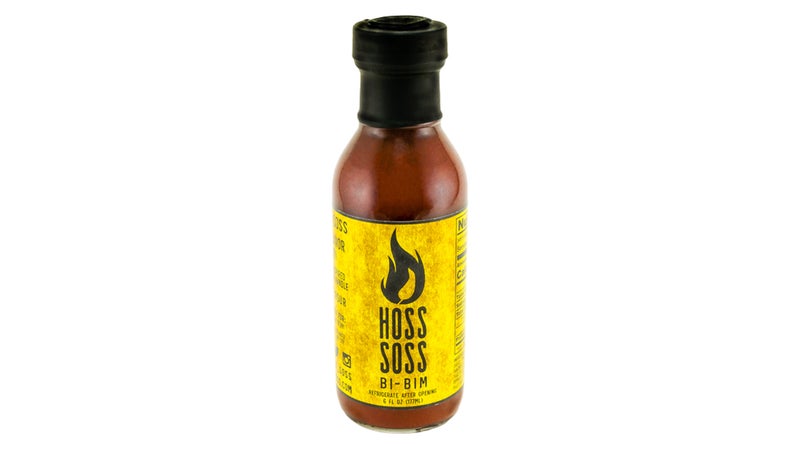 Your sad bowl of instant ramen is not going to see this coming. Jammed full of all the flavors we love in Korean food—nutty sesame oil, salty fish sauce, and sour lime juice—this sauce gets its kick from red Korean chilies. Crafted by folks in Salem, Oregon, Hoss Soss has a cult following of its two flavors, and once you try the Bi-Bim, you'll be back on the company's website, ordering a few bottles of its guajillo-pepper offering. 
---
Karma Sauce's Extreme Karma Sauce ($12)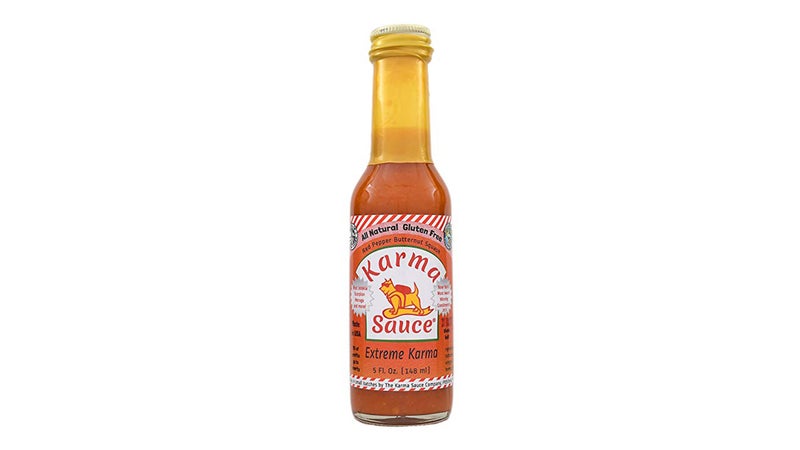 This is another Ruhlmann favorite. With a butternut squash base, this sauce has a background sweetness that makes it unique. Blazing Bhut Jolokia and Trinidad Moruga Scorpion peppers, grown on the company's family farm in upstate New York, add enough heat to break you out in a sweat. It's awesome on everything from pizza to deviled eggs to that dehydrated-chicken-pot-pie meal you just reheated.
---
Baby Clydesdale's Carrot, Habanero, and Ginger Sauce ($10)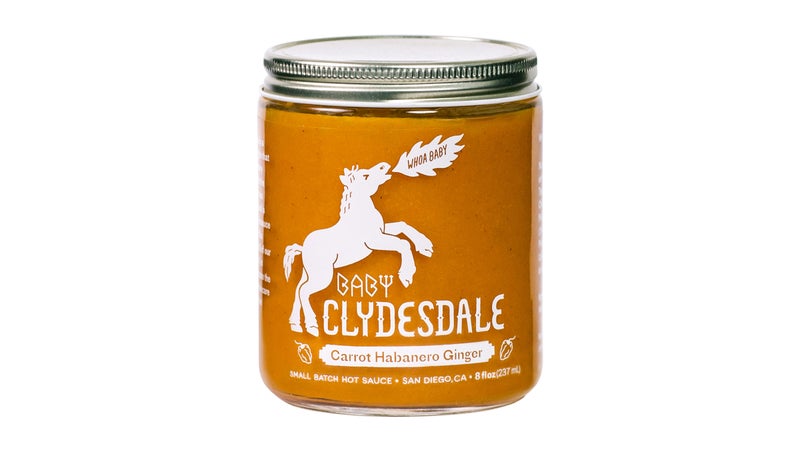 Locals are obsessed with San Diego-based Baby Clydesdale's sauces, which are all made with whole-food ingredients. The booths the company sets up at farmers' markets often sell clean out. Now it's time the rest of the country knew about the brand, too. The carrot-based offering is a particular favorite of Top Chef contestant Brian Malarkey, a chef and partner of Herb and Wood in San Diego, which has repeatedly been picked as one of the best restaurants in the city. "In most habanero sauces, the intensity of the pepper blows out your taste buds," he says. "Baby Clydesdale's habanero variety strikes that proper balance between the heat and ever-so-subtle fruit profile of the pepper that makes it intriguing and fun for your palate." He loves it on ember-roasted corn or a skillet-cooked sweet-potato hash.
Lead Photo: Jeff Wasserman/Stocksy
Trending on Outside Online