The Best Summer Cocktails
Five athletes on their favorite summer drinks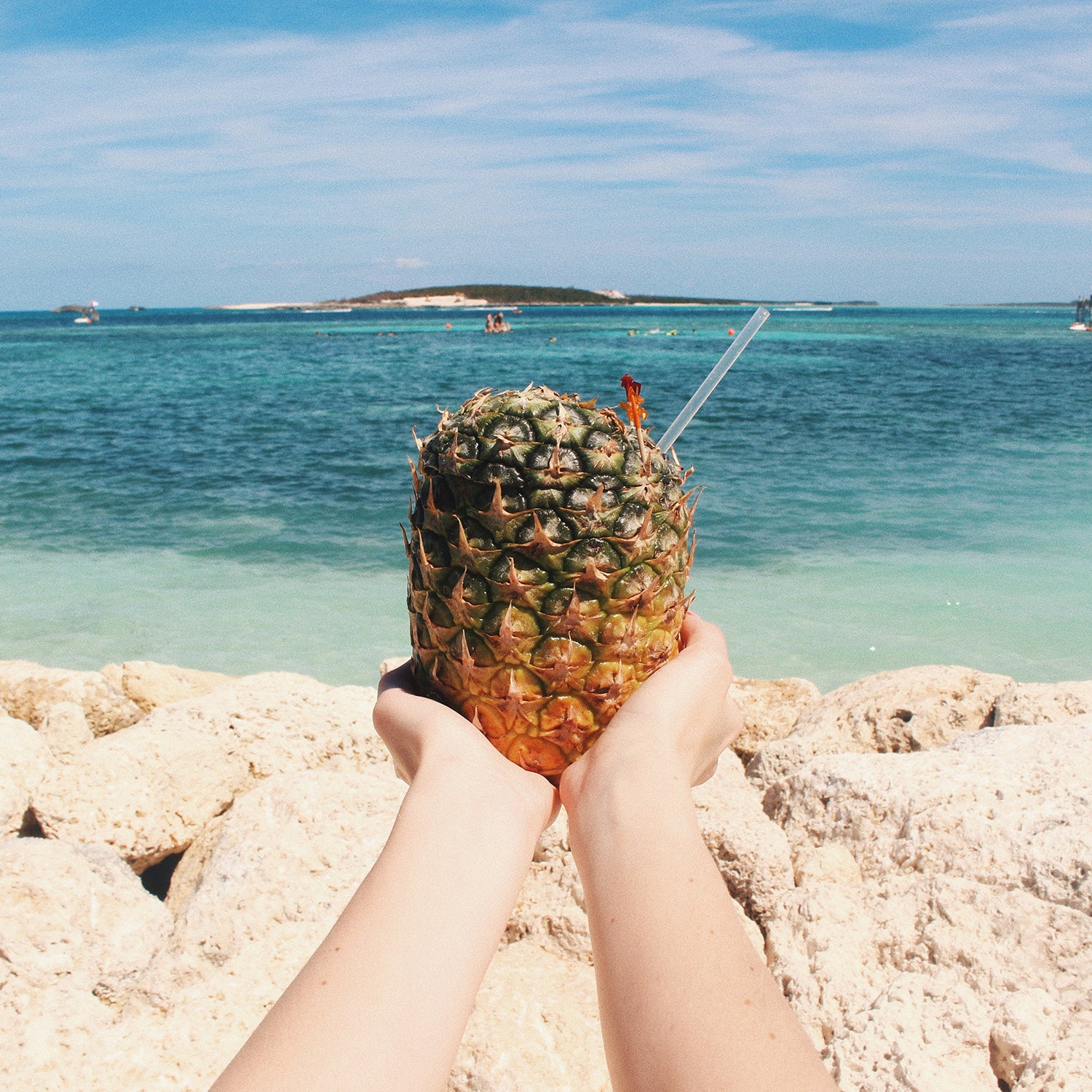 AJ Garcia/Unsplash(Photo)
Heading out the door? Read this article on the new Outside+ app available now on iOS devices for members! Download the app.
Summer means long, hot days followed by cold post-adventure cocktails. In other words, you cannot have the perfect summer without the perfectly refreshing summer drink. We spoke with pros from a variety of sports to find out their preferred method of toasting a good day out.
Ultrarunner Jenn Shelton: Glacier-Rita
Jenn Shelton, a legendary mountain athlete and legendary drinker, has a go-to summer cocktail that requires a little bit of leftover snowpack and an Emergen-C packet. "Lime would be ideal, but I am not going to be like, 'This one is not lime. I am not drinking it,'" Shelton says. "I am not that classy." While Shelton usually drinks Hornitos Tequila, she doesn't think you need to get hung up on the brand. "It isn't the classiest drink in the first place," she says. "You are drinking from a Ziploc, after all."
Fill a sandwich-size Ziploc with snow.
Sprinkle one packet of Emergen-C over the top.
Add a hearty pour (three to four ounces) of Hornitos Tequila.
Close the Ziploc.
Shake vigorously.
Drink directly from the bag.
Mountain Biker Eric Porter: Mojito
Yes, this is arguably the most cliché summer drink, but Eric Porter had to give it the nod as the ultimate refresher after a recent five-day mountain bike race across Cuba. "I figure that with the heat and humidity, [Cubans] know something about summer drinks," he says. "And mojitos are about as light and refreshing as it gets. After a long, hot ride in summer, they're even better than a beer."
In a highball glass, mix together two teaspoons of white sugar with half an ounce of lime juice.
Muddle two sprigs of fresh mint leaves.
Add a shot of light rum, like Havana Club Añejo Blanco, plus a few ice cubes, and mix again.
Top off with sparkling water.
Skier Santiago Guzman: Michelada
Santiago Guzman's family owns the Fresco Bar in the climbing mecca of El Chaltén, Argentina. The bar is famous for its home-brewed IPA, epic parties while climbers wait for conditions to change, and a game in which patrons sprint from the joint to a multipitch route, which they climb and rappel, then sprint back to the bar. While the most popular drinks are the Fernet con Coca (Fernet and Coke) and Campari Naranja (Campari and orange juice), Guzman is a beer guy. His favorite summer cocktail is the refreshing, spicy, beer-based Michelada.
Salt the rim of a pint glass.
Add a handful of ice.
Add a teaspoon of Worcestershire sauce, the juice of one lime, and a teaspoon of Tabasco sauce.
Fill with lager. (Guzman suggests "your favorite." I am currently partial to Caldera's Lawnmower Lager.)
Ultrarunner Max King: Smoky Gin and Tonic
Max King lives in the craft-beer paradise of Bend, Oregon, but his summer cocktail of choice is a slight spin on the gin and tonic. He loves the classic drink because of how bright and thirst-quenching it is in a low-hassle package. King likes to add a little smoky depth with a splash of Sombra Mezcal.
Fill a highball glass with ice.
Add 1.5 ounces Crater Lake Gin.
Add a splash of Sombra Mezcal. (Be careful not to overdo it; the smokiness can overwhelm the whole drink.)
Fill with tonic.
Garnish with lime.
Skier Cody Townsend: Dark and Stormy
While Cody Townsend is famous for his skiing, he grew up in Santa Cruz, California, and makes it a point to maximize summers with a two-week surf trip, usually to Baja. His summer cocktail of choice is the Dark and Stormy, which he says strikes a perfect balance between tasty and not embarrassing to order at a bar. "You aren't putting umbrellas in it, and it isn't a frilly drink," Townsend says. "But it's also really refreshing." Skip the cheap ginger soda in favor of spicy ginger beer like Bundaberg, and make sure to use a dark rum like The Kraken Black Spiced Rum.
Fill a lowball glass with ice.
Fill about halfway dark rum.
Fill the rest of the way ginger beer.
Garnish with lime.
Lead Photo: AJ Garcia/Unsplash
Trending on Outside Online