I'm Never Letting Go of My Vintage Cast-Iron Skillet
Durable outdoor cooking utensil? Yes. But to me, this century-old Griswold also symbolizes much more.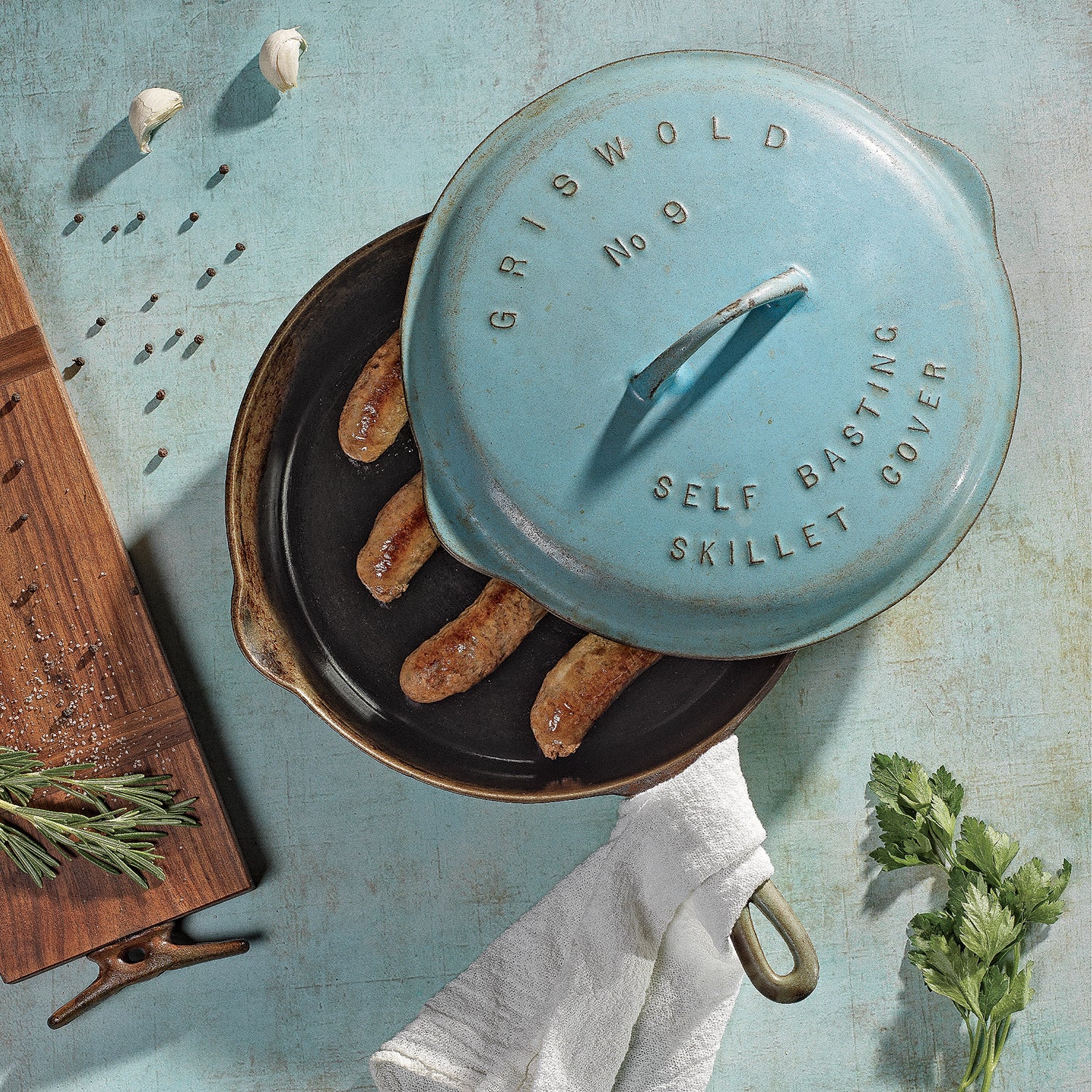 Kevin Zansler
Heading out the door? Read this article on the new Outside+ app available now on iOS devices for members! Download the app.
When I saw an old Griswold cast-iron skillet and lid at an estate sale in Santa Fe last summer, I didn't quite know what to do. For a few minutes, I stood there like a log stuck in an eddy, running my hands over the robin's-egg blue enamel. Customers jostled around me, headed for a table of crystal decanters. Did no one notice what I had just found? Someone notice!
I knew Griswold was a sought-after name in vintage cast iron, a product of the early 1900s, back when things were made to last and before manufacturing was on an accelerated trend of faster and cheaper. But was this set worth $75? The non-enameled interior was rusty, the bottom scorched and chipped. Unsure whether I'd found an heirloom or an unusable waste of money, I wandered around for an hour with the skillet clutched to my chest like a carnival prize. Finally, I walked over to the register and paid. Several weeks later I found out it was worth upward of $1,000.
My journey to cast-iron obsession began at a Target in 2016. I was 24, working a hodgepodge of mountain-town jobs to afford the one-bedroom apartment my boyfriend and I had just rented. On our way to the checkout with a cartful of cheap housewares, I detoured to the Lodge display and grabbed a ten-inch skillet. It cost $25. If we were going to spend all this money outfitting our first grown-up place, I reasoned, we really ought to get a piece of cast iron. What could be more simultaneously gourmet and dirtbag-friendly than that?
For years the skillet lived on the top-right burner of our stove, getting the level of care and attention most people bestow on a pet. I diligently cooked bacon in it once a month to build up a solid layer of polymerized and carbonized fat, known as seasoning, that gives cast iron its nonstick properties. I made sizzling, restaurant-style fajitas. I baked fluffy corn bread. I was filled with pride every time a fried egg slid out on its own, with no shove from a spatula.
But my attachment to cast-iron cooking went beyond the merely culinary. More than anything, I clung to it as a token of permanence. At my age, everything—jobs, friends, homes, even my identity—felt like it was shifting. In the absence of physical roots, cast iron was something I could invest in, and in doing so preserve a bit of who I was at that moment in time.
It's no surprise that outdoorsy people like me tend to gravitate toward cast iron. Not only is it durable and affordable, but it's also a workhorse of wilderness cooking. Picture a classic cowboy breakfast and you probably imagine two eggs and a few strips of bacon frying in a glossy iron skillet over a bed of coals, maybe some grits boiling in a heavy iron pot perched above an open flame.
And there's a reason cast iron is considered one of the best materials for outdoor cooking: reliable heat. "Aluminum is subject to whatever heat is coming out of your stove or fire," says Stephen Muscarella, cofounder of the cast-iron brand Field Company. But once cast iron gets hot, it maintains a consistent temperature across the entire surface of the pot or pan.
That's a valuable trait when what you're cooking involves a grill, open fire, hearth, woodstove, or burner—all tricky heat sources prone to fluctuation. The result is unbeatable crust on bread and flavorful char on meat and vegetables. These qualities make cast iron one of the few camping amenities also prized by professional chefs and home gourmets, because it produces flavors and textures that no other material can match.
In addition to being a superior way to prepare many types of food, cast-iron cooking is also among the oldest. Cast-iron cookware, which dates back centuries, became popular in Europe and North America in the mid-1800s. For decades it was the dominant method of cooking in the U.S.—until lighter, cheaper aluminum pans and then chemical nonstick coatings came along in the 1950s.
That popularity is no surprise, though it takes commitment to maintain the layer of seasoning cast iron is famous for. "Cast iron is about building skills and knowledge," Muscarella says, "learning how to use a tool." For many, especially outdoor enthusiasts and gearheads, that's part of the draw. Anyone who takes pride in waxing their skis or tuning their bike understands implicitly.
There's a buzzword in the gear world: durability. We prize it. Yet modern attempts to manufacture equipment that lasts pale in comparison with the timeless endurance of cast-iron cookware. Even the most durable nylon shell jacket eventually gets holes or loses its DWR coating. And the pieces that survive fade from use as better technologies render them outmoded. On the other hand, a piece of cast iron lasts generations and never goes out of vogue. Collectors still seek pre-1950s pans from brands that have long since disappeared, like Griswold, and not just for the novelty value.
Few other pieces of gear possess this truest and most unique form of resilience: not only the strength to resist failure, but the ability to withstand it. The only way to really ruin cast-iron cookware is to drop and break it, or to crack it with ice-cold water when it's hot. Accidentally wash the pan with soap? Cook something too acidic, eroding the seasoning? No problem. You can always rebuild. Unlike broken zippers and split seams, which require special equipment and deft skills to repair, a rusty 80-year-old cast-iron pan needs only a couple of hours and a little elbow grease to rehab.
Within weeks of finding that Griswold, I got on the phone with Kyle Seip, a.k.a. Cast Iron Kyle, who refurbishes and sells vintage cookware to an Instagram following of 24,000-plus, including professional chefs like Gordon Ramsay. It's Seip who told me how much my find was worth, and he walked me through the process of scrubbing it with steel wool and kosher salt to clean up rust and gunk.
After that, to restore the seasoning, all you need is heat, a drop of vegetable or flaxseed oil, and a few minutes back on the burner to make the fat polymerize into a tacky, protective film. Then: start cooking. The best way to nurture a nonstick coating is through regular use. As you use your pan, impurities in the oil and food residue carbonize, making the seasoning durable.
It's a comforting concept: strength through repetition. Few things in life are so tough and so easily maintained—always there yet always changing, easy to make new again and again.
Trending on Outside Online