How to Drink Beer and Do Yoga at the Same Time
Flow yoga takes on a whole new meaning when it's the suds that are flowing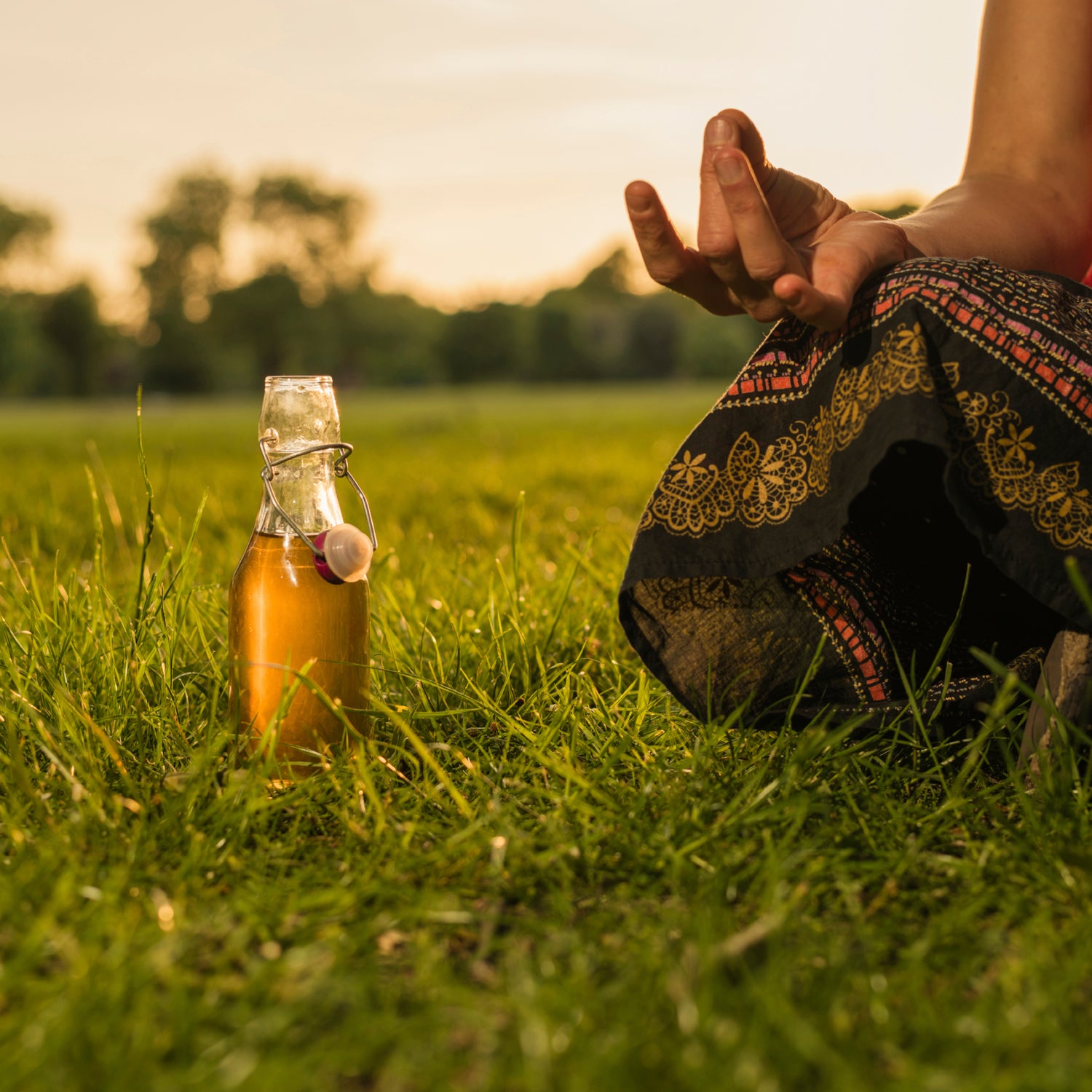 lolostock/iStock(Photo)
Heading out the door? Read this article on the new Outside+ app available now on iOS devices for members! Download the app.
Yoga has the reputation of being for the lean of limb and birdlike of appetite—and not without reason. According to the most recent Yoga in America survey, the vast majority of yogis cite health benefits as their main reason for hitting the mat. That reputation can make yoga intimidating for those of us who, uh, don't always treat their body as a temple. To lure the rest of us into the practice, some are turning to the world's best recruiting tool: beer. 
"I really like beer, but I saw that there was a disconnect between the people I was going out with and the people I was doing yoga with. I wanted to show that you don't have to already be healthy to do yoga," says Jenny Miller, a yoga instructor, studio owner, and author of the BeerAsana blog. 
So Miller started promoting yoga-and-beer classes. "I wanted it to be an entryway for people who self-identified as not healthy. And really, for most people you start doing yoga and you sort of end up moderating your habits. You start to live and eat a little bit better," says Miller. Yoga with beer is less about getting people to change their habit, she says. "It's just yoga for everybody."
Breweries are getting in on beer yoga too. The explosion of local microbreweries and tap house businesses has, in many places, saturated the market. This means that local brewers have to get crafty with marketing. While adding beer runs and game nights are obvious choices, some—like Pokro Brewing Company, in Indiana—are going after the yogi market. There are two other breweries in the town of Griffith, but Pokro Brewing Company is the only one offering beer yoga. 
"We want to attract all kinds of different people," says Robyn Pokropinski, who co-owns the Griffith, Indiana brewery. Pokropinski says the idea for a yoga and beer night cropped up after a local yoga instructor visited her taproom and declared the space perfect for a yoga class. "I was super excited because I used to do a lot of yoga myself," says Pokropinski. Pokro Brewing Company's first event sold out in three days, and subsequent events have drawn good crowds too. Griffith says the yogis that attend are generally a mix of people who come for the yoga and stay for the beer, and people who tolerate the yoga for the beer at the end. Her crowds are mostly female—which, coincidentally, can be a statistically harder demographic for a craft brewery to bring in—but she says dudes come to stretch out too.
 
In most cases, breweries and yoga studios are pairing the two activities just like a beer run or your company softball game: If you suffer through an hour of relative misery you get a beer for your efforts. But some breweries, like Three Rivers Brewery in New Mexico, are actually bringing the beers into class. At Three Rivers' twice-a-week classes, participants can sneak sips between bouts of Warrior One and Warrior Two. 
It's the perfect option for those of us who, when asked to "find our center," find nothing but a well-earned beer gut. 
Want to sip as you stretch out? Here are some tips on how to not send yourself into certain GI distress when mixing beer and yoga. 
Step One: Step Away From The Brew
Really, you should wait until you're done to open up a cool one. "I would not recommend drinking beer while practicing. I mean, delay your gratification a bit.  This isn't Wiffle Ball," says Jenny Miller. 
Step Two: Okay, If You Must
If the only way you'll do yoga is with a 12-ounce can by your side, so be it. But Miller says to pick a low alcohol beer. "Green Bench Brewing Company has one on tap right now called De Soto Low Micro IPA that's only 2.3 percent," she says. If you can stay under that 3 percent ABV level you're going to feel a heck of a lot better. Also, this might be the perfect time for a casked beer, which generally has less carbonation. 
Step Three: Avoid Any Poses Requiring Balance
This is not the time to perfect your handstand or any other pose requiring a ton of coordination and balance. Stick to gentle stretching and easy range of motion exercises. 
Step Four: Finish With More Beer
Pokropinski recommends drinking whatever you like after you're done. There are no rules here. Personally, she goes for a stout post-workout, but there are no rules. 
Lead Photo: lolostock/iStock
Trending on Outside Online