How the West Was Wined
Napa's knack for producing world-class vintages has spilled across the Left Coast. Raise a toast to five getaways that mix bucolic adventure by day with fine wine by night.
Heading out the door? Read this article on the new Outside+ app available now on iOS devices for members! Download the app.

NAPA VALLEY: The Benchmark

Napa Valley, CA

Napa Valley Vineyards: Little rows of heaven
Taking stock of the classic wine-country getaway
IT'S A LATE-FALL AFTERNOON two weeks past the wine harvest, and I'm pedaling with a few local cyclists to the top of Mount Veeder, home of some of Napa Valley's steepest cabernet vineyards. The turning grape leaves are a kaleidoscope of color—gold, mustard, red, and rust, with a hint of leftover green. From the summit, we roll along the ridgeline, then dip down through valleys of oak and olive groves, breathing in air ripe with crushed grapes, wild sage, and smoke from wood fires. That's when the sensation hits me: I feel like I'm in Italy—in Umbria, to be exact, on the back side of Mount Subasio. I became enamored with the forest-covered hills laced with ribbons of quiet asphalt in that corner of central Italy while leading bike tours there in the late 1990s for a Berkeley-based adventure travel company. Now, I feel like I'm tracing those same roads again.
Napa Valley, which stretches 30 miles from Carneros in the south to Calistoga in the north, is the closest Americans will come to a European wine region without crossing the Atlantic. Although only 4 percent of California's wines come from the estimated 600 vineyards in Napa, the region is home to most of the country's ultra-premium labels—a fact that has transformed the valley into one of the nation's best-known and poshest wine destinations. Accordingly, traffic is often heavy on Highway 29, the major artery through the area, and the sipping occasionally comes with some attitude. But for most, these are slight inconveniences compared with the breadth of wines on offer. The valley's startling range of Mediterranean-like microclimates is ideal for growing several varieties of grapes: Napa's cabernet sauvignon and chardonnay are legendary, and the region has been producing pinot noir since the 1870s. As winemakers better understand the nuances of grape growing on each hillside, additional varietals—like sangiovese and malbec—are taking root.
I'm quite particular about chardonnay—the rich, buttery varietals are definitely not my thing. With that in mind, I head up to Stony Hill Vineyard, on the flanks of Spring Mountain, where owner Peter McCrea shows me to the tasting room, a terrace overlooking a garden brimming with zinnias. McCrea pours me a glass of his straw-colored chardonnay, which his father began producing in the 1950s. I stick my nose in the glass and am pleasantly surprised to breathe in a burst of ripe pear fragrance: This is a chardonnay I could learn to love. I take a swallow, savoring the mineral and citrus flavors that linger on my tongue.
Napa winemakers are rightfully proud of their creations. Robert Sinskey, whose three-decades-old vineyard bears his name, was once a guest on a walking trip I led in Liguria, a region in Italy known for its wine, especially the whites. Sinskey showed up with his suitcase stuffed full of his own wines, which we drank before dinner each night. By trip's end, everyone on the tour agreed: Sinskey's jammy pinot noir was as good as any Italian bottle we'd uncorked. Likewise, Pat Kuleto's Napa winery, spread across 97 hilly acres above Lake Hennessey, squeezes out a coral-colored sangiovese that screams fresh strawberries, and a syrah with a blueberry aroma and peppery taste—a glass of each in the tasting room brought all good intentions of an afternoon hike to a premature end. And PlumpJack, a 50-acre estate growing grapes since the 1880s, produced a black, inky, fruit-forward '02 cab that sold out in less than four months.
But Napa serves up its indulgence in more than just liquid form. Over the years, the valley has continued to refine itself with decadent dining, lodging, and spa treatments. The best spot for dinner in Napa is ZuZu, a tiny Spanish tapas joint, or Terra (in nearby St. Helena), where the setting feels Tuscan villa (a fieldstone building with arched windows), while the dishes stick to California cuisine (grilled quail on caramelized endive). Afterwards, head down the street to the Bounty Hunter wine bar for a slice of persimmon pie with pomegranate molasses and a nightcap. After a moonlit swim in the lap pool at the new Calistoga Ranch, I return to my creekside cedar-and-stone abode to find the fireplace aflame, a bottle of champagne on ice, jazz on the stereo, and a tiny chocolate wine bottle on my pillow. A few weeks later, when I make reservations at the recently opened Poetry Inn, a three-room California Craftsman enclave perched high on a hill in the Stags Leap district, the innkeeper phones back to ask my music preferences and preferred pillow type, then greets me in person at check-in with a flute of sparkling wine.
The best part about Napa, however, is the way sophistication and the natural environment merge—there's a hint of romance and a heady mix of elegance and rustic mystery. During an afternoon mountain-bike ride on the forested flanks of the Howell Mountains, 1,400 feet above the valley, I come face to face with this bucolic side of Napa. I've been riding singletrack for about two hours without seeing a soul, and the sun is sinking fast. Just when I think I might be lost, I hear branches crackling and my mind skips ahead: Rattlesnake? Black bear? Mountain lion?! Instead, a local mushroom collector appears out of the woods, finishing up an afternoon out rustling for chanterelles. Dressed in a fleece against the gathering evening chill and carrying a large wicker basket, he reminds me of a mushroom gatherer I bumped into in the forested hills of Italy's northwestern Piedmont region. After a quick chat, he tells me the fastest way back to the trailhead—but he won't divulge where to find the best mushrooms. Known and overblown as it is, even Napa still guards a few secrets.
Sonoma County, CA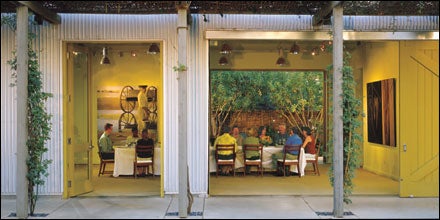 SONOMA COUNTY: Vintage Chill


Savoring seclusion around Napa's offbeat sibling
WHAT'S WRONG WITH THIS PICTURE? I'm lounging on my back in a hot tub, my fiancé, Steve, reclining next to me. Every so often our personal bath attendant arrives to blot our steamy foreheads with cool washcloths and offer us ice water through a straw.
What's so wrong? Let me tell you. We are entombed in two tons of soggy, steamy sawdust. And we are naked.
We've come to Osmosis, a homey little day spa in rural western Sonoma County, to sample their cedar-enzyme bath, an ancient Japanese healing treatment. The premise: Submerge yourself in cedar and fir pulp, and the wood will beautify your skin, reduce tension, and infuse you with feelings of "elation."
Right now, immobilized by 120-degree sawdust, I'm fixated on these thoughts, in this order: Did they make us sign a waiver? No. Then surely it can't be dangerous. How often do they change the chips? And, with regret: I should have worn my bathing suit. Once I work through this panic loop, I find myself oddly, calmly accepting: This is the Zen moment I've been waiting for. But when the attendant informs us, "The heat of the bath comes from fermentation" (yup, we're sprawled out in rotting wood), I can't get out fast enough.
Later, after we've scrubbed off every last wood chip, we're tucked into narrow cots upstairs, with herbal pillows placed over our eyes and Meta music piped in through headphones. I trance out for the best spa treatment of my life. When the crashing of ocean waves stops and I open my eyes, Steve is gone. I find him in the meditation garden out back, contemplating a bed of gravel raked into perfect, impermanent swirls.
Such are the unexpected pleasures of Sonoma, a laid-back valley just over the gnarled Mayacamas Mountains from Napa's glossy wine empire. With more than 70 wineries in the 22-mile-long Valley of the Moon and another 180 in the surrounding county, Sonoma is consistently among the top five wine-grape-producing regions in North America and second only to Napa in wine-tourism revenue. But where Napa is sleek and chic, Sonoma is farmy and friendly; ask a local for a recommendation in the wine aisle at the market and he'll chat you up about the valley's renowned cabs and the Russian River's rich pinot noirs.
For a week over Thanksgiving, we went in search of the wilder side of Sonoma. Our first stop was Healdsburg, a stylish town of about 11,000 in northern Sonoma County. The place to stay is the Hotel Healdsburg, a stately three-story inn on the plaza. Inside, blocky concrete columns, sea-green glass tiles, and bare pecan floors are warmed by leather couches, double-wide slipcovered chairs, and king-size beds.
Biking may not be the most original way to tour wine country, but thanks to an abundance of quiet farm roads looping past picturesque vineyards, it's arguably the best. So we embraced cliché and set out late in the day on a 25-mile loop through Dry Creek Valley, just north of Healdsburg. Leaving town, we raced daylight up West Dry Creek Road, past rust-red vines, small bungalows, old wooden barns, and a 1950s Mercedes with a bumper sticker that read I VEG TO DIFFER. With ten minutes until sunset and 12 miles still to ride, we debated whether there was time for a detour to the boutique Bella winery, then wheeled up to its tasting cave for a flight of fruity zinfandels. On the fast, wine-fueled ride home, we zinged past the darkening blur of a rowdy Mexican fiesta and a self-serve stand selling $1 persimmons.
Speed workouts are best followed by giddy self-indulgence: Ours entailed an hourlong massage in the spa, dinner next door at the popular, if a little stuffy, Dry Creek Kitchen, and finally the soundest sleep I can remember. We hadn't exactly found the untamed heart of Sonoma, but we weren't complaining.
The next morning we redoubled our efforts with a ten-mile canoe trip on the Russian River, a tranquil run through redwoods that gave us a glimpse of a woodsier, wilder Sonoma. Manager Ted Schroeder and co-owner Linda Burke of Burke's Canoe Trips, a second-generation outfit that's been renting canoes on this flatwater stretch from Forestville to Guerneville for more than 50 years, accompanied us downstream. The river was shady and cool and, except for the odd heron, utterly still.
Back in the Valley of the Moon, we chanced upon Kaz, one of the smallest tasting rooms in the valley. Rick "Kaz" Kasmier produces 1,000 cases of organic wine a year inside a clapboard barn. He welcomed us with tastings of tawny port, and his wife invited us to help her cut wine labels. We left with a signed bottle of 2003 Sangiofranc.
Which brings us back to the cedar-enzyme bath. Well wined and dined, a little bit achy from our exploits, we found this sawdusty haven and, at least for a little while, true elation.
Applegate Valley, OR

APPLEGATE VALLEY: Wineward Ho!


Searching out the wild heart of Oregon
MICHAEL GIUDICI DOESN'T EXACTLY exactly extend a pinkie finger when he sips his wine. He doesn't dress up, either—at least not today, in his sweatpants as he shouts at his dogs barking at strangers in the driveway. I double-check my brochure on southern Oregon wineries. Sure enough, we're at the right spot. For the next 45 minutes we sit with Giudici, owner of John Michael Champagne Cellars, and sample shots of his estate-bottled bubbly, a sparkling sake, and a 2001 blanc de blancs that took best of class at the 2005 Los Angeles County Fair. I have no idea whether that award would impress a wine connoisseur, but I do know that Giudici's boutique concoctions are tasty and as full of "intense character" as the man who makes them.
My girlfriend, Heidi, and I are weekending in the Applegate Valley, near Grants Pass, Oregon, looking to blend an earthy cuvée of Siskiyou Mountain hikes with stops for chardonnays and syrahs at the up-and-coming vineyards sprouting across this part of the state. While the land in this region, 4.5 hours south of Portland, is rugged—steep hills falling into angry whitewater—it's the wine part that intimidates me. As a red-blooded dude with a beater truck, I turn hangover-green at the snootiness that sometimes pairs so well with pinot.
The Applegate Valley, I'm learning, is my kind of wine country: small, a little bit wild, and unpretentious. The $1.4 billion Oregon wine industry is small in the first place, compared with California's $45 billion juggernaut, but most of the Oregon action takes place in the verdant fields of the Willamette Valley—a 147-mile-long yawn farther north that's famous for velvety pinot noirs. The Applegate is a drip on the wine taster's map; masters here cork less than 1 percent of the 1.2 million cases produced in Oregon. But size can be deceiving.
Though people in the area first began crushing grapes and topping casks in the mid-1800s, the Applegate wasn't recognized as an American Viticulture Area until 2001. Today, only about a dozen wineries pepper this 30-mile-long valley of rolling dairy farms pinched by hills of madrone, oak, and cedar. But those wineries serve scores of micro-wines—often cabernet sauvignons and syrahs poured by the owners' own purple hands. Giudici's operation might be an extreme case—as suave as David Beckham in a coonskin cap—but who cares about highbrow tasting airs when there are 200-plus miles of raftable rivers, 1.8 million acres of national forest, mossy granite canyons, and lonely, serpentine roads out the tasting-room door?
As our base for a late-fall weekend, Heidi and I pick the woodsy Weasku Inn, a log-cabin lodge in Grants Pass, a small town at the northwestern corner of the Applegate Valley. The inn was built in 1924 and was once frequented by Clark Gable, Bing Crosby, and Walt Disney. We dump our bags in a cabin and ease our car out on Route 238, looking for our first taste.
First stop: Troon Vineyard. We pull on the door and walk into an airy space of Brunello Italian granite and hand-scraped hickory floors. Inside, the mood is lively, with tasters sampling Troon's 14 wines, some with whimsical names like Druid's Fluid or Jeanie in the Bottle. Chris Martin, a techie who traded software for stemware, opened this Tuscan-style tasting room last summer—one of four new ones in the valley last year, with at least two more on the way in 2006. "We're the redheaded stepchild of the wine industry," Martin jokes, adding that all of the grapes for his 5,000 cases come from vineyards within two miles of his casks. "This is what Napa was maybe 20 years ago, but without so many people."
We roll onward past pastures out to Valley View Winery. At 34 years old, Valley View is the oldest continually operating winery in the area, though it shares its name with the long-since-closed winery that in 1854 started it all. Between checking scores on the football game, Michael Wisnovsky pours us a buttery chardonnay followed by a 2000 meritage, in glasses set on his circular copper bar. After tasting a late-harvest dessert wine that lingers so miraculously thick and sweet on the tongue you'd think Willy Wonka had made it, we buy a bottle and head for our drizzle-splashed cabin to uncork it.
The next morning we set out on a three-mile hike to Rainie Falls, near Galice, northwest of Grants Pass, to look for migrating steelhead fighting up the currents. The trail is spectacular, a thin ribbon of rock and dirt gouged into the side of a steep canyon. One hundred feet below, the Rogue River coaxes black boils of water through hissing rapids that you can raft, inn to inn, during the summer. Waterfalls braid down the mountainside and collect on mossy ledges. This is the kind of Oregon I imagined as a kid.
The rain starts to pad across the forest floor again, so we hike back to the car and drive to the Blue Giraffe Spa, in Ashland. I get an hourlong rubdown that leaves me drooling through the headrest. I'd be embarrassed, but any thoughts I can muster keep coming back to the wineries we missed. I'll return next year with a mountain bike and plenty of room for cases of Troon's Ltd. Reserve II. I can already smell the blackberry air whipping through the holes in my truck.
Walla Walla, WA
Walla Walla, WA

LITTLE RED: Label from a 2003 bottle of L'Ecole No 41 Cabernet Sauvignon

WALLA WALLA: Nouveau Red

Uncorking the chic side of rural Washington

MY AUNT PAM, A POLISHED, Gucci-wearing, Met-season-ticket-holding, 31-year-old financial headhunter, lives on the Upper West Side of Manhattan. She's one of those New Yorkers who would never consider living in a borough as remote as Brooklyn or Queens. So when she broke the news that she was moving cross-country to Walla Walla, Washington, to help her husband open their own winery, I laughed—long and hard. Sonoma, maybe, but backwoods Walla Walla?
It turns out, the joke's on me. Walla Walla is emerging onto American oenophiles' radar screen as fast as the bottles of its award-winning L'Ecole No. 41 and Woodward Canyon Winery reds are being uncorked around the world. Although the area's oldest winery, Leonetti Cellar, opened in 1977, the rise of Walla Walla—from sleepy college town to an oasis of hip in a decidedly rural part of the state—has taken place primarily over the past five years. Since roughly 2000, denizens of cosmopolitan cool—young professionals in their mid-thirties, like Pam and her husband, Greg Harrington, a veteran sommelier of both Emeril Lagasse's and Wolfgang Puck's cellars—have moved here for the emerald-green rolling hills dotted with Wyeth-style farmhouses and a drier climate that's well suited to cultivating merlot, syrah, and cabernet sauvignon grapes. Along with urban sophistication, this influx has brought the talent and funding to open 70 wineries and counting. The new wave includes wine entrepreneurs of all kinds, from Pepper Bridge's Jean-François Pellet, a third-generation vintner from Switzerland, to Chuck Reininger, a former Rainier climbing guide. Considering that Walla Walla is a rising superstar in the firmament of American winemaking, I've decided to join the line of the young and urbane checking it out—in the name of family, of course.
After a quick breakfast in my palatial two-story "cottage" at Basel Cellars, Greg picks me up to begin my tour of Walla Walla wine country. We bounce along the rural JB George Road on our way to Va Piano Vineyards, where Greg is making his first barrels of syrah. As he points out Saviah Cellars and Waters Winery, off in the distance, Greg explains what possessed him to start his winemaking career in the isolated southeastern corner of Washington, three hours from Spokane.
"I was impressed with the region," Greg explains. "Some of the syrahs they're making here are as good as in France." And he should know—ten years ago, at age 26, he was awarded a diploma from London's Court of Master Sommeliers. It also doesn't hurt that the land here is more affordable than in California's classic wine regions. Greg recently closed on his ten acres on JB George Road, which will eventually be the home of Gramercy Cellars, named for the lush park in Manhattan; the first vintage will be uncorked in the spring of 2007.
In the morning, I learn the finer points of winemaking, including "punch-down," in which Greg jabs a huge vat of his blueberry-looking grapes with a metal pole, which releases the tannins to give the wine more flavor and color. Then I spend the afternoon strolling historic Main Street with 35-year-old mixed-media artist Squire Broel, a Walla Walla native who moved back to his hometown from Hong Kong and Seattle. Squire seems to know every one of the 30,000 residents. As we walk out the door at Starbucks, we run into Sarah, a friend of Squire's, who also happened to be my waitress at the CreekTown Café the night before. I've been in Walla Walla for less than 24 hours, and even I am running into familiar faces.
From friendly locals like Squire and fly-fisherman Skip Pritchard (the guide who helped me perfect my loop right before I fell into Mill Creek) to athletes like freeskier Ingrid Backstrom and Cowboys quarterback Drew Bledsoe, the mix of folks who have savored the smart-country vibe is eclectic. Add to this the big-time chefs opening upscale restaurants—26 Brix and Whitehouse-Crawford, to name a few—in a town that's full of public sculpture by such artists as Deborah Butterfield and local Jim Dine, and suddenly the idea of moving to the middle of nowhere to fulfill your dreams doesn't seem so crazy after all.
Paso Robles, CA

PASO ROBLES: Good Libations


Sipping on the success of a Sideways glow
IT WAS FOOLISH TO THINK that one case of zinfandel could sustain five couples through the long weekend. I realize this now, sifting through the empties the morning after our arrival, and I very briefly regret the error in planning. But not for long. Thankfully, we're in the Paso Robles wine country, a 24-square-mile patchwork of 100-plus wineries in central California, three hours from both San Francisco and L.A. Running out of wine here is like running out of gas in the middle of a Saudi oilfield—except here, refilling the tank is a lot more fun.
Wine consumption is not our only objective, however; we've come sufficiently stocked for more robust activities than sipping. In addition to the liquid cargo that we picked up on the way into town, our weekend caravan from the L.A. area carried seven bikes, ten pairs of hiking shoes, and two fishing poles to our plush base camp at Cottontail Creek, a guest ranch on 850 oak-studded acres in Cayucos, at the southwest corner of the wine zone. Our second day's mission is now apparent: Explore the ranch's ten-mile network of trails, then replenish the wine supply so as to enjoy depleting it once again.
We chose Paso Robles because it's nothing like California's other wine country. Vintners here are more likely to wear overalls than neckties, less likely to shun tasting-room visitors caked in bike grease and sweat. The roads are car-free, and the resident wine aficionados are a hodgepodge of aging cowboys, escaped professionals, and urban renegades—a lot like us.
Paso is the precocious teenager of the California wine family. It may not have Napa's history or polished presentation—in fact, it flat-out refuses to fancy itself up—but it has worked hard to create its own distinct identity, with the buzz of a place on the verge of transition. This is the fastest-growing wine region in California, with ranchland quickly giving way to fields of grapes. In the past decade, the total number of wineries has more than doubled, and what was once the secret domain of a few connoisseurs is becoming de rigueur on the California wine circuit.
Credit the 2004 sleeper Sideways, filmed 90 miles south in the Santa Ynez Valley, for much of this newfound notoriety. After the movie exploded, so did wine tourism along this stretch of the Central Coast, and some of the wineries featured in the film suffered unexpected growing pains. At Foxen Winery, in Santa Barbara County, pinot noir sales more than doubled, and the owners had to start hiding the tasting bottles behind the counter to prevent inebriated film fans from following protagonist Miles's lead in helping themselves to seconds.
Though Paso's wineries have thus far been spared weekend parades of stretch Hummers and tour buses, the movie boosted sales significantly, especially among producers like Wild Horse and Windward Vineyard that make pinot noir (Miles's varietal of choice). The former saw pinot sales jump 135 percent from the previous year, during the movie's Oscar run, while the latter, which produces only pinot noir, saw total annual sales increase by 25 percent.
The grape that first put Paso on the American wine map is zinfandel, which came to California from Croatia in the 1850s. French Rhône varietals like grenache and syrah have also done well; each spring, international experts flock to Paso Robles for Hospice du Rhône, the world's largest festival of Rhône varietals, which attracts around 3,500 people.
That's precisely the sort of glitz we're hoping to escape, so we lose ourselves in Cottontail Creek's web of trails. We spend the morning pedaling past orange and avocado groves to an oak-shaded back road that skirts a deep-blue reservoir, then hike amid grazing cows to a ridgeline with panoramic ocean views. Soon enough it's time to replenish the stores, so we drive to Justin and L'Aventure, two of the few local wineries that have garnered international attention and 90-plus-point ratings from critics. Justin is the local celebrity, whose success with a rich, earthy Bordeaux blend called Isosceles has elicited some sour-grapes sentiments from less celebrated neighbors who snub the winery's frescoed ceilings and posh decor. For us, though, the opulence is a welcome break from cattle country, and everyone agrees that the wines stand up to the ambience.
At the much homier Opolo Vineyards, whose peppery zinfandels and rich syrahs have come into prominence in the past few years and whose Rhapsody blend is my favorite find of the trip, we are the only tasters. Likewise at Dark Star Cellars, Linne Calodo Cellars, and Fratelli Perata, a family-run vineyard planted in 1980, one of the oldest in the region. As general manager Carol Perata pours a Bordeaux blend called Tre Sorelle (Italian for Three Sisters), she tells us how her husband, Gino, and his brother, Joe, the sons of an immigrant Italian winemaker, still insist on doing everything from picking grapes to labeling bottles by hand. We're sold, and leave with a case, one of only 2,000 produced each year.
That night after dinner we sit around the lodge's outdoor fire pit, sipping a beefy zinfandel blend we picked up at Linne Calodo. The wine, called Problem Child, is in some ways Paso's kindred spirit—robust, irreverent, and underappreciated. We raise a glass to Problem Child and to Paso Robles itself: May they never grow up.
Access and Resources
california
Napa Valley



ROOM & BOARD:
Expect stunning settings and lavish attention to detail at Napa's trio of new retreats: Calistoga Ranch (doubles from $475; 707-254-2800, www.calistogaranch.com); the Carneros Inn (doubles from $435; 707-299-4900, www.thecarnerosinn.com); and the Poetry Inn (doubles from $475, including a three-course breakfast; 707-944-0646, www.poetryinn.com). The all-new Redd, in Yountville, serves up staggeringly modern creations—like peeky-toe crab salad with a citrus vinaigrette or fresh cod with a chorizo-studded curry sauce (707-944-2222). Everything at Rutherford's Auberge du Soleil is good—including the view from the terrace—but don't miss the chocolate dumplings with tarragon ice cream (707-963-1211).


THE VINTAGE:
With so many premium wineries, it's difficult to know where to begin. Start here: Stony Hill Vineyard (by appointment only; 707-963-2636, www.stonyhillvineyard.com); Kuleto Estate (by appointment only; 707-963-9750, www.kuletoestate.com); Cliff Lede Vineyards (private tours by appointment; 707-944-8642, www.cliffledevineyards.com); Robert Sinskey Vineyards (800-869-2030, www.robertsinskey.com); PlumpJack (707-945-1220, www.plumpjack.com).


BETWEEN TASTINGS:
Calistoga Bikeshop rents Santa Cruz Blurs and Bianchi road bikes ($60 and $40, respectively; 866-942-2453, www.calistogabikeshop.com). Or splash out in a kayak or canoe at Napa River Adventures (from $50 per day; 707-224-9080, www.napariveradventures.com). Afterwards, Lavender HillSpa specializes in couple's treatments that will leave you bleary-eyed and wobbly (800-528-4772, www.lavenderhillspa.com).—A.M.
Sonoma Valley



ROOM & BOARD:
Hole up at the Hotel Healdsburg, where doubles start at $385 (800-889-7188, www.hotelhealdsburg.com). For high-end comfort food—pork chops, grilled cheese—without the attitude, try the Fig Café & Winebar, in Glen Ellen (707-938-2130, www.thegirlandthefig.com).

THE VINTAGE:
In the townof Sonoma, Gundlach Bundschu's popular cave tour and picnic grounds are open daily (707-938-5277, www.gunbun.com). Seven-year-old Bella Vineyards and Wine Cave,in Dry Creek Valley, boasts 100-year-old vines (866-572-3552, www.bellawinery.com). Kaz is one of only a handful of organic wineries in Sonoma Valley (877-833-2536, www.kazwinery.com).

BETWEEN TASTINGS:
At the Osmosis day spa, in tiny Freestone, the 90-minute cedar-enzyme treatment (about 20 minutes of actual bath time) starts at $140 per couple (707-823-8231, www.osmosis.com). Wine Country Bikes rents road bikes, hybrids, and tandems starting at $30 per day and $140 per week. Owner John Mastrianni will also customize two- to seven-day supported, self-guided tours to the coast or northern Sonoma County (prices from $395 to $2,500 depending on lodging; 866-922-4537, www.winecountrybikes.com). For DIY paddling on the Russian River, Burke's Canoe Trips rents boats for $55, including shuttle transport back to your car (707-887-1222, www.burkescanoetrips.com).—K.A.
Applegate Valley



ROOM & BOARD:
The Weasku Inn's five main lodge rooms—all rustic, with creaky wooden floors and antiques—sit over a country-style dining room with a panoramic view of the Rogue River (doubles from $195; 800-493-2758, www.weasku.com). To find out what pairs well with hericium mushrooms (a fat steak anda big red), make a reservation at Summer Jo's Farm, Garden, and Restaurant, in Grants Pass (541-476-6882, www.summerjo.com). Most everything is grown on-site.


THE VINTAGE:
Contact the Southern Oregon Winery Association (800-781-9463, www.sorwa.org) for maps of tasting rooms in the region.


BETWEEN TASTINGS:
The Blue Giraffe Spa, in Ashland, about 45 minutes south, serves up a six-hour pamperfest: steam rooms, body polish, massage, facial. Not your scene? Get the two-hour Manly Things treatment, which includes a massage and a detoxifying steam shower (541-488-3335, www.bluegiraffespa.com).—T.N.
Walla Walla



ROOM & BOARD:
Only two Walla Walla wineries offer accommodation. Abeja has restored the old farmhouses sitting on its property into three charming cottages and two suites (from $235, including breakfast and tasting; 509-522-1234, www.abeja.net). Basel Cellars, "the castle on the hill," rents out the entire eight-bedroom estate house and a smaller cottage (estate for $2,400, cottage for $350; 509-522-0200, www.baselcellars.com).


THE VINTAGE:
In Lowden, 14 miles from downtown Walla Walla, L'Ecole No. 41 offers daily tastings in its restored 1915 schoolhouse (509-525-0904, www.lecole.com). Let Chuck Reininger tell you how he went from home winemaking to owning his own boutique winery over a tasting at Reininger Winery (509-522-1994, www.reiningerwinery.com). This year's Spring Release Weekend will be May 6–7 (Walla Walla Valley Wine Alliance; 509-526-3117, www.wallawallawine.com), followed by the Balloon Stampede Weekend, featuring more than 35 hot-air balloons, May 12–14 (509-525-0850, www.wwvchamber.com).


BETWEEN TASTINGS:
Practice your fly-fishing cast on a fully equipped two-hour to full-day trip with guide Skip Pritchard (509-522-4717, www.bluestockingtours.com). Nothing goes better with wine than cheese, so don't miss the Monteillet Fromagerie's artisanal goat and sheep cheeses, in Dayton, 40 minutes away (509-382-1917, www.montecheese.com).—M.M.
Paso Robles



ROOM & BOARD:
The five-bedroom, 4,200-square-foot luxury lodge at Cottontail Creek sleeps up to 20 and offers massage services, gourmet catering, and yoga instruction ($995 per night for up to 10 guests; 805-995-1787, www.cottontailcreek.com).


THE VINTAGE:
Free tasting is an endangered tradition that's still honored at most Paso wineries. Opolo Vineyards (805-238-9593, www.opolo.com; 10 a.m. to 5 p.m. daily) serves a complimentary six-flavor fleet and will even tap a barrel on request. The Perata family asks that you call before stopping by (805-238-2809, www.fratelliperata.com), but there's no charge to try their wines, which are usually served with snacks. Hospice du Rhône 2006, Paso's largest annual winefest, takes place May 11–13 (www.hospicedurhone.org).


BETWEEN TASTINGS:
Central Coast Outdoors runs guided bicycle trips around Paso Robles from $119 per person per day (bikes $25 extra; 888-873-5610, www.centralcoastoutdoors.com). They also lead kayaking trips in nearby Morro Bay, one of the state's top stops for migratory waterfowl. —K.L.