Introducing the Ultimate Beer Recommendation App
The race is on to try and map out a family tree of brews. Whether or not it will help you be a more informed consumer is up for debate.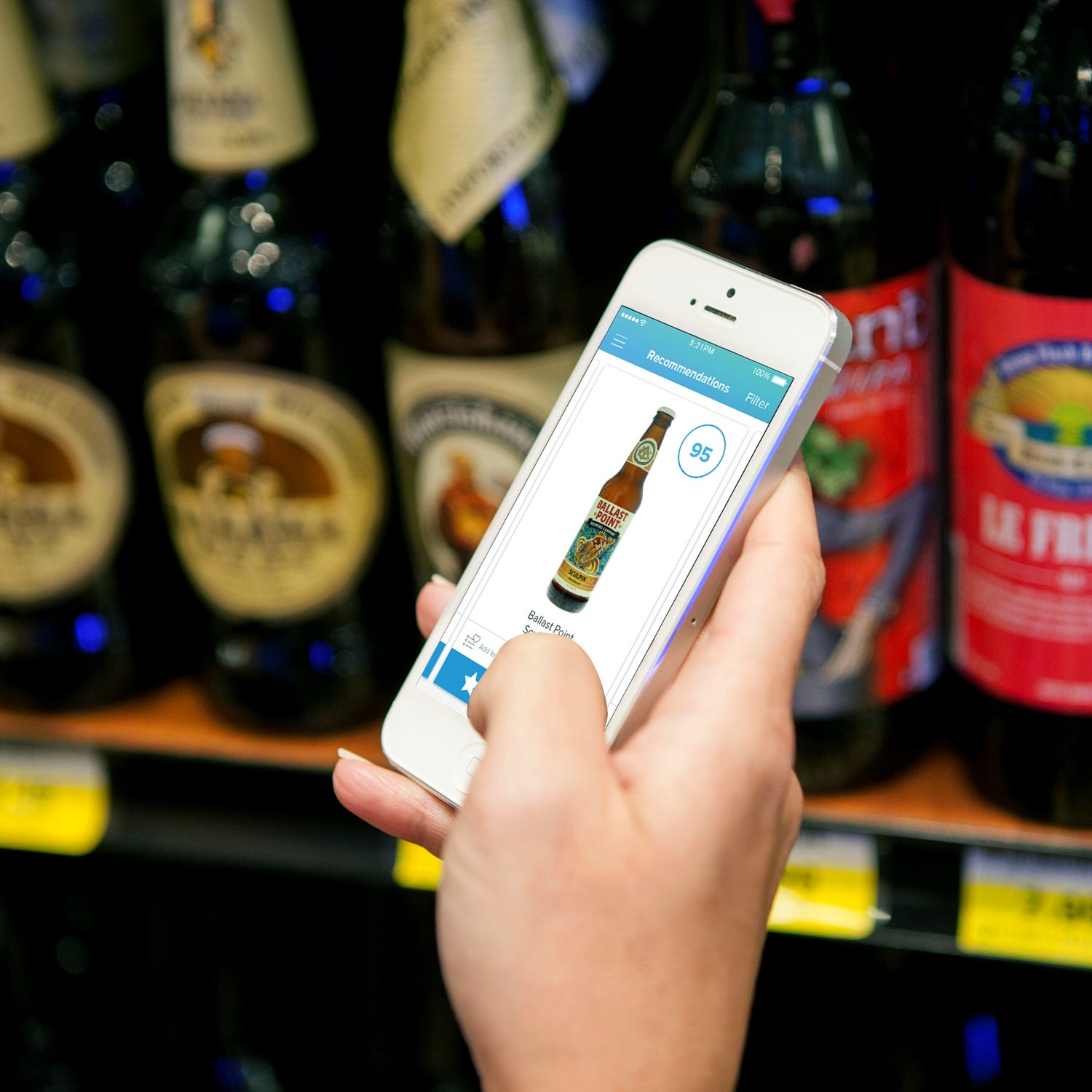 Heading out the door? Read this article on the new Outside+ app available now on iOS devices for members! Download the app.
In the beer aisle, we tend to make decisions based on risky factors like label allure or suggestions from the anonymous critics who actually take the time to contribute to review sites. Which means you've got a pretty good shot at spending your hard-earned cash on a crappy bottle. This is unacceptable in the Information Age.
"What tastes good to one person is really subjective," says Trace Smith. Smith is the COO of Next Glass, an app that uses crazy amounts of data to tell consumers what beers and wines they might like. Palates are a bit like thumbprints, Smith says: They're unique from person-to-person, and they dictate whether you're more inclined towards, say, a caramel-flavored malt beer over a bitter IPA. "We looked at Pandora's Music Genome Project and thought, 'Why can't we do something like that for beer and wine?'"
So the Next Glass team went on the ultimate beer run, sending a van to gather 15,000 beers from 48 stores in 35 cities. They ran each brew through a mass spectrometer that essentially sorts all the chemical compounds in a beer by size, which produced tens of thousands of data points to work with. By feeding them into Next Glass's app, Smith claims it can tell you whether you'll like a beer or not based on how its chemical compounds compare with the beers you normally drink. 
"We looked at Pandora's Music Genome Project and thought, 'Why can't we do something like that for beer and wine?'"
An app that can pare down our beer-aisle deliberations just as Netflix feeds you movie recommendations? It sounds great, but Next Glass doesn't portend to know how every single chemical compound found in beer affects taste. For example, the app will tell you that a beer contains diacetyl (the compound that gives some brews a buttery flavor) but translating that into a qualitative measure of "buttery flavor" is beyond its powers.
"Beer is an extremely complex matrix of hundreds of different compounds, several hundred of which have been identified and determined to play at least some sort of role in the flavor profile," explains Brett Taubman, a researcher at Appalachian State's Fermentation Sciences department. "We're still a long way from understanding exactly how all of the compounds come together to determine a beer's flavor profile." 
There's also the fact that a beer's flavor profile changes as it ages—sometimes for the better and sometimes not. And the same beer from the same brewery can vary year by year due to tweaks in a recipe or subtle changes in the brewing process. 
Perhaps the biggest variable Next Glass fails to address convincingly is your complexity. A "you'll-probably-like-this-too" rating system feels insufficient when it comes to the human palate. "I never know what I'm going to like, let alone what anyone else will," says Emily Engdahl, who runs Oregon Beer Country, a website that helps visitors to Oregon figure out exactly where they should go drinking. "There are times I pour myself a beer and think 'Whoa. That sounded way better than this tastes.'" Engdahl's job is to show the drinking public that there's something out there for every taste, and that there are no wrong or right choices. She's not convinced that an app could ever top the human factor in that sense, but she thinks it could be a great step for encouraging new connoisseurs to branch out and learn about what's on the market.
When I poked around the app, it paired me with several brews I absolutely love—one from Bells and one from Oscar Blues. It also suggested something I'd drink only in the throes of a dire crisis—an orange creamsicle ale. (In all fairness, I'd never tried it, but I can say with certainty that I never will.) Creamsicle ale aside, I had tried most things offered up in the app's first round of suggestions, but, then again, I write about beer for a living. For someone just starting their foray into craft brews, the suggestions likely would have been unique, but not maddeningly-impossible-to-find-at-your-local-liquor-store unique.
Like any good beer snob, the company will need to stay on top of new offerings and continually do beer censuses in order to keep the app relevant. But its other challenge may be tougher: Replacing the social aspects of talking about beers with friends. "That's the whole point of beer—to bring everyone to the table. And the conversations can be funny and enlightening and wandering tales of so much more than styles or beer, for that matter," says Engdahl. "I'm not so naive to think that an app couldn't be created to accurately guess beer suggestions—but what fun would that be?"
Lead Photo: Next Glass