La Colombe CEO Todd Carmichael Is an Adventure Junkie
Todd Carmichael runs the billion-dollar La Colombe Coffee empire, but he still makes time for record-breaking jaunts across Antarctica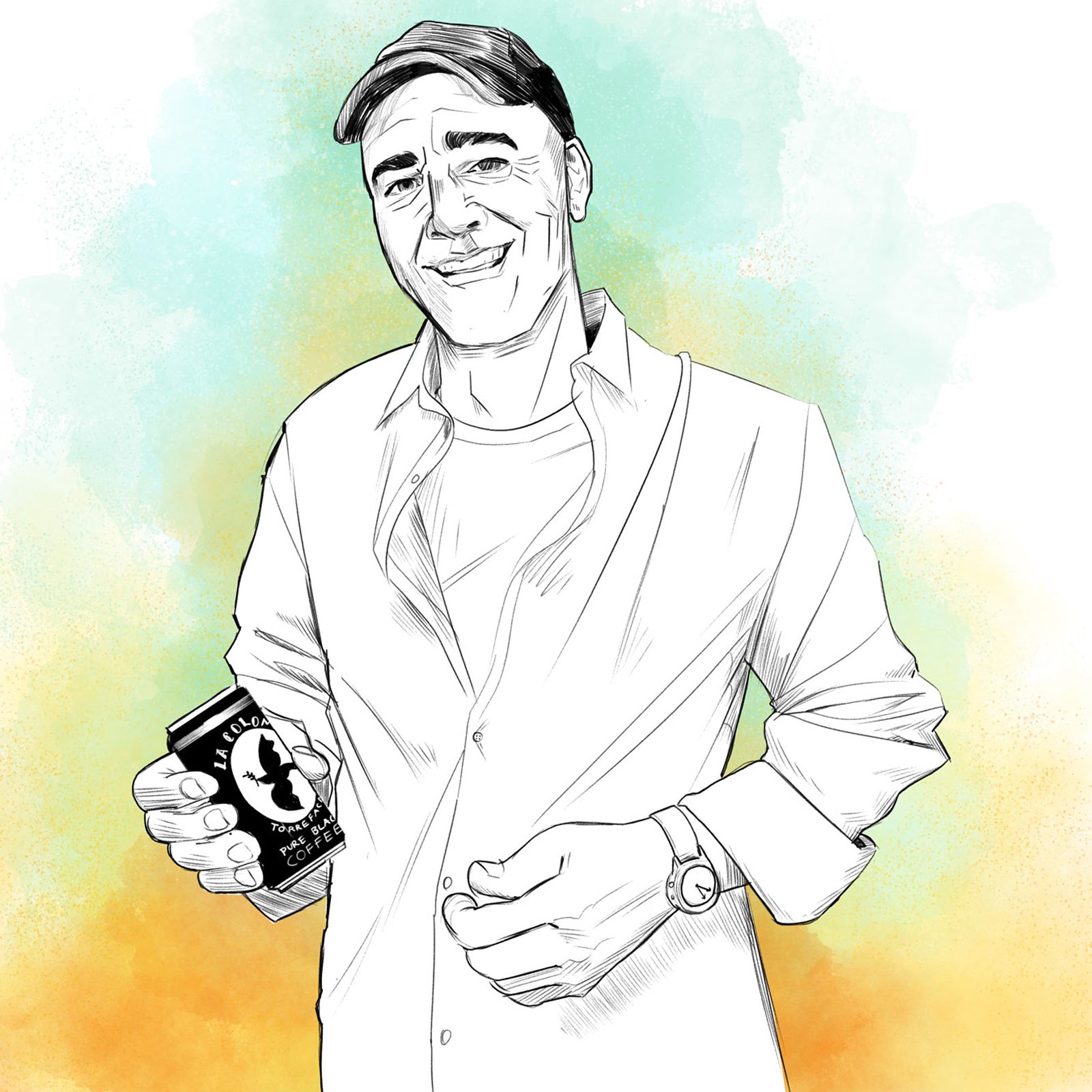 Heading out the door? Read this article on the new Outside+ app available now on iOS devices for members! Download the app.
Name: Todd Carmichael
Job: Founder, CEO of La Colombe Coffee Roasters
Home Base: Philadelphia
Age: 55
Education: Studied business and tax law at the University of Washington
Todd Carmichael was a college student when he got a job lugging grain sacks in a Seattle warehouse. He remembers reading the side of the sacks to see where they had come from, noting places like Rwanda and Brazil. The company he was working for? Starbucks, then a little-known coffee startup with three cafés in the city. That was 1982.
A decade later, Carmichael, then almost 30, and his best friend, J.P. Iberti, started their own coffee brand and called it La Colombe. They opened their first café and roaster in Philadelphia in 1993. They traveled to farms in Bolivia and Haiti to source their own beans and learned how to roast them to bring out their finest flavors, making La Colombe the coffee brand of choice for many James Beard Award–winning restaurants and Four Seasons hotels around the world. 
Meanwhile, Carmichael was also fulfilling his lifelong habit of long-distance running and trekking. He took a three-month break from work to live and train on a remote island in the South Pacific, and in 2008, he set a new speed record as the first American to solo trek across Antarctica to the South Pole unassisted. He's known to disappear in Death Valley for days, climb Mount Rainier on a whim, or take his family—he and his wife are parents to four children adopted from Ethiopia—surfing on Oahu's North Shore.
Today, La Colombe has 34 cafés across the U.S., employs over 900 people, and sells draft lattes (nitrogen-infused cold-brew milk and espresso concoctions) in cans on shelves at grocery stores around the country. Last summer, La Colombe began a yearlong commitment to donate $100,000 to the National Parks Foundation. We spoke to Carmichael shortly after that initiative was announced—and after his first cup of caffeine for the day. 
On the First Thing He Does When He Wakes Up: "I go down the hallway and wake up my youngest child. He's seven. He likes to make coffee with me. I have this alone time with my little guy. I make him a decaf latte. I have four espresso shots. Literally, it's dark, and we're both in our underwear."
On How He's Incorporated Adventure into His Life: "I never wanted to abandon the outdoors and adventure. It's super important to me. A lot of people might rely on therapy or meditation. For me, I mend by going out and challenging myself. I like to inject adventure into my business, too. I do things differently than other people. I like to keep it full of adrenaline. When I'm sourcing coffee, I'm often going into challenging areas, and I have to rely on my wits and my backpack."
On Why Philanthropy Is Good for Business: "I don't think of it as philanthropy. I think of it as decency. Just like I want my children to be decent people, my grandparents taught me this basic concept—that it's important for businesses to be decent, too. Business has a way of making things better if it's done right. We believe in paying fair wages. We believe everyone deserves to live without the ugly stress of poverty on their shoulders. We believe in health insurance for everyone."
On How National Parks Shaped His Life: "When I was 15, I took a bus and hitchhiked from my home in eastern Washington to Mount Rainier National Park. I didn't tell my mom. She wouldn't have let me do it. I kicked around for two days trying to figure out how to climb the mountain. I met a band of hippies who adopted me and taught me how to use crampons. On top of Mount Rainier, I saw my future. I knew I wanted more of this. I was going to climb everything I could, walk across everything I could. Without that mountain, I might be back in Spokane picking apples right now. That mountain taught me I could do anything I wanted. It was a profound epiphany."
On Why We Should All Drink Good Coffee: "People think you need to have some kind of special palate to taste really good coffee. This is an idea propagated by wine and coffee people. But what's good is good. You don't need a sophisticated palate to recognize that. There are a couple of reasons we drink coffee. It's an elevating beverage. Even if tastes like shit, it's still elevating. But when you get a great coffee, you're getting that uplifting piece, but you're also getting that wow factor."
On the Most Fulfilling Part of His Job: "Connecting with people. I come in contact with people in the restaurant industry, the cafés, but also people across the world in 27 different countries. I get to connect with people of many different walks. That's so rewarding. I look forward to every day. There are things I can learn from everyone."
On What's on His Bedside Table: "I like to keep two books going at the same time that aren't similar. Right now I've got Sapiens: A Brief History of Humankind by Yuval Noah Harari, because I love long-arc historical stories. And I've got The Culture Code: The Secrets of Highly Successful Groups by Daniel Coyle. I don't read business books, but this one is about people working together. I've been handing that book to people I work with and saying, 'Read the first two pages. You're not going to want to put it down.'"
On the Best Piece of Advice He's Received: "Before I started La Colombe, I went to Italy and sought out a man named Umberto Bizzarri, the best roaster in the world. He'd started and sold a coffee-roasting company, and he was a mentor from a distance. I asked him for advice and he said, 'In everything, be yourself. Don't pretend to be something else. Be you.' Then he said, 'Don't do it for the money.' He was right. If you're going to try to make something beautiful, you hope the profit is a by-product of your desires. I've lived by those two things."
On His Perfect Day: "I would spend time at my coffee-tasting lab. I'd have an adventure with my kids. I would cook food outside. Then I would go for a swim. That would be my perfect day."
Lead Photo: Erin Wilson