Want to Upgrade Your Mobile Kitchen? Get a Range.
Consisting of both a cooktop and an oven, a range will open the door to a wider assortment of on-the-go meals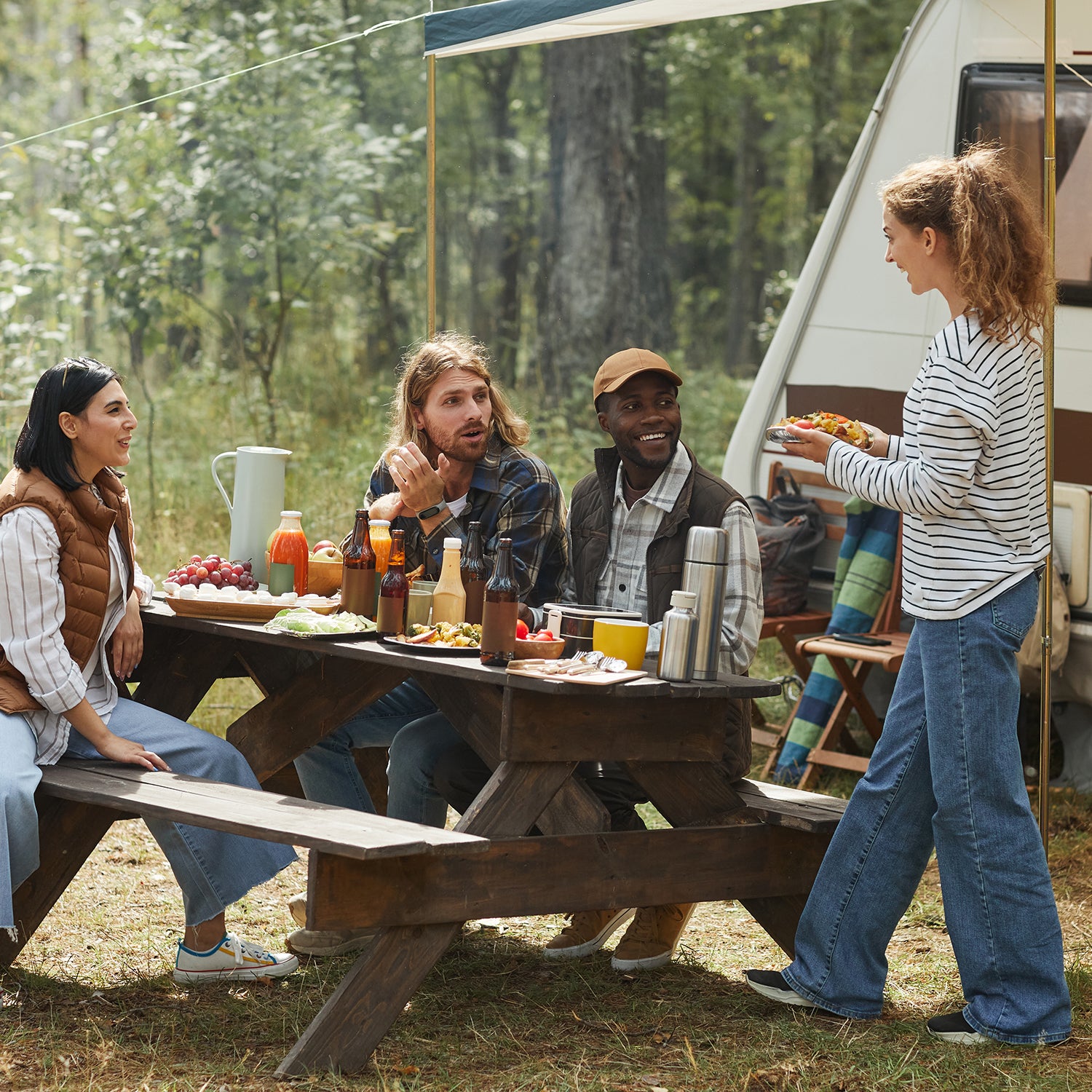 SeventyFour/Shutterstock
Heading out the door? Read this article on the new Outside+ app available now on iOS devices for members! Download the app.
Ten years ago, Erin French, a James Beard Award semifinalist and owner of The Lost Kitchen in Freedom, Maine, outfitted her 1965 Airstream with a semi-functional kitchen, complete with a 1930s stove that she says singed her bangs off. During the early stages of the pandemic, French began using her Airstream as an auxiliary kitchen for her 40-seat seasonal restaurant, parking the camper just outside to help expand the physical space. Her first inclination was to "upgrade" the cooktop to a camp stove. But that didn't last. "I was like, I can't do this," she says. French decided, instead, to replace the existing stove with a range—which includes both a cooktop and an oven—that could perform more functionally. "It was this fine balance of finding the smallest one that was going to have the most professional output," she says.
While French's experience was unique, you don't have to be a professional chef to upgrade your portable kitchen like she did. Here's how to do it.
Mobile-Kitchen Options
French went with the Ilve Nostalgie Series 24-Inch Freestanding Dual Fuel range (from $3,249) in a stainless-steel finish to match her Airstream. The gas cooktop offers her precision cooking control, while the electric oven offers baking accuracy favored by professional chefs. "We definitely used her hard for the past two years," she says. The Ilve also features a host of other high-level functions: a pizza-cooking setting, a defrost setting, an intense-cooking setting for dishes with a crust, a top-cooking setting for foods that require browning, and a bottom-cooking setting for finishing a pastry cycle.
A dual-fuel range was an obvious option for someone who spends so much time in the kitchen. But gas ranges, French says, are a good choice for van owners who don't require quite as much precision. More affordable than the Ilve, the 24-Inch Beko SLGR24410SS ($1,029) has four sealed burners and enough oven space to cook a roast and a side simultaneously. And the cooking functions—gas heats both the burners and the oven—may already be familiar to home cooks, many of whom may not have dual-fuel ranges because they tend to fall into a higher price bracket. You won't find a ton of bells and whistles here the way you would with the Ilve, but it's still an easy-to-use, streamlined unit that's a good buy for the price.
Culinary professionals like French are less likely to steer home cooks toward electric ranges because such a cooktop offers reliably less heat control. But GE's 24-Inch JAS640RMSS model ($1,073) is worth considering if you find yourself baking and roasting more than actually using the cooktop on the road, thanks to its fairly large oven capacity (2.9 cubic feet compared with Beko's 2.5).
Then there's the induction range. Rather than using coiled metal, which heats electronically, induction cooktops use electromagnets, which directly heat the pans (so long as they contain iron, a conductor). These cooktops are considered better for the environment, but there are a few drawbacks. For one, induction ranges are still relatively new to the market and not currently available in 24-inch models. But if your van, Airstream, or RV is large enough, there are a few reputable appliance makers with 30-inch models, the best of which is the Bertazzoni Master Series Freestanding Electric ($3,899). These units, alas, do not come cheap, and only certain cookware will work on an induction top. It also may not be the best fit for those who take their mobile kitchen on the road a lot, because the larger, heavier unit will change your overall vehicle weight.
Other Considerations
So what's the best range for the nomadic cook? That's up to you and your vanlife ambitions. Roadtrek outfits its current line of vans with induction cooktops, not gas ones, and many campers come not with ranges but similarly powered cooktops, which use less power. Airstream models include a gas range and an oven, which can be swapped out for a convection microwave if desired.
Eric Wolfinger, a professional photographer who cooks and camps in a 1992 Roadtrek, says that ranges with electric usage can quickly drain the juice of any traditional van, RV, or Airstream. When considering adding a range, he says, make sure you look into what voltage and amperage it requires and how you'll power the range; many ranges, he says, require auxiliary generators for power generation—especially high-usage ranges, like induction. Wolfinger also points out that liquid propane, in particular, can pose some concerns. "You're in a small space," he says. "Ventilation is key." For those using gas, airflow (either open windows or additional fans) is an important part of the equation.
As for what to cook on a tiny range, those possibilities are somewhat endless—albeit slightly smaller in size. Asked if there's any one dish that shines on a very small range, French's response was unequivocal: "Roasted chicken," she says. "Eating that feels like home, even when you're on the road."
Lead Photo: SeventyFour/Shutterstock
Trending on Outside Online