The Sustainable Seafood Myth?
Kristofor Lofgren, sustainable seafood expert and founder of Portland, Oregon's Bamboo Sushi, talks about his business and the seafood industry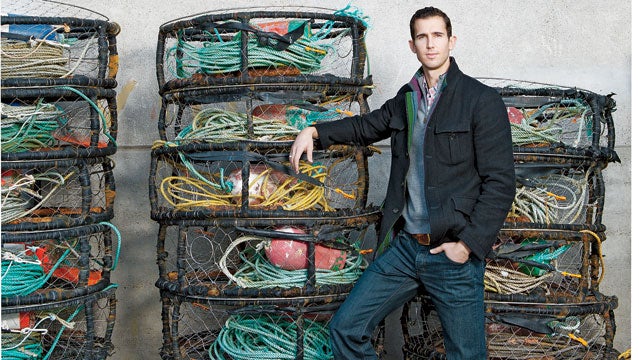 Gabriela Hasbun/Outside Magazine
Heading out the door? Read this article on the new Outside+ app available now on iOS devices for members! Download the app.
Demand for seafood has doubled since the 1960s. Worldwide consumption now exceeds 170 million tons per year, and more than 85 percent of the planet's fisheries are either maxed out or classified as overexploited. Recently, forward-thinking restaurateurs like Casson Trenor, co-owner of Tataki Sushi in San Francisco, and Kenny Belov, proprietor of Fish Restaurant in nearby Sausalito, have upended convention with sustainable menus to help alleviate pressure on the oceans. But few have changed the game as radically as Kristofor Lofgren, who works closely with the Monterey Bay Aquarium's Seafood Watch program to ensure that his Portland restaurant, Bamboo Sushi, offers the most responsibly sourced fish on the market. In February 2008, Bamboo became the world's first sushi restaurant certified by the Marine Stewardship Council, ostensibly guaranteeing that every fish served comes from a renewable source. Lofgren, 30, then exceeded that distinction by ensuring that he or someone from his staff meet the fishermen they buy from in person and obtain photographic evidence of the fishing method. He is also donating hundreds of thousands of dollars to environmental causes and, together with the Nature Conservancy, helped develop a new marine preserve in the Bahamas.
There are lots of sustainable seafood restaurants out there, but I can count on one hand the number of sustainable sushi places. Why?
Sustainable sushi is really difficult. The effort you have to put in vetting distributors, suppliers, and fishermen and working with scientists and NGOs is astounding. You have to keep up with what's happening in the oceans, and they're constantly changing. One species is sustainable today and not sustainable in six months.
How do you convince consumers that your restaurant is different?
A lot of it is storytelling. In the beginning, customers will say, "Who cares? It's a piece of salmon." And then you go, "Well, did you know that there are nine species of salmon?" Soon they're like, "There's this whole world I never knew about." And then they talk about sushi being silver fish or arctic char. Or they're talking about albacore instead of red-meat tuna. Or oysters and mussels instead of caviar and flying fish roe.
But you have flying fish eggs on your menu.
We get our flying fish roe from Iceland, which is considered sustainable according to Monterey Bay Aquarium's guidelines, because they only catch the target species. Japanese roe is not.
Seafood is rife with lies about sourcing. How can your restaurant be sure of what it's getting?
There is no replacement for personal relationships, shaking hands, seeing something with your own eyes, and asking tough questions. There isn't a lot of gray area. You're either doing it right or you're not.
What are those tough questions?
Where does this fish come from? Who caught it? How did they catch it? Can you prove it? Anybody can produce a fake invoice. For us, they must prove it with pictures, and we'll call overseas to double-check independently.
Are there fish on your menu that you worry about?
Yellowfin tuna. But I'm not a scientist. Scientists need to give chefs information; chefs need to disseminate that information to customers. I believe in Monterey Bay Aquarium's scientists, and yellowfin is listed as sustainable now. When it's red listed, we'll act accordingly.
How do sushi lovers assess a restaurant's credibility?
If you ask a server if he or she knows where something comes from and that server doesn't have the information readily available, that's a bad sign. It means the chefs aren't taking it seriously enough to inform the rest of the staff.
What about your business model—is it sustainable?
My goal is to create a new business model in the restaurant industry that emphasizes sustainability and transparency and is also profitable. I think our model is very replicable. If you sold hamburgers, you could do something similar.
Is there anything that deep down you wish you could offer?
I really love wild hamachi [amberjack], which is sustainable only during a two-week season in April. I would love to get it all year long. It's like a bluefin tuna and a mackerel had sex.
Trending on Outside Online