The Top 10 Bars for Cyclists
The only thing more epic than that monster attack or spleen-bruising crash? Reliving it all with friends over an adult recovery drink at an establishment that loves your kind.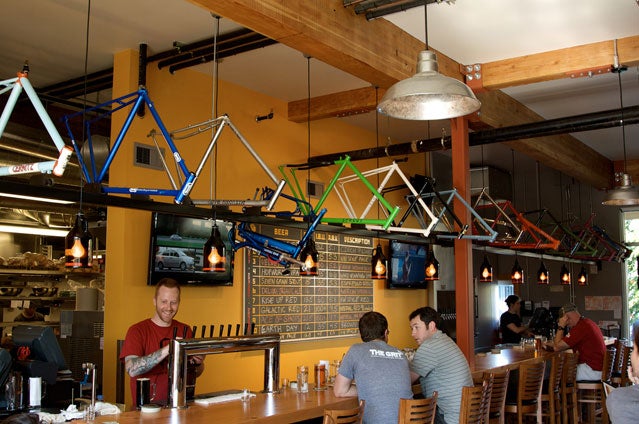 Heading out the door? Read this article on the new Outside+ app available now on iOS devices for members! Download the app.
I once made the mistake of walking into a Santa Fe bar in my road kit. It wasn't a fancy place, but it also wasn't a spot on the typical post-ride drinking circuit. While I was perusing the menu, I noticed a commotion down the bar and turned to find a happily soused local gaping at me. He said something about my outfit (not sure what, but it was no compliment), and then burst into unabashed, tear-streaming laughter. I tried to ignore him, but he fell on the floor in hysterical spasms. His hilarity was infectious, and several others began cackling—including my wife, who'd had the good sense to change clothes. All hopes for a quiet drink were off, and I clack-clack-clacked back the way I'd come having learned two important lessons. First, we cyclists need bars for cyclists, where we can kick back among like minds and geek out about carbon derailleurs and the day's big drops. Second, no matter what type of establishment you're drinking in, leave the chamois at the door.
Gestalt Haus
Fairfax, California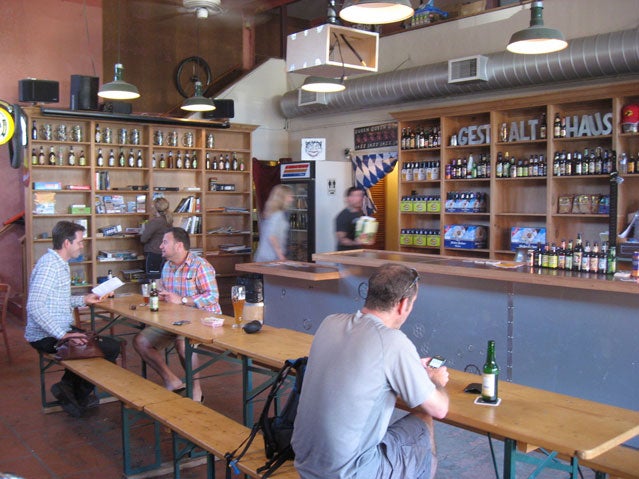 Best for: Hippy, crunchy, aggressively progressive mountain bikers
As the cradle of mountain biking, Fairfax has not one, but two great bars that cater to cyclists. While Iron Springs Pub & Brewery is the old standby and always spilling over with filthy trail riders, the dark-horse Gestalt House is our pick. You don't come here for the décor (spare concrete and picnic tables), though we do like the Medieval-looking wall hooks for hanging bikes. You come for the beer: tons of bizarro Belgian and German bottles, and two sizes of draft, normal human and Brobdingnagian. For replenishment there's more sausage than a prison shower—brats, banger, Polish. If it fits on a bun, Gestalt Haus has it. And to top it off, there are board games, which people actually play.
Oskar Blues Bar & Grill
Lyons, Colorado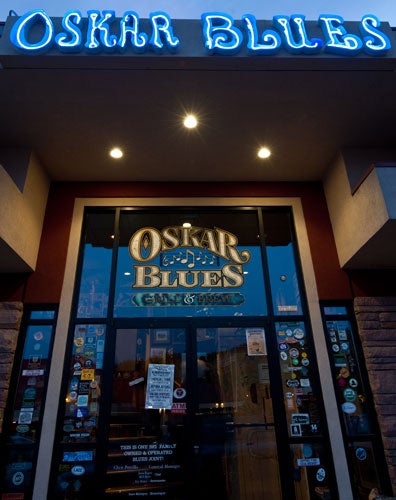 Best for: Music-loving SSers and roadies
You want cred? Not only does Oskar Blues produce the ubiquitous Dale's Pale Ale, which the company bills as "the first hand-canned craft ale," but it's the only brewery we know of that's launched their own line of bikes (a killer collection of belt-drive singlespeeds, which they branded REEB—spell it backwards—for good measure). The pub in Lyons is on the local Boulder-St. Vrain Canyon road loop, and rideable from the Hall Ranch trails. The eclectic menu includes hearty pub grub—pulled pork sliders, fried pickles, and crab cake clubs—and there's good live music, including bluegrass on Tuesday nights.
Powerhouse
Hailey, Idaho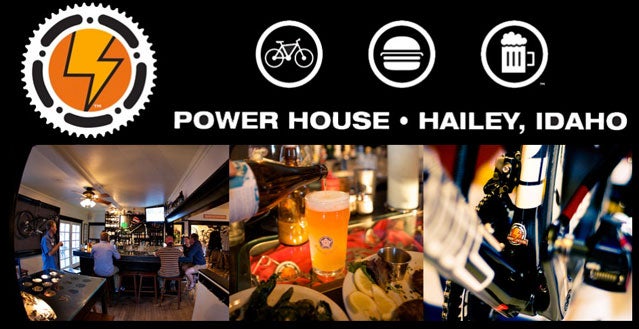 Best for: Multitaskers
Powerhouse is more than just bike friendly; it's a full-service bike and fit shop with a bar and café on premises. The helmet-sized Power Skillet with organic eggs and free range sausage will keep you going all day long on the 300+ miles of trails in and around Sun Valley, and when you're done you can swing back through for some Mahi Mahi Tacos, a Negroni, and a brake bleed. If you're feeling bold, order a Dirty Hoe, a crazy-looking cocktail that includes Hoegaarden and Lindemans Framboise ales. Our only advice: leave the credit card at home so that once you're three drinks in you won't be tempted to pick up those sick new Canfield Brothers Crampon pedals.
Redbones
Somerville, Massachusetts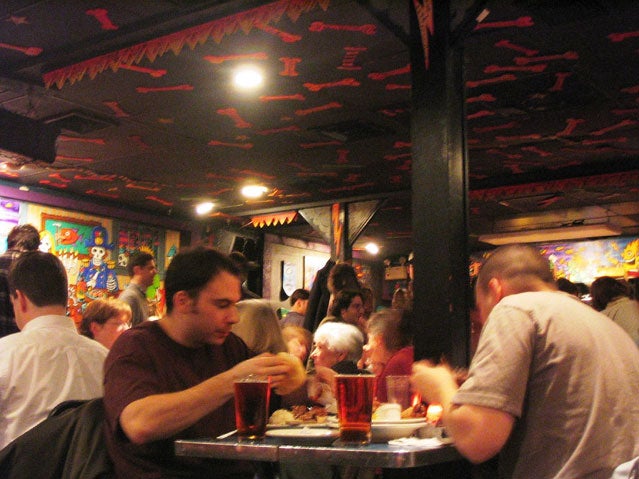 Best for: Commuters and wiry couriers who need meat on their bones
Located on Davis Square, in the northwestern suburbs of Boston, Redbones claims they were first place in the nation with a Bicycle Valet, back in 1996. Pedal over and they'll keep your bike in a secure spot while you drink. They serve some of the best barbecue this side of the Mason-Dixon, all grilled on an open pit fire. More importantly, their draft beer list is as big as their food menu—28 beers on tap and counting. And in case you're too knackered from the day's training ride to go out, Redbones delivers—aboard a custom-made cargo bike ("The Rib Rider"), of course.
Over The Bar Bicycle Café
Pittsburgh, Pennsylvania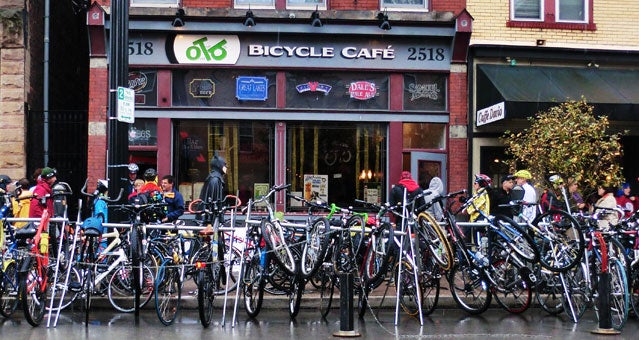 Best for: Bike fiends and peanut butter junkies
The folks at OTB Bicycle Café are crazy about bikes. At this sunny little neighborhood joint in central Pittsburgh, there are bike murals, sculptures from reclaimed bikes, bike maps on the walls, and bike-themed dishes. (For those obsessed with protein, might we suggest the Dirt Rag Delight, a peanut butter-smothered burger.) Even the toilet paper dispensers are constructed from stray bike parts. Located just a block from the South Side Works trailhead to the Great Allegheny Passage, a trail that stretches from Pittsburgh to the nation's capital, the racks outside OTB are always overflowing with bikes. The draw (PB & beef notwithstanding) is the 70-some bottled beers and eight beers on tap. If you want a tour from the locals, Major Taylor Cycling Club rides leave from the bar each Wednesday and OTB sponsors semi-annual charitable rides to and from a local brewery—kegs in tow, naturally.
The Velo Fellow
Greenville, South Carolina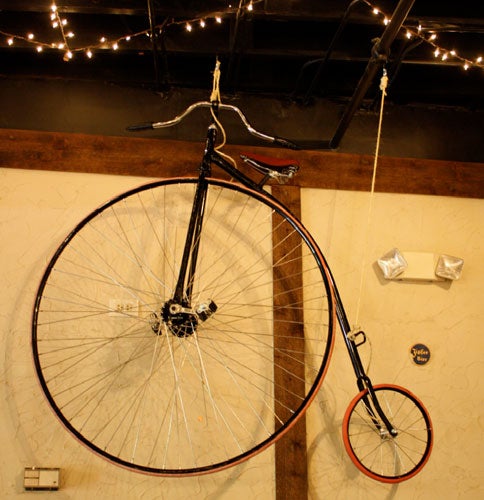 Best for: Cyclists with a sense of history
This place would have gotten our nod based on the clever name alone, but when we found out that the centerpiece of its décor is a penny-farthing (you know, the old-timey bikes with massive front wheels and little bitty rear ones), we bumped it up on our list. Created as an homage to the British public house tradition, local drinking spots that often serve as the focal point of a community, the Velo Fellow is a classy-but-easygoing pub with archival B&W cycling images on the walls and a cozy brick, wood, and leather interior that makes you crave a pint of stout. Nobody would laugh if you wore your kit here, but the expected attire is post-ride woolies. Order up some fish and chips and an Alagash Black Belgian Pilsner, and wile away the evening listening to live jams.
Hotel du Commerce
Houffalize, Belgium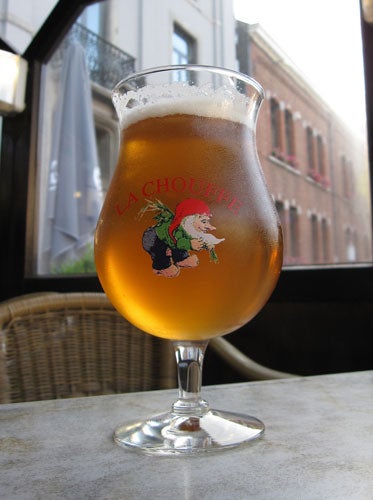 Best for: Belgian beer aficionados and fans of the Ardennes Classics
If you judge an establishment by its clientele, Hotel du Commerce, in Houffalize, Belgium, might just be the best Biker's Bar on the planet. The world's top mountain bikers fill the place up during the World Cup race held here every April (April 14 and 15, 2012). Two hours south of Brussels, there's nothing bike-themed about this place. It's just a classic Euro-style café and bar serving great Belgian ales to very fast racers. Two local options are La Chouffe Blonde and McChouffe Brun, both brewed at the Brasserie d'Achouffe, just a few miles down the road. It's also a great spot to watch the spring classics alongside hundreds of rabid Belgian cycling fanatics, especially Liège-Bastogne-Liège, which passes through Houffalize. Start the race at the bar, sprint outside to see the peloton pass by, and then belly up for more live coverage on TV.
BeerBikes
Holland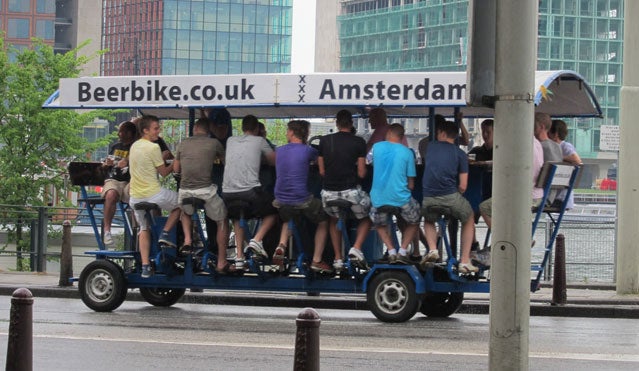 Best for: Drinking and riding
We realize that it's tourist kitsch, but we just can't resist a bar that's built into a bicycle. Or is it a bicycle that's built into a bar? This pedal-powered establishment measures five feet across and seats you and 16 of your biking buddies—it's a perfect set up for those who want to hammer beer and the pavement all at once. For 425 Euros ($567), you get the use of this crazy vehicle plus 30 liters of beer (that's just under 64 pints). With 17 passengers, that comes to only 3ish beers apiece, but don't get tempted to bring fewer friends to make it last as you have just two hours to polish it all off. At least with all the exertion of pedaling, you shouldn't be too schnockered when you arrive at your destination. Bonus: 50 Euro discounts on Sundays—God bless the Euros for being so pious.
Caffé Terry
Taichung, Taiwan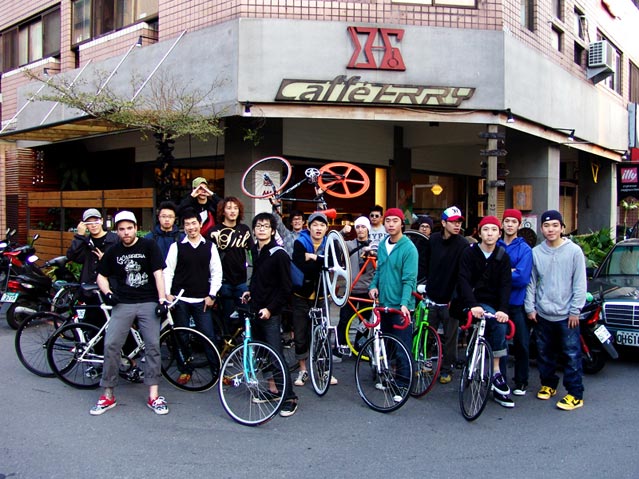 Best for: Globetrotters and industry insiders
Whether you know it or not, the carbon bike you're riding almost certainly comes from Taiwan. The vast majority of carbon frames in the world are built there, which means lots of cycling types spend lots of time on this small island off the coast of east coast of China. Run by local racer and custom bike builder, Terry Lin, Caffé Terry (tel: 04-23207243; Tues.-Sun: 10 a.m.-midnight) is the cultural center for both pre-ride caffeine and post-ride carousing among local cyclists and expatriates alike. Saddle up to the bar and order a Taiwan Beer.
Il Re del Cappuccino
Mansummano Terme, Italy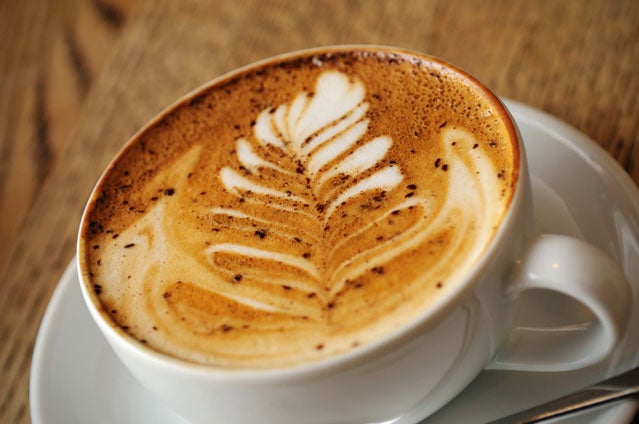 Best for: Teetotalers and the hungover
Liquigas-Cannondale racer Ted King lives near enough to this little café and bar in central Italy, 30 miles northwest of Florence, that he occasionally stops there on training rides. The owner and "King of the Cappucino," Signor Umberto Galligani, has been serving coffee at this location since 1948. He's also a devoted cycling fan. In addition to all the pro cycling jerseys draped on the wall (175 and counting), the old man keeps a book stocked with photos of himself and the many pro cyclists who pass by: Jan Ullrich, Alberto Contador, Alexandre Vinokourov, Mark Cavendish. "Everyone is there. Hundreds and hundreds of photos," says King. That now includes the young American. And though you won't get a beer here, you will get the best cappuccino of your life, perfected over 64 years of practice. C'mon, we had to include one stop to help cure you of a hangover.