The Ultimate Road Trip
The Steak I Waited 2 Months and 7,000 Miles For
How a sick friend, a wedding in Mexico, and a cabin in Montana all led up to the A5 Wagyu striploin of my dreams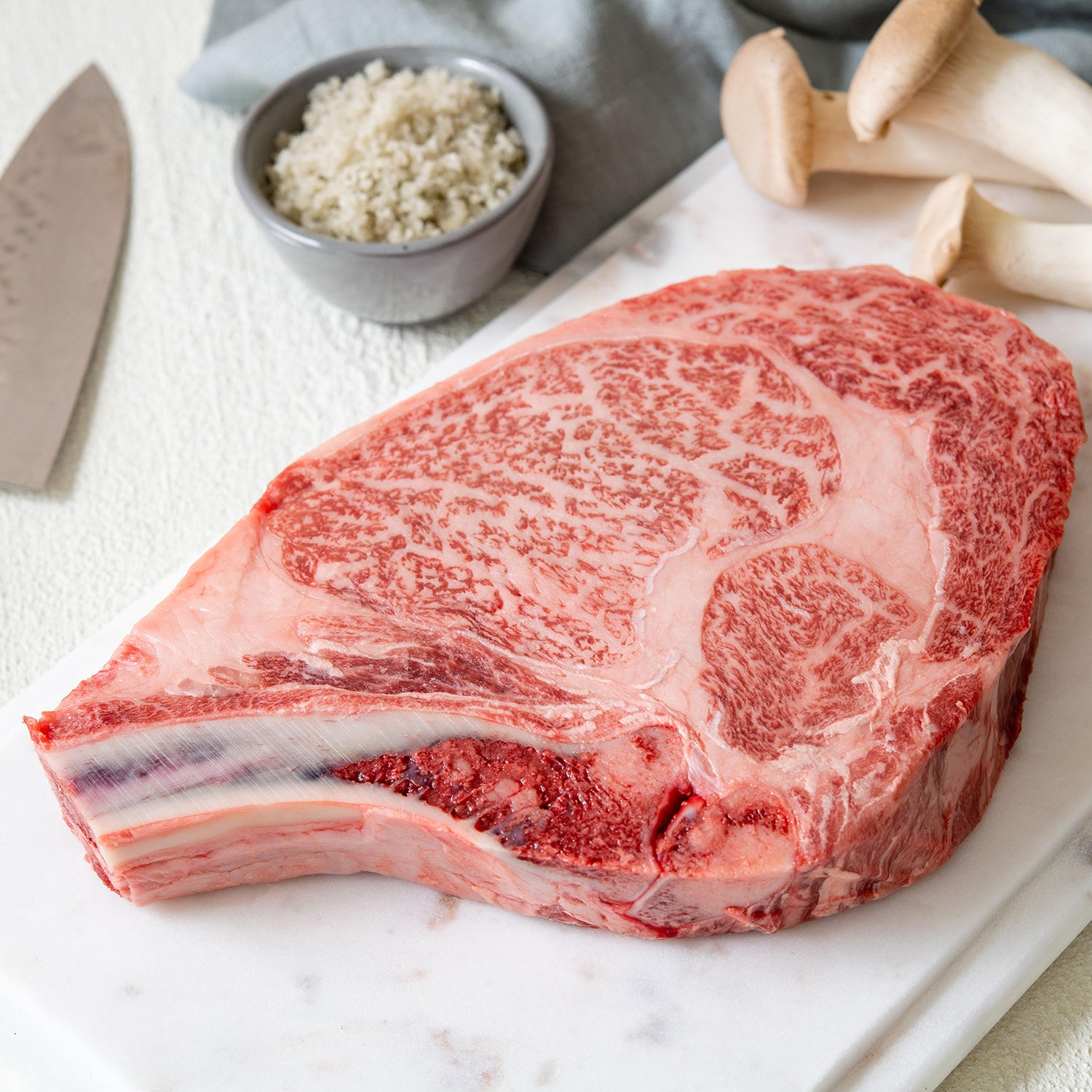 Heading out the door? Read this article on the new Outside+ app available now on iOS devices for members! Download the app.
A few months ago, I cooked the best steak I've ever eaten—and possibly the best steak I'll ever eat. Not just because it was a giant A5-grade Wagyu striploin, but because the crazy nice piece of meat was a present from a sick friend who was unable to attend my wedding in March in Baja, Mexico, and because I was finally able to cook it on a special night, in a special place, two months and 7,000 miles of driving later.
Food is a powerful way to connect with friends, families, and cultures, even when you can't be there in person. Let me tell you about this steak and how I got it, transported it, and cooked it.
What's Wagyu?
The word itself is simply means "Japanese cattle." But in terms of ridiculously excessive modern beef production, Wagyu is a single breed of cow that originated in Japan that is genetically predisposed to distributing its fat throughout its muscles, with a degree of marbling that is utterly unique.
The Japanese Meat Grading Association (JMGA) grades beef both by yield and quality. Yields are more relevant to producers and wholesalers, as they indicate how much useable meat a carcass provides. The yield rankings are A, B, and C, with A producing the highest useable percentage of meat. What you should care about is the quality score, which runs from one to five, with five representing the highest quality.
You'll often see the Japanese one-to-five scale referenced with the beef marble score (BMS) used elsewhere. The latter system grades beef on a one-to-twelve scale by the quality of marbling alone. JMGA beef-quality scores are ascertained by evaluating color, brightness, firmness, luster, fat quality, and marbling. It's a more rigorous system of evaluation, but A5 does correspond with a BMS score of eight to twelve, even if more factors go into the JMGA rating.
All of this to say: A5 Wagyu is the highest-quality beef produced anywhere in the world. Steaks cut from it typically run well over $100 a pound, while special varieties that are fed specific diets or raised in certain regions go for much more, simply due to their rarity.
Because we're talking about a meat-grading system from a different country, JMGA ratings hold no special legal status in the United States. For that reason, there is some dispute over whether or not beef produced here can actually be considered true A5. While Wagyu cattle have been exported to America, they're typically crossbred with the much more common black Angus. And the methods by which cows are raised differ between the two countries as well. Japanese farmers raise Wagyu stock in the open air, but in fenced pastures, where they can better observe their livestock and carefully manage their diet, hydration, and external stimuli. American farmers tend to allow their cattle to range, eat a variety of native grasses, and be exposed to changing weather conditions and other factors. The inspector who grades Wagyu beef in America may or may not be equipped with JMGA training.
Luckily, the quality of a true piece of A5 Wagyu is immediately apparent: fine marbling spread so evenly across the entire cut that the white fat blends into the red meat, making the entire steak look light pink. The flavor should be so rich that it tastes more like meat candy than it does beef, and all that fat should add up to a piece of meat that literally melts in your mouth.
How do you ensure you're getting the real thing? Order it from a reliable source. The steak in this story came from the Wagyu Shop.
A 7,000-Mile Road Trip
I've only ever had the opportunity to try A5 Wagyu once before, at the home of some old friends of Virginia, my wife, and I. They supported me when my career hit a low point a few years back and have been role models for building a good, positive way of life ever since.
I couldn't believe they hadn't responded to our wedding invitation, so a couple months before the big event, while visiting the hotel where we planned to get married in Baja Sur to finalize the details, I called them to see what was up. A waiter saw my face collapse a few minutes into the call and brought over a cocktail I hadn't asked for. The reason for their radio silence was that one of them was sick, possibly fatally so.
Fortunately, those friends live close enough to our route between Montana and Todos Santos, Mexico, that we were able to stop by for lunch on our drive down to the wedding in late February. We'd specified no gifts on our invitations, but our friends wanted to make sure their presence was felt even though they couldn't attend, so they loaded some pork chops, steaks, and other tasty gifts, including the Wagyu, into the back of my Ford Ranger before we said goodbye.
I built my truck specifically for that trip to give us the ability to comfortably camp out of it for almost two months as we traveled down south, got married, and then enjoyed an extended camping trip in Mexico for our honeymoon. Because Virginia and I both love cooking, the kitchen system, and in particular our food-storage one, needed to be top-notch. So I built a solar-powered system for the camper and truck bed that enabled us to power a very large, 94-liter Dometic fridge-freezer indefinitely.
I keep the freezer compartment set at five degrees, so I was able to throw the pile of steaks and pork chops our friends gave us in there, then concentrate on things like border crossings and bad weather.
Our actual wedding ceremony was on Friday, March 13, around the same time COVID-19 really hit the fan in the United States. When the last few guests flew home on the 15th, I only really looked at the news for the first time in a week and realized our honeymoon would have to wait. We'd just been spending time with friends and family from all over the world, so traveling between small, remote towns in rural Baja would have potentially risked spreading the disease to locals ill-equipped to deal with it. Donald Trump was tweeting about closing the border. And we were 2,300 miles from Montana, with nothing but photos of bare grocery store shelves to work with in terms of conditions back in the States. So we made the only decision we felt was responsible at the time: we drove straight home, camping the whole way there. I didn't touch anything outside of our truck but a gasoline pump for a week.
Two months later, Montana seemed to have its coronavirus curve under control (things have since changed), and Virginia and I figured it'd be safe to visit a family cabin in the state's remote, northernmost wilderness. It's one of our favorite places on earth, partly because the weather is often so extreme that all we can do is hole up inside in front of the fire and cook good food together.
One night, while the rain and wind raged outside, we were scrounging around for something to cook, and I found the Wagyu at the bottom of the freezer under a bunch of frozen chicken we feed the dogs. The steak was perfectly preserved, having been frozen solid in its vacuum-sealed wrapper for three months.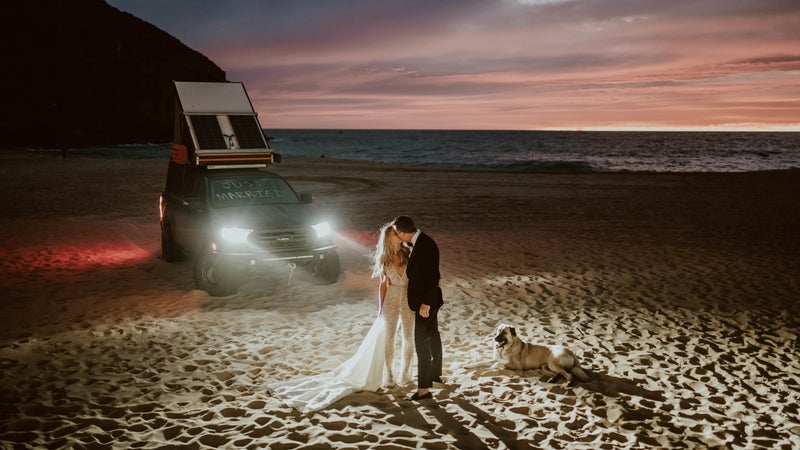 How to Cook an A5 Striploin
I'd never cooked a piece of meat this nice before, so I texted my buddy Erik Sun, a professional chef who owns a handful of restaurants in San Francisco. His establishments are known for the quality of their meat and fish, and since they've been closed for a while due to the pandemic, Erik has begun selling beef from his sources in Japan with a new website. I'd watched several of his Instagram videos and wanted to know how to recreate the results. Here's the advice he gave me.
Tools You'll Need: All we've got at the cabin is an old propane stove and a couple of cast-iron pots and pans. But you don't need much more than that: you'll want a heat source that can get nice and hot, a cast-iron pan big enough to fit your steak, a bit of flaky sea salt, a spoon, a cutting board, and a knife.
Preparation: If your steak is frozen, put it in the fridge for 24 hours so it can gently defrost. The last thing you want to do to meat this nice is try and force a quick defrost by submersing it in warm water, which risks making it tough.
Once the steak is defrosted, trim its fat cap (the white layer on top of the meat), and set that fat aside. Rub a small amount of sea salt onto the steak, and put it in the freezer again for about 15 minutes. That temperature drop will firm up it up a bit, making it easier to handle.
Turn a stove burner to medium-high, and set your cast-iron pan on it to preheat.
Render the Fat: Slice the fat cap you removed into small cubes, and place half of them in the pan to melt. Reserve the remaining half for use as you cook in case you need more liquid.
Cook the Steak: When most of the fat has turned into liquid, place the steak in the pan, and cook it for two minutes on each side. As it cooks, spoon the melted fat all over the steak.
You can use a probe thermometer to check the steak's internal temperature. Depending on your stove and the thickness of your cut of meat, cooking times will vary. Two minutes per side got me to 120 degrees Fahrenheit. After letting the meat rest, that will deliver a perfect medium-rare steak. Erik likes to cook his A5's to medium, which he says delivers a crispier texture that he prefers.
Make Sure to Let Your Meat Rest: All the advice around A5 Wagyu says to rest it at least twice as long as you cook it. This allows the melted fat to distribute throughout the meat. The steak's temperature will continue to rise during this time. I rested our cut for ten minutes to be safe, then sliced it across the grain and served it with a pinch of sea salt on the side for seasoning. Nothing else was needed.
The Result: Our Wagyu was crispy on the outside and so tender on the inside that it melted on the tongue. Beef this good is so rich, it tastes like nothing else you've eaten before and will fill you up in just a few bites. This big striploin was enough food to feed both of us, give each of the dogs a slice, and still have enough left over to make steak and eggs the next morning. It's not a meal you'd want to eat regularly, but I can't think of a more special way to mark good times with good people.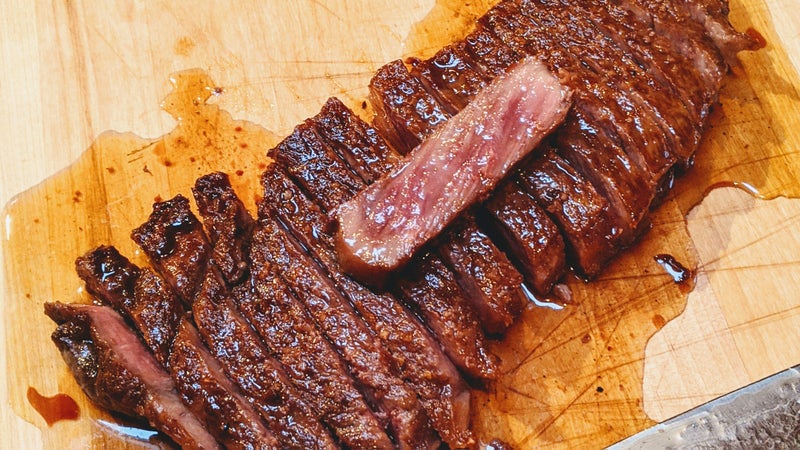 Do You Really Need a Portable Fridge-Freezer?
This gigantic, two-compartment Dometic CFX3 95 DZ fridge-freezer costs $1,450. The PLB40 battery we use to power it runs $850. The solar panels and all the odds and ends I needed to connect them to that battery added up to just under $300. Then, of course, I needed a camper to mount all that to and a truck to carry it.
Obviously, this setup is not cheap. But it also delivered the consistent performance over an extended time period that made the experience described here possible. No cooler could ever come close. If you also place immense value in quality food and great experiences outdoors, then something like this might improve both aspects of your life.
Do you need a fridge-freezer this large? We feed our dogs 300 pounds of a raw-food diet and go to great lengths to keep that affordable. Being able to keep a 50-liter compartment at a reliable five degrees while we travel is a major part of how that's possible. With this 94-liter, dual-compartment unit, we're able to go off-grid, complete with enough fresh food to last both humans and dogs seven days or more. Heck, combined with dry goods, this Dometic enabled us to reenter the United States with over two weeks' worth of food aboard. At the peak of the pandemic, that level of preparedness felt really good.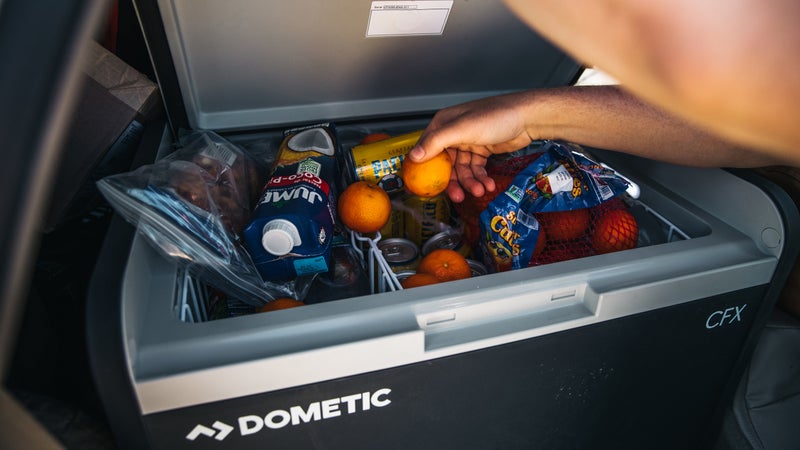 Most people will be better off with a smaller fridge, like the $1,100 Dometic CFX3 55IM. With that item, you lose the split compartments, requiring you to set a single temperature, but you do gain a nifty ice maker—and you will also have a much easier time fitting into the back of an SUV or a van.
So long as you buy the PLB40 battery, most people probably won't need the solar setup either. It supports flow-through charging, meaning you can plug it into an outlet on your vehicle and it'll charge itself while simultaneously powering the fridge-freezer. Its unique lithium-ion chemistry is specifically designed to match the power needs of Dometic's CFX3 range, maximizing the amount of time you can power one in the absence of an external source of electricity. Power needs vary, depending on the capacity of the fridge-freezer, ambient temperatures, how much space is occupied inside the cooled compartments, and other factors. But I can run my giant 95-liter fridge for about two days and one night without charging the PLB40. You only need solar panels if you plan to camp for longer than that in one go without turning your vehicle on.
Why do I use and recommend Dometic's new CFX3 range? Its simply the most thoroughly developed one out there, delivering the easiest-to-use, most convenient and portable fridge-freezers I've tried. The mobile app actually works, the buttons do what you expect them to, and integration with the PLB40 is perfect. If you've tried rival products, you know you can't say any of those things about them.
Still, this setup is more about what I wanted rather than what I needed. But I know I want to eat great food in amazing places. And this portable fridge makes that possible.