What Olympic Runner Colleen Quigley Eats in a Day
What fueling looks like for an elite athlete and world-record holder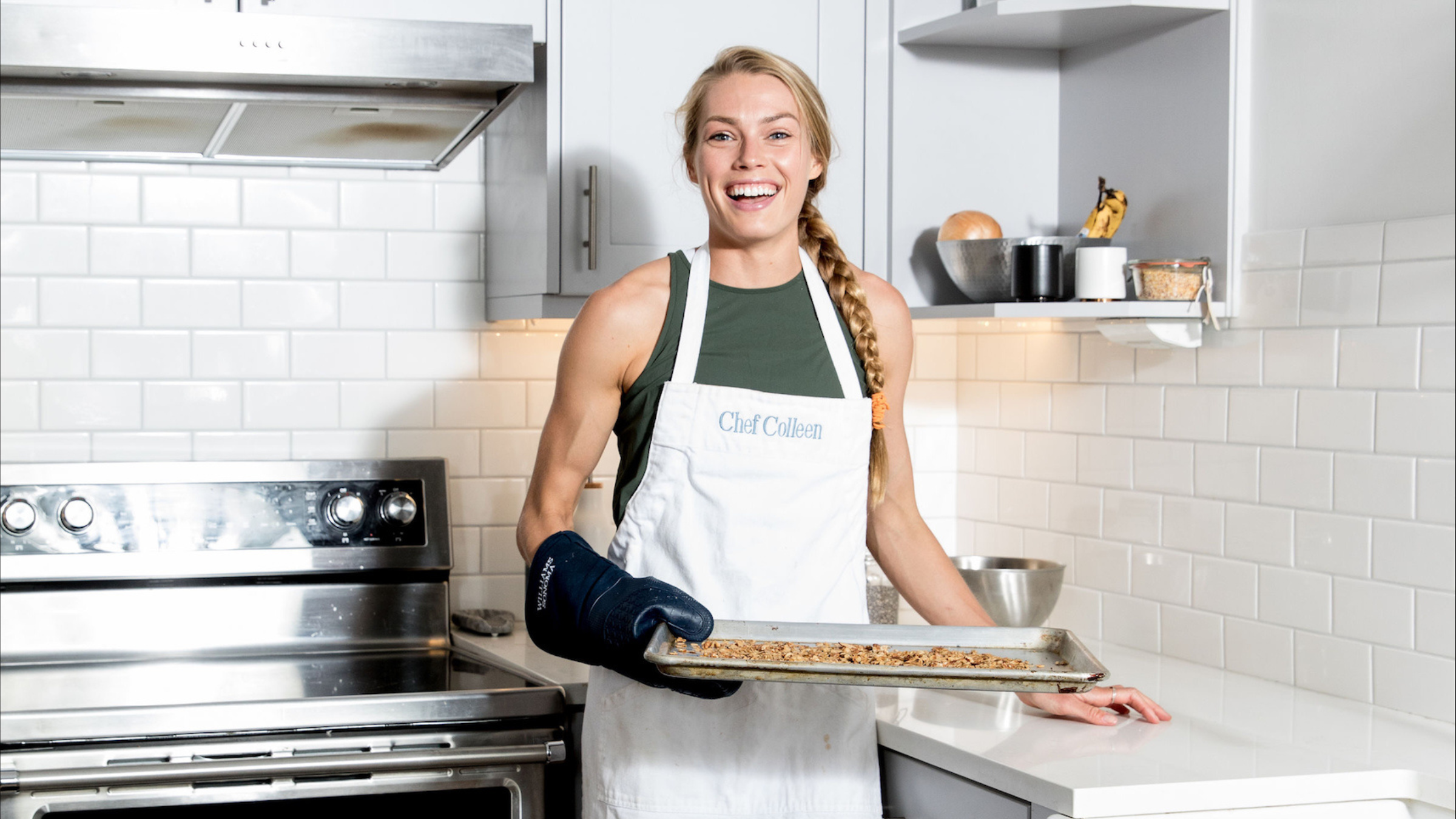 Colleen Quigley
Heading out the door? Read this article on the new Outside+ app available now on iOS devices for members! Download the app.
Colleen Quigley is cooking – not just on the track, but in the kitchen, too.
The middle-distance runner, steeplechase expert and Olympian is the current World Record holder in the 4×1500 meters relay, which she set at a 2020 Bowerman Track Club inter-squad meet. Between juggling famous sponsors (hello, LULULEMON!), smashing running records, biking, skiing and swimming, Quigley prioritizes fueling herself with delicious, whole foods.
"I've been into cooking and sharing meals with loved ones for just about as long as I can remember," Quigley says. 
She has created dozens of recipes ranging from naturally-sweetened Steeple Squigs Granola to an open-faced sandwich she calls The Sando. The Sando is a 'lunch version' of Quigley's favorite, avocado toast. It boasts of kale, tuna, walnuts and avocado. Plus, she substitutes mayonnaise with greek yogurt instead for an extra punch of protein.
Quigley loves that cooking, unlike baking, can be pretty forgiving and allows for experimentation. 
"I usually start with a recipe that looks good and then I tweak it based on what I have handy or what I'm craving, and I end up with something delicious– usually!"
The Rundown: What does Quigley eat in a day?
Breakfast
For breakfast, Quigley often has oatmeal because it sits well in her stomach and is easily digestible. She prefers steel oats for a more hearty texture, but they do take longer to cook so if she's late for training or in a hurry, old fashioned oats work too. In her oats, she combines almond milk, a chopped banana, any kind of nut, chia seeds or sunflower seeds and Vital Proteins Vital Performance in the chocolate flavor.
Sometimes she switches it up though and has avocado toast, or a muffin recipe from her teammate Shalane Flanagan's cookbook called Run Fast Eat Slow. 
Lunch or pre-run
Often people assume athlete's diets are more focused on nutrients than taste, which Quigley confirms can be true. Sometimes she has to fuel with 'boring' or 'bland' foods to lower the risk of stomach irritation. Her lunch or pre-workout meal consists of rice, chicken and vegetables.
To make this meal, she cooks equal parts short grain brown rice and water in an Instant Pot for 20 minutes. Her favorite way to prepare chicken is grilled – she says there's something about it that really elevates the flavor profile – with Traeger chicken seasoning or salt and pepper. 
For her favorite sauce to top it all off with, Quigley points to Nataliecooks curry peanut sauce. 
When Quigley isn't eating before race day or a big workout, she reintroduces all the garlicky, spicy foods back into her meals. She loves Mexican food and will gladly eat the garlickiest plate of food as long as it's not before a race.
Post-run
Post-run, Quigley doesn't get too crazy. In fact, she prefers leftovers.
"I heat up food quickly to get that post-workout nutrition in my body ASAP and start the recovery process," she says. 
Snacks
In between meals, Quigley snacks on homemade date balls. 
"These are quick fuel that I keep in the freezer so they're always ready to go when I need to grab something as I rush out the door," she says. "And they're super portable if I need to pop a couple into a baggie for the road."
Dinner
In the winter, Quigley's diet shifts to hearty, warm, rich foods. Training in cold weather requires more energy, which breaks down extra glycogen. This means fueling properly is more essential than ever, especially if you're accustomed to working out in warmer temperatures.
"I love using a crock pot or Instant Pot so I can throw stuff in there, go to a workout and dinner is hot and ready when I get back," Quigley says. "I also love roasting veggies in the colder months."
She switches up her vegetables, using a combination of brussels sprouts, carrots, squash, beets, broccoli, turnips, sweet potatoes and cauliflower. Quigley chops up whatever veggies are in season, drizzles olive oil on top, tosses to coat and sprinkles with salt and pepper. Then she pops them in the oven to roast at 400 degrees Fahrenheit until they're crisped up. 
"Right now, I'm loving Brussels sprouts and cauliflower done that way," she says. 
It Runs in the Family
Quigley is a perfect example of how athletic fueling doesn't have to be boring. She uses a healthy balance of foods and flavors but focuses on whole, unprocessed foods. She attributes these habits to her parents, who made cooking a priority growing up.
"Both my parents prioritized healthy food that didn't come out of a box or can," Quigley says. "Those principles always supported my athletic endeavors really well, allowing me to fuel my body for all the activities I asked of it – from dancing and playing soccer to running and training as I got older.
Quigley's Rapid-Fire Q&A
Coffee order?
"Cappuccino with whole milk. I try not to go out for coffee too much, but if I do it's usually a local coffee shop over a chain. If I'm traveling, I'll get a cold brew from Starbucks with a little cream."
Salty or sweet snacks?
"Both! I like popcorn with chocolate. I make my own popcorn with coconut oil in a big pot. After it pops, I just add salt. The chocolate I eat is usually pretty dark (but not too dark!) My favorite is Ritual Chocolate from Park City, Utah."
Favorite thing to cook?
"My homemade granola!" (See recipe below)
Is there a recipe you like that runs in the family?
"This a Quigley family classic – it's called yogurt fettuccine. It's basically a healthy take on a creamy and satisfying dish. The pasta is a total crowd pleaser. I've been making it for my teammates for years!"
Do you have any 'strange' food cravings or snacks?
"I went through a big savory oats kick for a while there. I was in an oatmeal funk, so I started doing savory oats (sweet potato, chicken stock, roasted chickpeas, etc.) instead of sweet."
Recipes Mentioned in Article
Lead Photo: Colleen Quigley