The Tequila Lover's Guide to Whiskey
A self-described tequila snob on why he's adding whiskey to his backcountry repertoire (and a recipe for the perfect Manhattan)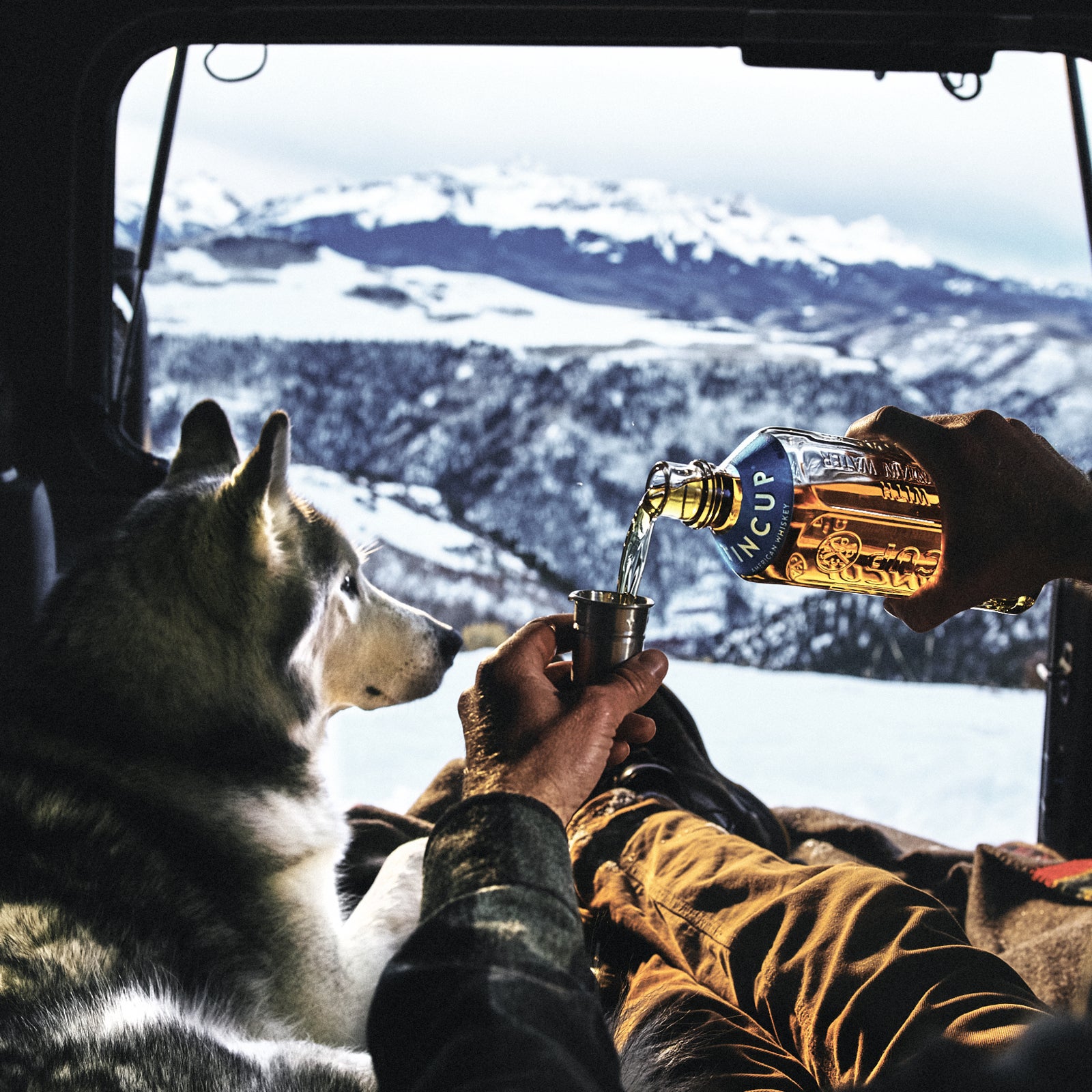 Heading out the door? Read this article on the new Outside+ app available now on iOS devices for members! Download the app.
Tincup Whiskey, launched in 2014, takes its name from the town of Tincup, Colorado, a once wild mining outpost turned summer tourist destination tucked into a scenic valley at 9,000 feet, about 30 miles from Crested Butte. One day in late summer, I joined a group of whiskey enthusiasts—including a small corps of Instagram influencers, media folk, and professional climbers Max Lowe, Renan Ozturk, and Sam Elias—on the deck of a Tincup cabin to try a few of its spirits. 
Having spent the last 20 years in New Mexico, I'd become a tequila snob—er, devotee—drinking it almost exclusively. I was overdue to broaden my palate a bit. The weather was glorious as Jess Graber, Tincup's founder, poured samples, including the new limited-release Tincup 100-percent Rye (available nationwide in early 2020). Standing behind the outdoor bar, Graber dished some tips on the best way to appreciate the nuanced flavors.
"I like to take a small sip and just let it sit at the tip of my tongue for a few seconds," he told us. "Then I let it slide to the back of my mouth, where you can really start to notice the characteristics. What are people noticing?"
"Caramel," someone said.
"Apricots," said another.
"Peaches!" 
"Yes!" said Graber.
I took a swig of the rye and swirled it around. At first it was warm, even hot—a signature quality—and then came hints of caramel and vanilla. The all-rye whiskey was a little harsher than bourbon, but the flavors were potent. The fruit notes showed up in the finish, maybe instilled by the barrel or the rye itself. The characteristic of any whiskey is built from its unique combination of mash, water, and aging, a process that can be carefully controlled and replicated, even though the final outcome is a little mysterious. "We don't entirely know how the flavors are created," Graber says. "The end product is a kind of magic."
Tincup isn't quite a craft whiskey, although it has that vibe (Graber, the founder of Stranahan's Whiskey, is sometimes credited with helping launch the craft-spirits trend in Colorado). The mash comes from a large Indiana-based producer, but it's finished near Denver, where the distillation is cut to proof—in Tincup Original, about 84—with water from Eldorado Springs, near Boulder. Then it's aged in oak barrels, the insides of which are scorched to "char level 3," imparting much of the flavor. 
Technically, Tincup whiskey—except the new 100 percent rye—is bourbon, meaning the mash is at least 51 percent corn. Graber dubbed it "Mountain Whiskey" to help with branding and to avoid competing with other bourbons, which have been enjoying a bit of a moment. Given its mountain heritage, the Tincup producers want it to be your go-to adventure hooch. In other words, bring it camping, hiking, biking, hunting, whatever. Tincup comes with a tin cap, reminiscent of the old mining town's original barware, durable and great for shots by the campfire. And the bottle itself is hexagonal, which, according to the website, "prevents it from rolling too far away" and "not only looks great, but adds functionality to improve trail performance."
That seemed like hype, but I couldn't deny that Tincup and outdoor adventure went well together. The next day, I pulled off a Colorado trifecta: fly-fishing in the morning, rafting the splashy Class III Taylor River in the afternoon, and hustling out for a sunset mountain-bike ride. I returned to Taylor River Lodge that evening to find the group milling around the bar, enjoying an aperitif of whiskey cocktails. I opted for a Manhattan, featuring Tincup, of course. I knew the drink well, as my parents had mixed themselves a Manhattan every evening for 50 years: whiskey, vermouth, a few maraschino cherries with a splash of juice. My Tincup version was drier than my parents would have liked, but it was still delicious and refreshing after my day of sun-soaked funhogging.
Our hosts fired up the barbecue, and after a feast of elk and bison, we adjourned to a bonfire near the lodge. Tincup flowed generously, as did stories of high adventure, especially from the climbers. Ozturk was recently back from Mount Everest, Lowe was working on a film about his late father, Alex Lowe, and Elias was pushing some hard new routes in Utah. Typically, I'd be passing around a bottle of mescal about now, but somehow an agave spirit didn't seem right. Instead, I was content to sip a lowball of Tincup 10 Year, which was going down as enjoyably as the mountain tales.
A dozen or so of us sat and gabbed around the fire late into the night—or, more accurately, early into the morning. It was, by any measure, a perfect night, the conversation oscillating between earnest and silly, lubricated by the warm spirits. At last I hit char-level three myself and snuck off to bed, resolved to add a good whiskey to my backcountry kit.
---
The Adventure Manhattan:
2 ounces Tincup Original
3/4 ounce sweet vermouth
A dash or two of Angostura bitters
Maraschino cherry
Add the first three ingredients to a shaker with ice. Shake and strain into a martini glass. Garnish with a cherry.
Lead Photo: Courtesy Cristopher Benitah/Tin