11 Athletes Share Their Favorite Meals
The difference between hitting the summit and hitting the wall comes down to the fuel in your belly.
Heading out the door? Read this article on the new Outside+ app available now on iOS devices for members! Download the app.
We vetted each of these recipes with Adam Korzun, former chef at the Four Seasons Hotel Boston and now head diet­itian for the U.S. Ski and Snowboard team. See each recipe's "Why It Works" for Korzun's take on our athletes' power meals.
---
Explorer Sebastian Copeland's Arctic Energy Bar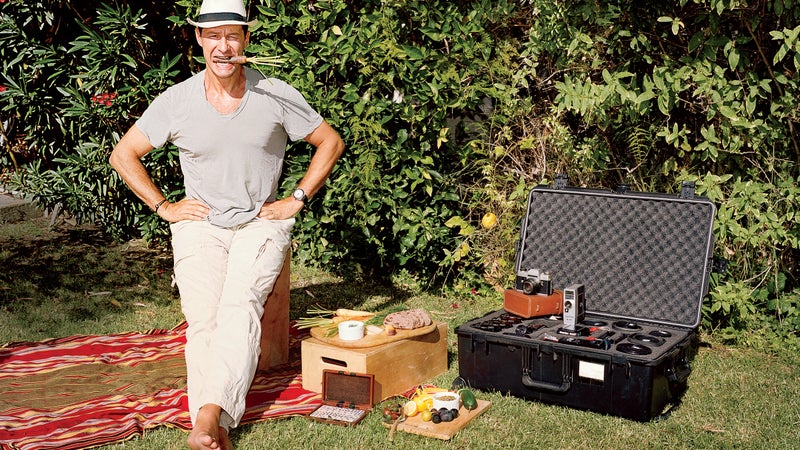 The Meal: In 2011, Copeland spent 81 days cross-country-skiing over the Antarctic ice cap, pulling 400 pounds of supplies on a sled—a feat that had him ripping through 10,000 calories per day. "You start burning more than you can ingest," says Copeland, 48, a British and French national who also kite-skied 1,400 miles across Greenland in 2010. "When that happens, your body starts consuming muscle for energy." Enter pemmican, essentially an energy bar made of bacon, cranberries, and sesame seeds. "I'll put it on my oatmeal in the morning or eat it on the trail," he says of the sweet-and-salty concoction. "It's pure fat calories, and it keeps me going. The harder you're working, and the more salt you're losing through sweating, the better it tastes."
Why It Works: Bacon has a bad reputation, thanks to all the heart-clogging saturated fat it contains, but Adam Korzun says there are times when it's perfectly acceptable, like a weekend skiing mission in the backcountry. "If you're going hard all day in cold temperatures, saturated fat is an efficient, slow-burning fuel source," he says.
Secret Ingredients: Sesame seeds and cranberries contain antioxidants that reduce muscle inflammation.
Bacon and Cranberry Pemmican Recipe
Cook 1/4 pound of bacon on low until the fat renders. (Make sure the meat remains soft.)  
Let it cool slightly, then transfer the bacon and fat to a blender, add 1/2 cup of dried cranberries, 1/4 cup of sesame seeds, and one tablespoon of brown sugar. Puree.
Pour the mix onto a cookie sheet and freeze.
Cut into bars or cubes that can be added to porridge in the morning or eaten on the trail.
Servings: Eight
Calories per Serving: 100
---
Triathlete Mirinda Carfrae's Multisport Quinoa Salad With Steak
The Meal: On a typical day, Carfrae, winner of the 2010 Ironman World Championship, swims three miles, bikes 55 miles, and runs seven and a half miles. Which means she has very little time to cook. "I love good, healthy meals," says the 31-year-old Australian, "but I tend to keep it fairly simple—especially in the thick of the season, when I'm exhausted from training." One of her favorites, this steak and quinoa salad dish is gluten free, fast (preparation time is about 20 minutes) and, according to Carfrae, perfect for triathletes.
Why It Works: "Other than being full of muscle-building protein, steak is a great source of iron," says Korzun. "Hemoglobin in our red blood cells is what carries oxygen around the body, but hemoglobin can't pick up that oxygen without iron. So for athletes who are constantly building new tissue and creating new red blood cells, iron is incredibly important." And if you're thinking red meat shouldn't be a regular feature of your training table, you're wrong. "The studies that say red meat is bad for you are usually focusing on meats that are high in fat," says Korzun. "It's perfectly safe to eat red meat a couple of times a week if you're eating a lean cut like sirloin."
Secret Ingredient: Carrots and radishes contain nitrates, which, when converted to nitric oxide, cause blood vessels to widen, allowing more oxygen-rich blood to flow through the body.
Grilled Steak and Quinoa Salad Recipe
Coat a lean steak with olive oil, then sprinkle with thyme, basil, sage, black pepper, and salt.
Cook it on the grill, turning once, until just pink inside.
For the quinoa, boil two cups of water, then add one cup of quinoa and reduce to a simmer.
Cook 15 minutes, occasionally fluffing.
Combine quinoa with a blend of mixed baby greens, diced red or yellow bell pepper, a few slices of avocado, diced red onion, sliced cucumber, halved radishes, Greek olives, shredded carrots, and almonds for texture.
Servings: One
Calories per Serving: 1,200
---
Ultrarunner Kilian Jornet's Veggie Sports Drink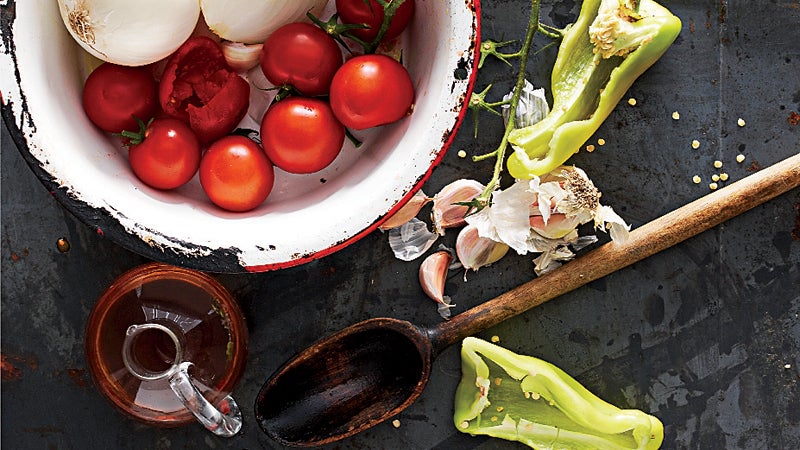 The Meal: In 2008, Jornet took the ultrarunning world by storm with his precocious victory at the 104-mile Ultra-Trail du Mont Blanc, one of the world's hardest races. He was 20. Since then the Spaniard has notched two additional wins at Mont Blanc. Then, in August, he ran up the 13,700-foot Grand Teton in a record-smashing 2 hours 54 minutes and, a week later, won Colorado's Pikes Peak Marathon, a 26.2-mile race that climbs 7,700 feet. Jornet trains roughly six hours a day, most of that running uphill. In the summer, to refuel and cool down, he chugs an ice-cold glass of tomato, pepper, and cucumber gazpacho. "It's a drink with a lot of vitamins, and very fresh in the summer," says Jornet. 
Why It Works: "I don't know if Kilian realizes this," says Korzun, "but he created his own sports drink." Indeed, tomato, pepper, cucumber, and onion are all natural carb sources, and potassium—a key electrolyte—helps the body absorb water. What's more, garlic contains antioxidants that help speed muscle repair.
Secret Ingredient: A recent study found that lycopene, abundant in tomatoes, significantly reduced the quantity of toxic chemicals released by the body during intense exercise. 
Tomato, Pepper, and Cucumber Gazpacho Recipe
In a large bowl, mix together one diced ripe tomato, 2 1/4 cups tomato juice, one diced bell pepper, one seeded and diced cucumber, half a white onion (minced), one tablespoon of extra-virgin olive oil, two tablespoons of sherry vinegar, one teaspoon salt, and two tablespoons garlic.
Puree in a blender.
Refrigerate for four hours to allow the flavors to blend.
Servings: Eight
Calories per Serving: 337
---
CrossFit Champion Annie Thorisdottir's Muscle Smoothie
The Meal: By now, you probably know what CrossFit is. What you may not know is that Thorisdottir, a 21-year-old Icelander, is the greatest female CrossFitter on the planet, having won the CrossFit games (an annual three-day competition between the best CrossFit athletes) the past two years. That, of course, takes tremendous strength. So after hours of power-cleans, burpees, and rope climbs, Thorisdottir downs a high protein smoothie to encourage muscle growth.
Why It Works: For one thing, says Korzun, it's convenient. "It's a drink loaded with the nutrients you need to recover correctly," he says. "You just drink it and it goes to work fast." In the yogurt, Thorisdottir gets one of the highest protein sources there is, says Korzun. And, he adds, that mangos and pineapple contain more antioxidants than most fruits—helping improve muscle recovery.
Secret Ingredient:Yogurt also contains probiotics, microbes that aid digestion.
Fruit and Yogurt Smoothie
Add to a blender 2/3 cup of natural skyr yogurt (you can substitute with Greek yogurt if you can't find skyr, which is an Icelandic yogurt), 1/4 cup of frozen or fresh Mango, 1/4 cup of pineapple, 1/4 cup of strawberries, and three to five ice cubes. Blend and drink.
---
Climber Steph Davis's Vegan Stir-Fry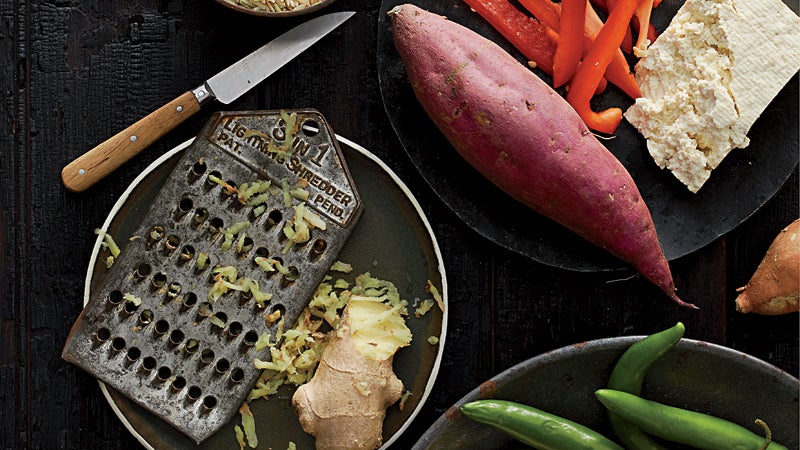 The Meal: In 2002, Davis, who has more than a dozen notable ascents around the world to her credit, decided she was going vegan. "I wasn't trying to make a political statement," says the 39-year-old, who splits her time between Yosemite and Moab, Utah. "I spent a year trying all these different diets—Atkins, the Zone—until I found the one that gave me the best performance improvements. The vegan diet just made me feel healthiest." Ten years later, Davis, whose daily training regimen includes yoga, three hours of wall climbing, and trail running, has never felt better, and lately she's become as recognized for her BASE jumping and wingsuiting as for her climbing. After a long day, her preferred meal is a tofu ginger stir-fry—perfect for impromptu variations and using up ingredients she has lying around. It's also a dish that was on Davis' training table when, in 2003, she became the second woman to free-climb El Cap in a single day.
Why It Works: Korzun says that a vegan diet can be a performance boost for athletes—provided they're careful about getting a balance of nutrients. "Steph does just that with this meal," he says. "Protein from tofu for muscle growth is key. And it's also a decent source of calcium, which helps keep her bones healthy." Davis also draws carbohydrates from rice and sweet potatoes.
Secret Ingredient: Ginger suppresses the production of cytokines, compounds found naturally in the body that cause inflammation.
Tofu Ginger Stir-Fry Recipe
Boil two cups of water, then add a cup of quinoa or brown rice and reduce to a simmer. Cook 20 minutes.
Finely chop one clove of garlic, one serrano pepper, and one tablespoon of ginger root.
Cut up two cups of broccoli, one head of cauliflower, one red bell pepper, and one sweet potato.
Pour two tablespoons of grape-seed oil in a wok or large pan. Sauté the sweet potato for about five minutes, then add the other vegetables. Stir-fry for another minute or so.
Add half a block of extra-firm organic tofu, cubed, and cook another four or five minutes.
Pour a couple of tablespoons of Bragg's Liquid Aminos over everything and sauté for another minute or two. Serve on a bed of quinoa. 
Servings: Two
Calories per Serving: 775
---
Cross Country Skier Andy Newell's Flapjacks
The Meal: Newell's pancake recipe, passed down to him from his grandfather, has helped fuel him through two Olympics—not to mention two- to three-hour training sessions in freezing temperatures. "This meal definitely gives me the energy needed to go out and do skiing hill repeats or intervals," says Newell, who drenches his cakes in the maple syrup from his native Vermont. "Sometimes though, especially when eating this meal after a workout, I'll incorporate more protein by cooking up a few more eggs or throwing in some Greek yogurt. Then you've got a full on party for your taste buds."
Why It Works: Korzun likes this as a post-workout meal for Newell because it delivers a "quick pick-me-up from the maple syrup and a sustainable complex carbohydrate that will burn slowly from the buckwheat." Newell also sprinkles his pancakes with blueberries and bananas, both of which, Korzun points out, contain potassium, a key electrolyte that's sweat out during training. Along with the eggs and milk in the batter (along with the yogurt Newell sometimes adds), the skier gets all the protein he needs to make this a perfect recovery meal.
Secret Ingredient: Maple syrup contains manganese, a mineral that helps the body properly metabolize carbohydrates.
Buckwheat, Banana, and Berry "Triple-B" Pancakes Recipe
Mix one cup of all-purpose flour, one cup of buckwheat flour, three teaspoons of baking powder, 1/2 teaspoon of salt, two eggs, two cups of milk, and two teaspoons of canola oil in a bowl.
Heat a pan on medium-high heat.
Melt a slab of butter on the pan and pour about half a cup of batter into the pan.
When the edges of the pancake round, flip it and cook until firm.
Serve with sliced banana, berries, and maple syrup on top.
---
Alpinist Ueli Steck's Recovery Risotto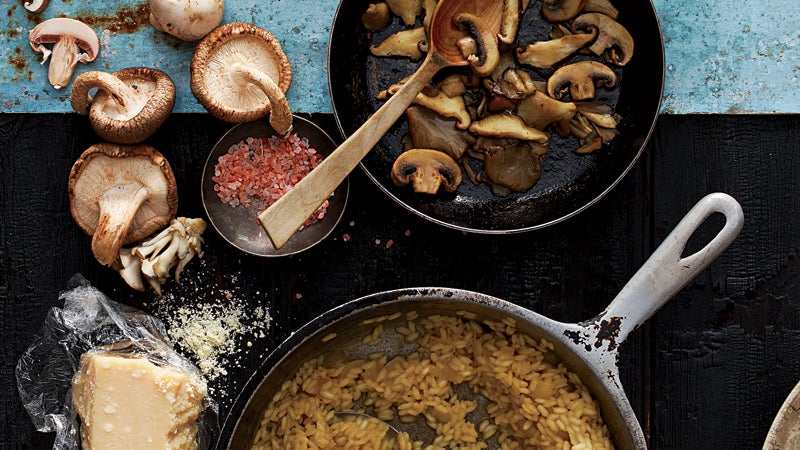 The Meal: Known as the Swiss Machine for his inhuman speed ascents, like his one-hour-and-fifty-six-minute solo of the Matterhorn's north face in 2009, Steck requires foods that are calorie rich but don't slow him down. Before training, which consists of four-hour runs, pull-ups, and squats, he'll load up on fresh bread with honey and butter, fruit, and two cups of coffee. ("One for the left eye and one for the right eye," he says.) To refuel after a tough climb, he cooks up risotto with mushrooms. "After a real harsh day, it tastes good and makes your head feel good, too," says the 36-year-old Steck. "And that's the most important part of your body."
Why It Works: For anyone exercising in thin air, there are good reasons to tuck into a big plate of risotto. "In extreme altitudes," says Korzun, "carbohydrates are the preferred fuel source, in part because carbs require less oxygen to metabolize than fats. And in an oxygen-deficient environment, our bodies want to work as efficiently as possible." 
Secret Ingredient: Mushrooms contain a high amount of vitamin B2 (also known as riboflavin), essential for metabolizing fat and protein.
Mushroom Risotto Recipe
Finely chop one cup of wild or button mushrooms.
Bring three cups of water to a boil, and add two chicken bouillon cubes.
When the cubes dissolve, bring the water to a simmer and add two cups of Arborio rice and the mushrooms.
Cook for about 15 minutes, stirring often. Serve when the rice is tender. Top with grated Parmesan. 
Servings: Two
Calories per Serving: 300
---
Snowboarder Louie Vito's Snowboarder's Delight
The Meal: Vito breaks the mold when it comes to the diets of professional snowboarders. "Typically, guys will eat things like cheeseburgers before a contest. I used to be that way too but then I realized that I have a gift and to make the most of that talent I need to eat right." To that end, the Olympian (and Dancing with the Stars contestant) hired speed skater Apollo Ono's trainer, John Schaeffer, and began cooking up dishes like salmon, pasta, and broccoli dinners. "It helps me perform better because it keeps gas in the tank," says Vito.
Why It Works: Having worked with dozens of snowboarders, Korzun knows that the high-octane athletes usually reach for energy drinks to keep going. "Then they crash," he says. "But Louie gets the sustained energy he needs from a balanced diet with whole grains and fatty fish." Plus, the salmon's omega 3s help ameliorate the inflammation suffered from 19-foot drops into a half-pipe. 
Secret Ingredient: Broccoli is high in soluble fiber, which helps regulate blood sugar, eliminating highs and lows. 
Grilled Salmon, Pasta, and Brocolli Recipe
Preheat your grill on high for 10 minutes.
Squeeze one full lemon on five ounces of salmon and sprinkle the fish with parsley.
Throw it on the grill and cook for 10 to 15 minutes (or until the meat flakes off the skin).
Boil a cup of pasta until it's al dente, then throw it in a bowl and mix in one pat of butter.
Steam one cup of broccoli until it's al dente.
---
Distance Swimmer Lewis Pugh's Polar Bear Breakfast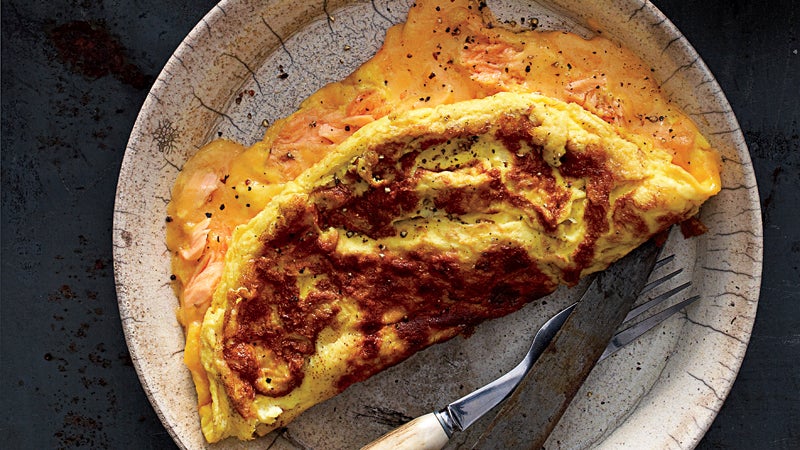 The Meal: Swimmers are famous for consuming huge amounts of calories. And it's no different with Pugh, who has covered the entire length of the Thames, swum 87 miles across the width of the Maldives, and, in 2010, suffered through a kilometer swim—in 29-degree water—at the base of Mount Everest. But Pugh, 42, insists he's not all that different from the ordinary athlete, especially when it comes to the first meal of the day. "We're all looking for a nutritious breakfast that makes us feel fresh and invigorated, not as if we've eaten a 10-kilogram dumbbell," Pugh says. The British ultraswimmer believes this medley of cheese omelet, yogurt, strawberries, and salmon, which he eats after hour-and-a-half training swims in the Atlantic Ocean, meets those needs perfectly.
Why It Works: "The strawberries and dairy contain just enough carbohydrates to refuel cells after a workout," Korzun says. "But it's not so carb heavy—like a Grand Slam pancake-and-sausage breakfast—that it will put you in a food coma." Further, a 2008 study published in the American Journal of Clinical Nutrition showed that choline, found in the yolks of eggs, acts as an anti-inflammatory. "We always hear how bad egg yolks are for us, because they contain saturated fats," says Korzun. "But a few egg yolks a couple times a week are perfectly healthy, provided they're consumed in balance with the rest of your meal." 
Secret Ingredient: Salmon is rich in omega-3's, which a 2006 University of Pittsburgh Medical Center study found are just as effective as ibuprofen at reducing pain in arthritic patients.
Cheddar Cheese Omelet, Yogurt, and Smoked Salmon Recipe
Whip three large eggs in a bowl.
Coat a medium-size frying pan with one tablespoon of vegetable oil and place over medium heat. Pour the eggs into the pan.
While the eggs are cooking, grate in six ounces of cheddar cheese.
After about two minutes, fold the sides of the omelet over, then cook for another minute.
Serve with a seven-ounce side of smoked salmon (or add to the omelet in step three) and a seven-ounce bowl of low-fat yogurt with a dozen strawberries. 
Servings: One
Calories per Serving: 1,414
---
Swimmer Dana Vollmer's Gluten-Free Pizza
The Meal: Vollmer, a four-time Olympic gold medalist, spends hours in the pool, burning thousands of calories each day. To refuel, she needs carbohydrates. There's just one problem: Vollmer is allergic to gluten, the protein found in wheat, rye, and barley, making quick, easy sources of carbs, like bread and pasta, off limits. "When I found out I had gluten allergies, I was obviously bummed," says Vollmer. "Then I found out I could still eat pizza with a gluten-free crust." The best part? According to Vollmer, her recipe below "tastes the same as any other pizza." 
Why It Works: According to Korzun, pizza is a good post-workout meal. "Even gluten-free crust provides the carbs she needs to refuel, and the cheese and chicken sausage add enough protein to help rebuild muscles." Plus, he adds, by enjoying a pizza Vollmer still gets to enjoy a comfort food that's convenient and easy to make.
Secret Ingredient: Spinach contains vitamin K, known to improve bone strength in athletes.
Gluten-Free Chicken Sausage Pizza Recipe
Grill 1/2 cup chicken sausage until it's cooked through.
Preheat oven to 475 degrees Fahrenheit.
Garnish one Venice Bakery gluten-free seasoned pizza crust (can be found at venicebakery.com) with half a cup of marinara sauce, one large handful of spinach, 1/4 medium diced red onion, 1/2 cup feta cheese, and the cooked chicken sausage.
Bake 12–15 minutes.
Cool for one minute and eat.
---
Downhill Skier Aksel Svindal's Skier's Sandwich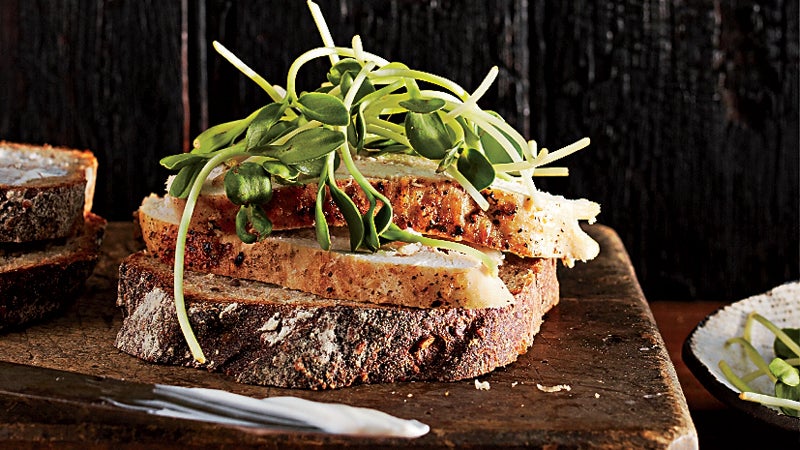 The Meal: Svindal's Norwegian, so it's only natural that the ski-racing superstar eats a lot of fish. "I wish I could tell you that I eat fresh cod that I catch myself in the Atlantic," says Svindal, 29. "Sadly, I don't—but I do order lots of salmon." Which takes care of his omega-3's. But surprisingly, after Svindal has spent five hours training in the gates, he reaches for classic American fare: a big ol' sandwich and a glass of milk. The Olympic gold medalist and two-time World Cup overall champ says that dark, whole-grain bread, along with a side of cheese, is a common meal in Scandinavia, but he chooses to eat it as a sandwich because he can pack in lots of veggies and turkey or chicken. He follows it up with a tall glass of one percent milk. 
Why It Works: Says Korzun, that the right kind of bread is a great source of carbohydrates for anybody skiing hard all day—"especially when you're shivering at the top of an 8,000-foot mountain. The cold and altitude will cause you to burn even more calories, and whole-grain bread will replenish that energy. But because it's high in fiber, it won't cause an insulin spike, which makes you feel tired." To be sure your bread is made from whole grains, look for the 100-percent whole grain stamp on the packaging. 
Secret Ingredient: Milk contains two kinds of protein that are great for any athlete: whey, which absorbs faster than any other protein, helping muscles regenerate, and casein, which absorbs more slowly and helps you stay strong later in the day.
Smoked Turkey, Vegetables, and Whole-Grain Bread
Between two slices of whole-grain bread, add five ounces of sliced turkey or chicken and vegetables like avocado, lettuce, sprouts, and tomato. (Use at least three colors of veggies for a range of vitamins.) Add Norwegian brown cheese or goat cheese.
Servings: One
Calories per Serving: 540