Chef Biju Recipes: The Athlete's Fruitcake
Everybody hates fruitcake. Except you!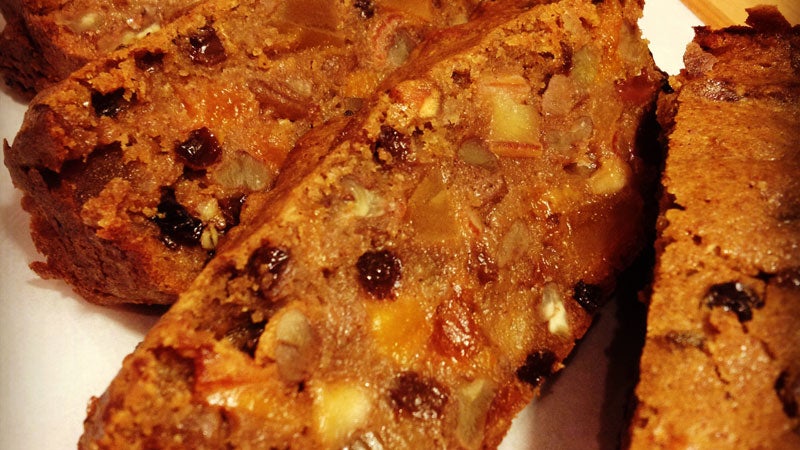 Heading out the door? Read this article on the new Outside+ app available now on iOS devices for members! Download the app.
Fruitcake is the endurance fuel that has successfully disguised itself as a fun, grandmotherly treat. Known for wretched sweetness and textural weirdness, it's an ugly holiday sweater of flavors with the heart-warming power to bond families over the inarguable fact that it's awful. But maybe we don't need to redeem fruitcake with buckets of liquor and candied fruit. In fact, maybe all this time we've been forcing fruitcake to be something it's not: a dessert.
Chef Biju Thomas has seen fruitcake's potential as a nutrient-dense chunk of fuel for the endurance athlete on the go (not for the esurient aunt on her seconds), best consumed half-way up a mountain on the day after a holiday feast—rather than in your kitchen, hours later, disappointed. He calls this hearty version the Athlete's Fruitcake.
So, Wait. What Is It?
Most fruitcake recipes involve "way too many ingredients," Biju says. The Athlete's Fruitcake calls for no rum, no "candied neon bits," and a minimum of sugar. In their place are nuts and dried fruits (any kind you like), providing as much colorful jolliness as anyone could sanely ask for. Combined with gluten-free flour, two eggs, and half a cup of butter, they make a great 200-calorie replacement for standard energy bars: dense enough to carry with you wherever you hike or bike, and seasonal enough to remind you that the magic of youth ought to be cherished always(!).
How to Make The Athlete's Fruitcake (8 Servings):
Start the night before: Place 1.5 cups of your favorite combination of dried fruits and nuts into a large bowl (trail mix works well). Cover the fruit-and-nut mix in orange juice and let it soak overnight in your refrigerator.
The next day, get baking:
1) Preheat your oven to 300 degrees
2) In a large bowl, whisk these ingredients together:
1/2 cup of softened butter
1 tsp of vanilla extract
1 tsp of cane sugar
3) After you've whisked, blend these ingredients into the large-bowl mixture one at a time:
2 eggs, beaten
1/2 cup of flour (gluten-free baking mix works well)
Approx. 2 cups of the fruit-nut mix, soaked (with all the excess juice strained out)
1 tsp of ground cinnamon
1 tablespoon of orange marmalade
4) Line the bottom of 6- or 8-inch cake pan with parchment or wax paper. Pour in the batter and bake on your oven's center rack for approximately 90 minutes—until a knife poked into the cake's center comes out clean.
5) Enjoy! That's eight servings you've got there—200 calories each.
Biju is a lifelong cyclist and self-taught chef based in Boulder, CO. He is co-author, along with Dr. Allen Lim, of the FeedZone cookbooks, and a co-founder of the Boulder-based hydration and nutrition company SkratchLabs. Biju regularly cooks and eats with the best athletes in the world—from cyclists, triathletes, and runners to climbers and race car drivers. Follow Biju throughout the year on Instagram and Twitter (@bijuthechef) and at www.SkratchLabs.com