Chef Biju Recipes: Spicy Kimchi and Soft Tofu Soup
Did somebody say "probiotics?" (Oh, everyone did.)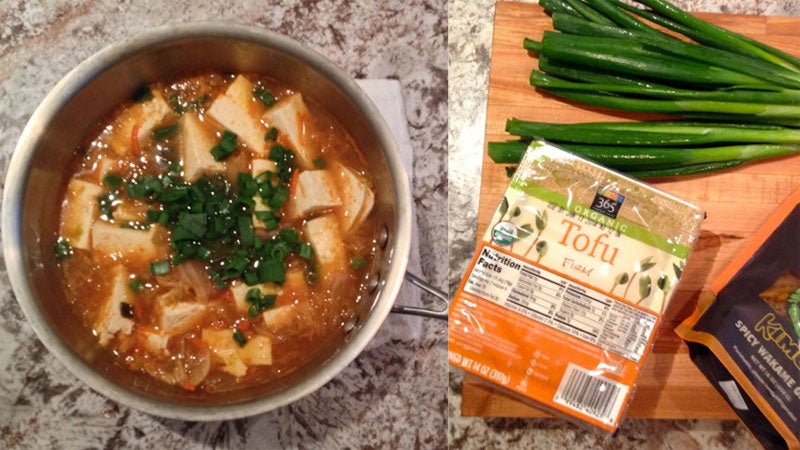 Heading out the door? Read this article on the new Outside+ app available now on iOS devices for members! Download the app.
Probiotics have made a thunderclap impression on nutrition the past few years—ever since we noticed the beneficial menagerie of bacteria in our stomachs—and many have been choking down swarming mouthfuls of Kombucha to aid their digestion (among countless other functions, possibly) ever since.
Researchers at the University of Maryland Medical Center are mostly behind the push but warn that the little we actually know about probiotics has privileged marketers to make uncertain claims about probiotic products. So, cross your fingers and plug your nose; drink up, I guess.
Or, if you have doubt, continue on the probiotic path without making potentially dubious compromises on taste, and try out this spicy soup. (It's the Pascal's Wager of probiotics.) Chef Biju Thomas has a recipe for a classic Korean restaurant tofu jigae, low in carbs and high in protein, that's enriched with probiotics from kimchi—fermented cabbage and spices—in a decidedly culinary, non-medicinal treatment.
Sure, But Go Back to "Fermented Cabbage and Spices"
Fermented Napa cabbage comprises the most common version of kimchi, but you could also use radishes, cucumbers, onions, peppers, and all sorts of seafood, says Biju. Napa cabbage provides a medium heat. If you prefer it spicier, include any type of fresh peppers or dried red chilies (or chili paste…or Sriracha). Otherwise, the stalk and tofu should mellow the heat.
What If I Don't Care About Probiotics?
You mean in relation to this recipe? Well, for approximately four servings (2 cups each), here is what else you'll get out of it:
Calories: 185
Fat: 9.5 gm
Carbs: 10 gm
Protein: 16 gm
Cool. Let's Make It.
OK. Get these ingredients to start:
2 cups kimchi, chopped into bite-size pieces
1 quart low sodium stock (any will work)
1 package of soft or "silken" tofu
1 tablespoon white or red wine vinegar
1 tablespoon liquid aminos or low-sodium soy sauce
Optional:
2 jalapenos, chopped or cut into strips
1 stalk scallions, cut into bite-size pieces
1 tablespoon GoChuJang (Korean Chili paste) or Sriracha
Eggs
And the rest is very simple:
Mix kimchi and vinegar together
Add mix to stalk and tofu
Add any optional chopped vegetables or sauces you want at this point
Bring this to a low, rolling boil
Adjust salt to taste
Crack in eggs if you'd like and let them cook until the whites set
Put that Campbell's soup snowman kid to shame in so many ways